I totally get slow sewing envy. Every time some rad sewasaurus makes a fabulously fitted frock, tailored jacket or couture inspired creation I go full Slimer from Ghostbusters green at their skill and patience. And promptly start to plan my own handcrafted masterpiece. And then get distracted after fifteen minutes and go whip up a quick and dirty Plantain tee while mainlining some M&Ms. Bwah ha ha! So when I saw that there were French jacket style patterns out there that could be made up more casually (and without the couture amazingness) I got excited. And then added a crazy fabric. And a tutu. And here we are…
This is the Coco Jacket by Schnittchen Patterns. It's inspired by the style of Chanel jackets with simple design lines, rounded corners, ¾ sleeves and a full lining. It's a great intro into the French jacket vibe if you are not sure you can commit to the whole tailoring experience a la A Challenging Sew or Poppykettle. And can we take a moment to note this sucker has a rad two piece sleeve? I've never made one of these before and they are rather nifty and the shape you get is so much nicer. Quite frankly, if I am not getting to be sleeveless you better believe I want fancy sleeves of wonder!
This Coco Jacket is my contribution to Sewing Around the World organized by Schnittchen. Throughout 2016, twelve sewists from across the world sewing up twelve different Schnittchen patterns – you can check out some of the other makes here.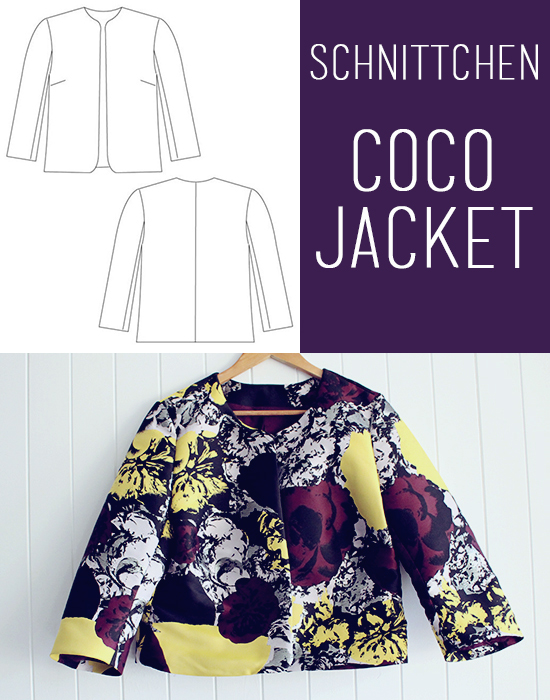 The fabric is an amazing polyster/nyolon/acetate/lurex blend from Australian fashion designer Josh Goot kindly provided to me for this project by The Fabric Store in Sydney. I'm not sure the pictures do the fabric justice – the flowers are a rich mulberry and egg yolk yellow with a lilac background and the whole design shot through with silver lurex. It is not the fabric I would normally pick but after being talked into it by one of my rad sewing friends I'm so glad I did. As this is going to be a transitional piece the lining fabric is a lovely soft cotton – I won't be wearing this with sleeves so something slippery wasn't necessary. If you are feeling the urge to up your lurex game I believe there is still some left if you're feeling keen!
Construction wise, I kind of freestyled this bad boy which had its pros and cons. Pro: made me feel confident in my sewing. Con: added an action pleat to the back lining when there was already one there and didn't realize until after everything had been cut. Oops! Note to self: to take one minute scan instructions before taking on a new project. The instructions that come with the pattern are in German but English are also available. They are in the style of Burda instructions so having experience making a blazer or jacket before you tackle this would be helpful but there is a sewalong if you are up for the challenge.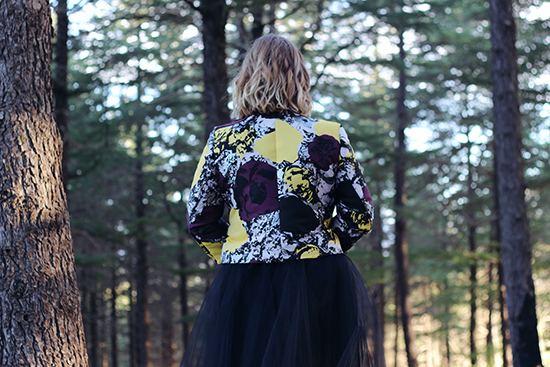 There were two muslins made to try and sort some fitting issues out. After consulting the Oracles of Fitting (Fit for Real People), sipping and gin and making rather sassy pondering "hmmmms" whilst stroking my chin, I added a broad upper back adjustment, a broad shoulder adjustment for the front and graded the waist and hips down a size. I also made the rookie mistake of doing all my fitting in one of my old bras so when wearing the finished jacket it becomes obvious that the darts need to be raised slightly. Ugh. That's what I get for keeping it a bit too real when making muslins…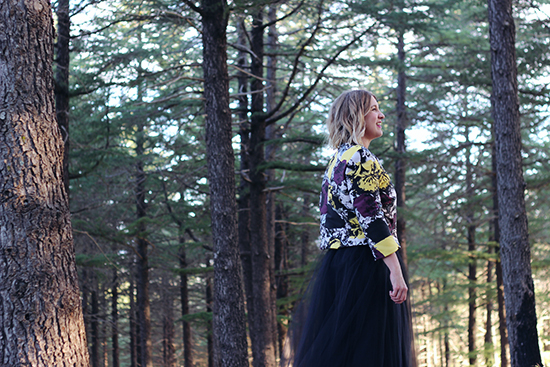 But let's get to my favourite part of making a jacket – rad insides! This one is fully faced and provided another opportunity to do a bagged lining. I hadn't done one of these in a while so consulted the instructions but found them a bit confusing. After a quick peek at Jen's handy post it was speedily (and dare I say sassily?) completed. I even made my poor husband watch the "turn the mobius strip inside out to make a jacket" part of the process – complete with improvised theme music. The poor guy. He did give me a round of applause at the end but I think this may have been more to move me off stage (aka out of the lounge room) than actually being impressed…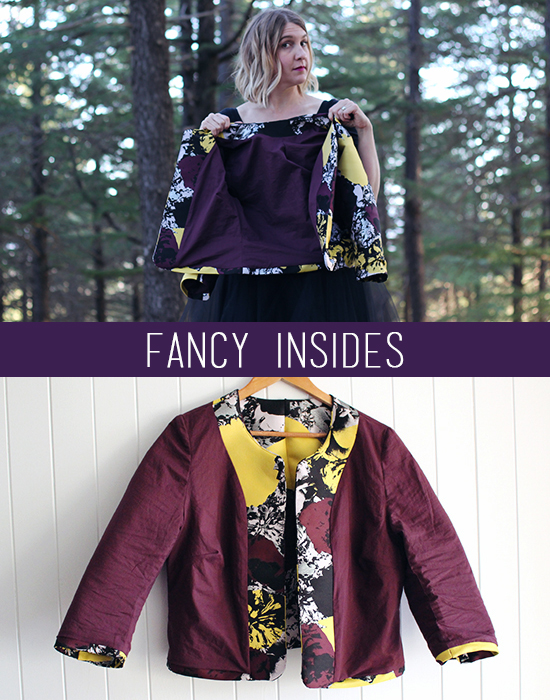 What I liked about this pattern:
The intro to fancy jackets world. I seriously dig the French jackets I see being made but this lady has the attention span of a squirrel hopped up on WizzFizz. This was a great way to see if I dig the style without committing

weeks

months of my time.
The two-piece sleeve. Where have these been hiding all my life?! Oh, right. I am anti-sleeves. But I guess I dislike these less than normal sleeves. Bwah ha ha!
The simple design lines. Limited fuss means that you can go big with your fabric choices. And we all know I'm rather partial to a print.
What I would change for next time:
Fix those darts. This lady does not need a pointy chest a la the Madonna cone bra.
Fit the lower back. I know this style is meant to be boxy but my sway back needs to be paid attention to as well.
Full bicep adjustment. Real talk: The Oracles of Fitting only had one piece sleeve adjustments and I was too scared to try this on two piece sleeves. Ohh, that felt like a #sewingsecret. Is that a thing? It should be a thing. I would totally read that hashtag.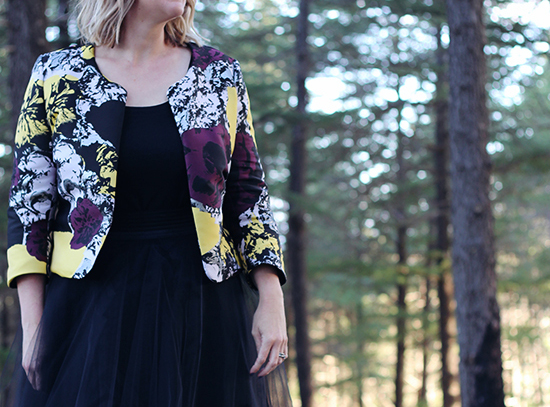 The Deets
Pattern:     Coco Jacket by Schnittchen
Fabric:       Lurex blend and cotton from The Fabric Store (thanks for all your help on the phone, Maddie!)
Notions:    Thread, interfacing from stash
See also:    In A Manner of Sewing, Ginger Makes, True Bias
Overall, I'm rather digging this jacket. While I had some serious reservations about the boxy shape it's rather fierce with a tutu (which obviously I wear all the time!) but also with jeans, tee and heels. You gotta love the way a statement piece makes you want to strut – which you know is a segue into a ridiculous fake catalogue pose photo. Come on, we all knew this would happen.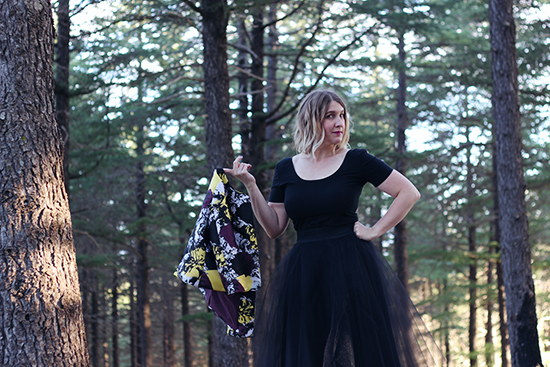 SaveSave
SaveSaveSaveSaveSaveSave