I think I should by a lotto ticket. Or bet on a pony race. Because yet again something I have visualised in my noggin has actually translated from AmandaBrain to the real world with success! Seriously, people. This is all kinds of a huge deal. Though perhaps my rad new Ensis Tee from Papercut Patterns and Iris Shorts from Colette Patterns are the prize?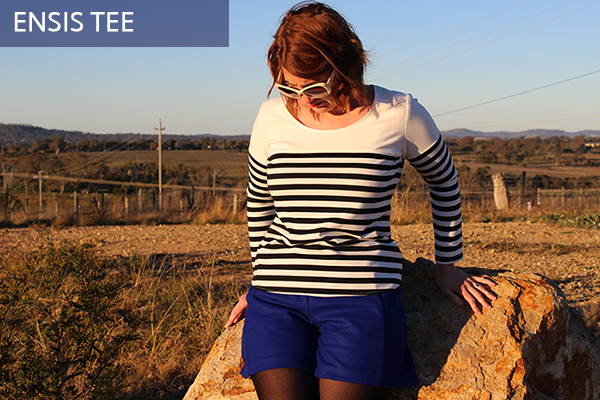 The Ensis Tee by Papercut Patterns is a colour blocked, crew necked knit top with two options: cropped sleeve with a curved hem or cuffed sleeves and hem. Because I live in total denial of the temperatures in Canberra I decided to go the "summer version" with the cropped sleeves. This was a ridiculously easy pattern to assemble and I finally have the tension set on my serger correctly that I could use this for most of the construction. Win! The tee was super fast to construct and the instructions were clear and easy to follow. Top work, peeps!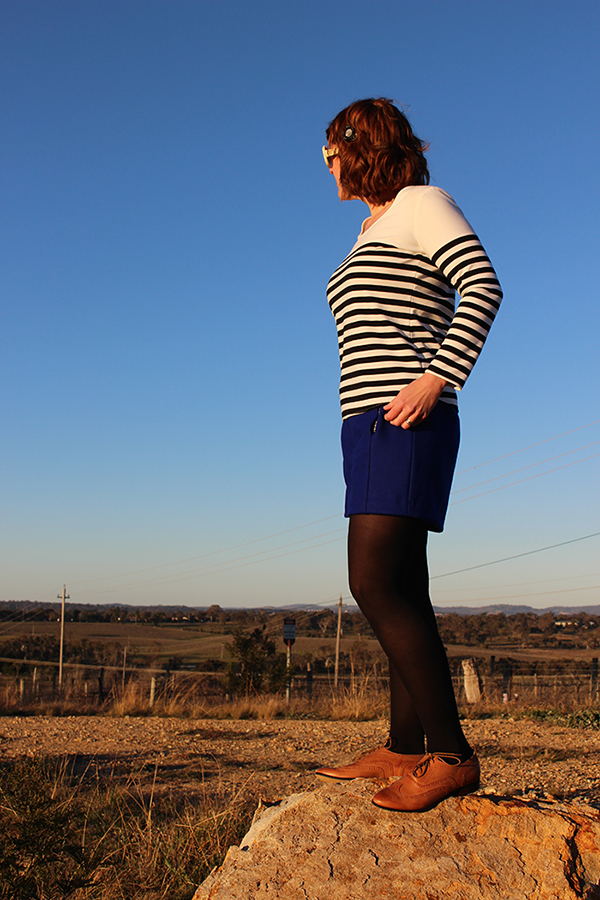 I went with a ponti for this version as I am a total fabric renegade (actually, there was no lightweight knit stripes available but let's keep cultivating a hardcore image). This has made a top with a bit more structure but its working with the stripes- they look nice and regular.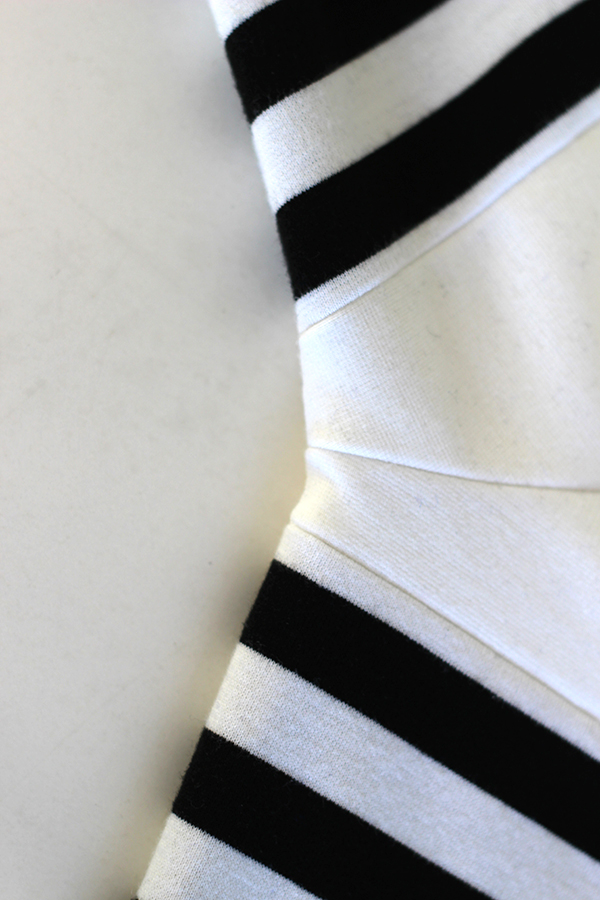 Yet again with Papercut, I found the sleeves a bit snug. I had gone up a size with this top from the Coppelia wrap so stupidly didn't check sleeves sizes and just cut everything out. Epic fail. The sleeves sit quite snug and whilst they are not uncomfortable in the ponti they may look a little clingy in a softer knit. Consider this a lesson learned.
One area I went crazy with was the neckline. The pattern has a crew neck and when I made it up I looked like one of those uncomfortable awkward family photos from the early 90s. You know the ones I mean. Crew necks are not my friend and this one felt like it was trying to hug my neck to death. I used the neckline from the Grainline Scout Tee to scoop out the front neck (and took 1/2" from around the back neckline as well), folded this over and hemmed. I really like how this sits on me now and there is no risk of accidental neck hugging to death by my top!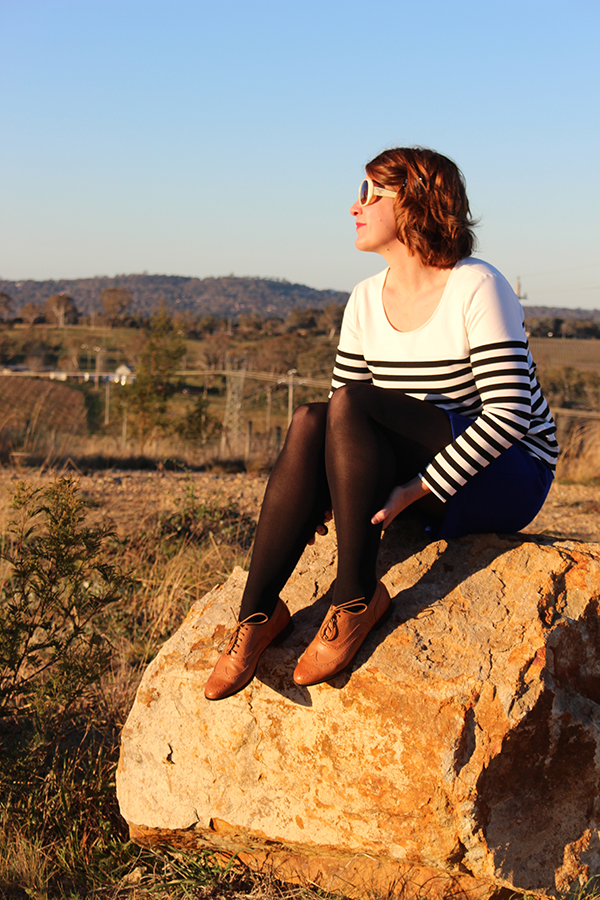 Now, gentle readers, after your awesome advice on dealing with knit topstitching (thank you all!) I am after a bit more help. There are some wrinkles happening in front of the armhole that are a bit odd. I'm thinking this may be caused by the arscye being too high up and it needs to be scooped out. Does this sound vaguely correct or am I misreading some google advice Any tips welcome!
And very quickly, I will tip my hat to my fierce new boiled wool shorts. These suckers are Iris by Colette Patterns and this is now the 11th time I have made these. Not even kidding. To try and make this more challenging for myself all the pieces are Hong Kong finished. Yup. What is normally a 90 minute project from cutting to final press turned into a mammoth multiple evening endurance trial. They're done, look delish inside and have prompted me to buy a bias binding foot for my machine. Because no one deserves to spend that much time on binding EVER.
What I liked about the Ensis pattern:
How quick and simple it was. A fast game is a good game!
The slight curved hem. I am always sceptical of these but I really liked it. Sassy!
The built in colour block. It lends itself to a Breton inspired top. Oh lal la!
What I would change next time:
Add an extra inch to the sleeves. I know they're meant to be cropped but it is seriously a case of Gadget arms strike again!
Mega bicep adjustment (that's the technical term, right?) Seems like I'm packing bazookas and not pistols for the gun show…
Fix those armhole wrinkles. It's like my armpits have angry eyebrows. Not the look a lady is wanting to rock.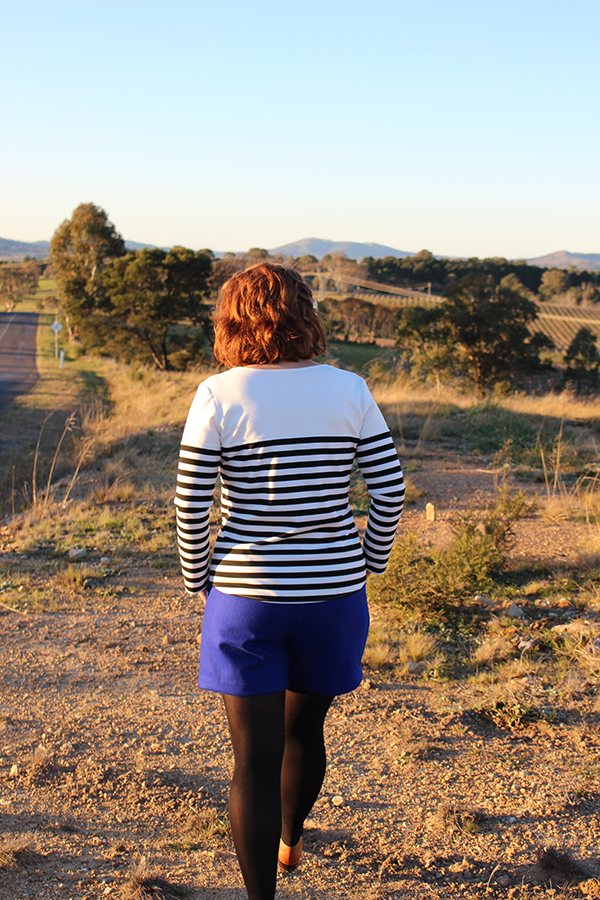 TEE
Pattern: Ensis Tee Pattern from Papercut Patterns
Fabric: White ponti from stash, 1.5m of striped ponti
Notions: Thread and twin needle in stash
SHORTS
Pattern: Iris Shorts by Colette Patterns, stashed and made 11 times
Fabric: 80cm boiled wool , 20cm quilting cotton
Notions: Thread , 11m of bias binding
See also: Myzeemoo, Sewn by Elizabeth, Top Notch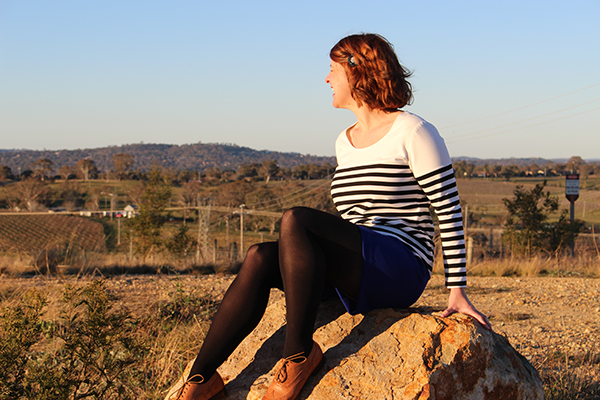 I am seriously crushing on this top hard and have already acquired merino to make two more. Like a wooly, snuggly boss! And on the off chance that anyone is wondering where these photos are taken I have decided to try and venture away from my lovely brick wall out to the farms a couple of minutes drive from my place. Canberra is called the bush capital for a reason!