Am I the only one who had full on flashbacks to their school uniform when they saw that culottes were back on the scene? I mean, I am pro stealth skirt with an inseam but every time I tried on culottes I felt like I was 16 again and valiantly trying to cram my Chinese homework. Ugh! Luckily, thanks to many hours lost on Pinterest, I've moved past this trauma and finally decided to dip my toe into the wide legged pants water…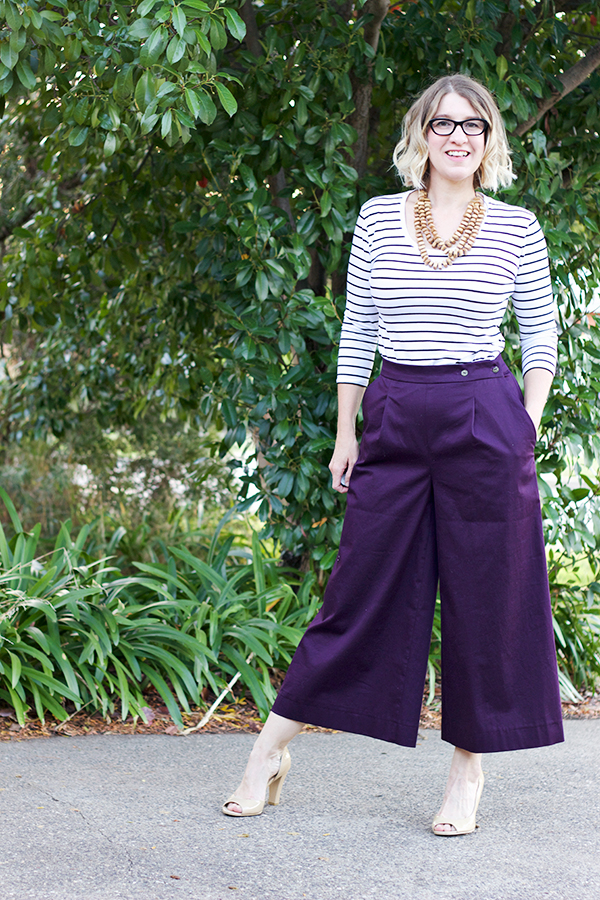 These fancy pants (teehee!) are the Flint Pants by Megan Nielsen. They are wide leg cropped pants with a hidden closure at the left pocket, release tucks at the front, darts at the back, slash pockets and two waistband options. I made Version 1 – above ankle length with button closures. I tossed up the idea of going the tie closures but I worried one of those horrid nightmares about being out and about and your pants falling down may occur. Real talk: the tie closures are supported by an internal button so you are covered if you have a paranoid brain like I do…
The fabric is the loveliest cotton sateen (amethyst) from Spotlight of all places. And to be honest the colour is absolutely spectacular and sadly it distracted me so badly when I saw it that I chose to ignore the hand of the fabric. Doh! This fabric is far too crisp for this pattern and whilst you can make these pants up in a fabric with a heavier hand the sateen just does not hang correctly. GAH! Let this be a lesson for us all. And as I look closely at these photos it seriously looks like these pants haven't been ironed even though they were. Nooo! Why do you treat me so bad, lovely purple fabric?!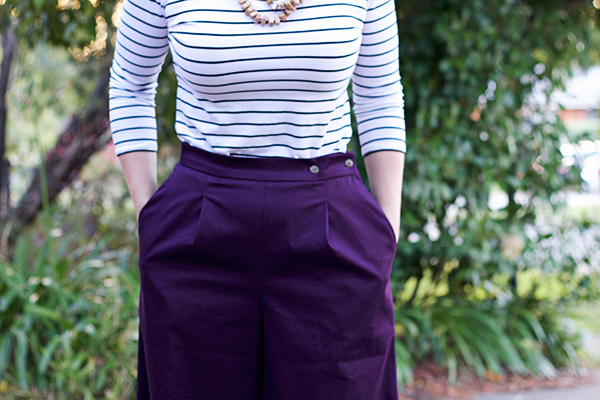 Construction wise these were relatively straightforward with the pockets being super fun. I truly had no idea how these pants would properly close and constructing the pocket closure was interesting – I've never seen anything like it before. As I tend to be very rough (read: clumsy) with my clothes I reinforced the stitching on the pocket closure. And after accidentally getting my toes caught in the pocket while trying to get into these I can advise this is a smart idea…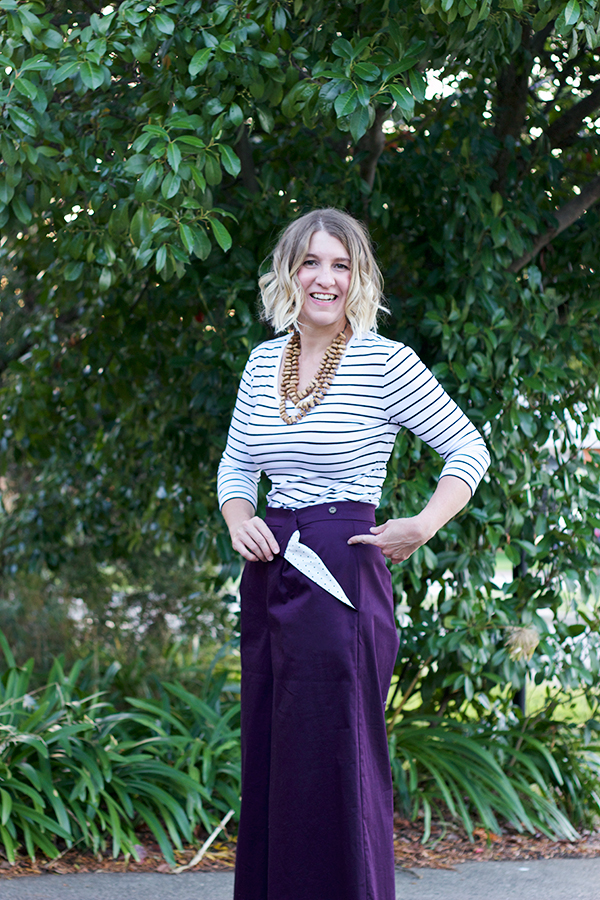 Real talk: I made the rookie mistake of sewing my buttonholes in before a final check (GAH!) and ended up with the waistband too loose. After pinning out the excess (4cm in total) I removed it all from the centre back seam and graded this down to zero. Not my finest fitting hour. In retrospect this should have been removed from the side seams- I blame brain exhaustion from my new job! As a result there are some weird draglines on the butt that are exacerbated by the crisp fabric. A reminder that you can be sewing for ages and still make simple mistakes…
What I liked about this pattern:
Ninja stealth closures. This is seriously bonkers awesome and has kept me entertained every single time I put these on.
The crazy wide legs. I seriously dig this look!
What I would change for next time:
Remove the front tucks. Rad in theory, in practice it was too much party for me.
Work on the fit at the back. Let's try this again with a massive chunk of fabric missing from the CB seam…
Use a fabric with a softer hand. The other version I've seen made up in drapier fabrics look AWESOME!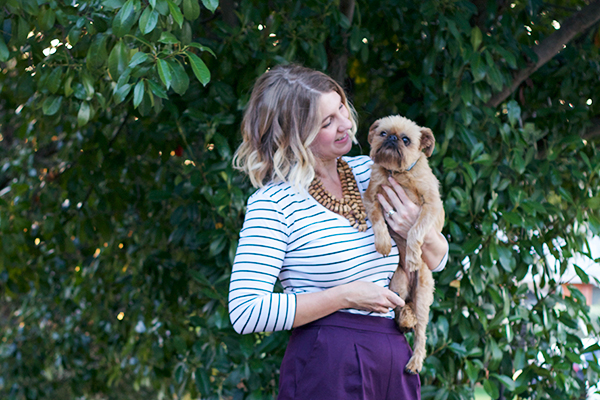 The Deets
Pattern:                 Flint Pants by Megan Nielsen
Fabric:                  2.5m of cotton sateen from Spotlight, 0.3m of polka dot poplin and 0.3m interfacing
Notions:                2 x 1.5cm buttons, thread
Size:                       L
Adjustments:     4cm removed from CB graded to 0cm
See also:                Katie Makes A Dress, Try Curious Blog, Design By Lindsay
Overall, I love the idea of these pants but am treating this pair as a toile. The fabric (while potentially the best colour ever) doesn't do the design lines justice and makes these sit oddly. I'm currently hunting down some fabulous wool to make another pair but with some work on the fit. Stay tuned for future culotte fun! Like this kick. Hi-ya!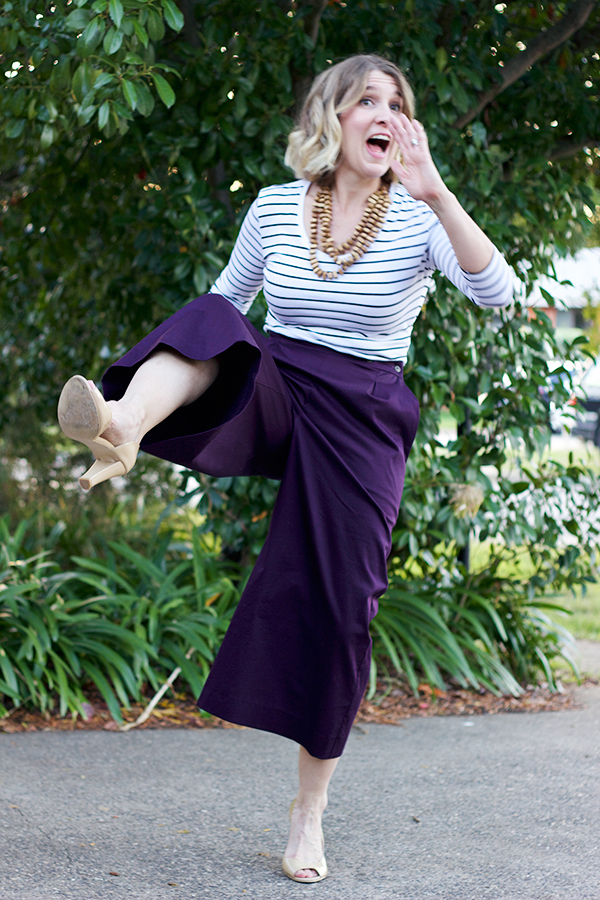 SaveSave