Since we got back from Peru it feels like I have found my sewing groove again. I've been tackling projects well out of my comfort zone and learning lots of new skills. Whilst this is fun it can be a bit of a brain melt so enter the palate cleanser.  Coined by my dear friend Kirsty, this is a nice and easy project that comes together quickly and guarantees you success – just what is needed when you are stuck on Step 45 of a complex project. So here it is! Welcome to my super cheerful, quick and dirty palate cleanser skirt.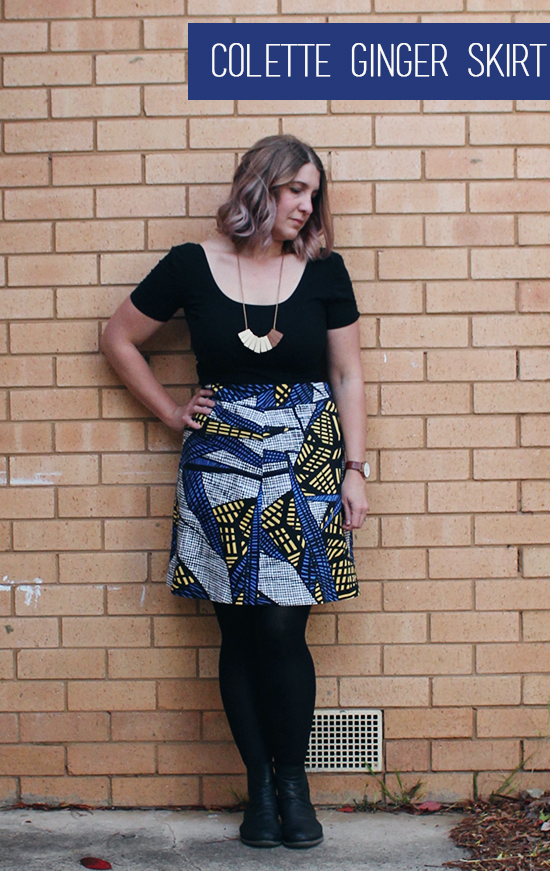 For those unfamiliar, this is the Ginger Skirt by Colette Patterns. This lovely workhorse is a simple A-line featuring a high waistband and a central front seam – no darts here! It's one of my oldest patterns and there have been a few iterations sewn up over the years. This skirt is Version C (straight waistband) but the fabric is cut on the grain rather than the bias. From go to whoa this took about 90 minutes to knock together – or a disc of Parks & Rec if my real units of time measurement are used.
I am absolutely in love with this fabric – a lovely and light cotton sateen from Tessuti Fabrics. This was scored late last year on a ninja visit to Melbourne where I managed to squeeze in a lunch break fabric shopping trip. It turns out twenty minutes is more than enough time to buy three pieces of fabulous fabric AND grab a cupcake for lunch. Who knew?!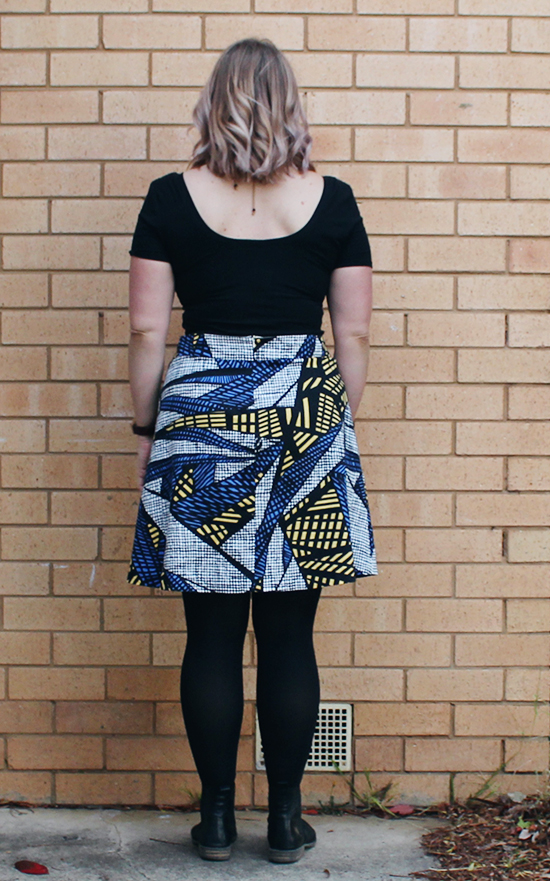 Construction wise, this was a super simple skirt to make. The lack of darts makes for crazy fast construction and truthfully the biggest challenge was inserting the zip because I was tired. It's not sitting as nicely as I like but you can't win them all. One point of interest – as there are no darts the front seam line is curved to provide shaping for the skirt. This is not noticeable in plain fabric but if you are using a fabric with a repeat it's worth bearing in mind. Or do as I do and get a crazy print and no one will even notice the seam!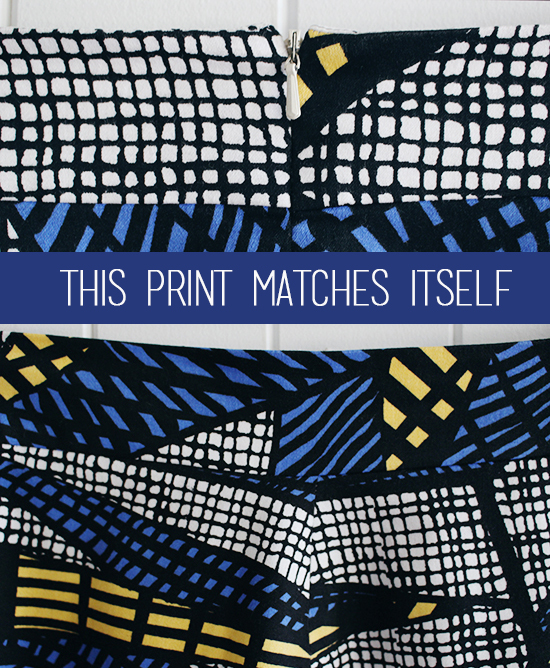 Things I like about this pattern:
The simple design. It's a perfect showcase for that crazy fabric that you just can't say no to. So yes, you can justify grabbing that poplin featuring rainbow unicorns battling robot dinosaurs!
Easy construction. The Ginger is a total comfort sew for me (odd as that sounds) and is a great pattern for beginners.
The fabric. This is one of my most noticed and complimented on makes ever – everyone loves this print!
What I would change for next time:
Bring the waist in a little. I had to size up from the last few times I've made this and the waist is just a little loose. No one deserves a saggy skirt!
Insert the zip properly. It is not sitting flush at the top of the waistband. Oops.
Tweak the waistband insertion. I totally forgot to understitch the waistband lining until it was almost too late. As a result it is not fully understitched. On the plus side, the only one who notices is me!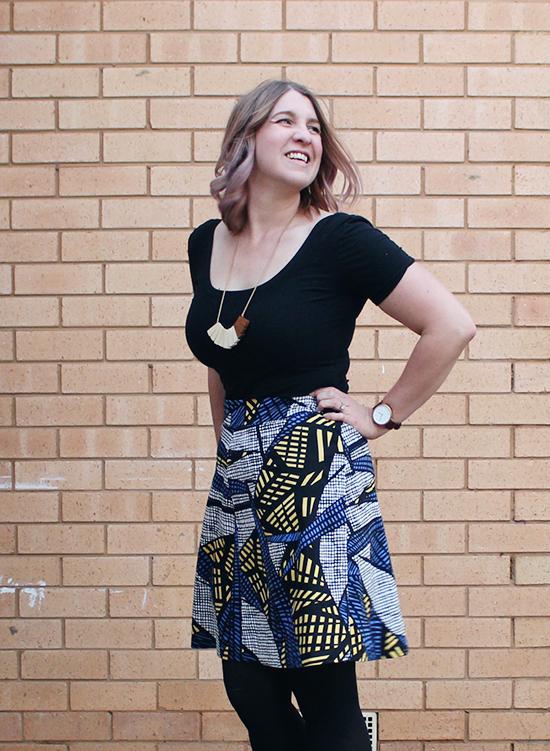 The Deets
Pattern: Ginger Skirt by Colette Patterns
Fabric: 1.2m of cotton sateen from Tessuti Fabrics, spotty poplin to line
Notions: invisible zip, thread, interfacing
See also: my chevron Ginger, Tilly and the Buttons, Sweet Little Chickadee
Overall, I am happy with my new Ginger skirt! This has quickly become a work wardrobe workhorse (ohhh, alliteration!) and it makes me smile every time I wear it. On another note – thank you all for your suggestions of a button up shirt pattern on the last post! I just have to sew on the buttons for the Bruyere (love!) and have the Granville ready to trace off. It's shirt-a-palooza coming up here – stay tuned! Until then… RAWR! (which means have a rad week in raptor!)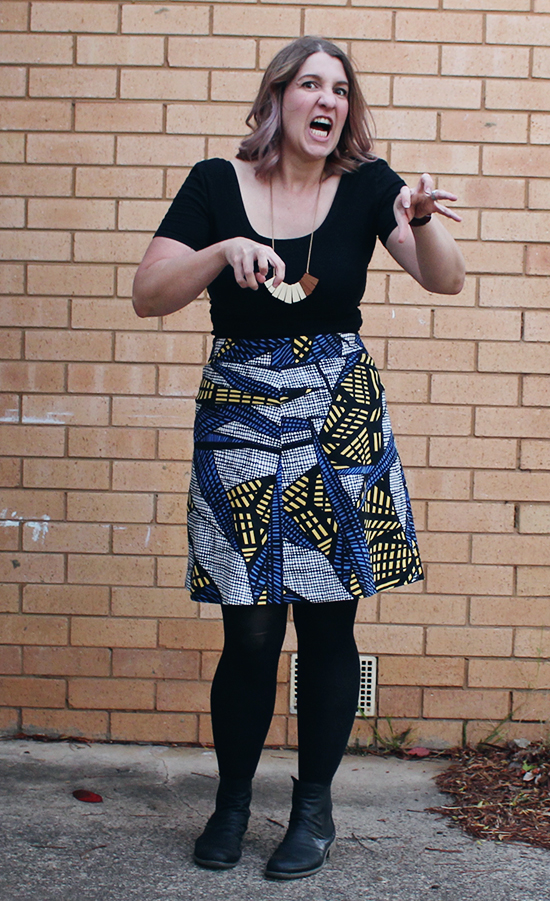 SaveSave
SaveSave