Real talk: I am a total creature of habit and planning. Nothing soothes my soul like a well compiled to do list and ticking things off. So it has to be something pretty freaking cool to shake up my next sewing project plans. Enter impulse purchased fabric and the Grainline Studios Lakeside Pyjamas set. This is a match made in crazy awesome!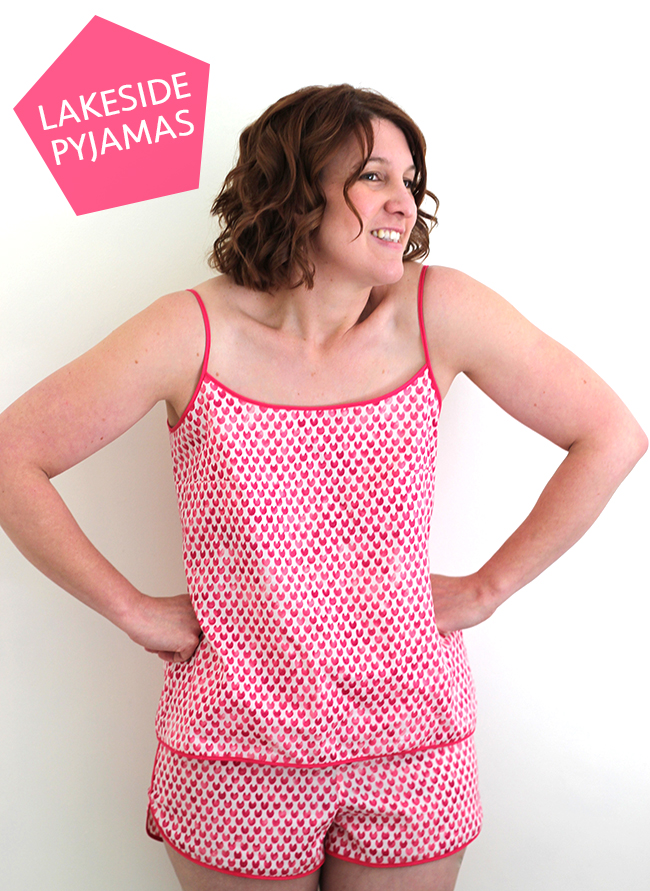 The fabric that lured me in like a siren's song is a fantastic Japanese lawn from Spotlight. It is whisper soft, handles beautifully and is reasonably priced- win! But most importantly it is covered in peculiar little blobs which I have been treating like a personal Rorschach test. For me, the blobs are tiny little Totoros gallivanting. For El Husbando they are kitty faces. Regardless of what you think they are these suckers are adorable and totally rock it with the pink bias binding!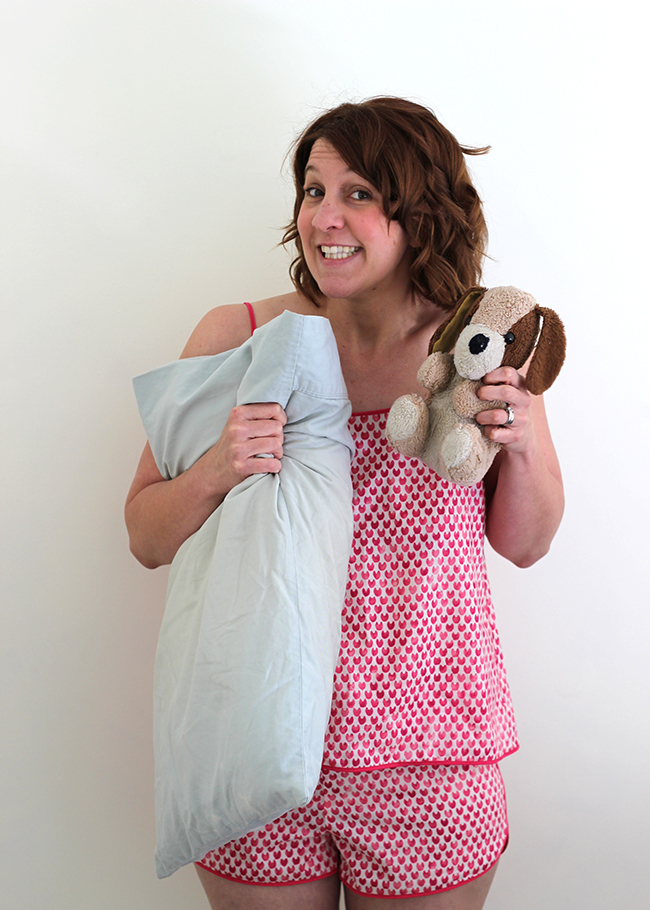 Construction wise these PJs were fairly simple and, as always with Grainline patterns, the instructions were very detailed and clear. The only trouble I had was trying to get a couple of binding joins sorted- specifically the back wrap to the neckline and the side of the gym shorts. It took a few goes but I finally got it sorted and they turned out fine. The stitching is a bit hinky here but you live, you learn.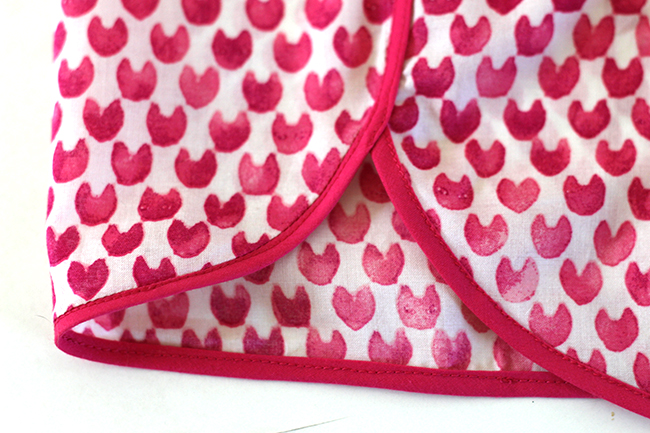 The insides have been French seamed which could make me sound super fancy or some such but let's be honest – I was just too lazy to drag my overlocker out. BWAH HA HA! I had also just caved and purchased a bias binding foot for Daisy the Janome and holy monkey hats that thing is amazing! You just feed the binding into the foot, slip the fabric into the binding sandwich and away it goes. Life. Changing.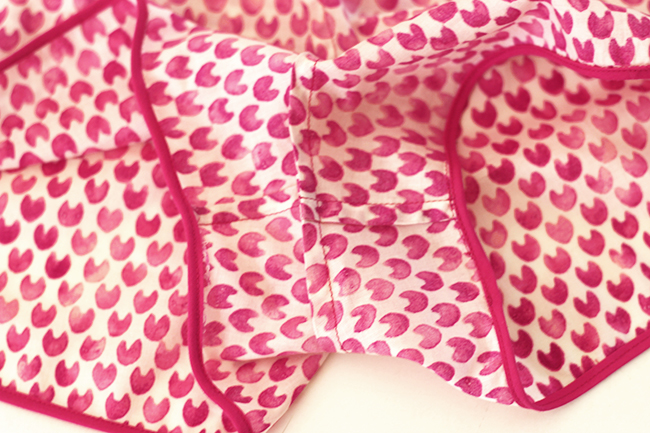 The only grumble I have about these bad boys is the sizing of the gym shorts. Whilst my measurements were comfortably in the recommended size range things feel a bit snug there. It may be I'm used to sleeping in looser shorts or perhaps I have a free range butt that needs room to move? Regardless, it's comfy enough for PJs but next time things will be a size up for sure!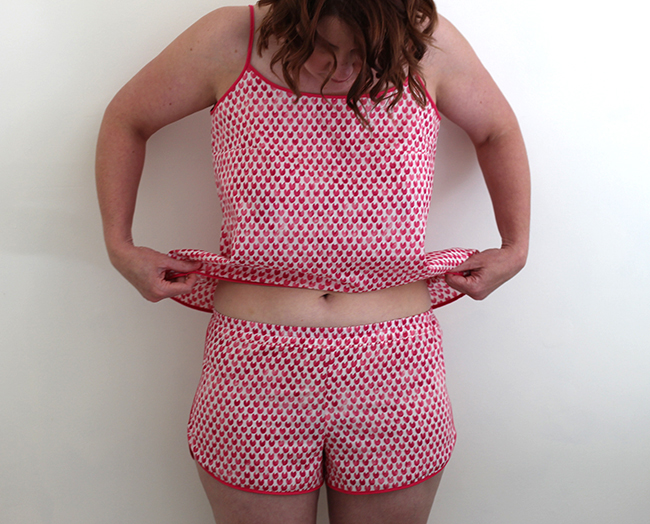 What I liked about this pattern:
The back panel wrap. I feel like a human burrito!
The gym shorts vibe. It's a 70s flashback in the best possible way!
The bias binding trim- it's pimping your PJs!
What I would change next time:
Go up a size in the shorts. Comfiness is premium!
Make my own bias tape. Laziness prevailed here.
I've got nothing else. This is a stellar pattern!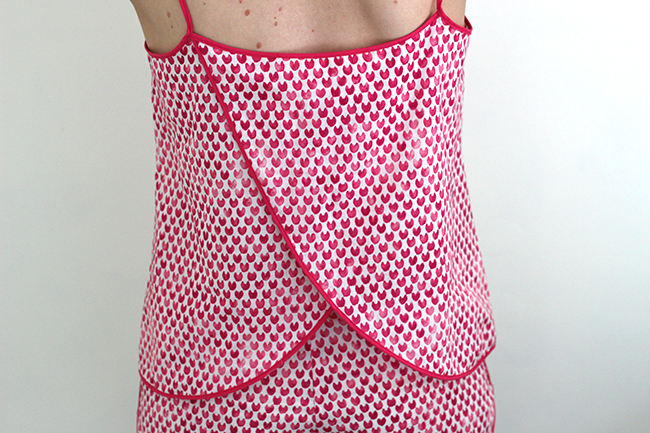 The Deets
Pattern: Lakeside Pyjamas by Grainline Studio
Fabric: 1.5 metres Japanese lawn from Spotlight
Notions: Thread, 1m elastic, 6m cotton bias binding
See also: Awfully Nice, True Bias, Lladybird
Overall, these PJs are all kinds of rad! I'm seriously contemplating knocking some of these up for Christmas gifts this year with matching sleep masks and little drawstring bags. Though that would require me to get organised and that's not on the cards. But you know what is? PILLOW FIGHT!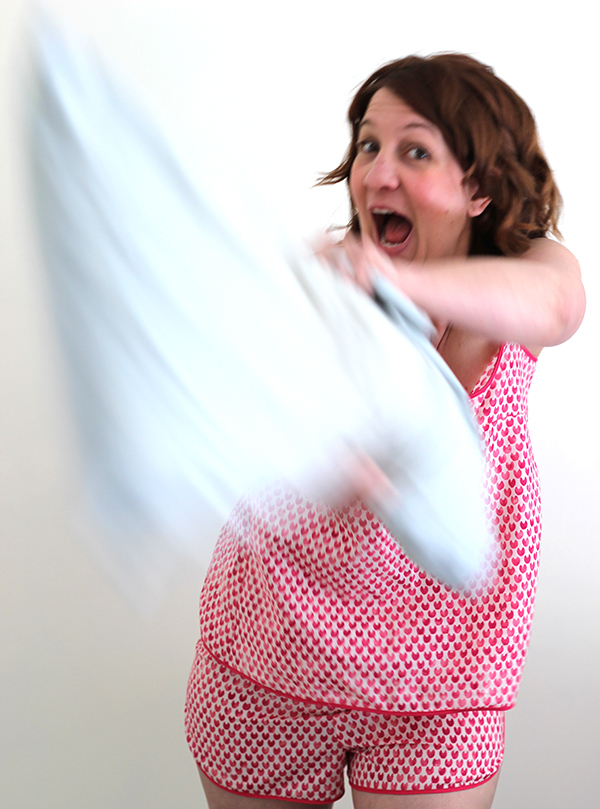 SaveSaveSaveSaveSaveSave