Two words, peeps: Pirate. Ships.
If there was anything that could have brought me over to buy some Liberty it was going to be pirate ships. Liberty, of the sweet florals and delicate art deco prints, has never grabbed me enough to shell over my hard earned clams to invest in it. But when I stumbled across a monochromatic pirate number you better believe I snaffled it up like my dogs eat chickpeas (read: very quickly) And what better pattern to celebrate the glory of the pirate ship goodness than a pirate blouse. Ahi me hearties! Let's set sail for radness…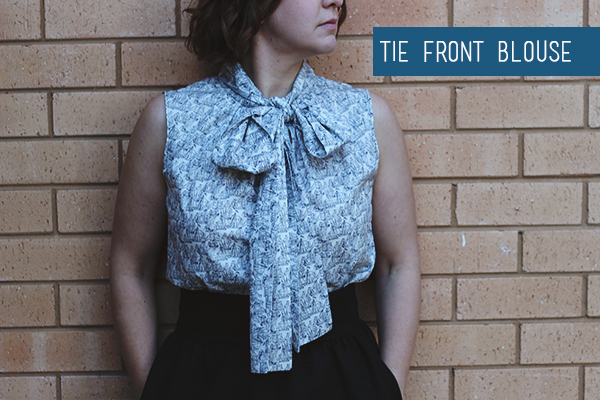 We've gone through this drill before but a big welcome back to the Tie Front Blouse from Burda. This is a dart free blouse with a boxy fit, a front slit and a huge ass bow whose length and width varies on how much fabric I have. It is a crazy fast pattern to prep though you do have to "draft" the slit facing and tie pieces. The best bit of this is that you can work with what fabric you have for the ties- I went with 14cm wide and 100cm long per piece.
The seriously rad Liberty print was picked up at Okadaya in Shinjuku last May. While Liberty was cheaper over there than it is here ($55 AUD p/m anyone?!) it was still a pricey investment so I grabbed 1.5m and hoped for the best. The print up close is covered in tall ships and there was a pink colour way as well. Repeated research into the name or collection of this print has come up empty so until then it's (un)official name will be Rad Pirate Goodness Yarrrrr. You're welcome, Liberty. Please give me a call if you ever need more naming help…
Edit: a big thanks to Grannysmith for providing me with the correct print name. Unfortunately Liberty went a bit more sedate and called this Patrick's. Still pretty rocking. Patrick's the Pirate!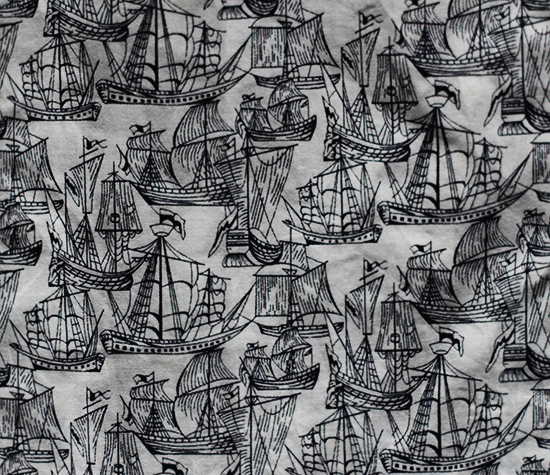 Construction wise, this was my third go at this pattern so things went pretty smoothly. In fact, the biggest challenge wasn't sewing it up but seeking out the ties from the limited fabric length. I ended up having to cut two tie pieces on grain and two pieces on the cross grain to fit everything in. That's what fancy pants sewers like myself call a "design feature" *snort*
The fit on this version is great but to get this sorted has been a total comedy of errors. My polka dot version was cut, ahem, without a seam allowance so was a bit tight around the armscye. The second version (unblogged) had the seam allowance and but was too big so has been taken in. For this pirate number I went with the size up in the armholes and graded back to the non-seam allowanced size of the first version and it fits like a charm. Huzzah! I really need to undertake a fitting course some time soon… O_o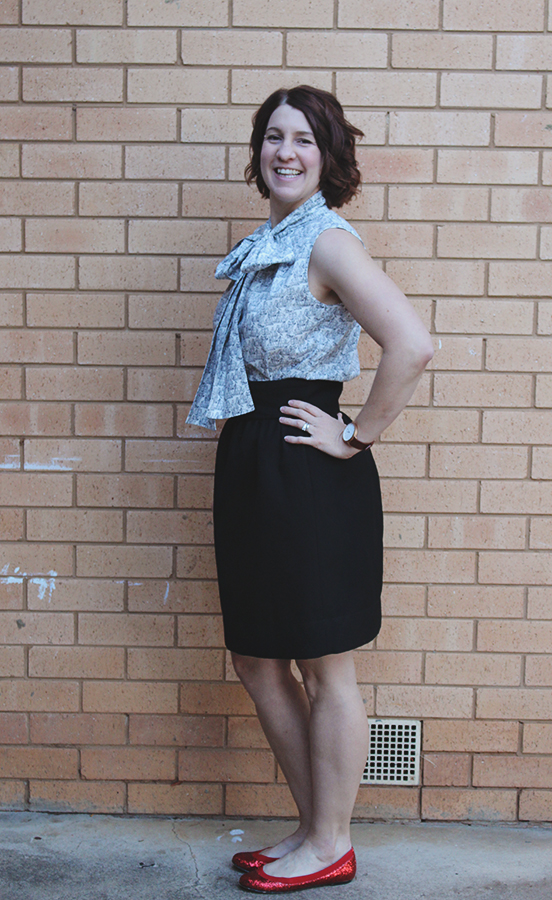 Sewing wise, this was a super quick make I had the blouse sewn and the tie pieces separately constructed on the Tuesday night. Pro tip for slit facing: this tutorial is ace if you need some help! I then joined everything together on the Wednesday night and was rocking this to work on Thursday. As this is a work top I got utilitarian on the inside and used my overlocker on everything. Last thing a lady wants is her epic pirate blouse splitting open She Hulk style while schmoozing at a work function…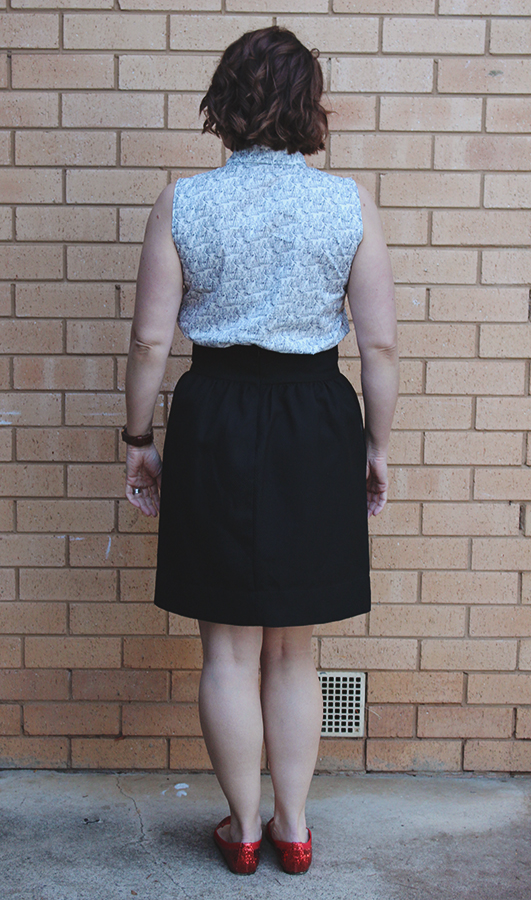 What I loved about this pattern:
How big impact the bow is. When you have ridiculously hip young cultural institution staff asking where they can get one you know it's working. Now hand me my black rim glasses!
How quick it is. If you can make something in the space of six Parks & Rec episodes you know you're winning at life.
PIRATE SHIPS! I know this isn't THE pattern but it is A pattern and since it's my blog rules are being broken BWAH HA HA! There is something crazy meta about wearing pirate ship fabric on a piratey bow blouse.
What I would change for next time:
If I were to try this again (would four of these be too much?) then maybe it is time to try the full tie dimensions. Though I fear that I could end up mummy wrapped in those suckers…
I've got nothing else. This is one happy camper.
The Deets
Pattern: Tie Front Blouse by Burda
Fabric: 1.5m Liberty lawn with awesome pirate ships from Okadaya, teeny rectangle of fusible interfacing
Notions: 0.5m Liberty bias binding, thread
See also:  Paunnet, my sassy self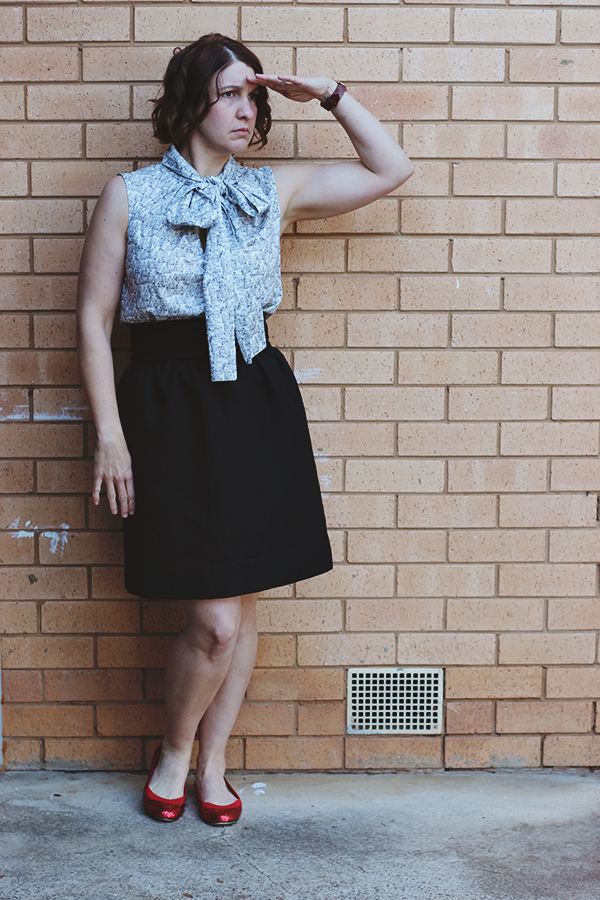 Overall, I am crazy in love with this top. The fabric is a dream to sew with (more pirate designs please, Liberty!) and even more luxe to wear. You know you're on a winner when it is pulled out to be worn every week! It also marks the last of the tops made for my new work wardrobe which is almost complete- two frocks to go… But if you will excuse me, I'm off to sail the seven seas YARRRR!