It's a truly universal acknowledged that when a lady's Hello Kitty PJ pants finally give out in the back seam it's time to get some new pyjamas! And this time regular PJs wouldn't do – it is time for a matching robe, tank, sleep mask and shorts. Guess who is winning at 2018 now? Me!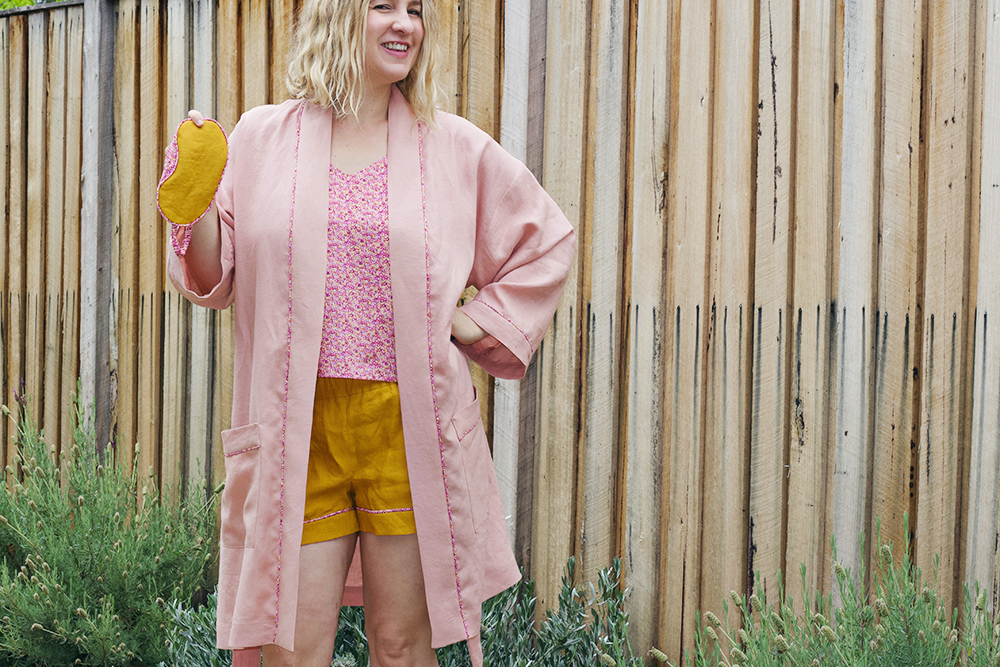 This set comprises of four pieces: the Lahja Dressing Gown by Named Patterns, the Ogden Cami by True Bias, the Carolyn Pajama shorts by Closet Case Patterns and a DIY sleep mask by me. I'm going to mostly focus on the robe today but you can check out my thoughts on the Carolyn PJ pants here and I'll get to blogging about my Ogden Cami collection at some point soon… Perhaps…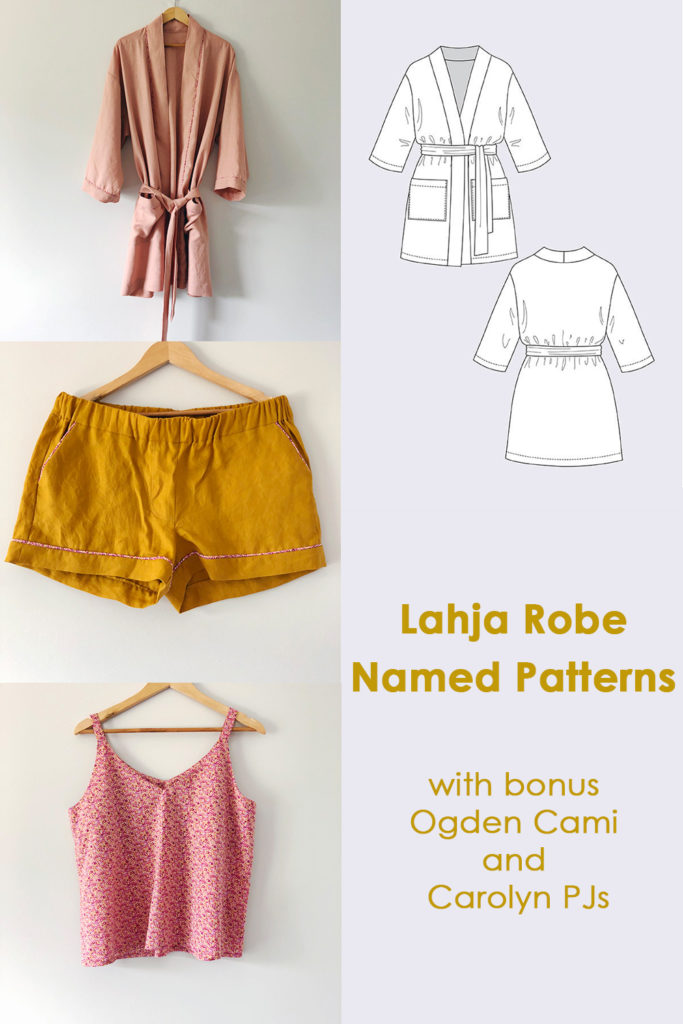 The Lahja Dressing Gown is a nice and simple robe that comes with either cropped or long sleeves and above or below the knee options. It features a wide collar and patch pockets that are a great size. As my Asaka Kimono's sleeves have been causing me some grief pottering around the house, I went with the cropped length. I did, however, play around with the pattern and add piping to the pockets, collar and sleeves to tie this into the rest of the set.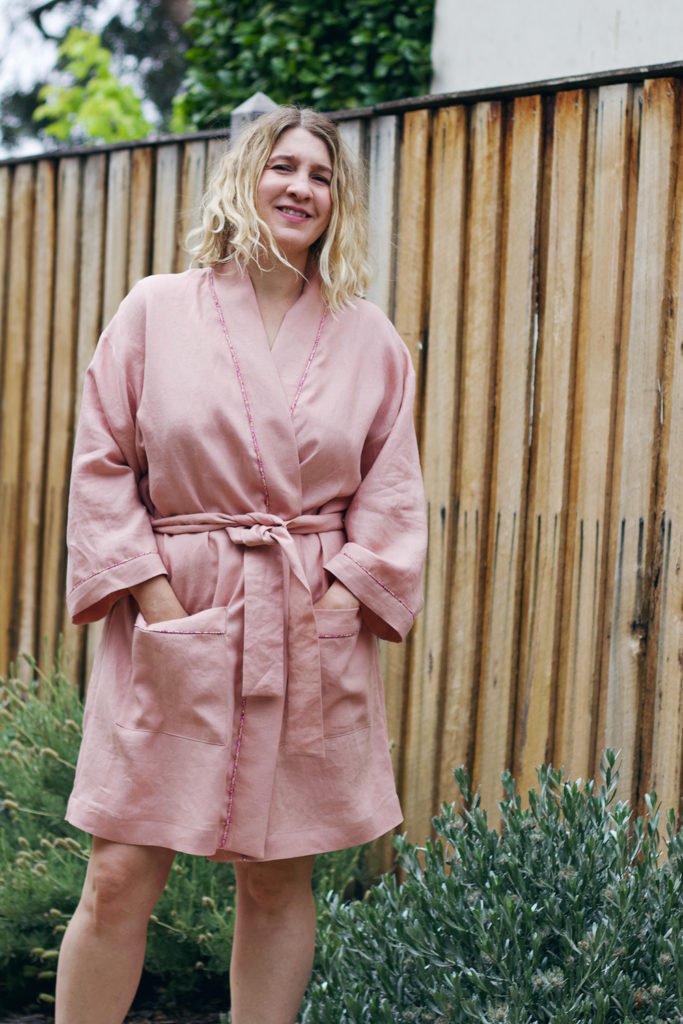 I used three main fabrics for the set- vintage blush linen for the robe, mustard for the shorts and eye mask and Sweet Cherries Liberty lawn for the camisole and eye mask. I scored all of these from The Fabric Store in Sydney though I originally found them online. What tipped me over the edge for making this set was the matching pre-made bias binding from The Fabric Store meaning I didn't have to spend forever fiddling around. It was an indulgence but it saved me a heap of time. Yay!
Construction wise this was all very straightforward. The instructions were clear for all three pieces and using linen and lawn meant the fabric was super well behaved. I also had heaps of fun using my loaner Janome to sew this all up. As a lady who works on old school mechanical machines a computerised machine is something crazy amazing!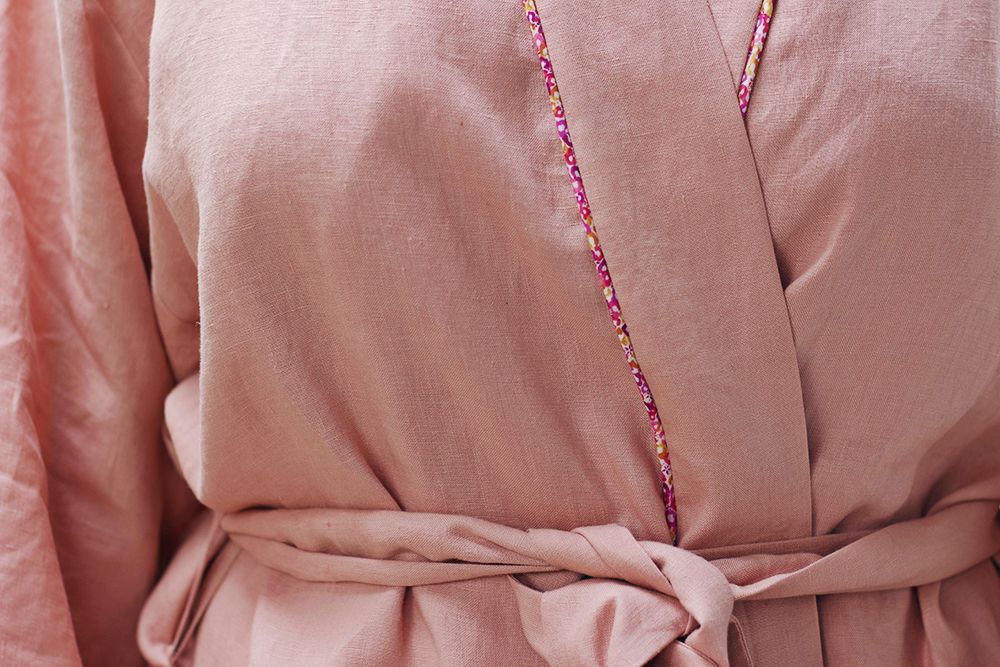 One thing I will mention is my sleep mask. I have lots of trouble sleeping and one thing that greatly helps for me is an eye mask to cut out the light. I looked at a bunch of different patterns but in the end, I traced off my current sleep mask, messed around with working out how the nose piece worked and hoped for the best. After playing around with fabric layers I got the best light cutting results from a linen outer, two layers of navy blue cotton, one layer of quilt batting and the Liberty outer. Thank goodness for the scrap bin!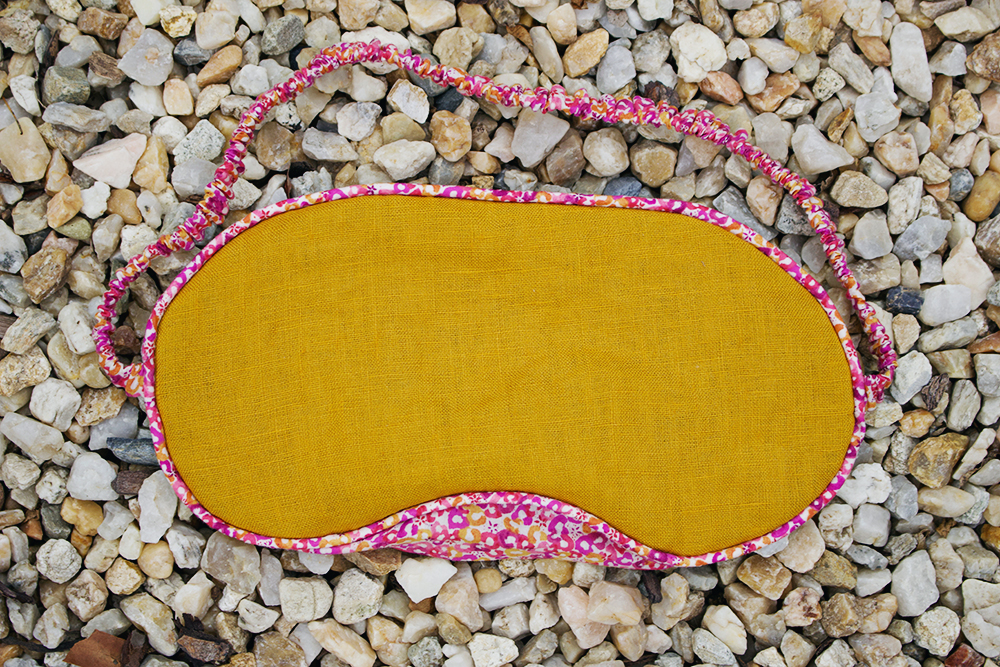 What I liked about the robe pattern:
The basic design lines means you can go nuts with the fabric or trims. Yay!
The sleeve length. No rolling required for getting things done around the house.
The decent sized pockets. I can fit my phone, tissues and dog treats in there. Also the TV remote. Try not to be jealous of my life, peeps!
What I would change for next time:
Raise the belt loops for the waist ties. These dropped down a lot when I had the belt threaded through.
A slinky fabric. The linen is lovely but a rayon version would be super luxe and great for swanning around in, cocktail in hand, whilst gazing into the distance. Side note: would change name to Crystal to accessorise fancy robe.
Make a long one in flannel for winter. I have honestly never owned a flannel robe and I am ready to upgrade my winter wardrobe!
The Deets
Pattern: Lajha Dressing Gown by Named Patterns, Ogden Cami by True Bias, Carolyn Pyjamas by Closet Case Patterns
Fabric: Vintage Blush linen,  Mustard linen and Sweet Cherries Liberty Tana Lawn from The Fabric Store
Notions: 7m Sweet Cherries Liberty bias binding from The Fabric Store, piping cord, 1m elastic, interfacing scraps, eye mask fabric scraps, threads a plenty
Size: L for gown, 14 for PJ shorts, 14 for cami
Adjustments: added extra piping to shorts and dressing gown
See also: Sewing Vortex, me for PJ shorts, Sew Wrong, Denver Sews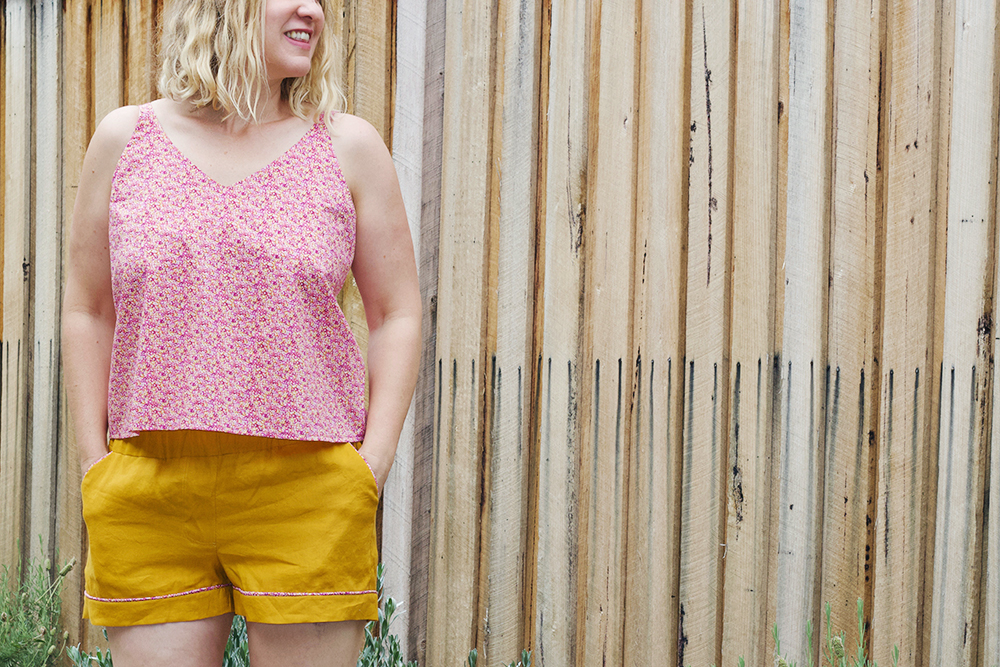 Overall, I seriously love this entire set. It is so luxurious to wear and it weirdly has made me feel happier pottering around home. I am seriously considering making another set up using a particular Liberty and linen combo I've seen at Tessuti. Watch this space because this lady wants to feel fancy all the time!