Names have always been important to me. People I love get super awesome rad names that I feel denote their splendour. People who are my nemeses (rude lady at the café, I'm looking at you) earn names of disdain and jerkiness. And for some reason material possessions that I am fond of get named as well. My first car, a purple and pink Mini, was Mable. My laptop is Gregor. So it stands to reason that the most delicious Angora wool of yumminess got a name. So let me take a moment to formally introduce you to Captain Bunway, my Tessuti New York Cape of Awesome.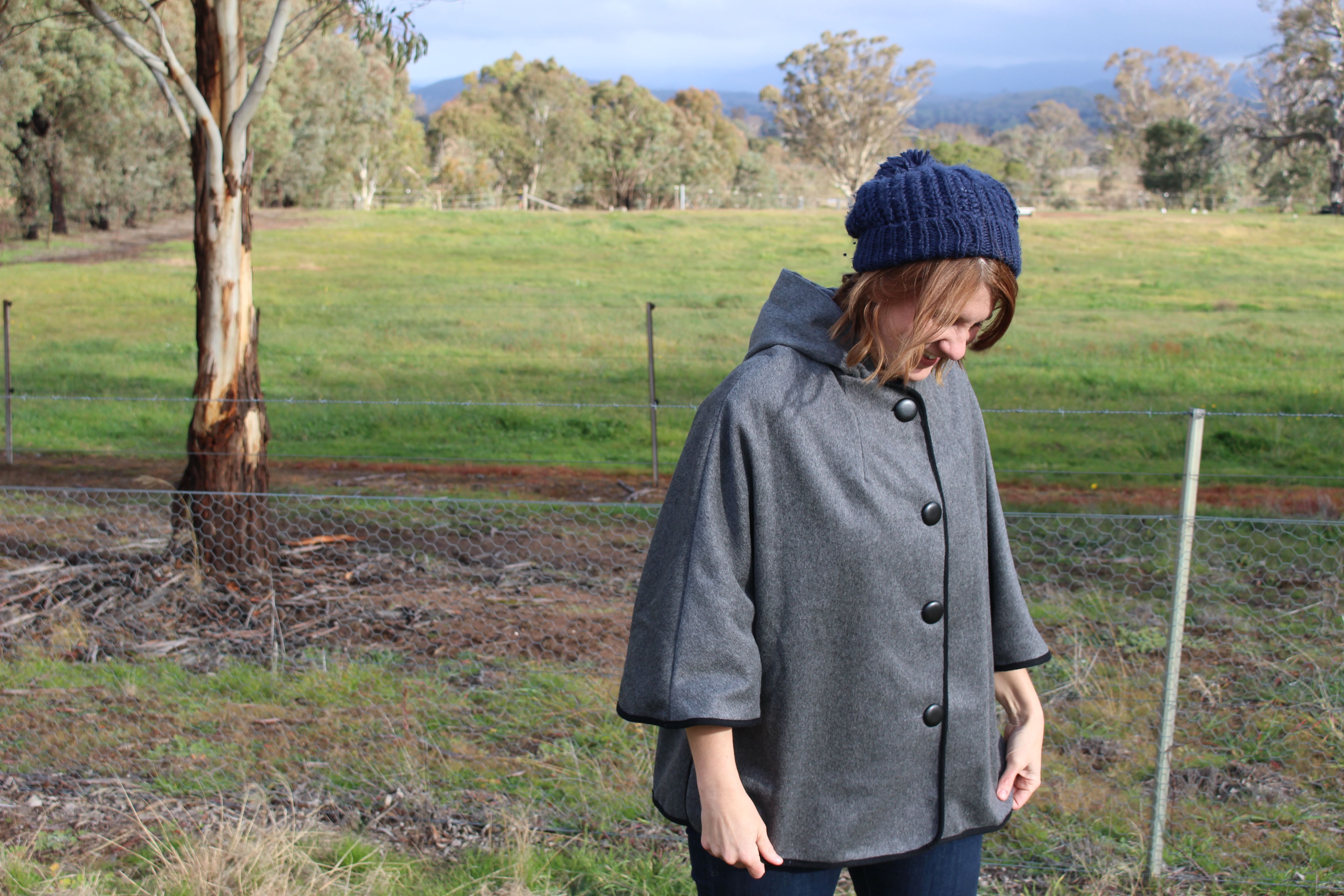 The Captain (as he shall be known forthwith) has been hanging in my stash since Frocktails last year. And all credit for this purchase goes to the lovely Kat (this post is totes thanks to your enabling!) who convinced me it is perfectly fine for a lady to add 1.5 metres of Italian boiled angora wool to one's stash if it is 50% off. This is the softest fabric I have ever felt and it feels like an old soft teddy bear you just want to hug all day. Nawwwww….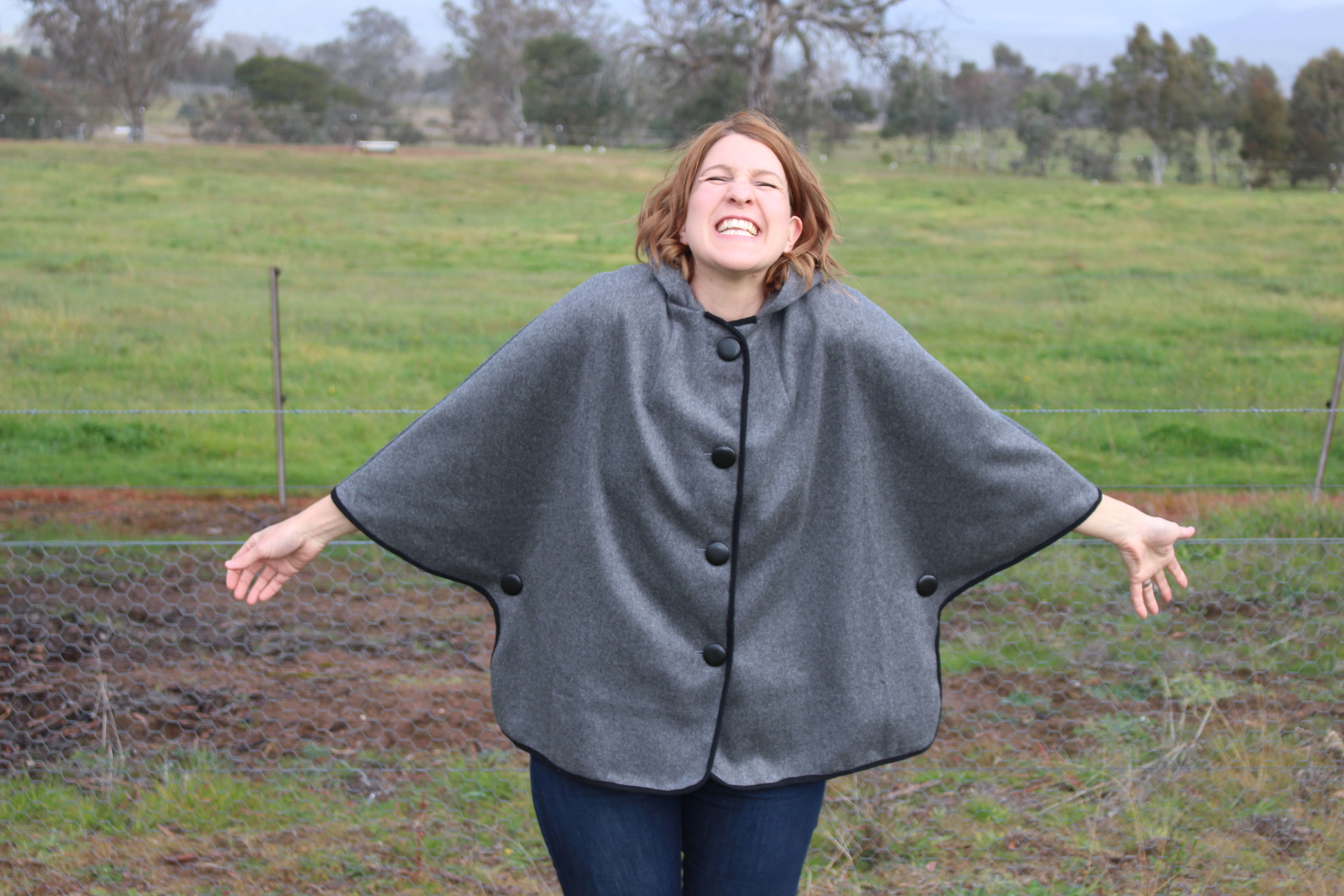 I had been toying around with a few outerwear patterns over the last few months trying to find the perfect fit. In the end it came down to the Woodland Stroll Cape from Lisette and the New York Cape from Tessuti Fabrics. What cinched it for me in the end was the hood. Winter in Canberra is like the Frostilicus episode of the Simpsons and I wanted the ability to keep my head all toasty.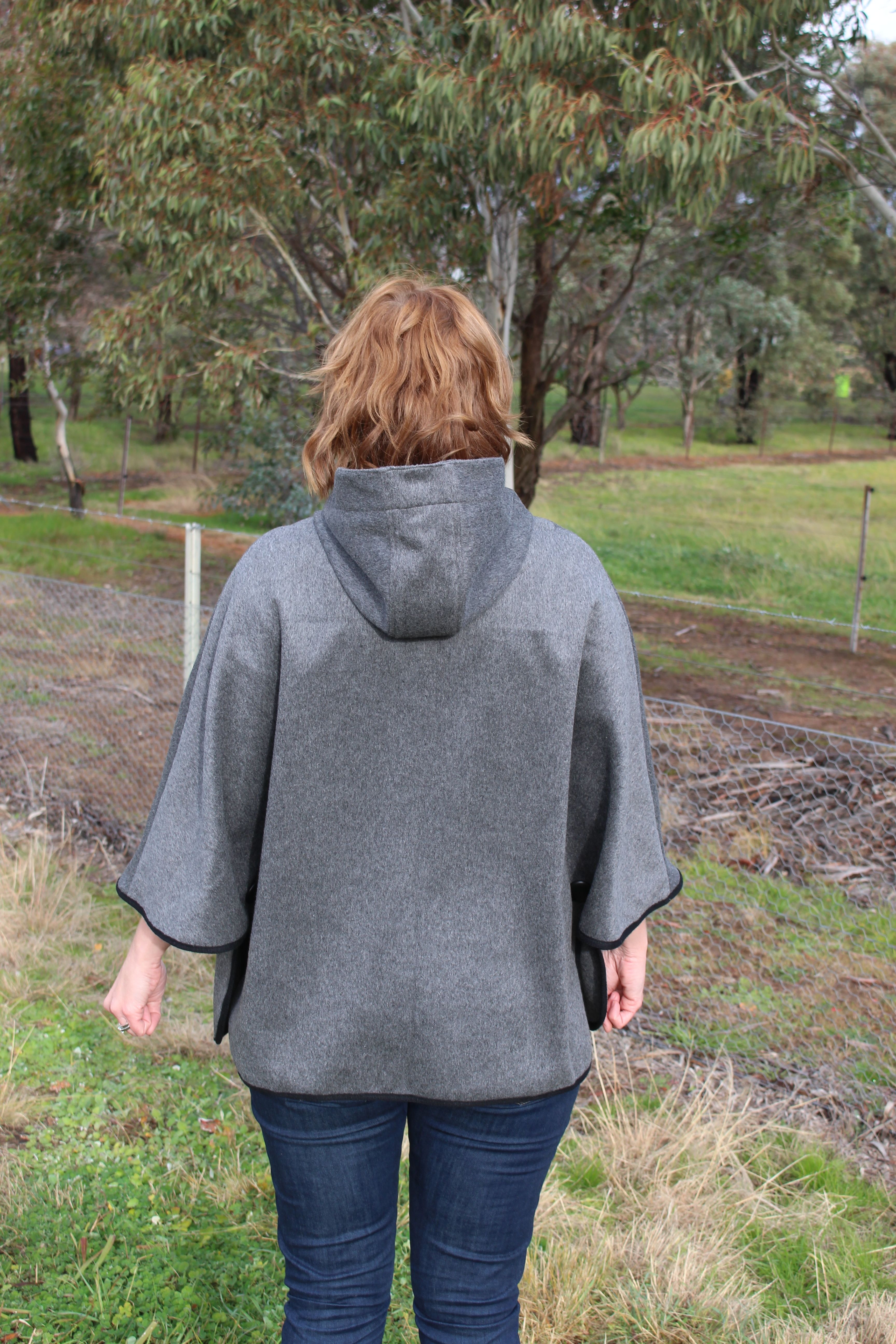 Technically the construction is pretty easy and the instructions are illustrated with some photos. Win! But this wool felt like it deserved super special treatment so what could have been a solid weekend project turned into an odyssey. I took this down with me to Sewaway where I managed to spend three whole days working on it and was only made it two thirds of the way through the steps. I know, right?! I found there is something immensely gratifying to taking your time with construction on a project like this in an environment with thirteen other sewists egging you on. I mean, where else could you spend oodles of time chatting/interpretive dancing/providing commentary to movies while still getting things done?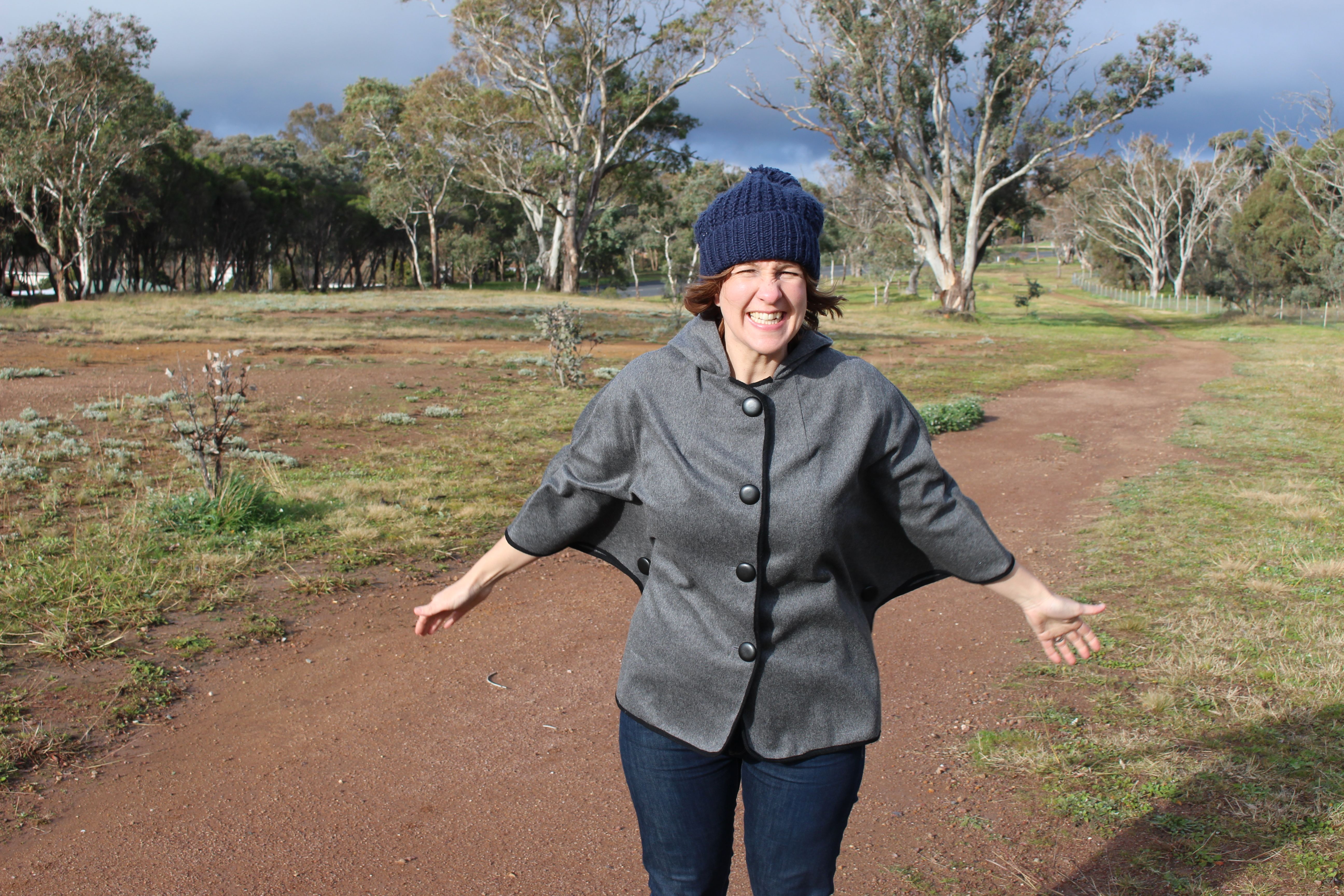 The biggest time vacuum on this project was the bias binding. All twelve metres of it. Don't get me wrong. The insides of my cape of wonder are one sexy beast. I may seriously contemplate wearing this bad boy inside out. But damn they took an age. I don't have one of those fancy binding feet so everything was pinned on, sewn down, folded over and carefully sewn again. And because I was in the mood for crazy levels of attention to detail I was going back and unpicking any original stitches that didn't look perfect. Seriously. No wonder this took so dang long. And if I may offer any words of wisdom to future rad cape sewists- HAND STITCH THE WOOL BINDING. It is gorgeous but deserves the special treatment. Trust.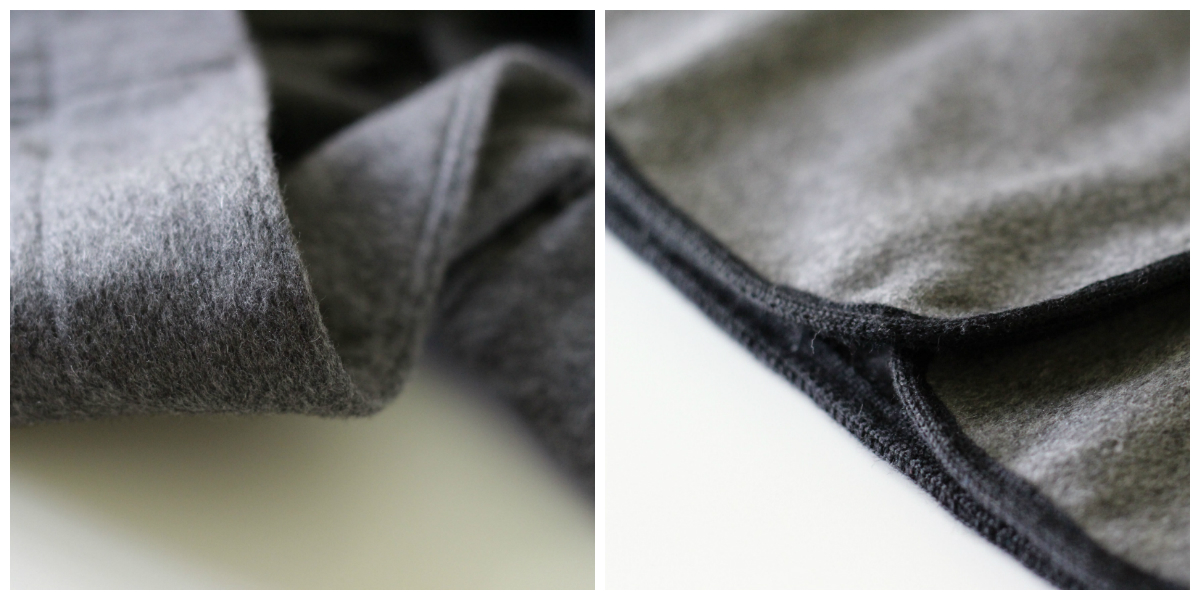 The hood is my favourite part of the cape. The inside is an absolute delight I added a second line of top stitching along the edge of the hood as I could not get the wool to sit flat. I think it looks tops but then I am easily entertained…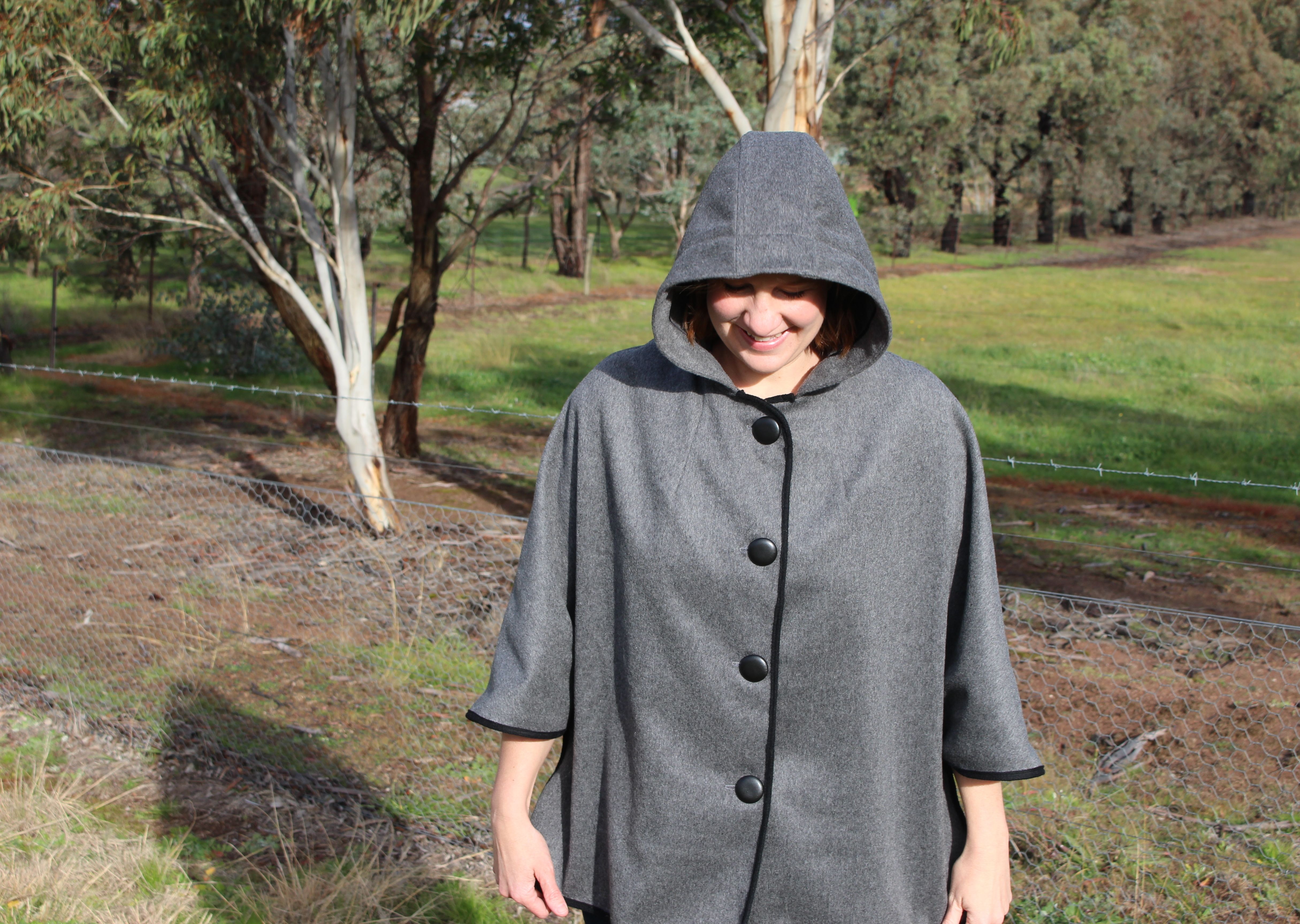 I did end up shaving 1.5cm off the bottom hem as my facings shrunk when they were fused. If I have only one pro-tip for this project, peeps BLOCK FUSE THE CRAZY OUT OF YOUR FACINGS!!! Due to the size of the remnant I didn't have any room to block fuse and my left facing shrank a bit. It was not pretty when I basted the front to the fusing. Quasimodo would have been sending this back for the hunchy hem. The resultant hem redrafting was terrifying but it turned out in the end. Phew!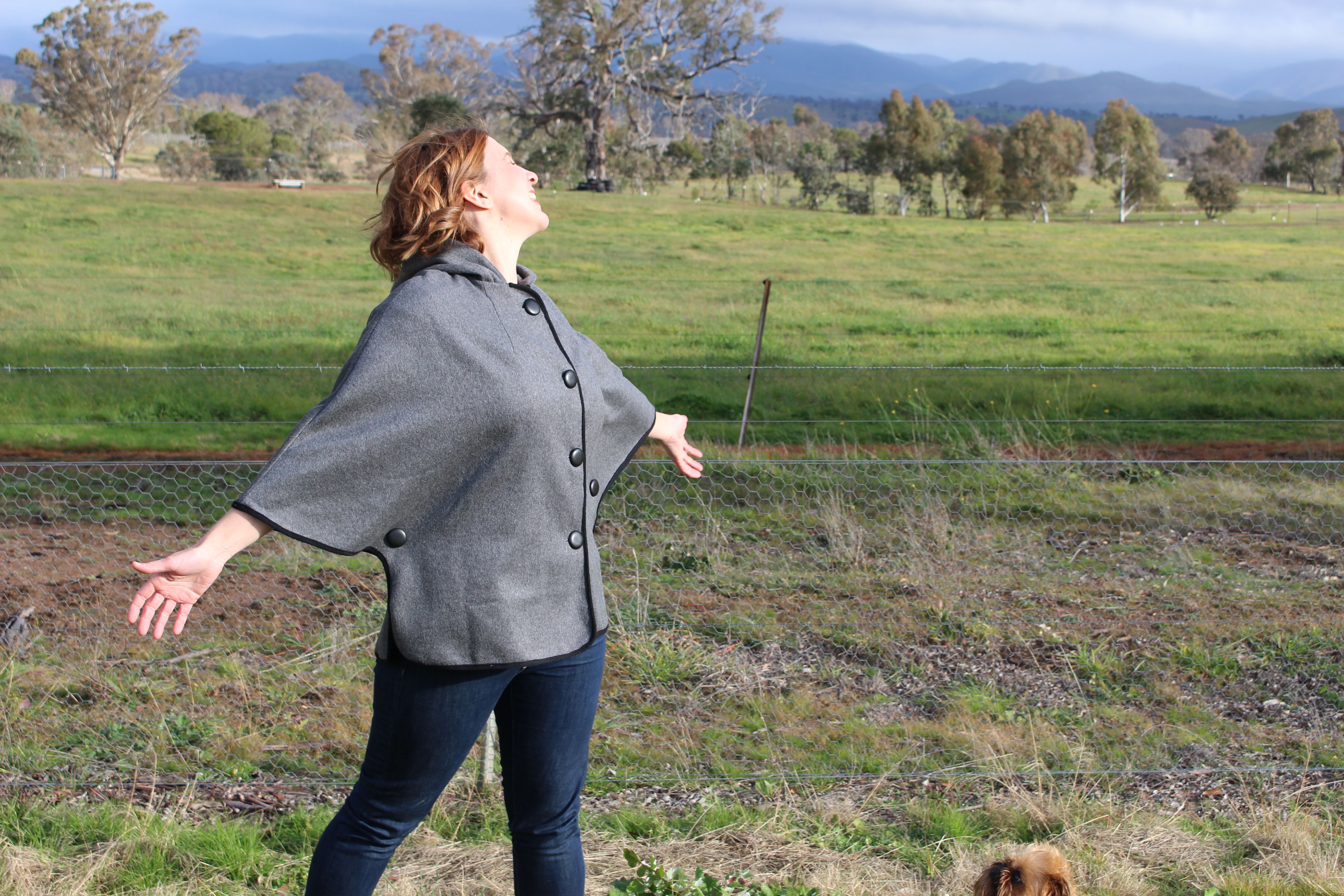 The big problem for me with this project was the button holes. My poor new Janome barely managed to get the four holes done before it locked up and the buttonhole function stopped working. But on the upside the ones I did make look tops! To ensure the button holes were super stable on the angora some tearaway facing was used to keep the stitches super stable. Yay for sneaky stabilising tricks!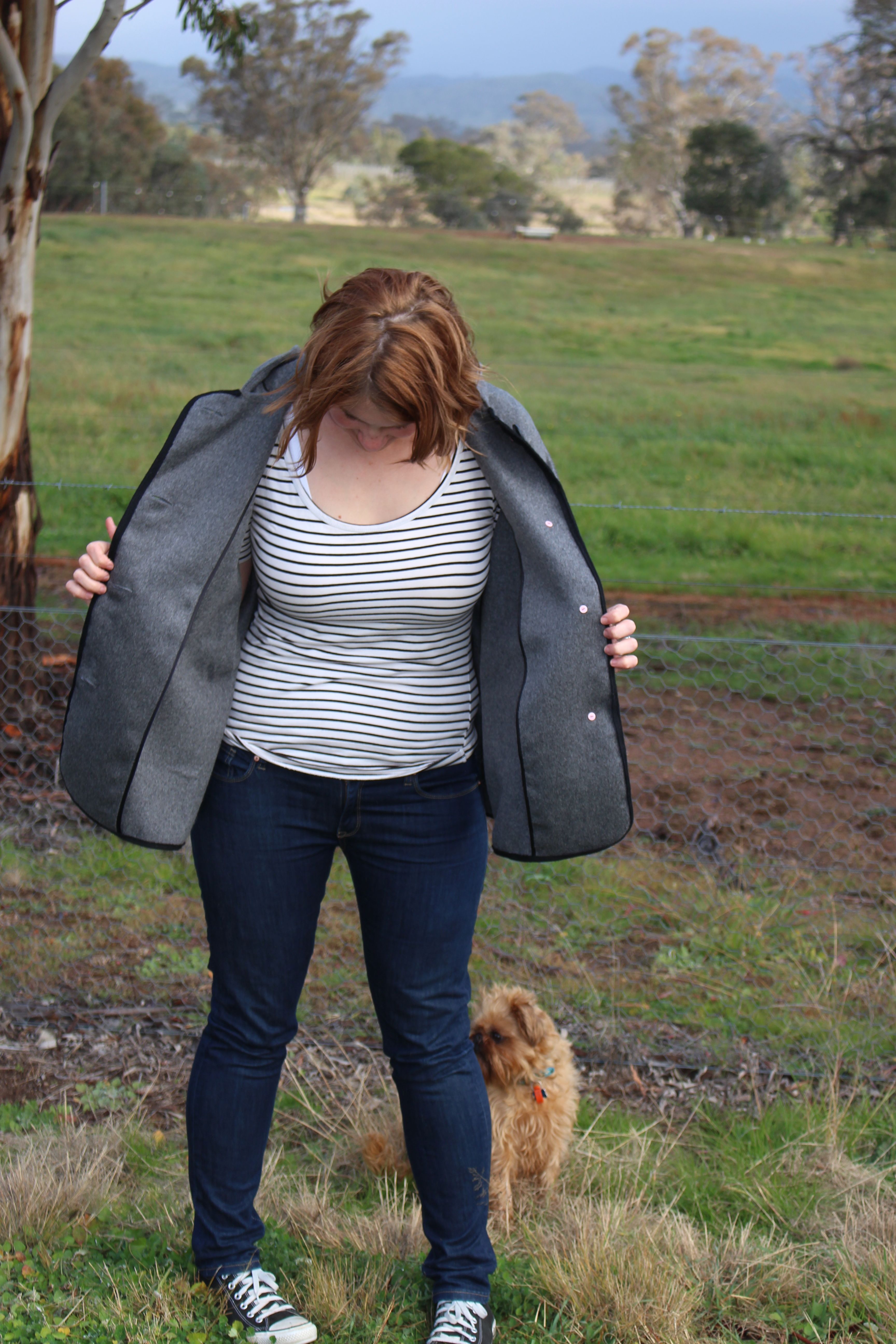 What I liked about this pattern:
–       The rad bias binding inside. Hong Kong seams for the win!
–       The hood. A lady needs to keep her brain meat snug and warm.
–       The whole dang thing. Is that even a point? I am making it one!
What I would change for next time:
–       Hand sew the bloody wool binding on. That stuff is too pricey not to.
–       Use black interfacing for dark colours. I didn't think it would matter but it does.
–       BLOCK FUSE! *twitch*
See also:
Top Notch, Boo Dogg & Me, Sew Brunswick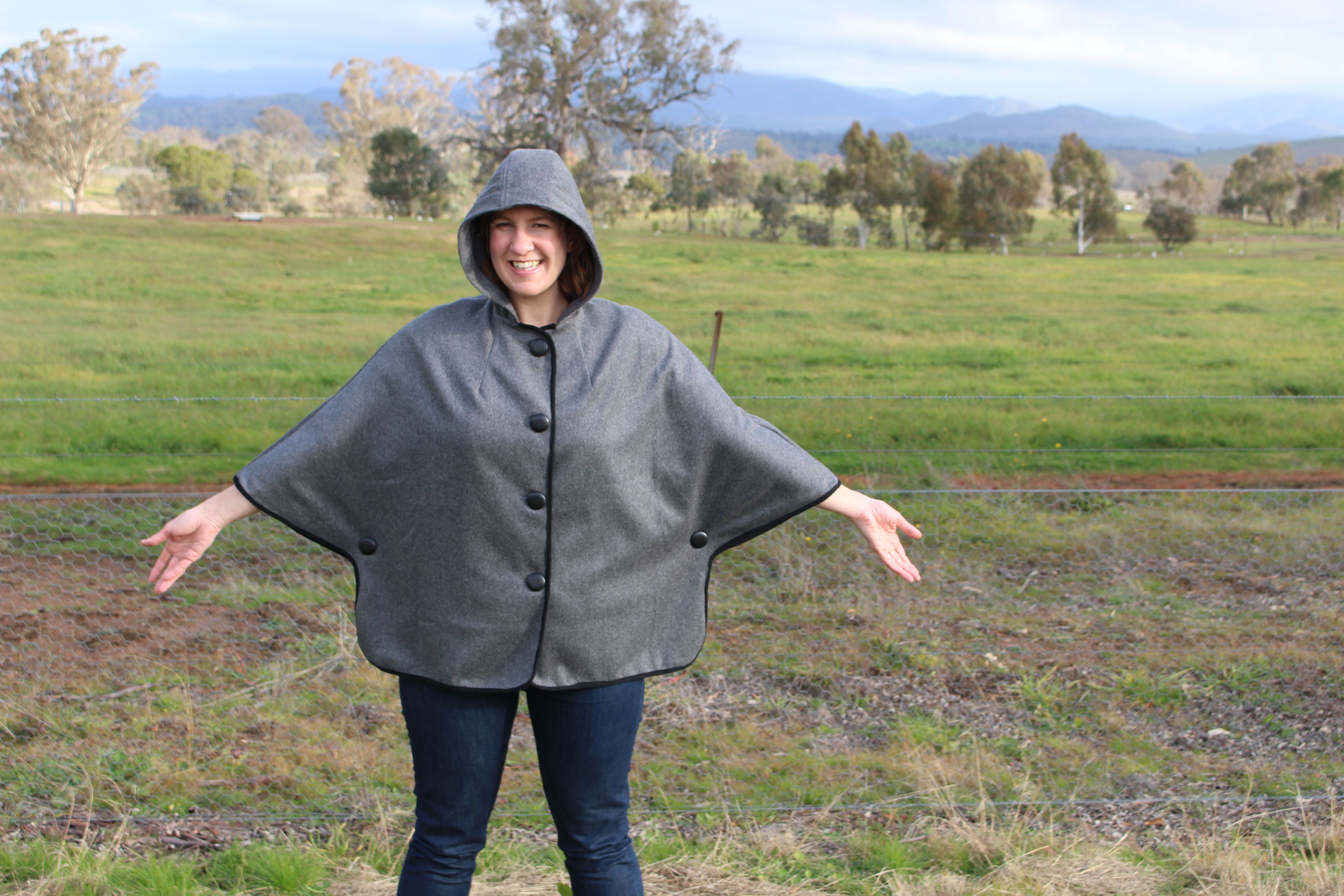 New York Cape
Pattern: New York Cape Pattern by Tessuti Fabrics
Fabric: 1.5m Angora boiled wool from Aztec Fabrics; interfacing in stash
Notions: 8 x leather covered buttons; 6.5m x satin bias binding; 5.5m x wool binding; thread ninjaed from Lizzie's stash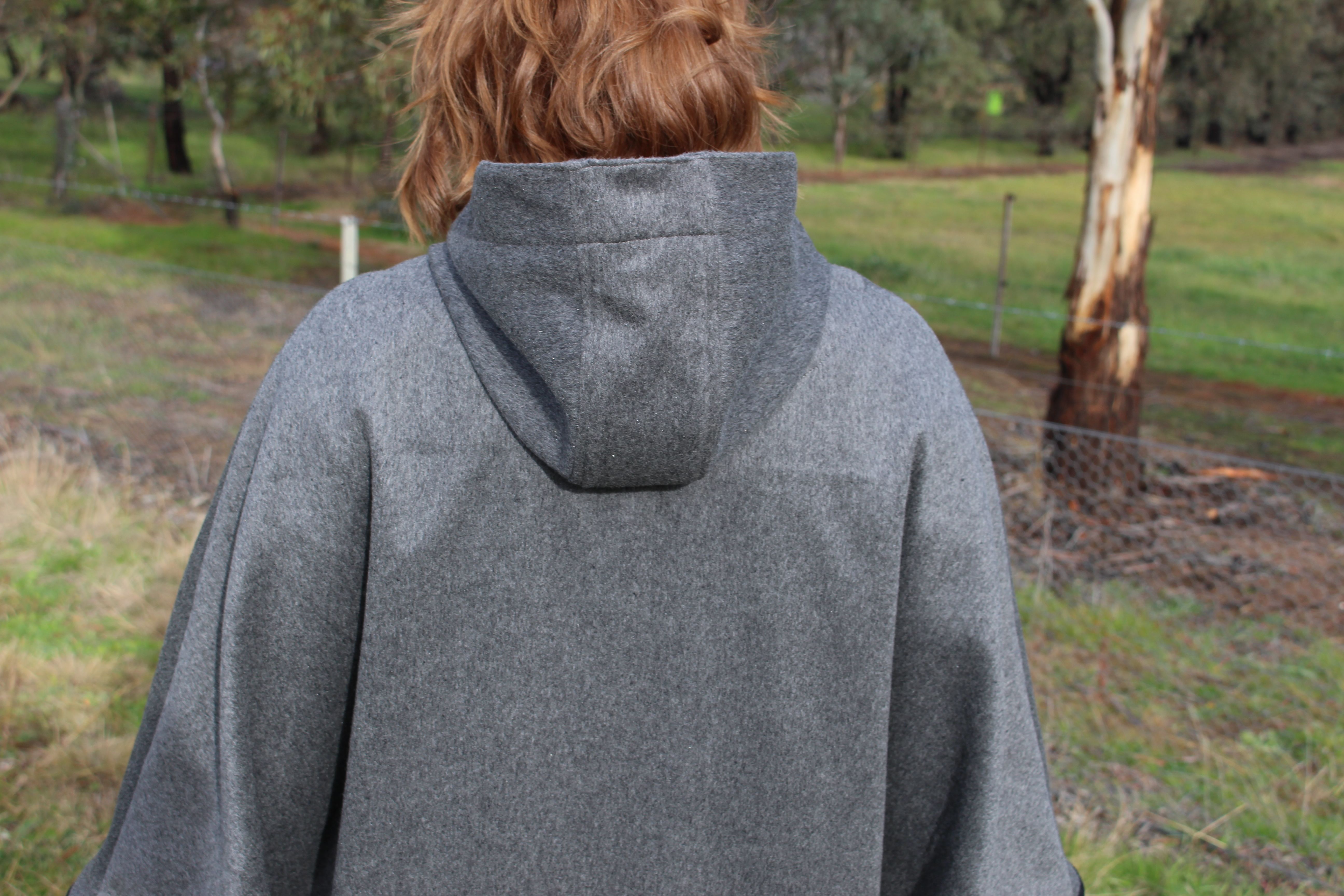 Overall, I am seriously in love with this cape. As in, this is one of the items I am most proud of making. It looks rad, it feels amazing (people keep patting me!) and it is super useful. I call that the trifecta of awesome, people! And in the crazy cold weather Canberra has been experiencing lately it pays to have a warm wool layer on. Taking the photos for this post was 1.7 degrees. Brr!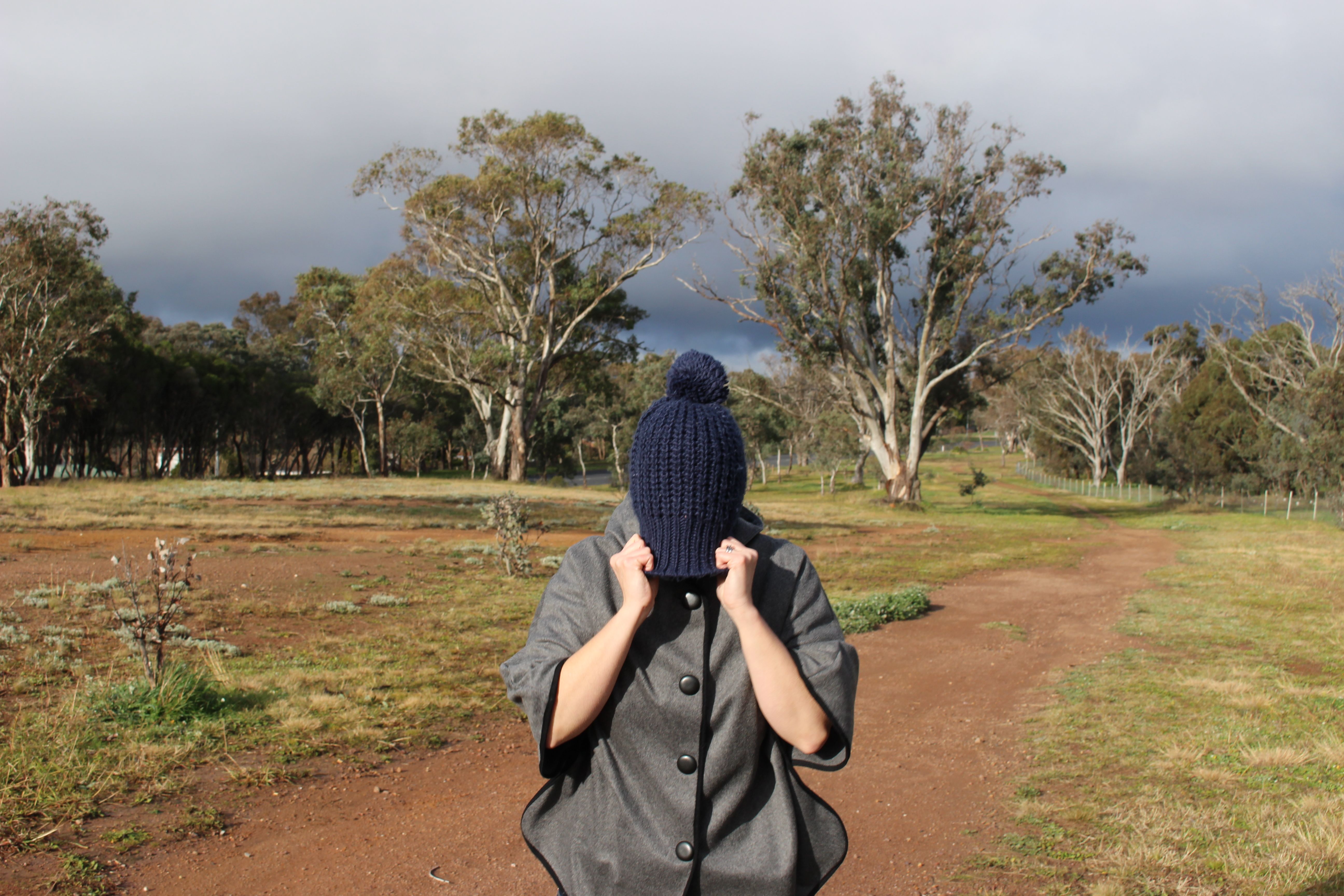 What? A lady needs to keep her face meat snug!
SaveSave