As a self confessed and oft proclaimed home body 2014 has been an absolute year of opportunities and adventure for me. I've travelled up and down the eastern Australian seaboard for work, spent a month exploring Japan with el husbando and just last week was relaxing by a pool in Malaysia with a dear friend. Crazy! I've never had a beach holiday before so I decided it was time to go the whole hog- big sunglasses, floppy hat and epic swimsuit. As my poor old Esther Williams one piece was pretty close to worn through it was time to lady up and dig the Closet Case Files Bombshell Swimsuit out of the stash and have at it. Let me just say this was a 50s poolside lady of leisure win!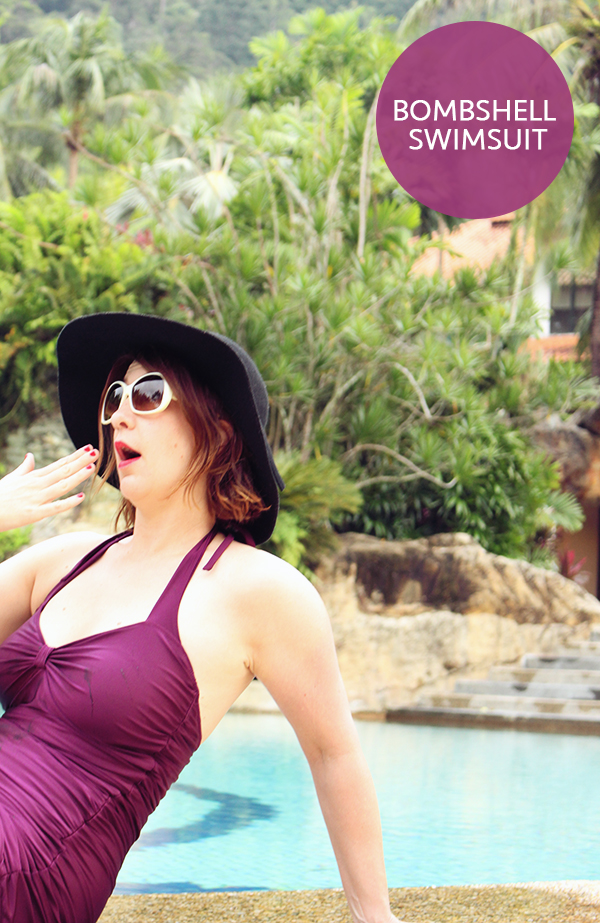 The Bombshell Swimsuit totally harks back to the aqua musicals of the 40s and 50s with the ruched front and back, front skirt panel and sassy halter straps. The fabric is the most luscious metallic plum swimsuit lycra from Tessuti. This stuff is crazy gorgeous!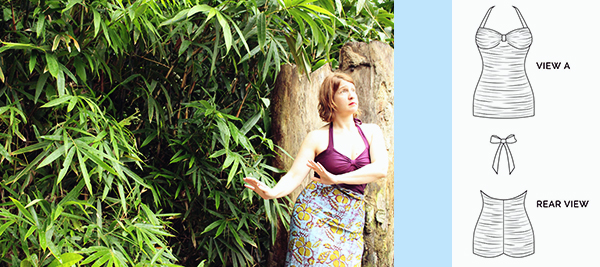 Construction wise these bathers were really straightforward. The sew along on the website utilises lots of great photos which clarified some of the steps that I was unfamiliar with. These togs (hullo obscure Queensland word for swimwear!) came together really quickly. To be specific in five very panicked hours over two nights before I flew out. There may or may not have been gathering stitch removal happening at the airport whilst under the influence of pre-flight beverages… Things were crazy!
As I was seriously under the pump to get this done I decided to get all crazy, read some reviews, make a few alterations to the pattern before cutting and hope to hell it worked. This paid off pretty well but it was touch and go for a while there!
As I'm 5'8" I added an extra inch in length to the front and back. You are also advised to extend the outer panels at a ratio of 1 to 1.6 to keep the ruche effect looking voluminous which I did. This resulted in the front looking fantastic but the bottom back had too much fabric and it sagged once I got out of the pool. Future Amanda would be well advised to either concentrate the gathering further up one's derrière or add less gathering fabric to the back panel.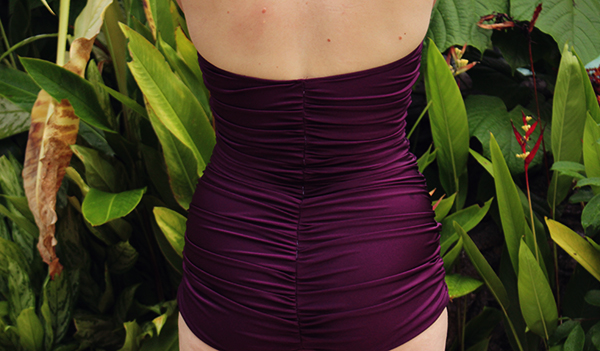 To keep my girls in place I added an inbuilt bra using foam cups and a strip of half inch swimsuit elastic to provide under bust support (as outlined by Katie from Kadiddlehopper). This alteration did help but I also moved the straps in an inch on either side, and reinforced these with a second row of stitching, to get things feeling right. A quick look at my old Esther Williams revealed that these have a strip of boning on the side of the bust for extra support and I'll be adding that next time for sure! And yes, this is me being a raptor in the rain.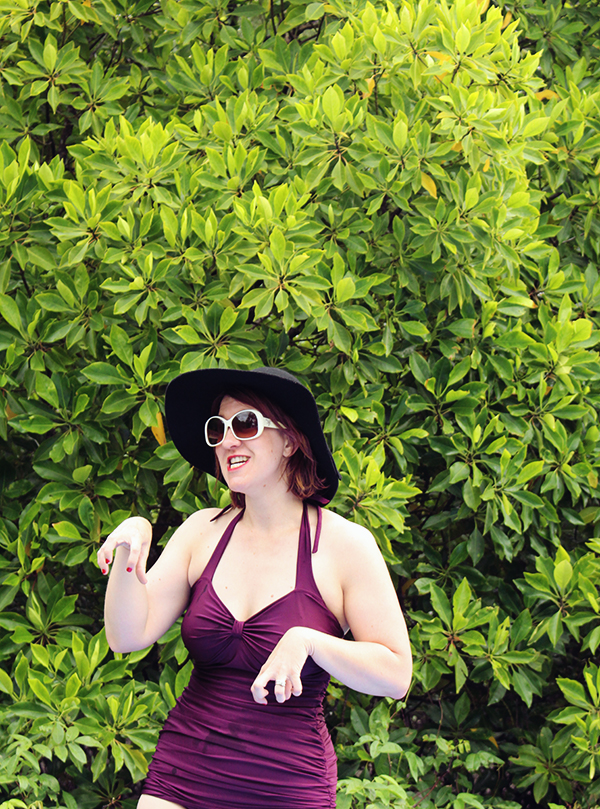 What I liked:
The 40s feel. I love my Esther Williams bathers hard so it was great to make my own version.
How the gathering on the back and the front panel work. It was seriously ninja construction. I love it!
The bust tab. Weird, I know, but it totally makes the bodice look epic.
What I would change for next time:
Less gathers around my butt. It looked great before jumping in the pool but afterwards it felt uncomfortable!
Refining the internal bra setup. I'm thinking some side boning and/or an underwire.
Widening the neck straps. Those straps are holding quite the lady cargo and it would be great if they had a bit more room to distribute the weight around my neck.
The Deets
Pattern: Bombshell Swimsuit by Closet Case Files
Fabric: 1.4m metallic plum swimwear lycra and 1 metre swimsuit lining from Tessuti Fabric.
Notions: 200m thread (seriously, I used both spools right to the end!), 6mm swimwear elastic x 1.4m, 1.25cm elastic x .5m, foam bra cups
See also: Sew Brunswick, Sewaholic, Cloth Habit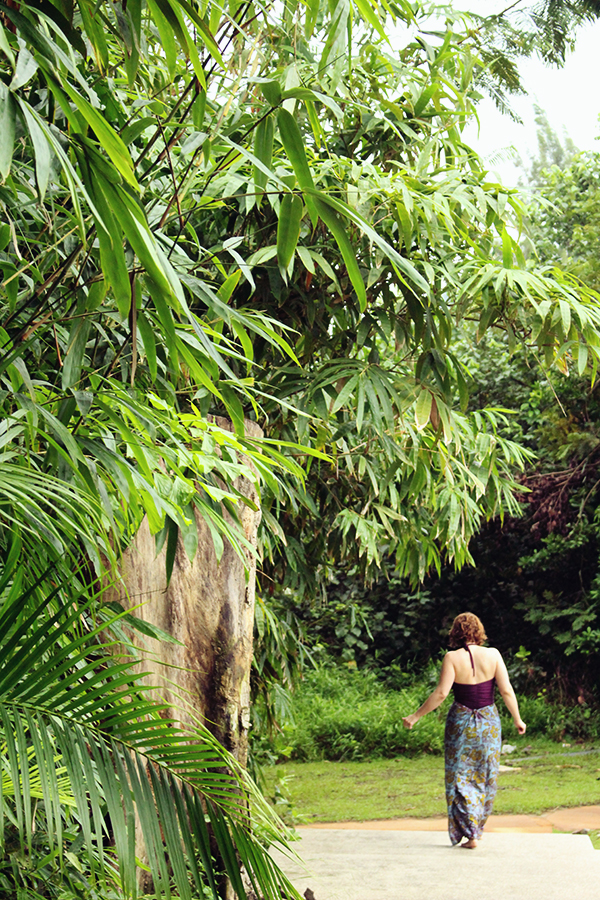 And here is my chance to share some travel photos from Langkawi. This was a simply glorious island and the resort we stayed at was pure decadence. I mean SWIM UP BAR! MONKEYS! WHITE SAND!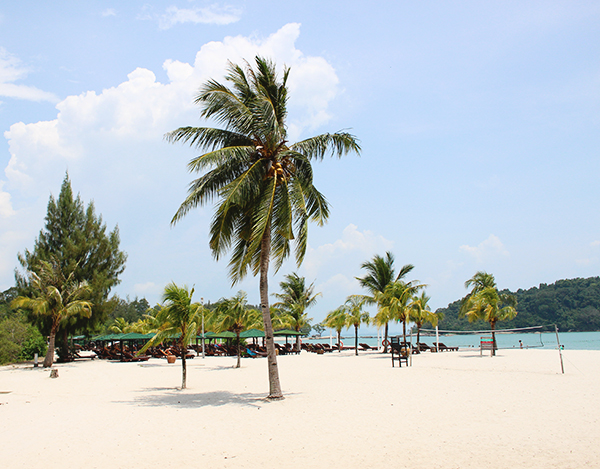 Our chalet at Berjaya Resort and one of the monkeys kicking it on the beach. I called him Eustace.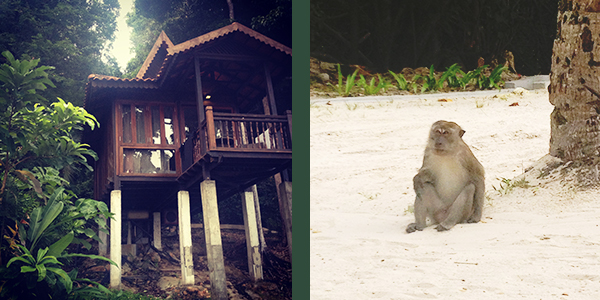 The walk down to the Pahn Thai restaurant over the water.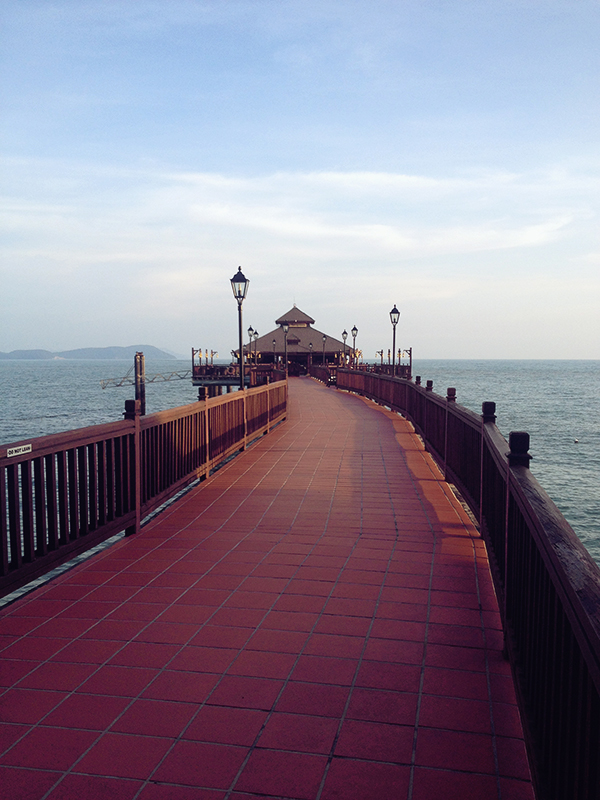 And this was my view everyday at the pool. Seriously. From now on when I need a happy place you can find me here…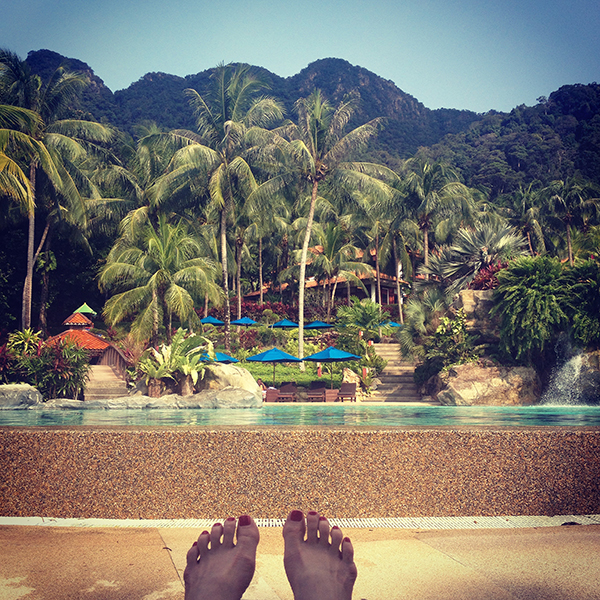 Bliss!