Even though I spent years in schools as a drama and history teacher I never took the opportunity to dress as an Art Teacher in a lovely flowing sack dress. As a drama teacher I spent way too much time getting up and down off the floor (curse you Year 10 movement unit!) which meant I spent my whole teaching career in trousers. So when I needed something to wear for a work conference that could handle the 40 degree heat and cover my tattoo I knew it was time to finally live my linen art teacher dress dream! Heck yes!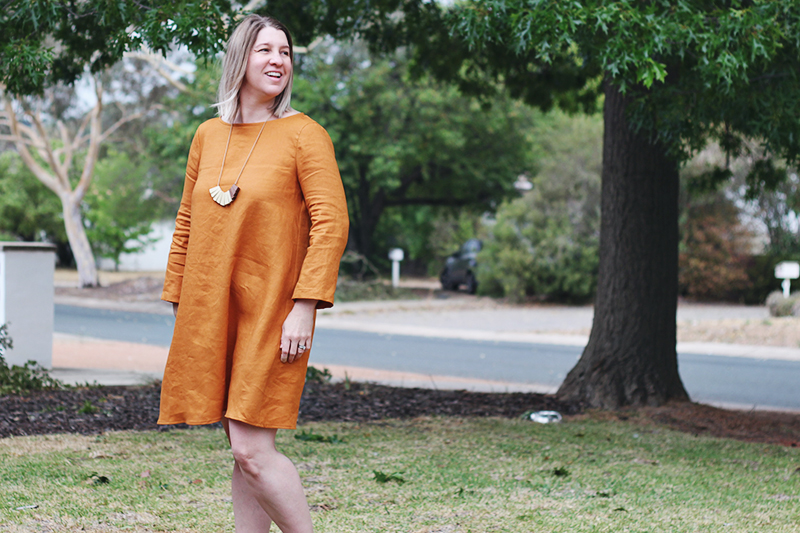 This is the Bella Dress by Tessuti Fabrics. It is a simple a-line dress with full length sleeves, optional pockets and a centre back seam. Unless you're Amanda with a two week turn around in the early January heat to make two dresses and a hat so remove the centre seam and pockets so you can get sewing ASAP. I do want to flag that I went with a Medium for this even though my measurements put me firmly in the Large size. My experience with Tessuti Patterns has always been that there is a lot extra ease than I like to wear so I checked the finished measurements and gambled with this one.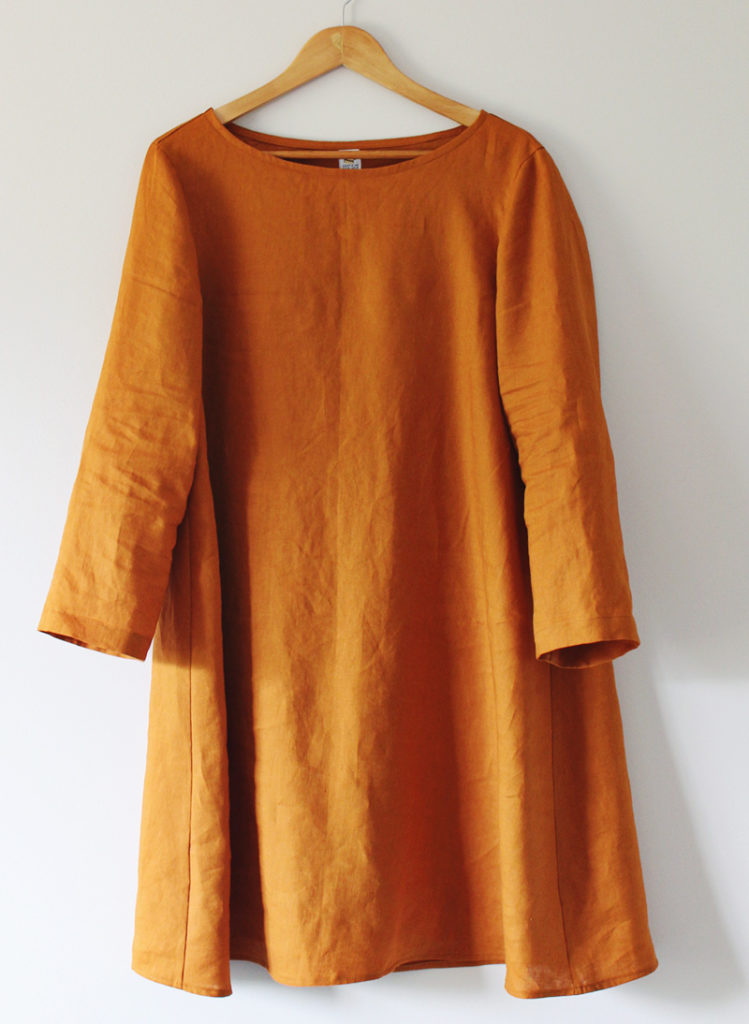 This super summery and cheerful fabric is marmalade linen from The Fabric Store. I knew I wanted a block linen but I wanted something bright that the group I was escorting around could find me easily. I have dabbled with the paprika linen a lot so decided to try this colour instead. The colour as a lot softer and the base seems a little cooler and not so red. One thing to note this particular linen creases SUPER easily–in these photos I had just popped the dress on. But I have honestly never had a dress complimented so much before and I think it was this colour. People have been going bananas for it!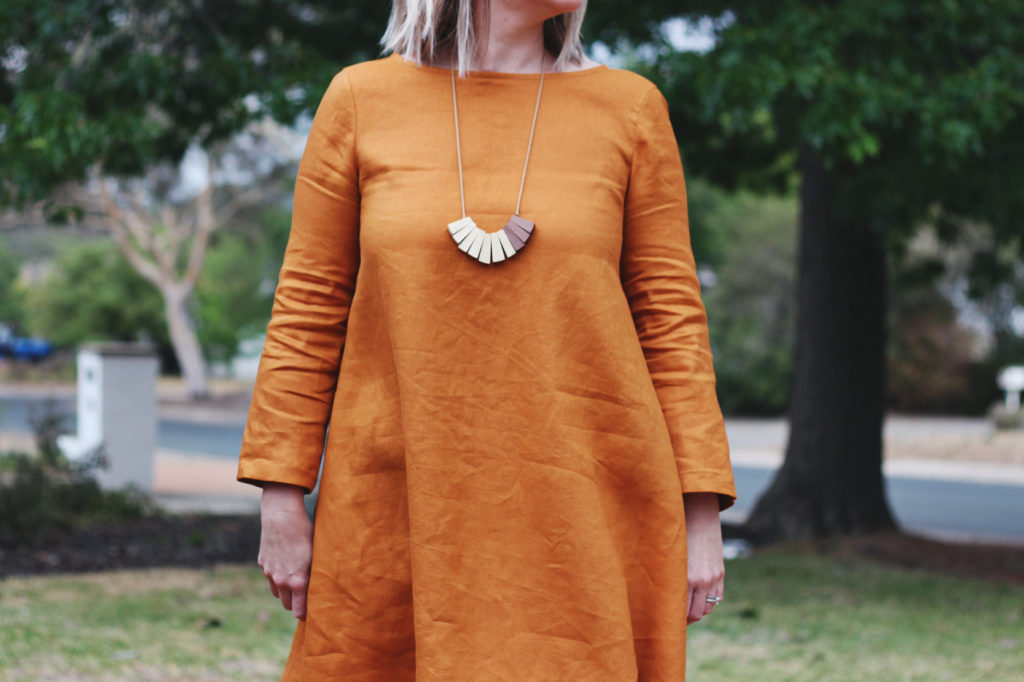 Construction wise this was a pretty easy pattern as I reduced it to front and back panels cut on the fold, two sleeves and some me-made bias tape. I used my overlocker to finish the seams and mixed up a bunch of sunset colours (paprika, marsala and plum) to make the insides fun for me. I ignored the instructions and popped it together my way (sleeves on the flat for the win!). I did overlock the hem and fold it up once just so I could get every last bit of length but otherwise it was straight forward.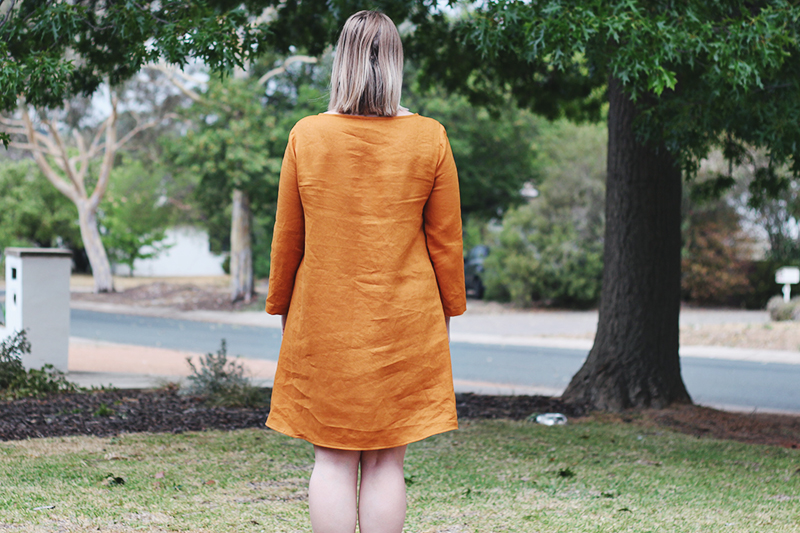 What I liked about this pattern:
The simple design lines that ticked all the boxes for a work dress. The perfect art teacher vibe!
Simple and easy construction. I made this and a second version up in the week following Christmas when the temperature was over 40 degrees each day and I needed something fast so I could retreat back to hiding under a cooling vent fast.
I got to use one of my new labels and it perfectly matches the fabric!
What I would change for next time:
Add width to the upper sleeve. My biceps are too mighty for this drafting!
Try a fabric with a softer hand. The linen creates an awesome shape but could look equally nice in a softer fabric.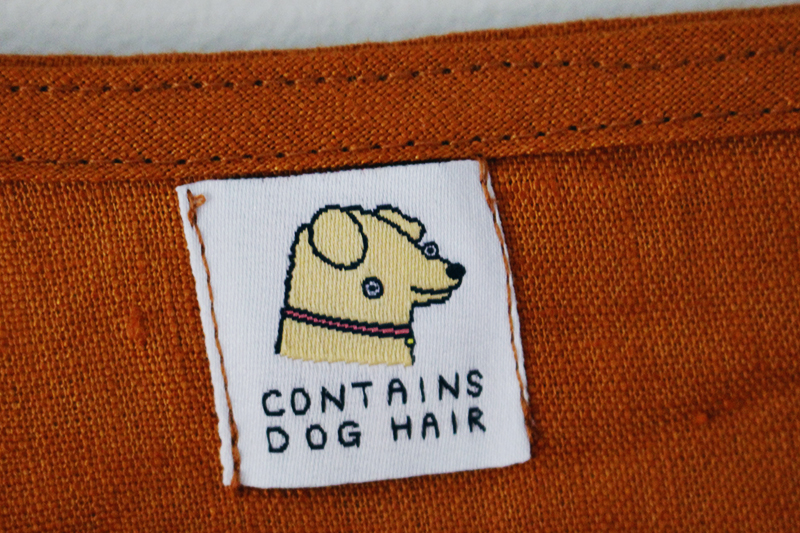 The Deets
Pattern: Bella Dress by Tessuti Fabrics
Fabric: 2m of marmalade linen from The Fabric Store
Notions: none
Size: Medium
Alterations: none
See also: He Cooks…She Sews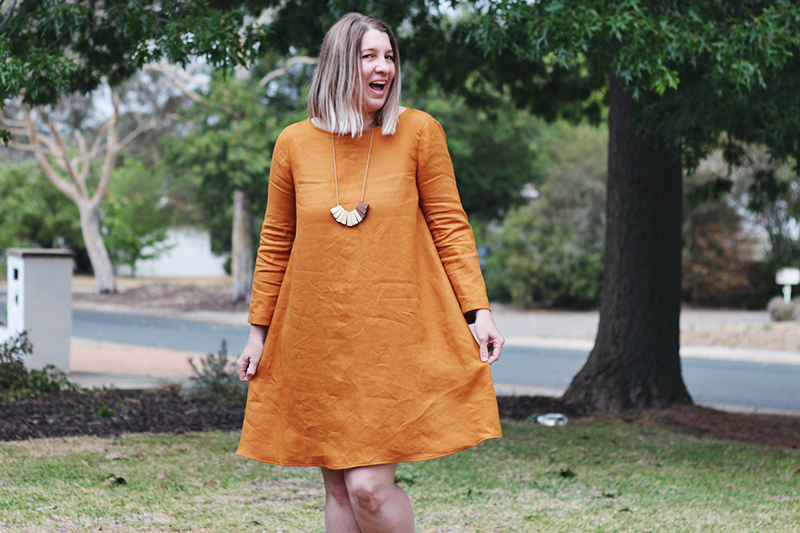 Overall, this was the perfect dress for work and looked super cute with my me made hat! I've even managed to sneak this into my regular work wardrobe as a casual Friday number as the weather is still so hot. Nothing like being the flame of orange in a sea of black suits. Bwahaha!