Real talk: I am super delighted with how this dress turned out but it during construction it got super close to looking like Amanda is wearing a picnic blanket. Eep! Actually, now I think about it that could have been awesome. I could have disguised myself as a picnic blanket, snuck into parks and ninjaed off with peep's picnic lunches with no-one the wiser. They would call me Picnic Gal and my reign of lunch thieving terror would never end…. But I digress, I made a linen dress, worked the stripes well and have had a delightfully cute and cool summer. Huzzah!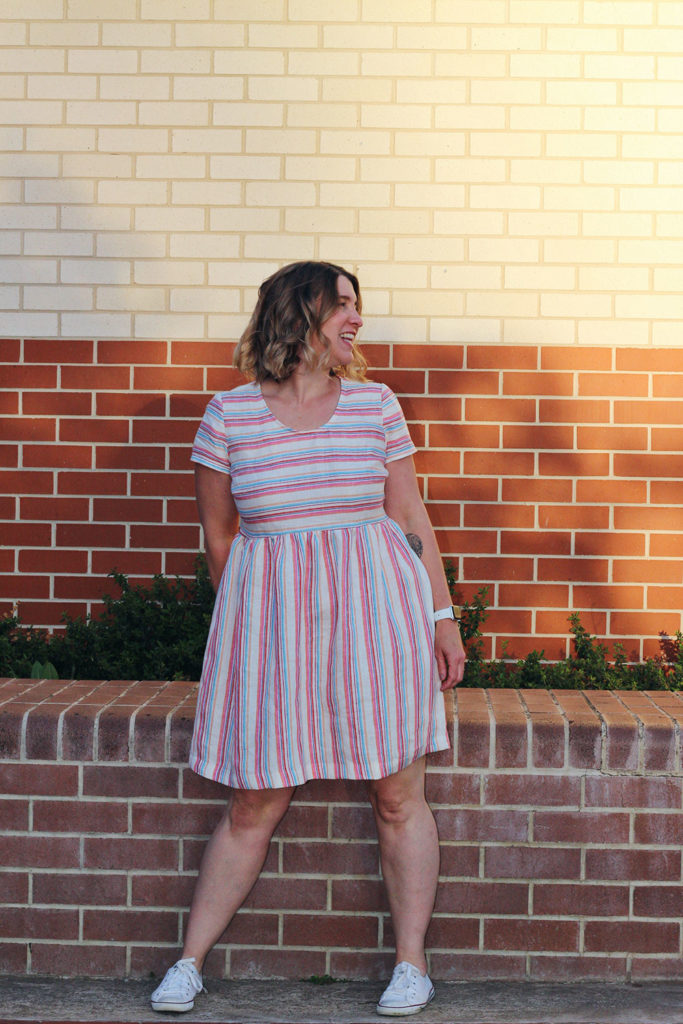 This is the Hinterland Dress by Sew Liberated. This is a super versatile pattern as there are three sleeve options, either partial or full button down plackets and inseam pockets. The fit is loose, with side bust darts and a gathered skirt with optional waist ties. It's a great base pattern to work off and customise. For this version, I used the short sleeves, removed the front placket, included the waist ties and lopped the skirt until it sat above my knee. Viva la customise!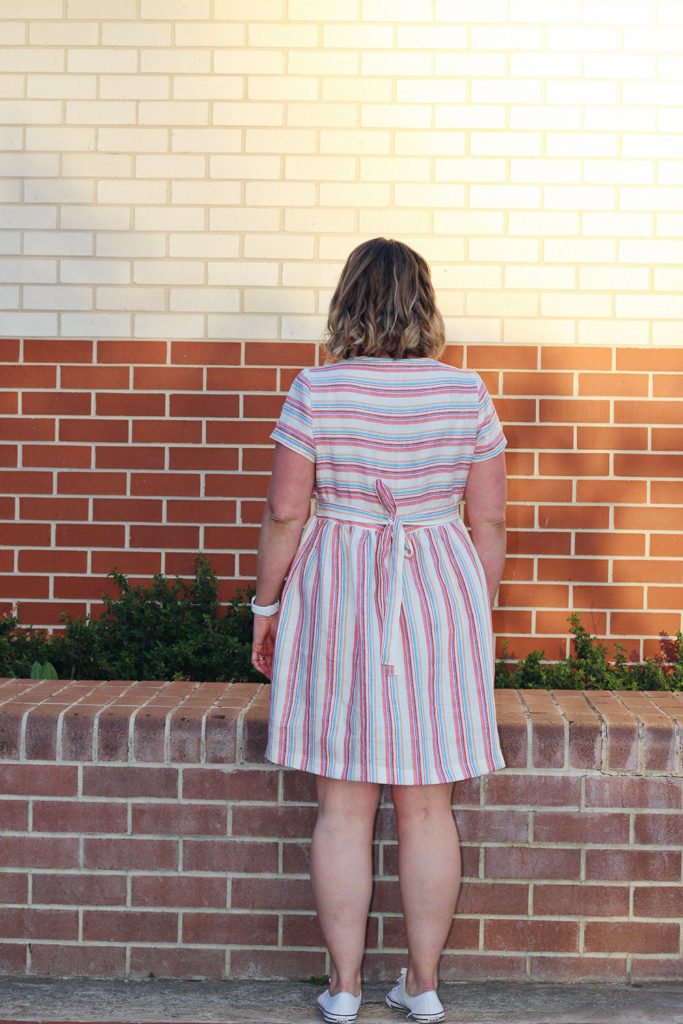 The fabric is a lightweight linen from The Fabric Store which I can't seem to find on their website any longer. I had seen a bunch of striped linens on their Instagram feed and impulsively decided I needed to make a kaftan for the beach and grabbed two metres of this. The weave is a little on the loose side but it is surprisingly opaque and also ridiculously soft. Viva la linen!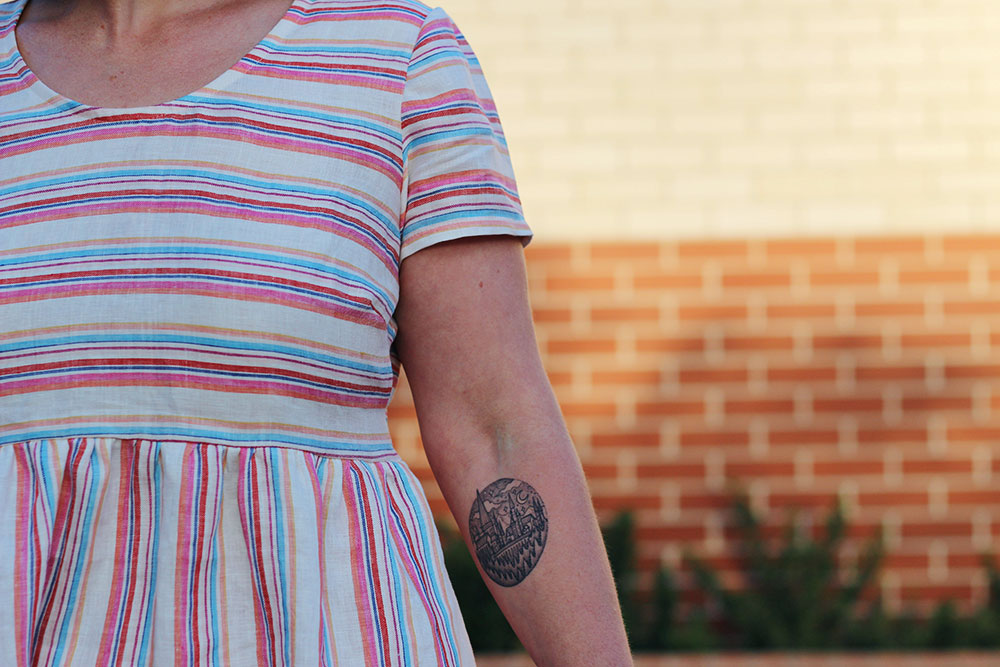 Construction wise, this was an easy pattern to make up. By the time I had made all my modifications it was a front and back cut on the fold, the waist ties and the skirt. Hurrah! I managed to sew most of this up one afternoon at sewing crew with limited use of the instructions. I also used a super soft pink linen bias binding from The Fabric Store rather than make my own because I am lazy efficient like that. I love the little pop of pink whenever I see this hanging up!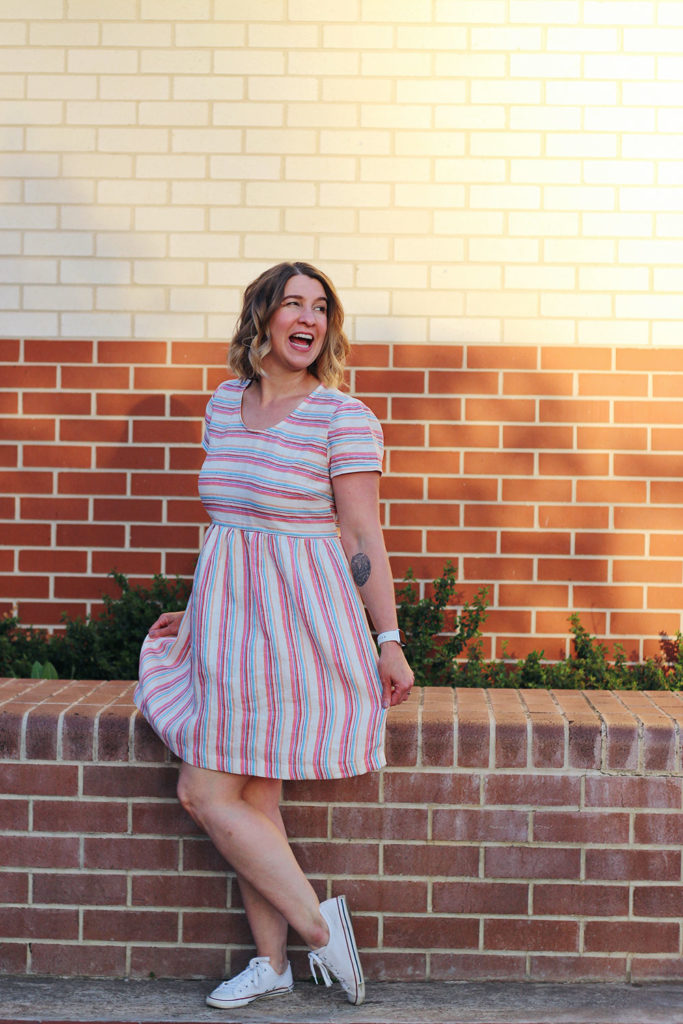 What I loved about this pattern:
The soft and comfy fit. I am still getting used to this silhouette on me and this is a nice way to ease in as the waist ties provide some definition.
The ease of construction. This was a delight to sew.
What I would change for next time:
Lengthen the bodice a little. It feels a little too empire-lined on me.
Add under bust darts. Just for a little extra shaping.
The Deets
Pattern: Hinterland Dress by Sew Liberated
Fabric: 1.5m of mystery striped linen from The Fabric Store
Notions: 1m of pale pink linen bias binding, thread
Size: 16
Alterations: removed placket, shortened skirt
See also: Fancy Tiger Crafts, The Real Alexis Bailey, The Doing Things Blog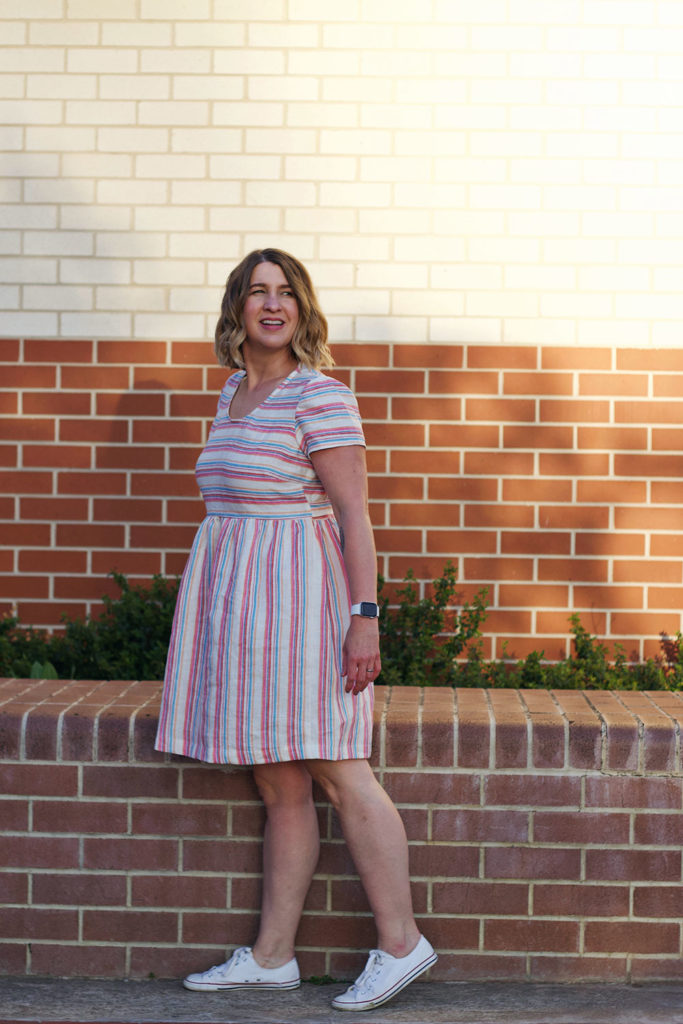 I was surprised with how much I love this dress and how much I have worn it this summer. It is the perfect blend of cute and casual and has been my go to with white Chuck Taylors and a denim jacket. I loved it so much that I in fact made another one for Christmas which I will share with you soon. Viva la cute summer dresses and dresses that flare when you spin!