New year, new fancy PJs seems to be a recurring theme for me. At the end of 2018 I made a crazy lovely Liberty and linen nightwear set (still crushed I lost my sleep mask at a hostel in New Zealand!) and the start of a new decade required another fancy grown up set of PJs so you know I went all in for pink leopard print. And I do not mean leopard animal print–I mean pink fabric with leopards printed on it. Boom!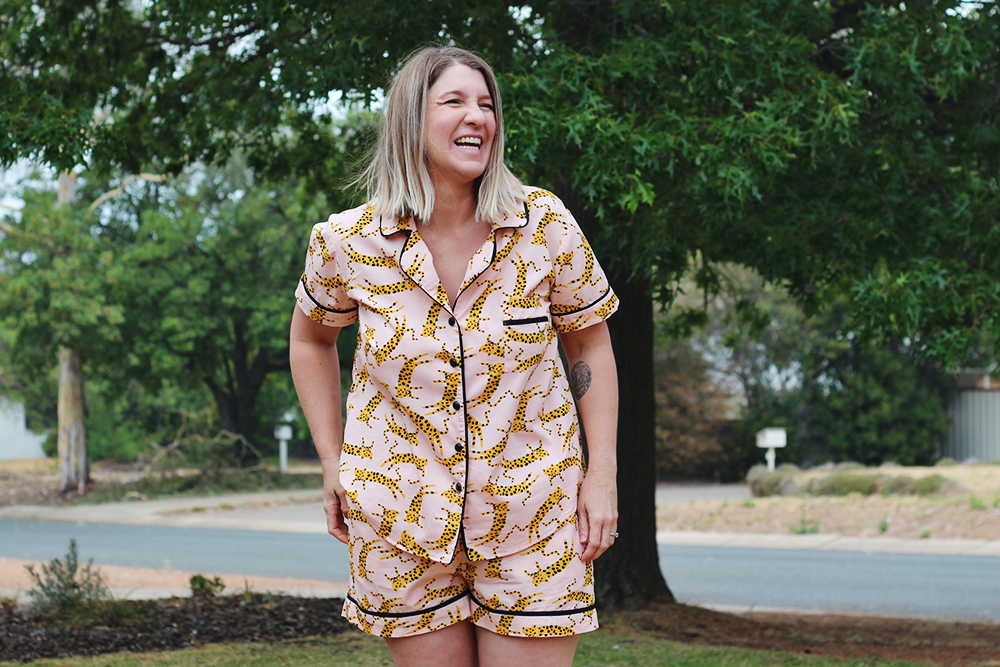 Diving back into my pattern vaults this is the Carolyn Pajamas from Closet Case Patterns. The Carolyn top features a notched collar, curved hem and breast pocket. The cuffed shorts feature an elasticised waist, pockets and a faux fly. I've made the pants before in pink Hello Kitty flannel but this was my first time going all in on a matching set.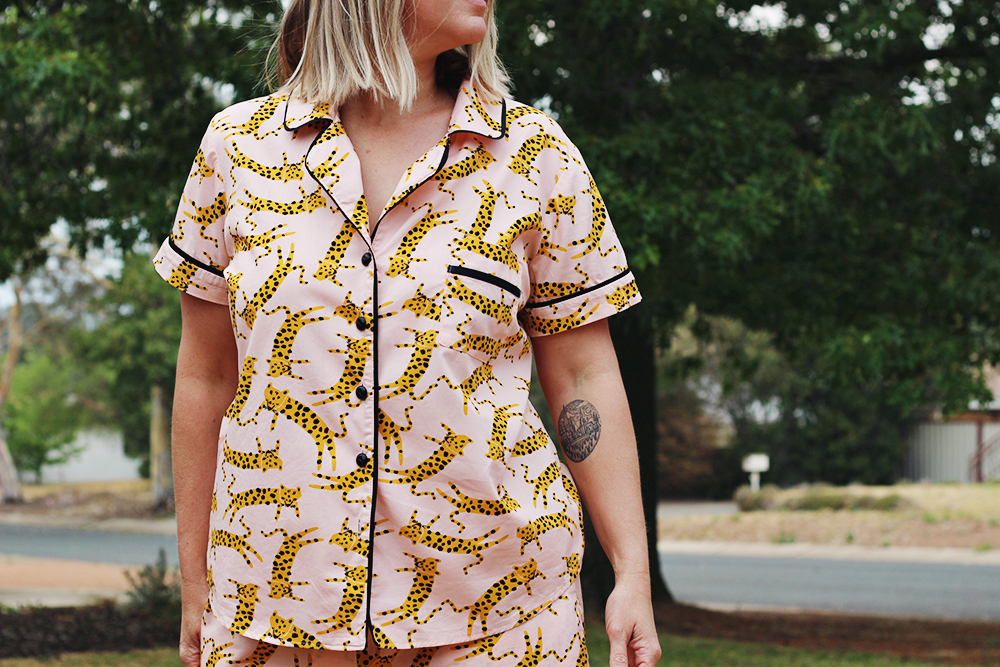 And if you are going a matching set it is essential to go with a a timeless and understated fabric–like yellow leopards on a pink poplin from Spotlight. This poplin has washed up super soft and the colour seem to be holding so far so that is a win! And I have to thank my friend Teone for letting me snaffle the last little bit when we made a trip to Spotlight last year and reached for the bolt at the same time she kindly let me take the two small pieces that were left. Pure. Rockstar. Sewists–get yourself a sewing buddy who will share remnants with you and treasure them!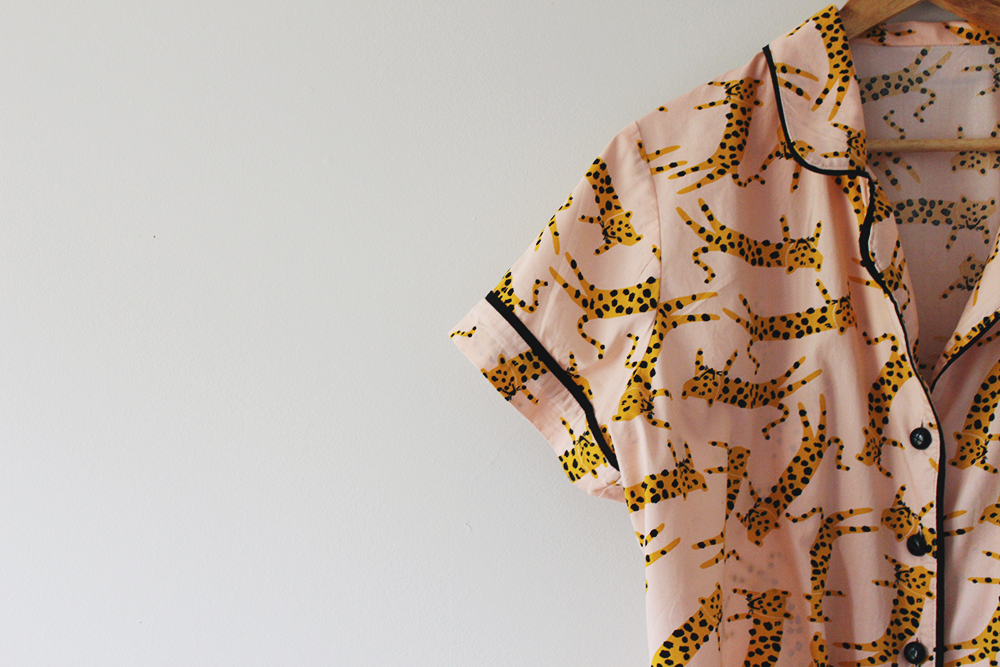 Construction wise, the shorts were super easy and came together quickly. I added 4cm to the length as I sometimes like to wear my PJ shorts with a tank top down to my local grocery store and I wanted a bit more coverage. The top was a little trickier and that was totally on me. I was trying to use stash notions and ran out of black piping on the collar. I tried to make my own using black Kona cotton and made it too wide and it all went downhill fast. I ended up trimming, notching and pressing like a woman possessed to get it done. Let me just say that the notched collar is a bit wonky but not enough to really notice unless you look. And when there are leopards leaping all over the place, who really will notice?! 😀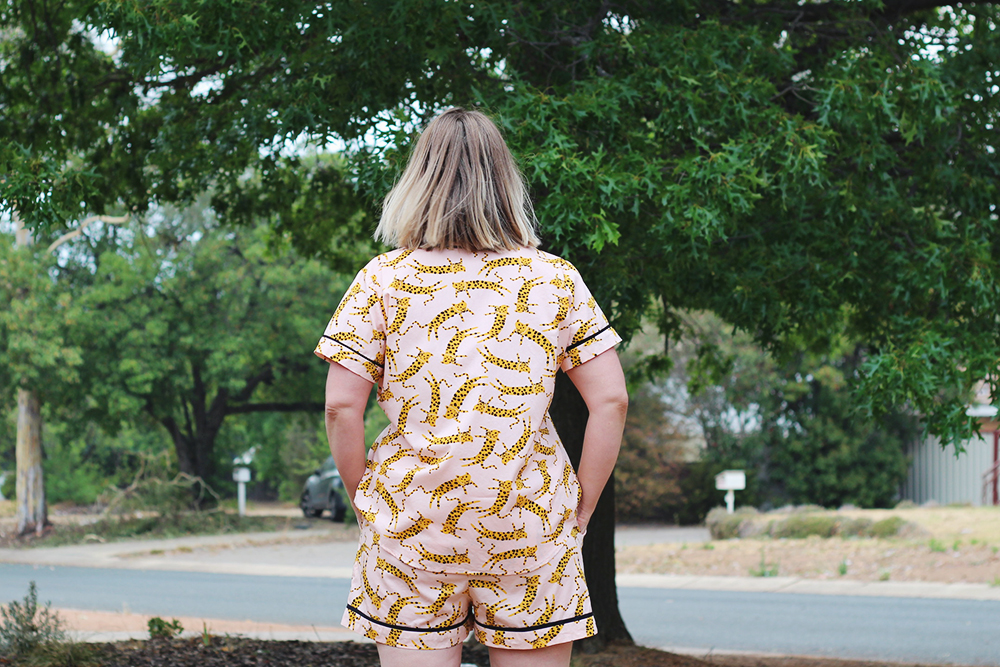 What I liked about this pattern:
I have a cute button up PJ top that I can totally wear as a regular top out of the house. Leopards are a neutral, don't you know? 😉
It feels super fancy to have a button up PJ top rather than an old merino Plantain Tee I have worn holes into. Adulting like a boss!
What I would change for next time:
Pony up for enough piping OR measure things properly. Curse you summer heat baking my brain!
Nothing else really, I'm quite happy with these!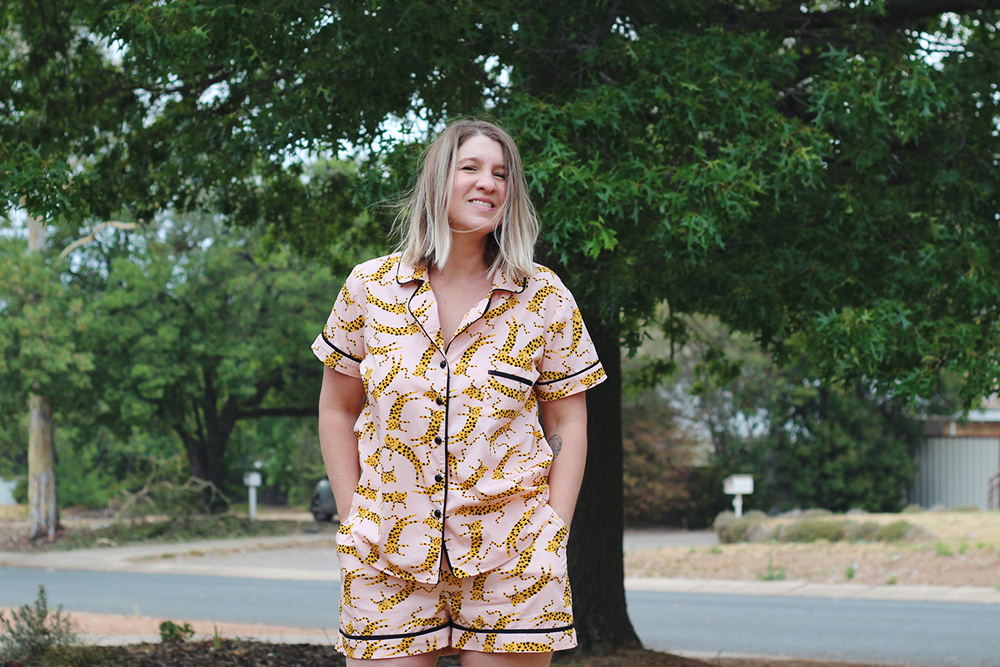 The Deets
Pattern: Carolyn Pajamas from Closet Case Patterns
Fabric: 2 x 1.5m pieces of printed poplin from Spotlight (this took serious Tetris with my lengthened shorts and I only just made it fit. The poplin was 115cm wide)
Notions: thread, 5 buttons also from Spotto, elastic, not enough piping so then a bunch of dodgy homemade stuff that broke my heart…
Size: 16
Alterations: 4cm to shorts length
See also: Past me, Katie Makes A Dress, Bobbin and Baste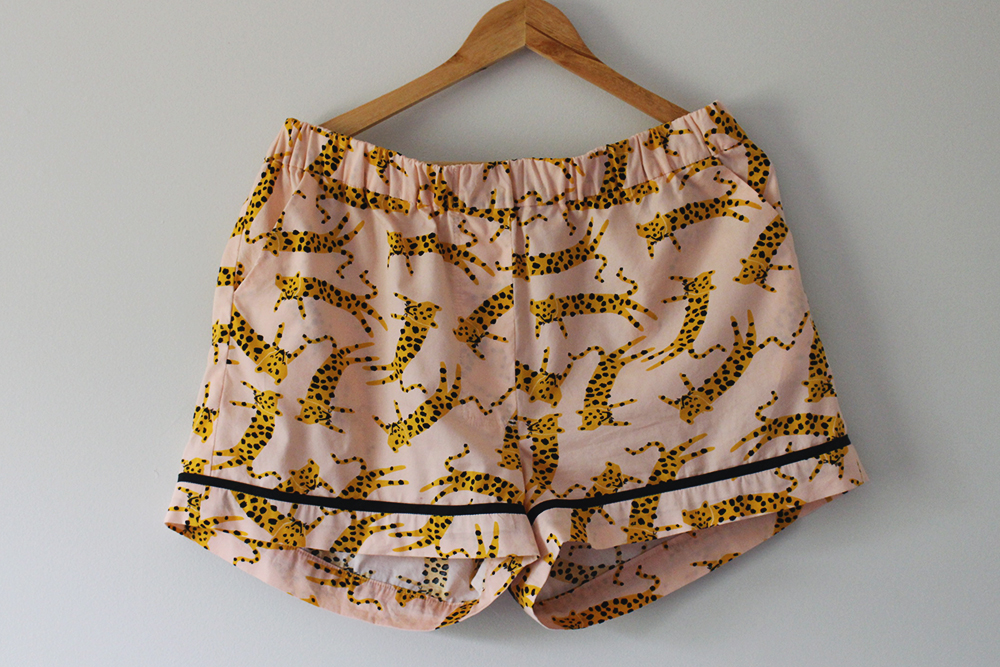 Overall, these have moved into my sleepwear rotation quickly though I must confess the fancy buttons can be a bit lumpy for sleeping. Grrr. But they look great so I'll see how much longer I can hold out. Or maybe I just need to sew up yet another merino Plantain Tee… I mean it has been a year and I'm down to two… 😀