Real talk: the last four weeks have been an absolute whirlwind as we finally got the keys to our new house. Yay! And in this time, I have repainted most of the house (hallway to go!), stained our giant deck twice, wrangled the veggie patch into submission, packed up most of the old house and moved. It's been awesome and challenging and fun all at the same time but it really hasn't left much time for sewing. Thankfully, in a late-night post-painting haze I did some online fabric and pattern shopping which resulted in everything I needed for a ninja fast sewing project. Why hello there sewjo-inducing summer frock!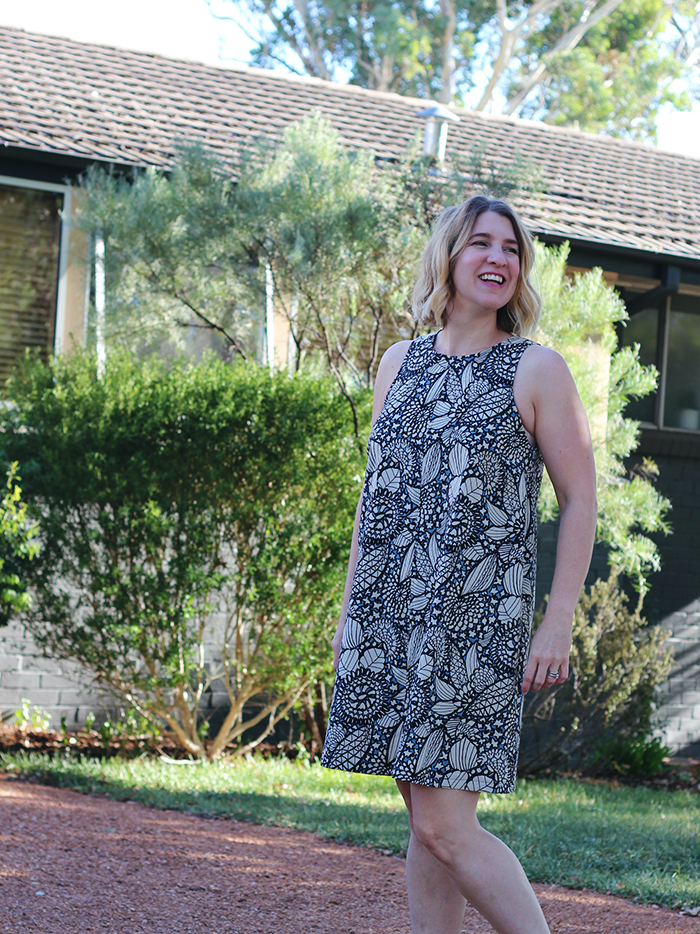 This sassy number is the Bondi Dress by Tessuti Fabrics. The Bondi is a sleeveless dress that features a high neckline, cut away armholes and back yoke with a neck opening. It comes in two lengths and also features an optional fringe for the hem. Given the super fun of my fabric I wanted to play it cool so went with the shorter hem length and skipped the fringed hem. And because this lady is all about the instant gratification I went the PDF option and got the pattern printed at the copy shop. Or, just the first page. Because the files for the two pages are separate and this lady was in a rush to get this made and didn't read the file names properly. Oops. Consider this a lesson learned (though I did get to watch an episode of The Good Place while I printed, cut and taped the second page so that was kind of a win, I guess?)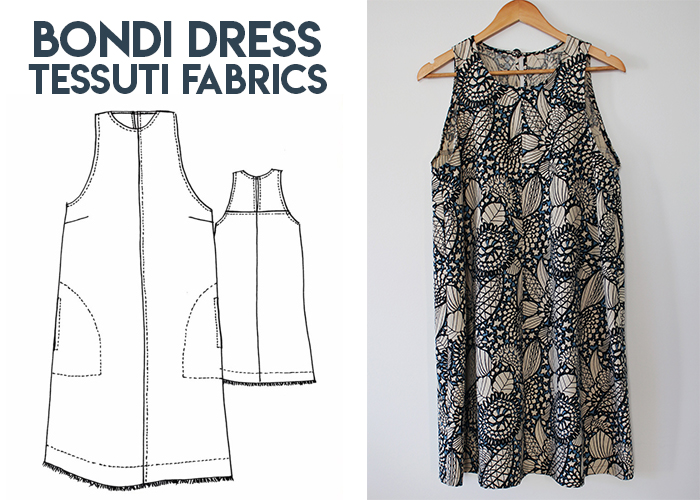 Now, can we talk about the majesty of the fabric? This is ridiculously comfortable Japanese cotton/linen blend from Tessuti Fabrics called Foliage in Water. The fabric is super lovely and soft and a dream to sew with. It holds a press really well and feels amazing on which is awesome in this heat. After the surgery in October I have been wearing the same two dresses over and over which are both rayon so it is awesome to have a third frock in rotation that has some natural fibres. Yay! And real talk: I totes bought this because of an amazing Bondi dress made by Colette from Tessuti that I saw on Instagram. Quite frankly, when something looks that sassy it would be wrong not to take a bash at it yourself, right?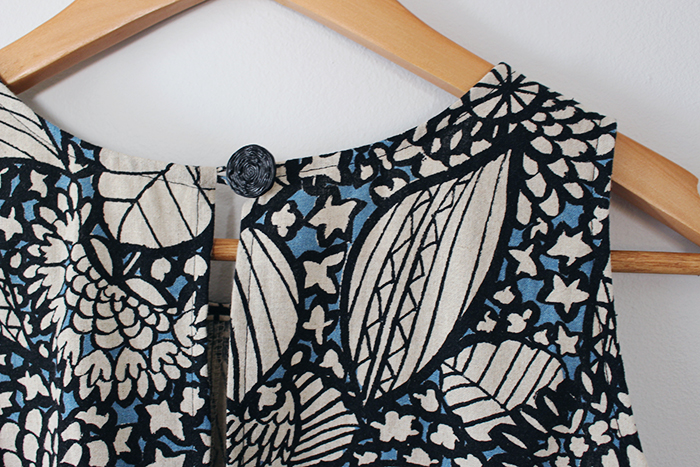 Construction wise, this was super straightforward with a few little fun parts. As with all the other Tessuti patterns I have made in the past, the instructions were super thorough and have photos to help guide the process. I really enjoyed the way the bias binding was applied which was new to me and it resulted in a super clean finish. I also skipped adding the tearaway vilene shields as I didn't have any in the stash and stay stitched like a boss instead. And the best bit? This was crazy quick to construct. Like one afternoon quick. Manda has her sewjo back!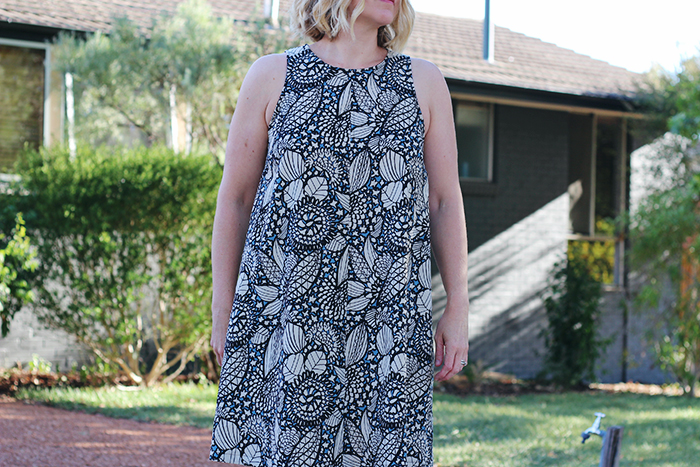 What I liked about this pattern:
The nifty bias binding application. This was a different way to how I normally apply it and I love the finish. Super smooth and sassy!
How quick this bad boy is. It took 17 minutes to cut and 3.5 hours to sew up including fitting. I don't wish to brag but I may be winning at summer right now!
The design lines. I have never sack dressed before and I am totally on the team now!
What I would change for next time:
Go down a size. Or modify my pattern with the alterations I made. Which ever is lazier, really.
Make up a new hem facing. I really love the structure they provide and was a bit bummed I skipped it this time.
Plain coloured linen and try the fringed hem. So dang good!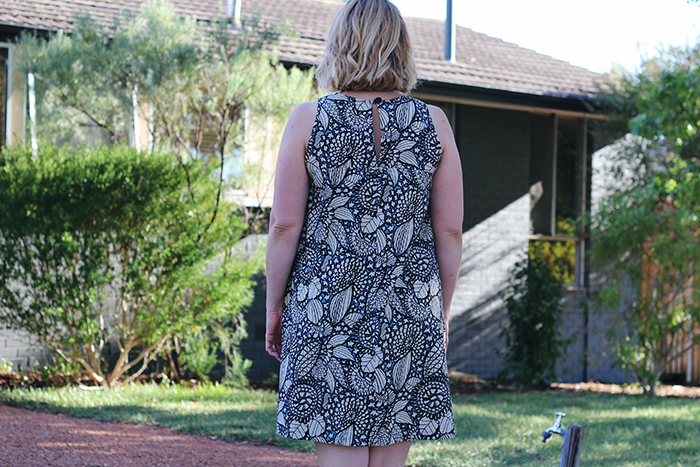 The Deets
Pattern: Bondi Dress by Tessuti Fabrics
Fabric: 2.25m of Foliage in Water from Tessuti Fabrics
Notions: button and thread from stash
Size: 14
Alterations: Removed 3cm on each side seam at underarm grading to nothing under bust dart, folded hem at 4cm, left off pockets.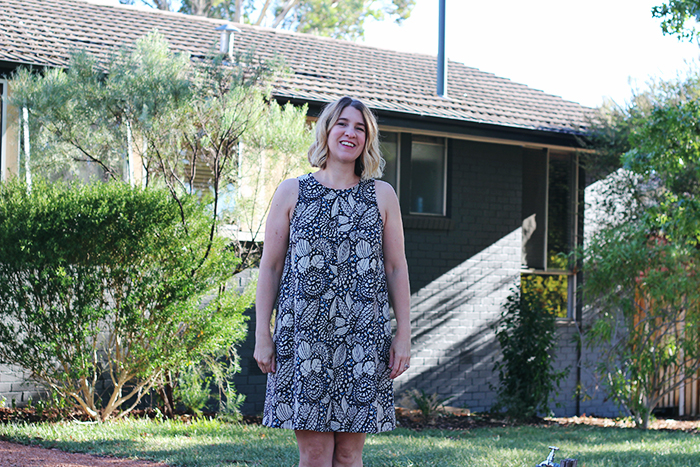 Overall, I am super stoked with this frock. It is a total step away from my normal style (gah- where is the waist seam?!) and is such a pleasure to wear. I think I get the whole sack dress thing now – stylish AND comfy. How can you go wrong?!
SaveSave