Growing up on a hobby farm had lots of perks- my first pet was a goat, I can milk a cow like a boss and I know for sure that geese are always the scariest animals on a farm. The down side to our little farm was that my parental units never let us have a horse. And try as you might, cows are not happy when you jump on their back and try to make them race. Trust me on this. So when the Brumby pattern was released it was a no brainer my inner ten year old would make me buy it. So saddle up cowfolk- this fine filly has a new skirt! Yeehaw!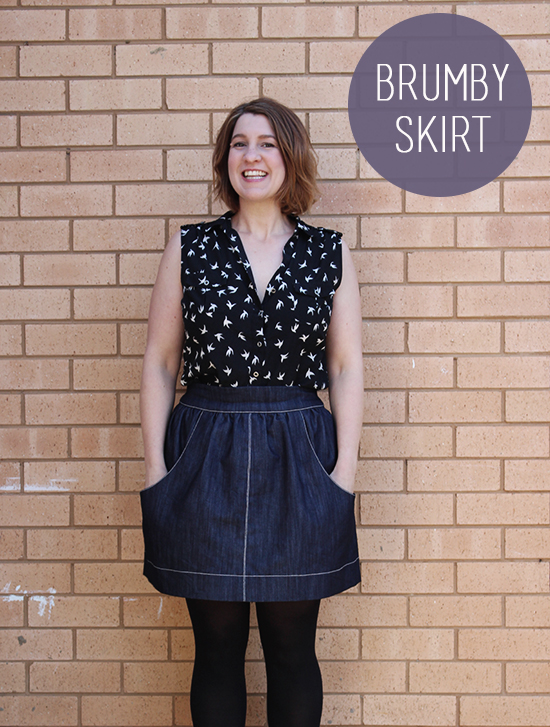 This is the Brumby Skirt pattern by Megan Nielsen. It is pretty similar to a lot of my DIY skirts from this year in that it slightly gathered with a nice wide waistband. What sold me on this pattern though are the huge pockets, three piece curved waistband and exposed zip. A lady has to diversify from her straight waistband, invisible zip and hidden pockets occasionally…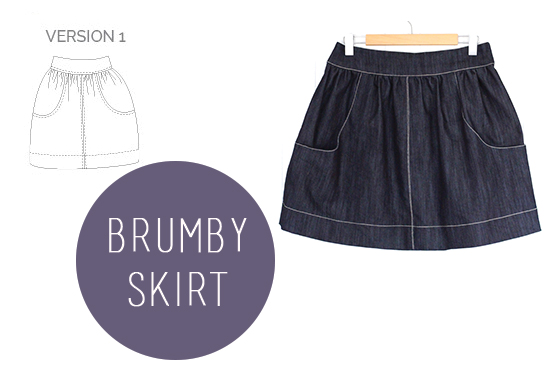 The denim is from Tessuti and I grabbed it the day before Sewaway in June. The fabric is the most perfect for me blue denim ever but even after a good wash it is still rubbing off indigo dye everywhere. Eek! Sewing this skirt up was fantastic because my hands were totally Smurf-tastic by the end. Watch out Gargamel!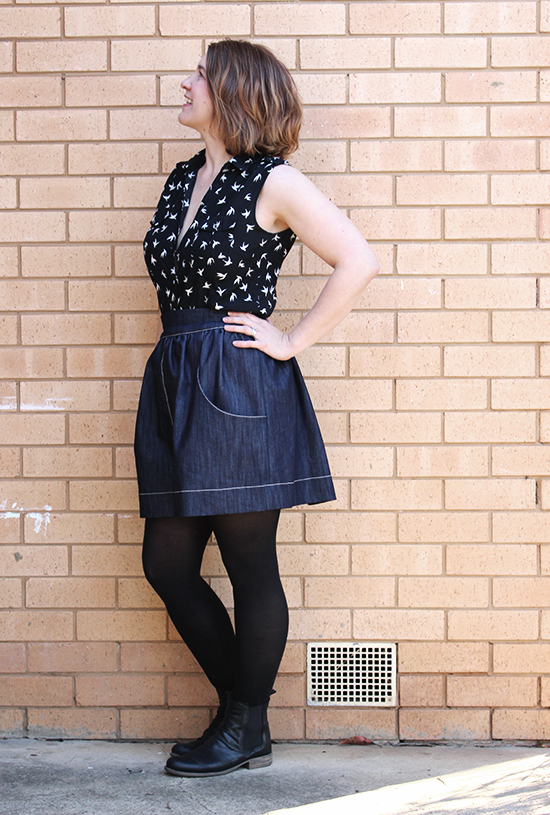 Construction was super easy but I did pick up a few new tricks. To gather the fabric I used a zig zag stitch over dental floss which worked a treat (and left the skirt minty fresh!) This was my second attempt ever at inserting an exposed zip and the included instructions are easy to follow though I wish I had read them all the way through before starting. There may have been an incident with the zip being trimmed when it wasn't necessary. Oops.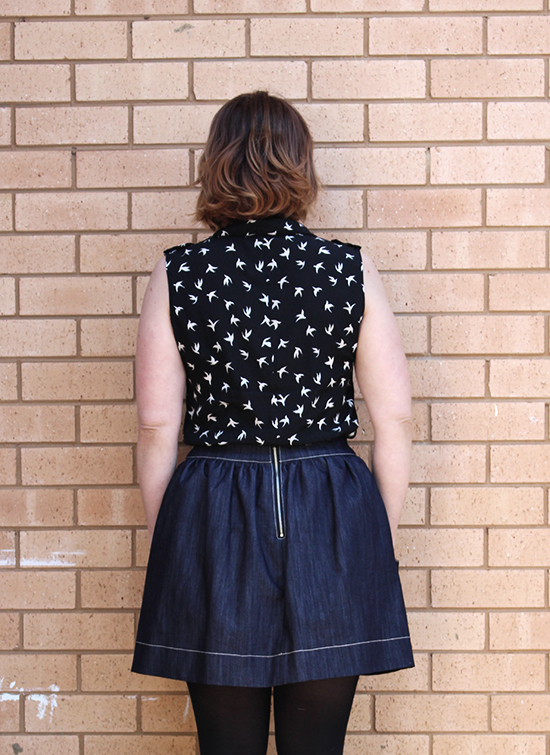 For me, the topstitching on this pattern is what makes it fun. I grabbed some peach coloured topstitching thread and used a 1/4″ foot to ensure the lines were even. And a pro tip for those who haven't used this thread before- don't put it in your bobbin as well. That way lies madness… And knots… And gin to sip as you detangle. Actually, that was an inadvertent win but I'd recommend straight to gin and avoid the thread in the bobbin 😉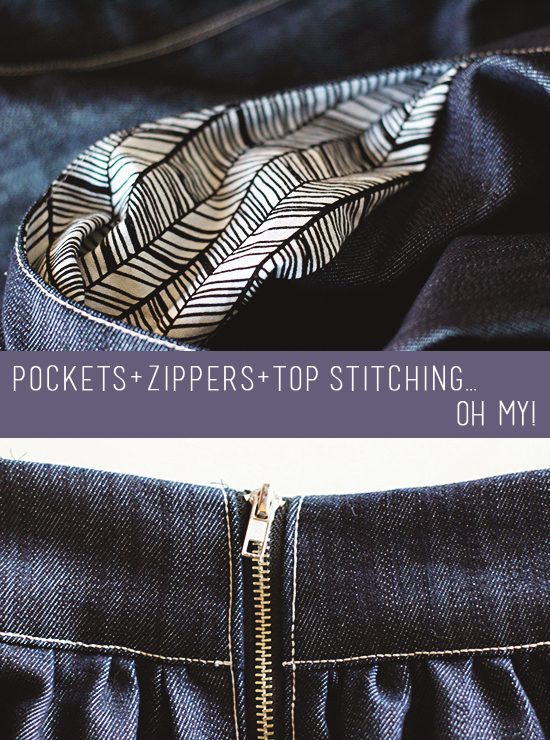 What I loved about this pattern:
Those pockets. Do I need pockets large enough to carry a bottle of wine and two glasses as well as a wheel of cheese? The answer is yes. Always yes.
Topstitching fun times! It looks so rad.
Exposed zips. Sure, these were super hip back in 2011 but I'm a lady who likes to take time to commit to a style. Bell bottoms are in now, right?!
What I would change for next time:
Go down a size in the waistband. When I load up my pockets the skirt drags down to one side. Not a win.
Read the zipper insertion instructions fully BEFORE hacking off the top of things and having to do things again O_o
Not wear my skirt all day before photos. Or iron that waistband again. #sewingladyreallife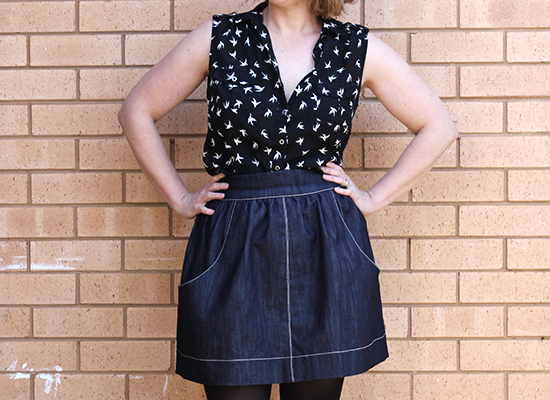 The Deets
Pattern: Brumby Skirt by Megan Nielsen
Fabric: 1.4m of rad denim from Tessuti, .5m quilting cotton from Spotlight
Notions: Topstitching thread, poly thread, exposed zip, .5m interfacing, gin
See also: Funkbunny, By Gum By Golly, B. Yazoo
Overall, I really love this skirt. It's ticking all the boxes on my current silhouette requirements plus the denim is going with all of my tees. Sometimes wardrobe basics are what a lady needs! Well, that and paying homage to your bird shirt by pulling out your weirdest phoenix impression. KA-KAW!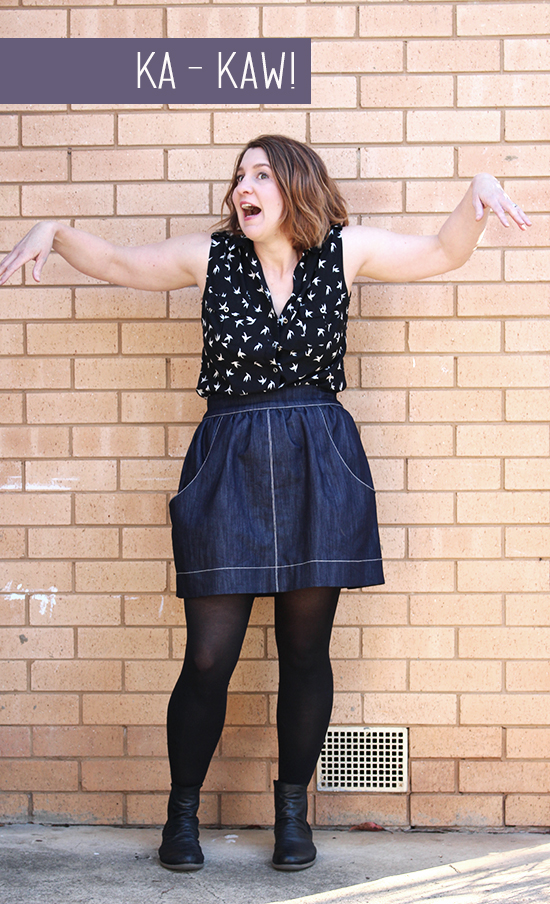 Pure. Class. Every. Time.
SaveSave