If life was a comic and I was a superhero (potential name: Enthusiastic Gal) then button up shirts would totally be my super villain nemesis living in an awesome underwater cave. My first attempt to challenge Button Lad happened at the tender age of 18 when I tried to make a bowling shirt with the help of my mum (aka The Educator). The end result was massive dude sized top with wonky buttonholes. Defeated, I retreated to my lair in a volcano and for the next 15 years worked hard to improve my skills slaving day and night over a hot Janome. In early 2015 the rematch was held – ZAP! BOINK! POW! – and Button Lad defeated. All hail Enthusiastic Gal and her amazing button up shirt!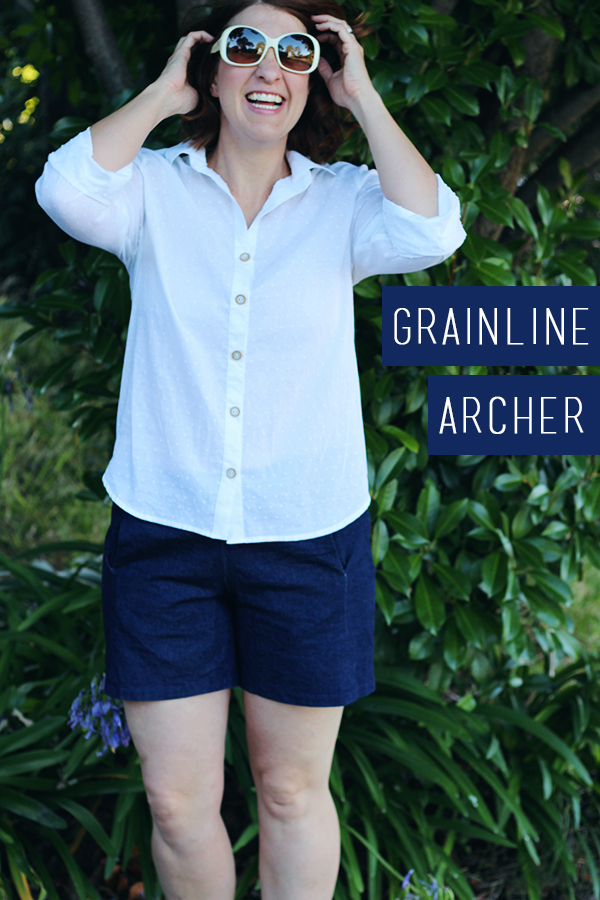 This sassy number is the Archer Button Up Shirt by Grainline Studios. If you're not familiar with this pattern it is a loose fitting button up with long sleeves. I went with View A which is the standard shirt. Because I am quite the sewing renegade I decided to leave off the front pockets. I also left off the buttonholes and buttons on the cuffs as this top was made to be worn with the sleeves rolled up. Yeah, rolled sleeves is totally how I roll… See what I did there lame pun wise? Eh?! Eh?!
The fabric used is a delicious dotted swiss voile from Addicted to Fabric. There is seriously not a better fabric to use for your first button up. It has a beautiful handle and is super lovely to wear in the heat. If I could steal the bolt and run away with it I totally would!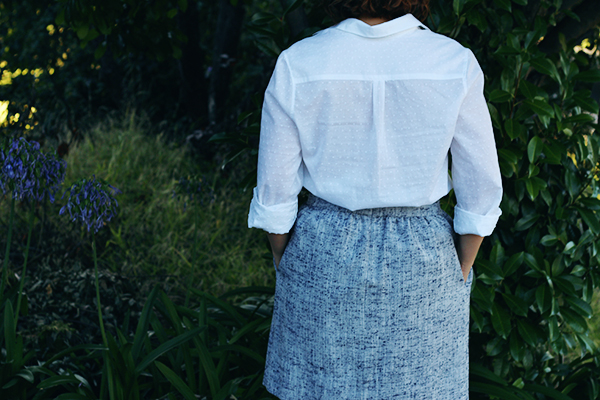 So let's talk construction. Firstly, the instructions included with the pattern are fantastic. The line drawings are super clear and everything is broken into achievable steps. I must admit I used these in conjunction with the sew along available on line and this had the side benefit of youtubing baby sloths getting a bath when I needed a break. If you ever need a mid-project refresh google this. You're welcome!
Even though 2015 is my year of the FBA I decided to not complicate matters further and went with a standard size based on my measurements. I have to say this turned out much better than I hoped. The fit feels pretty good though I think the shoulders may be a little too wide? My arms can move back and forward comfortably and the buttons don't gape so this is a step up from most RTW I have owned. In saying that, I've never made a button up before so if anyone has good fitting tips on this it would be greatly appreciated!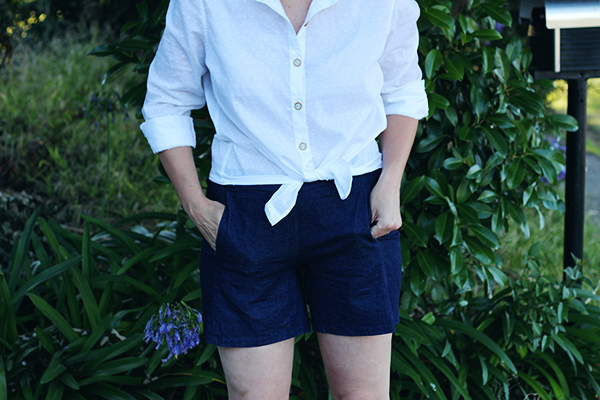 If there was one details that had the potential of letting me down it was topstitching. I have never been able to get a steady and neat finish no matter what I try. After a bit of a google and a look in my machine feet stash I came up with my blind hem foot. I set the guide to 1/16" and set the speed to snail. And it worked! The topstitching looks all kinds of rad and it was kind of hypnotic to do moving bit by bit around the garment. Kind of like a sewing lava lamp…
The biggest challenge that the Archer posed for me was the collar. After reading a bunch of reviews and watching Jen's collar insertion video I decided to go rogue and used Andrea's method. This made sense to my tiny pea brain and resulted in a serviceable collar that looks pretty dang good. I mean, check that sucker out!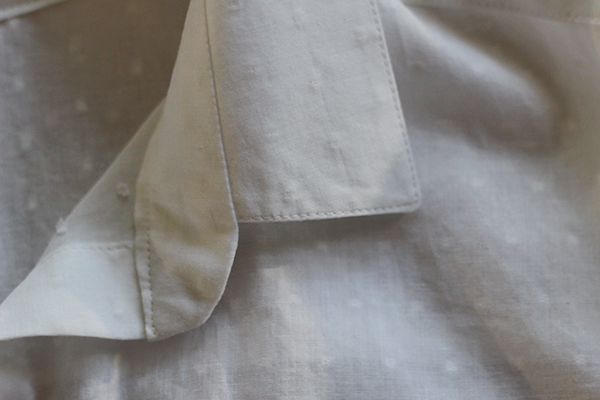 And I have to spare a moment to talk about my skirt- this is actually what made me get over my button up fear and make the Archer. It's made from a gorgeous navy and white linen also found at Addicted to Fabric a couple of months ago. I knew it had to be a gathered work skirt and it needed  a crisp white button up to go with it. There is no pattern of which to speak, though to get the subtle gathers I used fabric width of 1.5 times my waist measurement. Inspired by Anna, the hem is 4 inches deep and provides a lovely fullness to drape. I also added pockets and these are made with my polka dot lining fabric- no surprises there!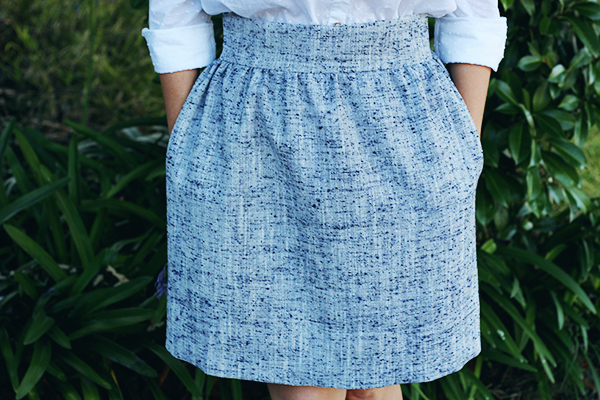 What I liked about the Archer:
Learning all of the new techniques! Collars? I got it! Plackets? I own you! Cuffs? Like a boss!
The relaxed fit. This is perfect for hot summer days.
The detailed instructions and the sewalong. Perfect for those like me who are terrified of this level of construction!
What I would change for next time:
Remove the collar and go for a more casual vibe. Viva la summer!
Three words, people. Crepe. De. Chine. This needs to happen.
Maybe got down a size and FBA. I'll do some reading on fit and see what is recommended.
The Deets
Pattern: Archer Button Up Shirt by Grainline Studios
Fabric: 2.5m of dotted swiss voile from Addicted to Fabric
Notions: Thread, 7 x 1.25cm wood buttons with a shiny inlay from Ruche Fabric
See also: Four Square Walls, Reana Louise, Dixie DIY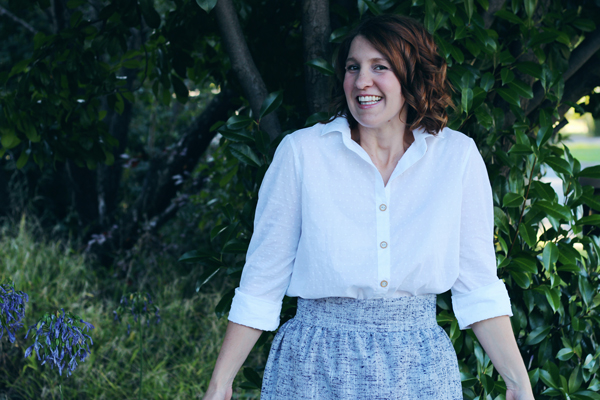 Overall, I am so freaking happy with my new shirt! This is a perfect addition to my work wardrobe with my linen skirt and also can be dressy casual fun with my shorts. I've been working hard over the last few months refining my aesthetic and sewing clothes that fit into my slowly developing new style and this Archer is going to be a key player. 2015 is shaping up to be a year of sass, challenges and fun. I can't wait to see where it goes!