Watermelons are so hot right now.
At least, they are in my world. If 2014 was the Year of the Pineapple then 2015 is the Year of the Watermelon. What is there not to love? Pink, green, tiny black spots! It's a match made in summer style heaven. Except for the taste. Ugh. Team Citrus over here… But there was no need for me to get melon-choly (eh, see what I did there!) as watermelon print fabric is the perfect match for my first summer dress of the season. Huzzah!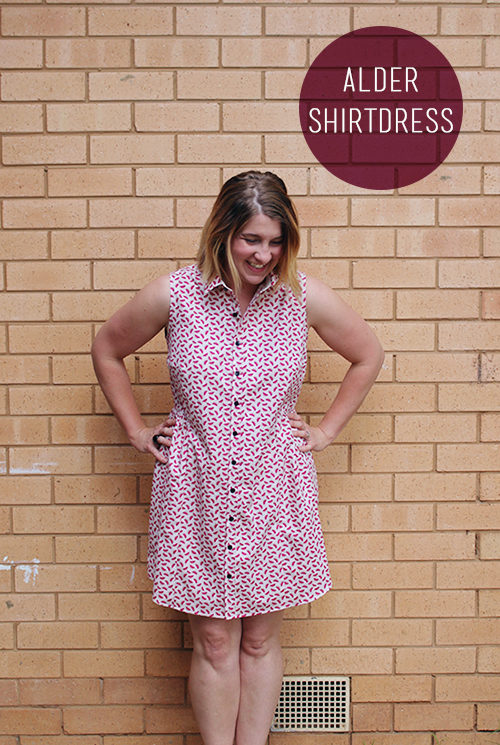 This fruit number is Alder Shirtdress by Grainline Studio. The Alder is a loosely fitted sleeveless shirtdress and I went with View B which features the curved hem and gathered sides and back. What can I say? I am a lady who likes a ruffle!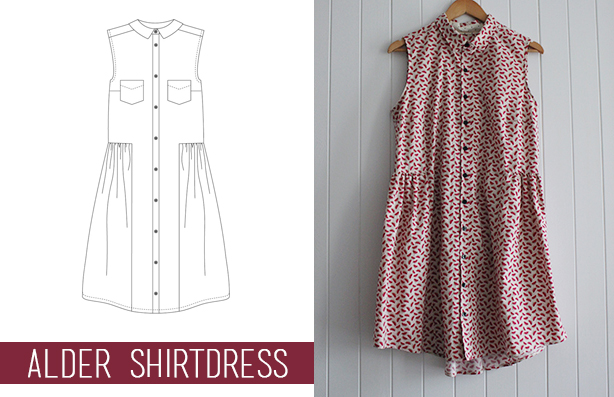 The fabric is a cheap and cheerful poplin from Spotlight in their "Spots and Stripes" range though I am not sure if one would classify watermelons as spots or stripes? It holds a crease well and handles everyday wear. It may not be the softest fabric on the market but for a fun summer sundress you can do far worse. I also have to point out the ridic adorable buttons – they are teeny tiny little black squares and I love them because (a) they look like watermelon pips and (b) they are square which makes my heart happy as I find circles messy. Yup, it's a weird place in my brain O_o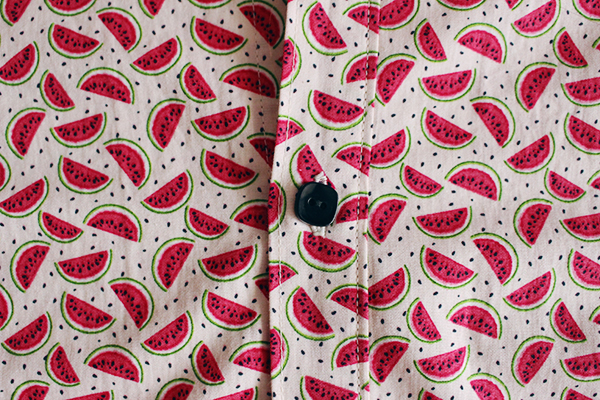 As always with Grainline patterns, the instructions were clear and easy to follow. I used Four Square Walls collar burrito method (as per my Archer), which makes more sense to my tiny pea brain. I also tried a new to me method for attaching the bias binding in the armholes (coincidentally also from Grainline Studio back in 2012) that is amazing in its simplicity and awesomeness. For the first time my bound edges finished flat. Huzzah! Let me tell you there was celebratory cake and gin after that!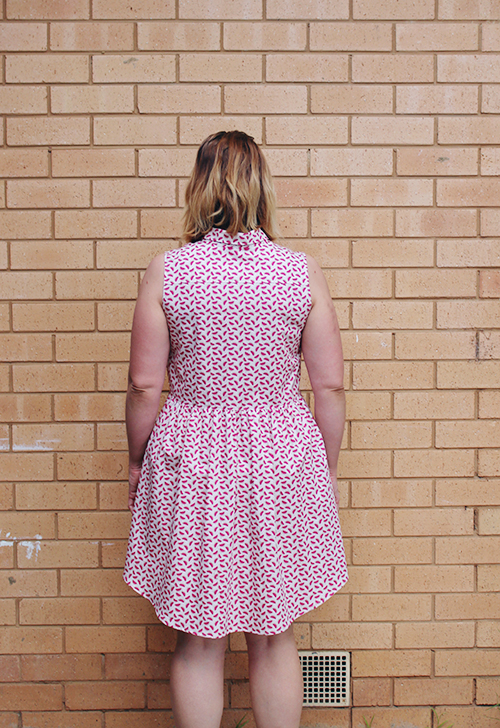 Alterations wise, I played around with this pattern a bit:
Included a 4cm FBA using the tutorial from the Alder sewalong
Added 4cm in length but then hacked it back off at the hemming stage
Removed the front pockets- my lady cargo so did not need double print action in that region
Included my polka dot lining in the internal collar stand
Repositioned buttons and shortened the distance between them just because I loved them so much there needed to be more!
There were a couple of snags I ran across. Turns out inserting those gathered panels at the front require some sweet attention to detail to get a sharp pivot… Needless to say one is curved mess and the other is a wonky pivot. You live and learn! Also, make sure you don't use teacher left and teacher right when cutting out pattern pieces and fusing interfacing or you end up with the shirt buttoning in reverse and the interfacing on the wrong side. Curse you teaching! *dramatic fist shake* On the plus side, I think only laser eyed fellow sewasauruses would noticed the reverse buttoning… Engage laser eye mode now…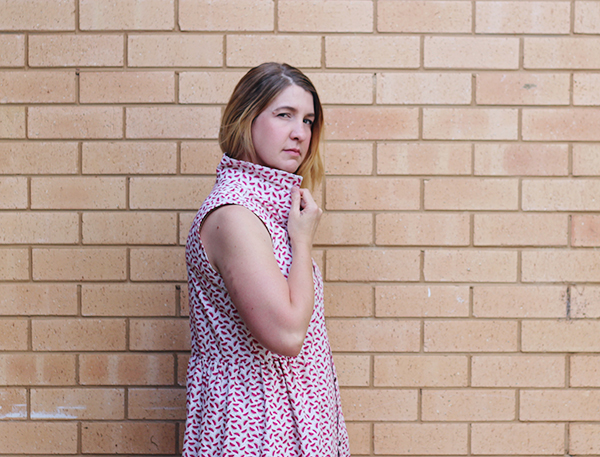 What I loved about this pattern:
All the technical fun of a shirt but with the bonus addition of a ruffle butt! What's there not to love?!
Grainline's fabulous instructions. This is only my second button up/down shirt type creation and I needed a fair bit of hand holding when it came to construction.
Not the pattern but the fabric- Team Watermelon (except for eating then Team Tangelo!)
What I would change for next time:
Shape the side seams a little. I get the straight lines of this but I want to play up my curves. If you got 'em, work with 'em!
Lose the collar and just keep the stand. Because I'm sassy like that.
Make a partial button up. As in, only have a few buttons then plain placket for the rest. Laziness is my middle name!
Add some width to the back or maybe size up? These photos are revealing some drag lines I hadn't noticed in person.
Try and find a tutorial to help me with getting a flat finish to my curved hem. That sucker is doing a Mexican wave around my leg meat and it is tres awks >.>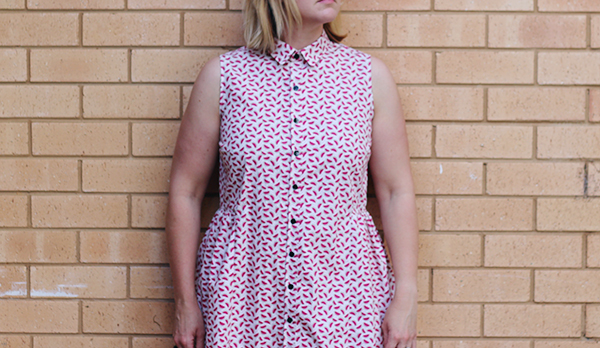 The Deets
Pattern: Alder Shirtdress by Grainline Studios
Fabric: 3m of watermelon poplin from Spotlight, scraps of polka dot poplin and interfacing from stash
Notions: thread, 11 adorable watermelon pip buttons
See also: Pincushion Treats, Sew DIY, Ginger Makes
Overall, I am rather happy with this frock and am looking forward to wearing it through summer. I was a bit skeptical about the amount of ease around the waist… Then I realised this is going to be tops during those ridiculously hot days and on Christmas Day for scarfing sweet, sweet pavlova. To the pavlova!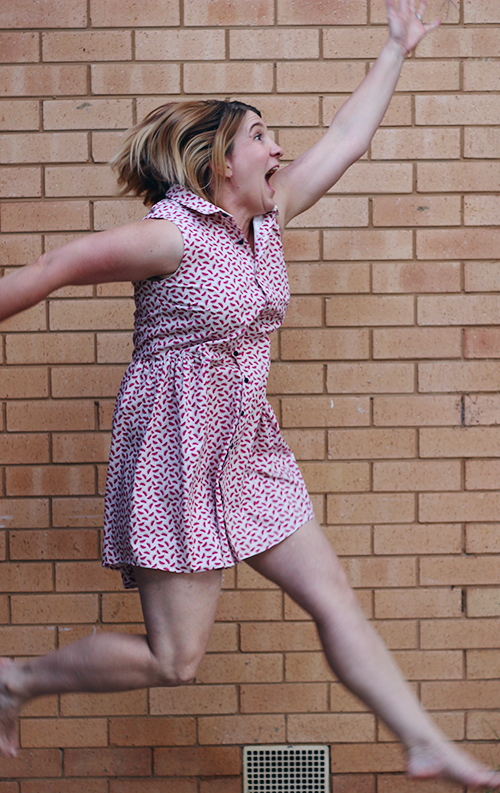 SaveSave