Autumn has just begun and the morning are already starting to get cold in the old nation's capital. It was on one particularly chilly morning when I realised for the third year running that while my summer and winter work wardrobes are pretty good I have a big gap in my clothes for transitional season garments. Determined to not sweat and shiver my way through autumn this year, this lady took herself to Spotlight, found a cute knit pattern and decided to get comfy. Viva la autumn frocks!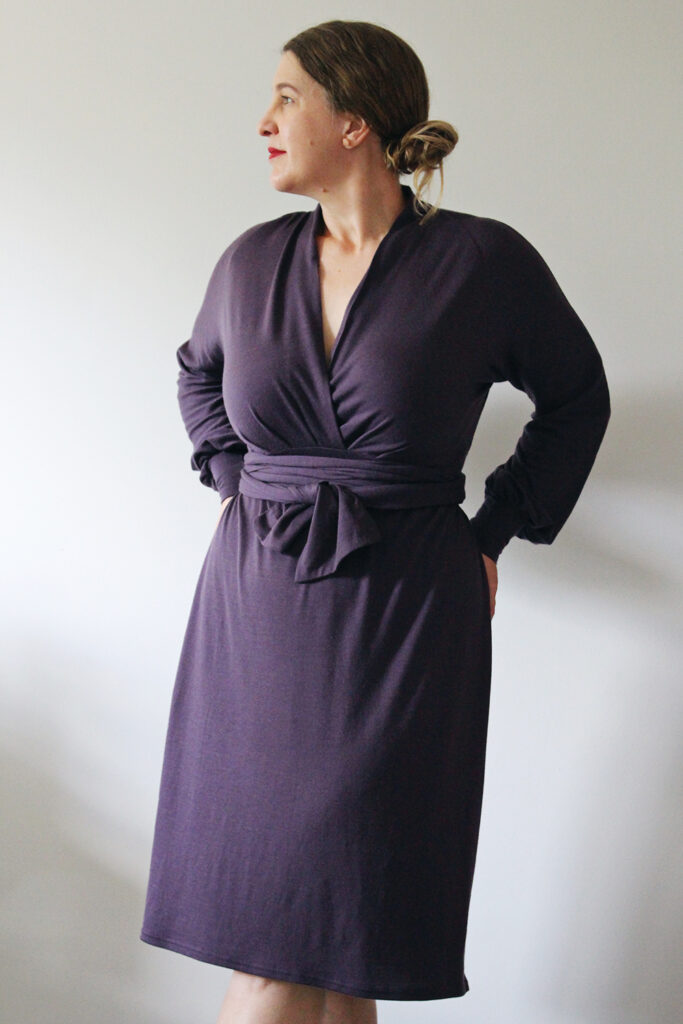 This is the oft made Vogue 8825 dress and tunic pattern. This dress has a front pleated bodice, raised waist with separate waist ties and two-piece sleeves with barrel cuffs. While Vogue marks it as "Very Easy" I would say it is more advanced beginner as the collar creation and pleated bodice have enough fun details to take make you pay attention.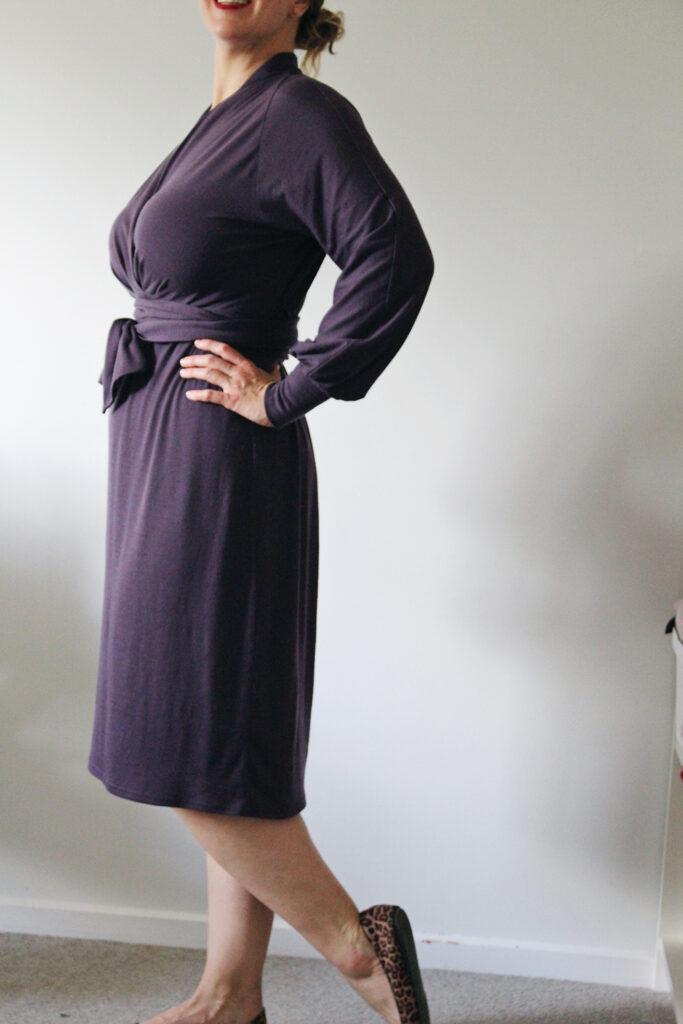 For extra squishiness, I used ZQ premium merino jersey in Iris from The Fabric Store. Please note that I was gifted this fabric from the The Fabric Store team to make up a pattern of my choice and the timing worked perfectly to stitch this dress up. I am a big fan of The Fabric Store's merinos (see the 167236 Plantain tees and Blackwood Cardigans I've made) but this was my first time working with the ZQ range. I find that this has a bit more heft than the standard merino but still feels quite squishy.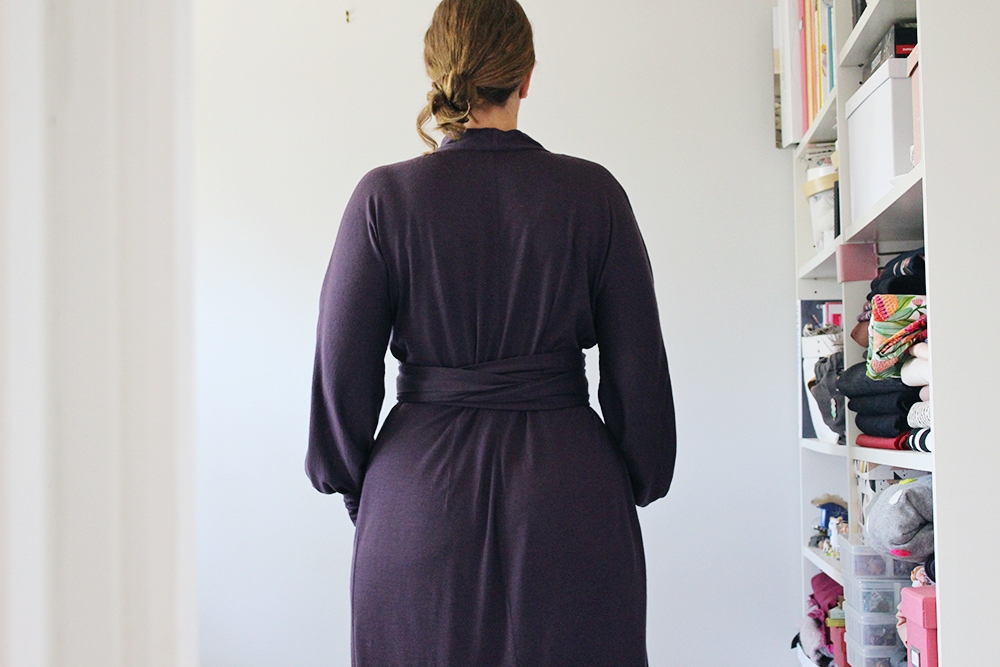 Construction wise, this dress was fun to build! I sewed up a chunk of this on my overlocker but I used my standard machine to construct the bodice. I got a bit too excited at the thought of a fun new dress by the end of the day and rush overlocked the bodice onto the skirt straight away before checking the depth of the V neckline–rookie mistake! While its super cute for outside of work its a bit too deep for employment times. Eep! I also found that my fabric was a bit too drapey for the bishop sleeves and ended up removing 5cm as it was puddling across my fingers. Finally, my measurements put me in the Size 20 but after reading a few reviews I took the bodice down to an 18 and graded up to a 20 at the hips and am delighted at the fit. This lady does not enjoy clingy knit skirts.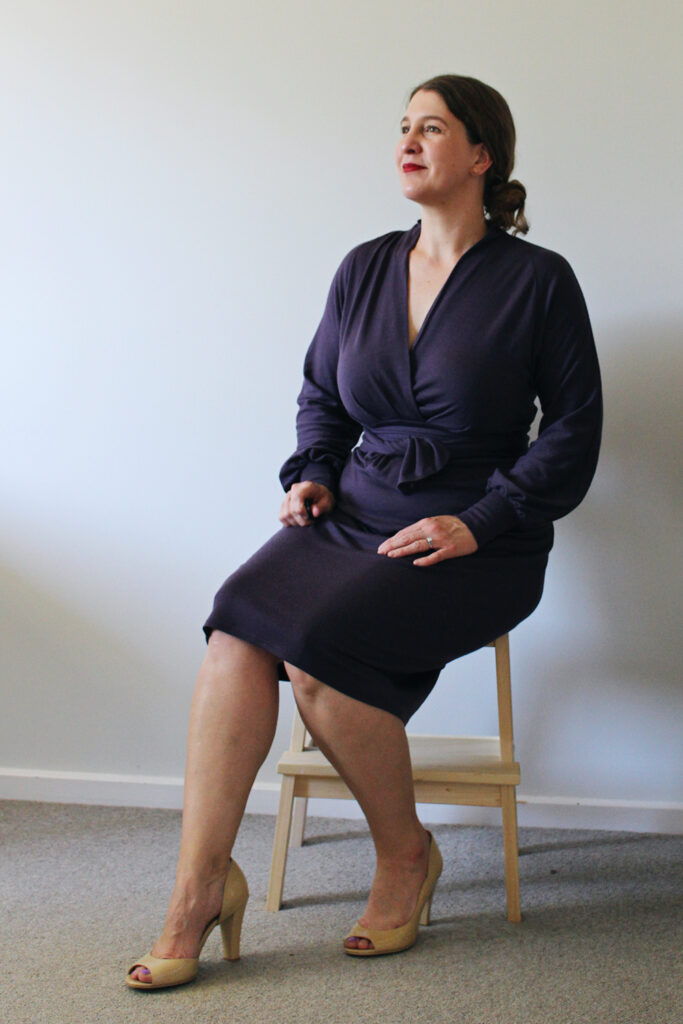 What I liked about this pattern:
The small but lovely details–the pleats, the collar and the waist ties.
The fact it was challenging but the details made it fun to construct. The sleeves are super awesome!
What I would change for next time:
Use a material with a greater weight/structure. Whilst I love the feel and drape of the merino, I think it is a little bit too fine for the dress version of this pattern.
Move over the bodice crossover more for greater coverage. This is great for outside of work time but I'm going to add a press stud for wearing this to work.
The deets
Pattern: Vogue 8825 dress and tunic
Fabric: 2.5m of Iris ZQ premium merino from The Fabric Store
Notions: thread
Size: 18 bodice and graded to 20 at hips
Alterations: removed 5cm from sleeve length
See also: Raliat Oyinlola, Emily Hallman, Tipstitched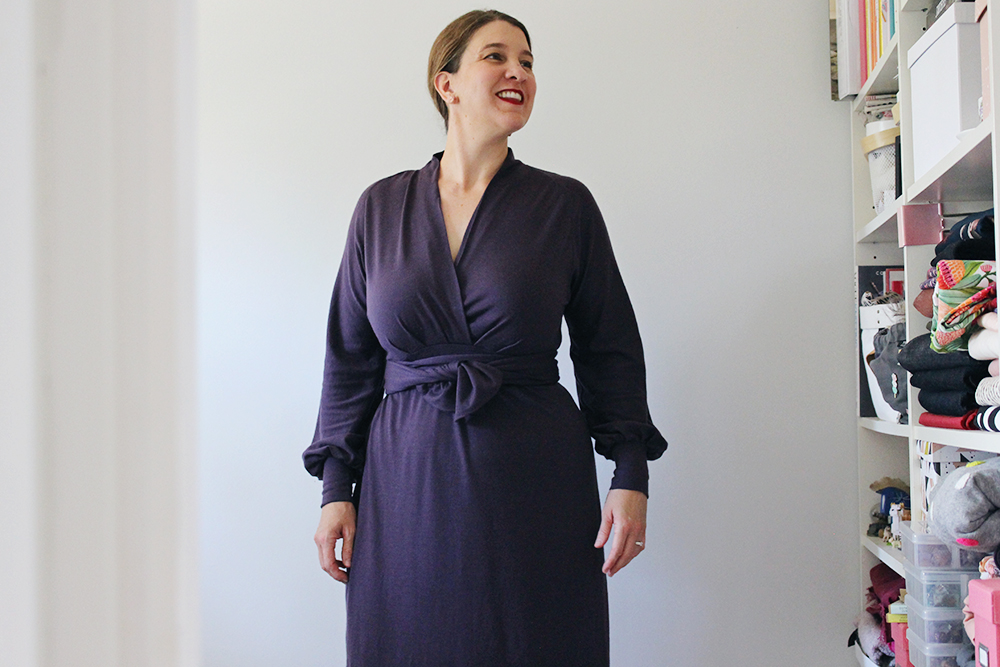 Overall, this is is the right level of snug but cute for an autumn work dress (with the addition of a press stud!) and I'm looking forward to taking it for a spin at my day job soon. And now that I've sewn something grown up it's time to get back on my print wagon! Next up in a seagull print Ashton and a pink linen set of dungarees with a floral bishop sleeve top. Sewing is truly the best!