As a lady of habit it takes me  fair while to make a change once I am comfy with something. But after after four years of sewing and 15 pairs of Iris Shorts later it was time to mix things up and hunt down a cute new shorts pattern. Armed with google and two hours to kill I searched high and low until I found a possible winner. And winner it was once I made it up! So prepare yourselves for some pasty Canberran legs as my new fave shorts pattern comes out to play…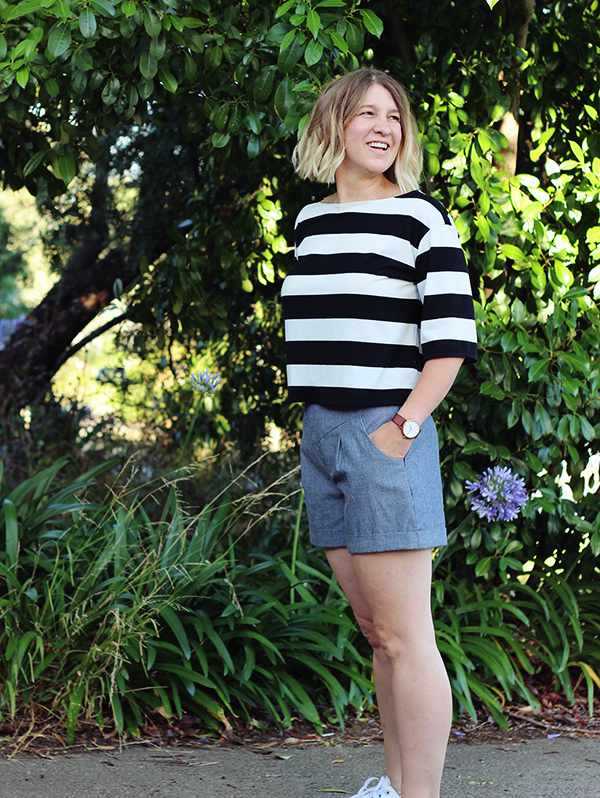 These are the Chataigne Shorts by Deer and Doe. I made up Version A which features inverted box pleats with cuffs. If that isn't snazzy enough you are in luck as the Chataigne comes in two designs. View B is all about the high waist with a scalloped hem. One other thing to note is that there are pocket flaps (but no pockets on the back of the shorts. In a combination of laziness and not wanting to add more detail to my butt I left these off. This saved not only time but also fabric (which turned out to be kind of important…)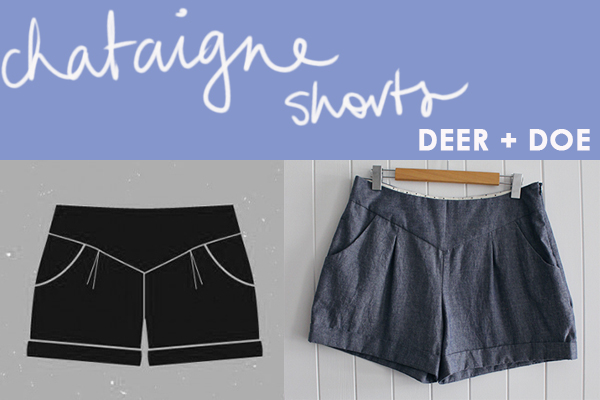 The fabric is a navy chambray from Stitch Piece Loop that I grabbed while up on my ill-fated Queensland holiday in December. The chambray holds a nice press and is pretty forgiving when you get your unpick on which I figure is a desirable trait if you are a rad stitcher like me who likes to ensure her seam ripper never feels left out of any sewing action. And real talk – when I bought this fabric I was thinking it was time for a 16th pair of Iris shorts so only grabbed 1m. If you are happy to go a contrast waistband and pocket linings you can squeeze this pattern out of a metre. And you will have earned a nice cup of tea and a biscuit by the time you have finished playing pattern tetris to make it work. Mmmm biscuits.
Construction wise the Chataigne Shorts were fun to make – pretty straightforward but with some fiddly bits to keep your noggin firing. The yoke is what drew me to the pattern and it was fun to get the point lined up. To get this looking pretty acute (ohhh – bad maths pun!) I cheated used my rad thinking skills and marked up stitching lines on the wrong side of the yoke so I'd hit the apex of the triangle when sewing. I have to say I'm rather chuffed with this attempt – it's looking on point! (okay, okay I'll stop with the puns!)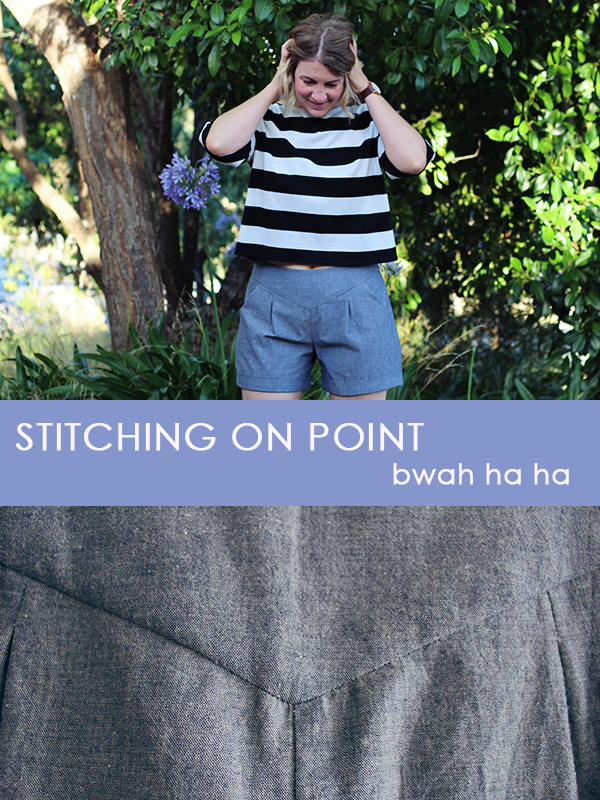 The remainder of the construction is pretty standard and clearly illustrated by the instructions. The only real changes I made were to under stitch the waistband and pocket linings for a clean finish. The cuffs and waistband lining were hand stitched down to keep things looking smooth. I'm super happy with these extra touches – it makes my shorts look all fancy like!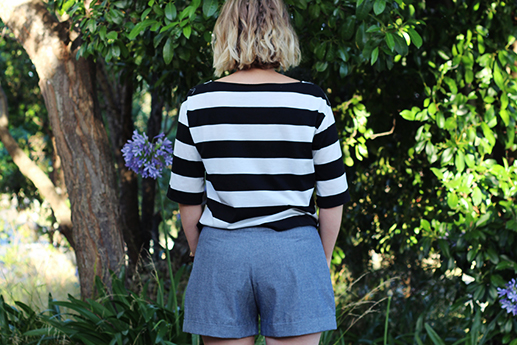 What I liked about this pattern:
The yoke. I was pretty worried that this would end up as some weird kangaroo pouch look but it has turned out super sweet. Plus I got to make lots of maths puns writing about it so it is pretty much the best ever!
The cuffs. I dig a cuffed shorts look but whenever I roll my hems up on other shorts inevitably one would roll back down and I'd look lopsided. Not any more! Styling cuff lady is in the house!
How little fabric is uses. With only a metre needed it means I can treat myself to rad fabrics. Boom!
What I would change next time:
Full seat adjustment. While I am pretty happy with the fit for a first go but a smidge extra room would be all kinds of awesome.
I have nothing else. I have a total summer loving crush on these shorts.
The Deets
Pattern: Chataigne Shorts by Deer and Doe
Fabric: 1m of navy chambray from Stitch Piece Loop, fusible interfacing and polka dot lining from the stash
Notions: invisible zipper and thread from the stash, moxie is sewasaurus's own
Size: 44
Adjustments: 2cm to leg length, under stitch waistband and pockets, catch stitch cuffs
See also: Paunnet, La fil à coudre d'Anna, The Hemmed-In Kittiwake
Overall, I super love these shorts and have been wearing them everywhere. I've grabbed some sweet Liberty cotton drill with a horse/unicorn print on sale recently and am going to make a second pair. Because every lady deserves unicorn shorts, right?!
SaveSave