1980s Amanda has no idea she had it so good. She was living it up on a hobby farm with a pet goat and a pet goose, rocked some epic 80s sundresses and had access to the occasional piece of Mum-made Cherry Ripe slice. So pretty much living the dream. Now 2010s Amanda has things pretty sweet but one thing she was missing was the perfect 80s sundress. Oh and the pet goat. But that isn't the focus here. We're talking 80s. We're talking sundresses. And we are talking the return of the 80s sundress – check out its majesty!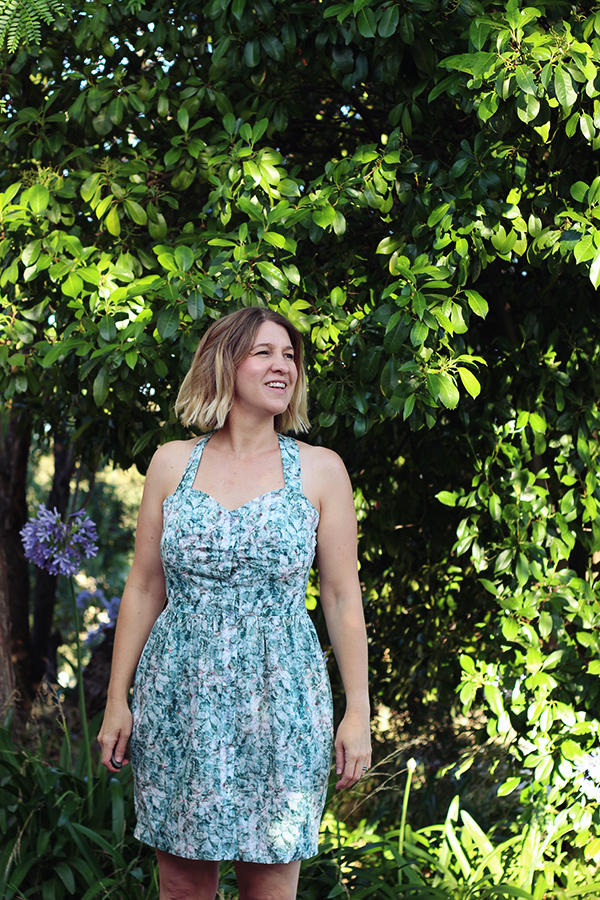 This pattern is the Josie Dress (aka Robe Josie) from Republique du Chiffon. It is the total epitome of what I want in a sundress this year – a little bit 80s but with a whole lot of fun. It has a fitted bodice featuring princess seams and angled waistband, a button up front, slash pockets, tulip skirt and crossed shoulder straps. So… pretty much perfect. When I stumbled across this late one night while doing some very important research (read: style stalking awesome sewists' blogs) it was love (and purchase) at first sight!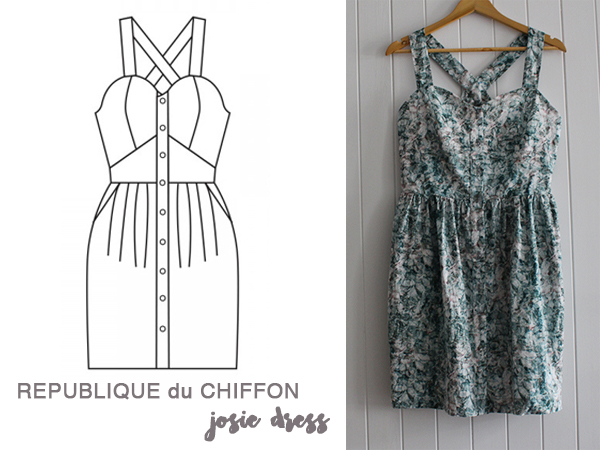 The fabric is a simply lovely Liberty lawn called Tiers of Light. The lovely folks at The Fabric Store very kindly provided this one to me gratis (thank you guys!) and I grabbed a piece of the teal colourway. Just like the other Liberty I have worked with this was a dream – like sewing together pretty pieces of cloud. The only complaint I have about this fabric is that it is so dang hard to photo. Yup. Lamest. Complaint. Ever.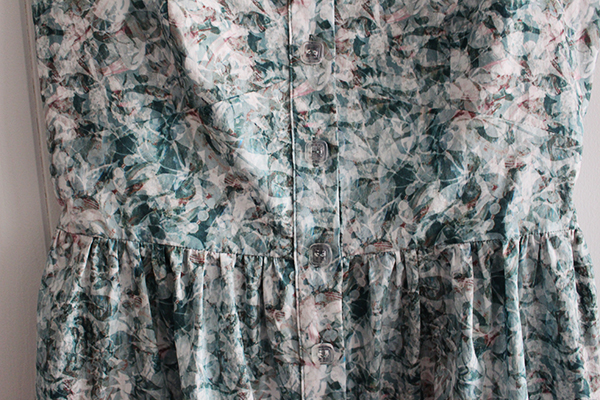 Construction wise, this went together pretty easily. This was my second version of the Josie (the first made in bits and pieces when I was sick and on painkillers. I'll share that one in the future!) so I had an idea of how I wanted it to go together. I added fusing to the button bands, fully lined the bodice and lengthened the pattern by 8cm. Yup. You read that right. When I first measured off the pattern pieces this frock was set to mini level. I mean, I'm a little above average height (5'8") but this design made me feel like Godzilla. FEAR MY MIGHTY SEWASAURUS POWERS!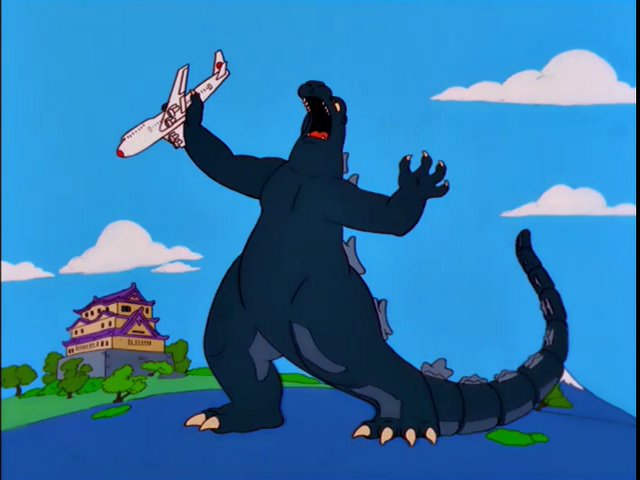 Fit wise, there is some work still to be done. I made a rookie busty lady mistake with this one. I did all my fitting whilst wearing a regular comfy bra and when I went to wear it with my strapless bra things were not sitting quite right. There are some pull lines around the bust but they haven't stopped me wearing it out. I might unpick the lining and go release the side seams. But then again, I'm lazy. It's cute and I already wear it out so we'll see how that goes. (Translation: unless the frock starts gaping this lady is going to spend that time playing Machi Koro and having a cheeky gin!)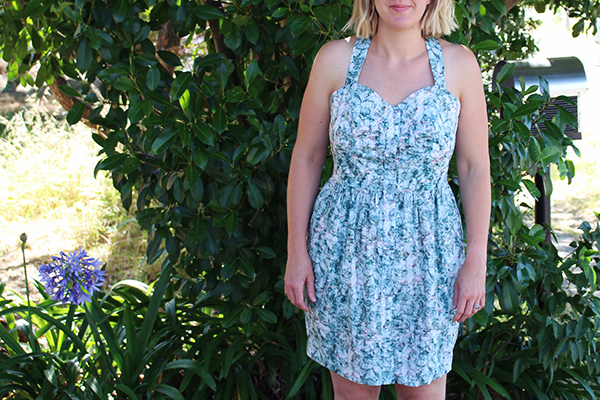 What I liked about this pattern:
Feel the 80s power! Seriously. I think it is the bodice design paired with the gathering that makes this all kinds of rad.
The bodice details. The princess seams and the angled waistband are so much fun to put together. It's like a jigsaw puzzle for ladies who sew. And like their jigsaws to have only six pieces. Bwah ha ha!
The Liberty. This is just as awesome to sew with as I remember. I mean, sure there are no pirate ships on this frock but it is still all kinds of fierce!
What I would change for next time:
Wear the right underpinning when fitting. Such a rookie mistake. Hopefully this does not mean Hufflepuff will lose five points in the Sewing House Cup!
Straight straps. While I love the crossover look it makes me feel like I should be training for some hard core gym event. And may make me pose like the worst body builder ever. You're welcome in advance for the next high calibre photo 😉
I really can't think of anything else. I am seriously in love with this pattern. Like crazy heart eye emoji love!
The Deets
Pattern: Robe Josie by Republique du Chiffon and yes you can get an English language version. I scored mine from Stitch 56 because instant gratification is sometimes a thing I do. Bwah ha ha!
Fabric: 1.5m Liberty lawn Tiers of Light in Teal provided by the rad folks at The Fabric Store, 0.5m white lawn from my stash, 0.5m blouseweight interfacing from my stash.
Notions: Thread, 9 clear buttons from my stash (there may have been some horrendous teal buttons purchased for this frock while under the effects of hard core painkillers pre-surgery. Ugh. Thank goodness for a notions stash)
Size: 44
Adjustments: Bodice fully lined, skirt lengthened by 8cm, extra button added and button holes moved.
See also: Lepetitmondedeflora, Momita's Blog, Self Assembly Required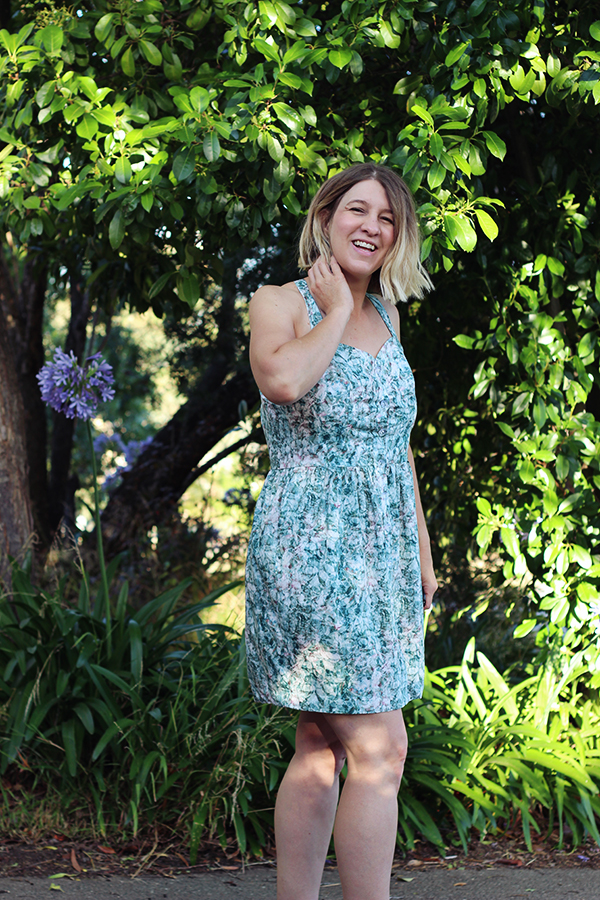 Overall, this is a freaking cute sundress. It is so lovely and cool to wear and has been perfect in the bananas 39 degree days we have been experiencing in Canberra this week. Which would be fine if our house had more than one ceiling fan. Which it does not. And I may be spending a lot of my spare time sitting in a wading pool with the dogs (but sans cat as she was not impressed when I tried to cool her down). Hopefully the temperature drops again soon so I can get back in my sewing room because I want to sew a blazer. In the middle of summer. Because apparently I have gone crazy with the heat… Wish me luck!
SaveSave