This new project was something I planned out in March thinking I needed a cute dress that I could pair with tights and boots as Canberra slipped into autumn. 2020 has been nothing but unexpected for me so that fabulously laid plan decided to rest on my stash shelf until September. Because it's totally autumn in the northern hemisphere now and that counts, right?!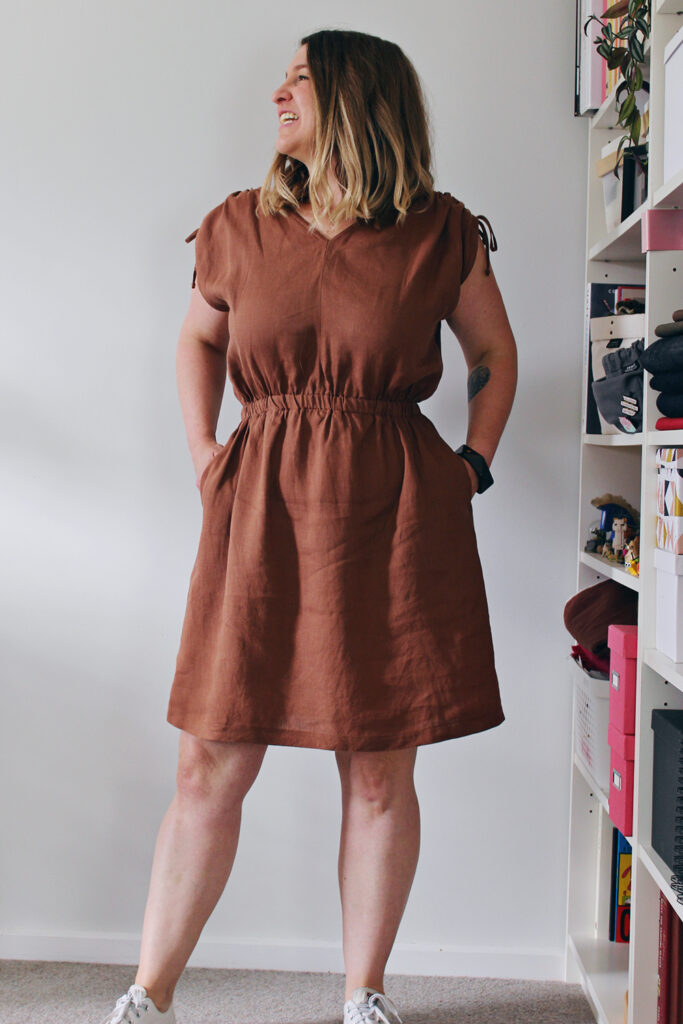 This is the Kimmy Dress by Seamwork. The Kimmy is a simple v-neck dress featuring dolman sleeves with adjustable gathers, an elastic waistline and pockets. It is a pretty gentle project to work on and the instructions are well illustrated and easy to follow. This would be a great project for someone at the start of their sewing journey looking for a frock with a fun detail.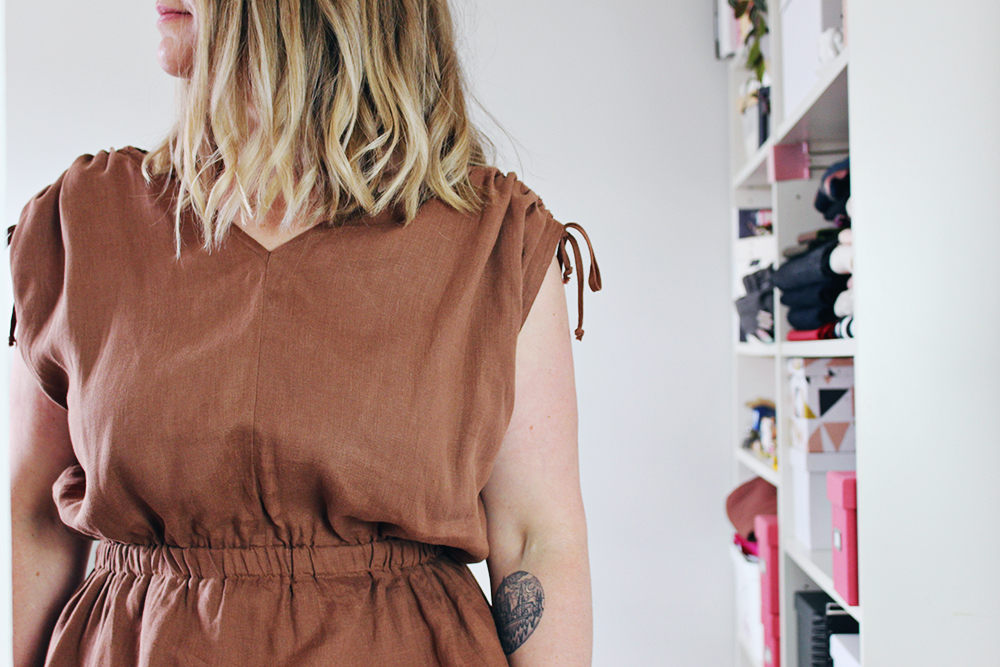 This rather subdued for me fabric is the vintage finish linen in acorn from The Fabric Store. This fabric is an absolute dream to work with–it presses well, recovers nicely from seam ripping and has such a lovely drape. I have used the vintage finish linen before for a Kalle Top and it feels so dang lovely on. After trying to explain it to Brett I have named the feeling of the fabric "crispy soft" aka the crispy lightness of linen but with the softness of an old shirt you've worn heaps. Try not to be jealous of my amazing wordsmithing 😉
Construction wise, this was pretty simple however make sure you mark the notches for the front and back bodice panels as they look very similar. I must admit I couldn't find any drawstring, ribbon or cord for the sleeves that appealed so I spent several nights making up bias binding out of the linen. While I'm super stoked with how this turned out I constantly cursed my cheapskate ways by not buying the matching binding from TFS–note to future self: just pay the few bucks. One good thing that did come out of it though was that I rediscovered an old Simplicity bias binding machine my Mum got for me secondhand a few years ago and I have had on the bottom shelf in my sewing room untouched. Though this was not until I had already made all the bias binding I needed by hand…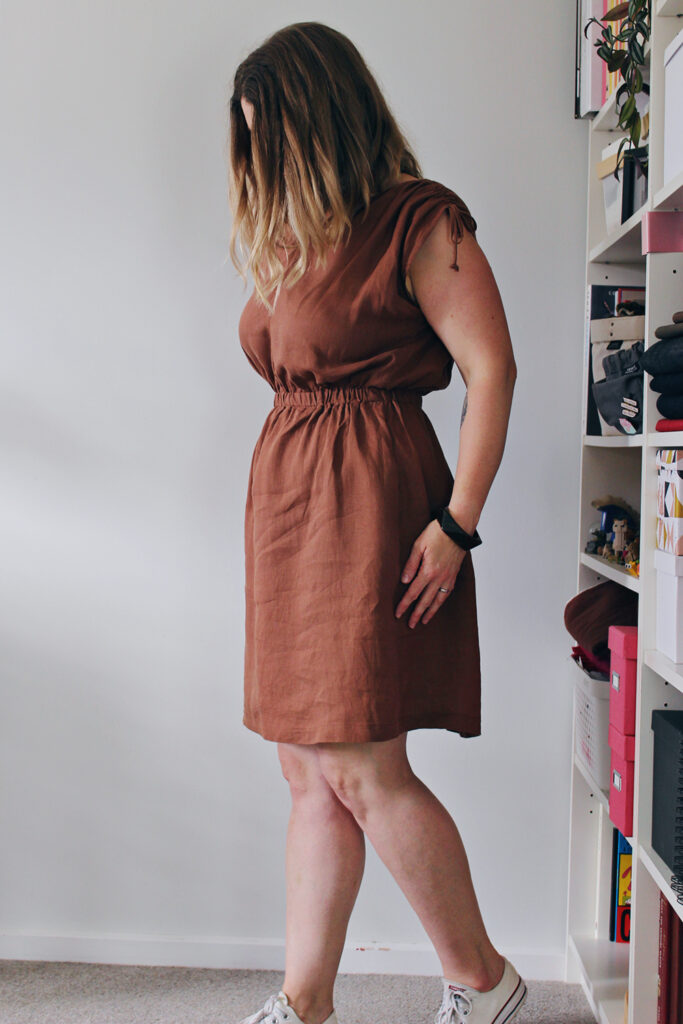 What I liked about this pattern:
The ruched sleeves. I think it looks super cute plus it's fun to adjust.
The easy to follow instructions. Yes, I could have popped this together on my own but I found it a very gentle project to work through step by step and give my noggin a rest.
What I would change for next time:
Deepen the V neck. After wearing this a bit I'm finding it too high. I may yet go back and scoop it out. Or maybe not. Let's see how much it bothers me!
Try the wrap bodice. I do love me a wrap bodice and it would solve the high neck issues pretty quickly.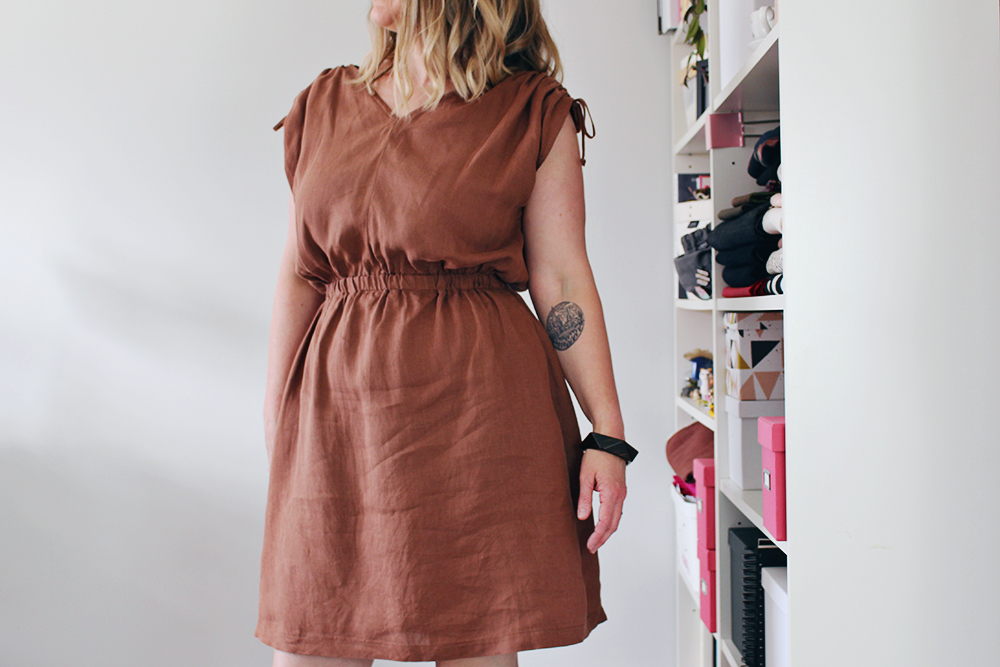 The Deets
Pattern: Kimmy Dress by Seamwork
Fabric: vintage finish linen in acorn from The Fabric Store
Notions: 4m of self-made bias binding, 1m of 12mm elastic
Size: 14
Alterations: lengthened by 4cm
See also: Sewn by Ashley, HeatherMae74, WMCurella, Jenoa Saplin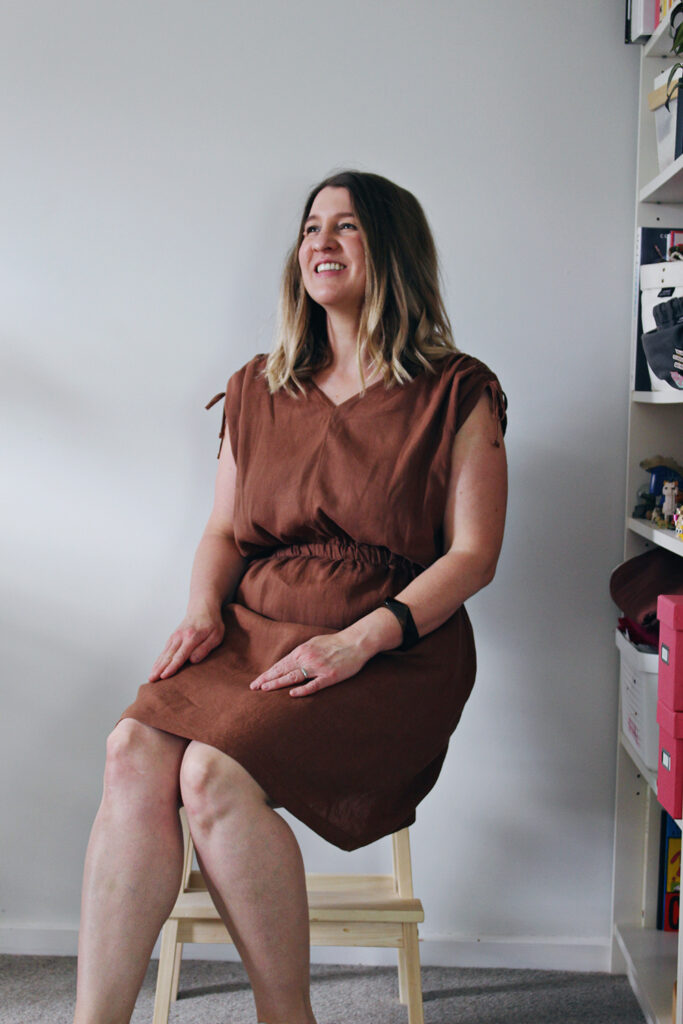 Overall, this is a cute frock and I am hoping to wear it a bit more. In all honesty, while I love the colour whenever I put this on I have flashbacks to primary school where my uniform was mustard and brown. I'm going to try and funk this up a bit with a chunky necklace and a denim jacket (a la Bibbity Bobbity Buttons who looks all kinds of rad in her Kimmy and Audrey jacket combo) and see how it feels then. Otherwise, I may have my first foray into dye baths… I think this is what they call a win/win situation!