Amanda's life lesson of 2018: do not accidentally pre-wash your gorgeous new gingham seersucker fabric with your hot pink sports lycra because the colours will run. And then you will take the fabric out of the machine and everything is muddy pink and you cry because you saved up to buy the gingham and now it is gross. And then you try the colour remover goo and it doesn't work so you end up doing two machine washes with a tiny bit of bleach and the pink mostly goes. Then you sit down and have a gin and tonic and treat yourself to a new episode of Jane the Virgin because you need a break. GAH! Worst fabric story ever but the end result is totally worth it – check it out!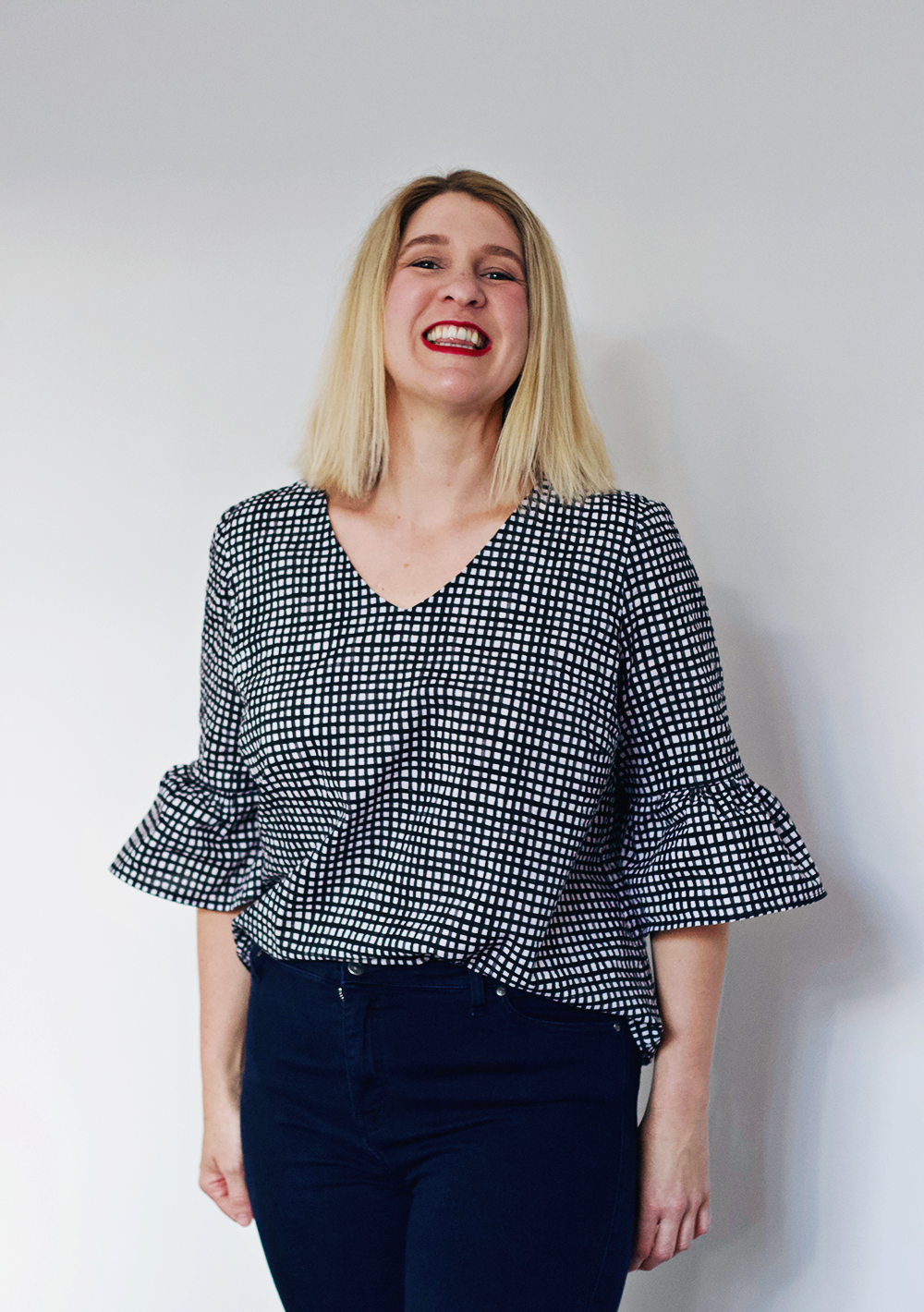 This is the Ruffle Sleeve Top by In the Folds for the Peppermint Magazine Sewing School. Just like my much loved Peplum Top, this bad boy is a freebie off the Peppermint Magazine website. The Ruffle Sleeve Top is a woven shirt with a v-neck, bust darts, elbow length sleeve with ruffle and a neck facing. After being hardcore adverse to ruffles for so many years, and my paprika linen peplum top being my summer wardrobe MVP, I decided to give some sweet arm ruffles a go. Colour me a ruffle sleeve convert!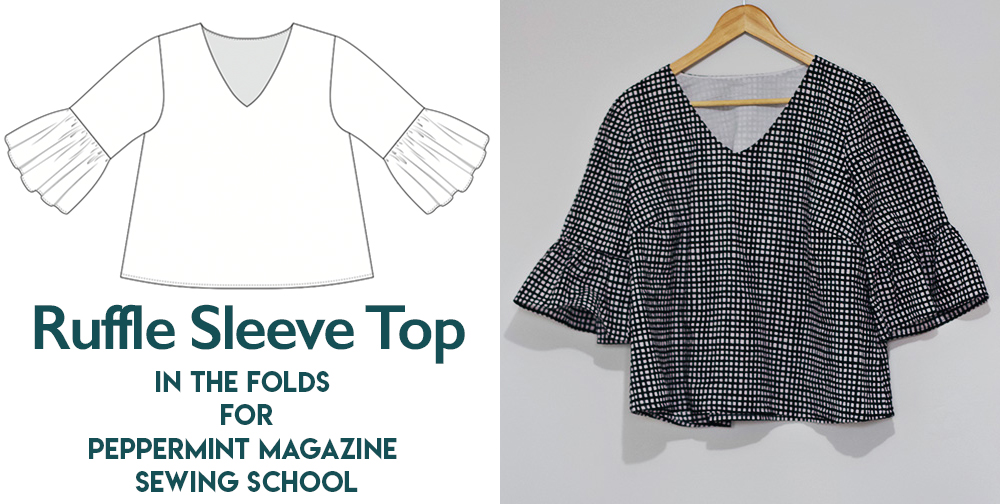 The fabric is a crazy amazing Japanese cotton from Tessuti Fabrics called Black Jin Grid. I seriously love the Japanese fabric section at Tessuti in Surry Hills and went a little bananas trying to pick what I wanted. I originally found this in December but couldn't decide what to do with it so got a swatch and kept it up on my wall and hoped the fabric wouldn't sell out. Let me tell you there was a lot of cheering when I headed back in March and found it still there. It has a seersucker vibe which gives the gingham extra dimension and creates a really lovely structure. Due to my limited budget, I purchased a bit less than recommended and completed my facings in white voile from my stash. Making that budget work like a boss!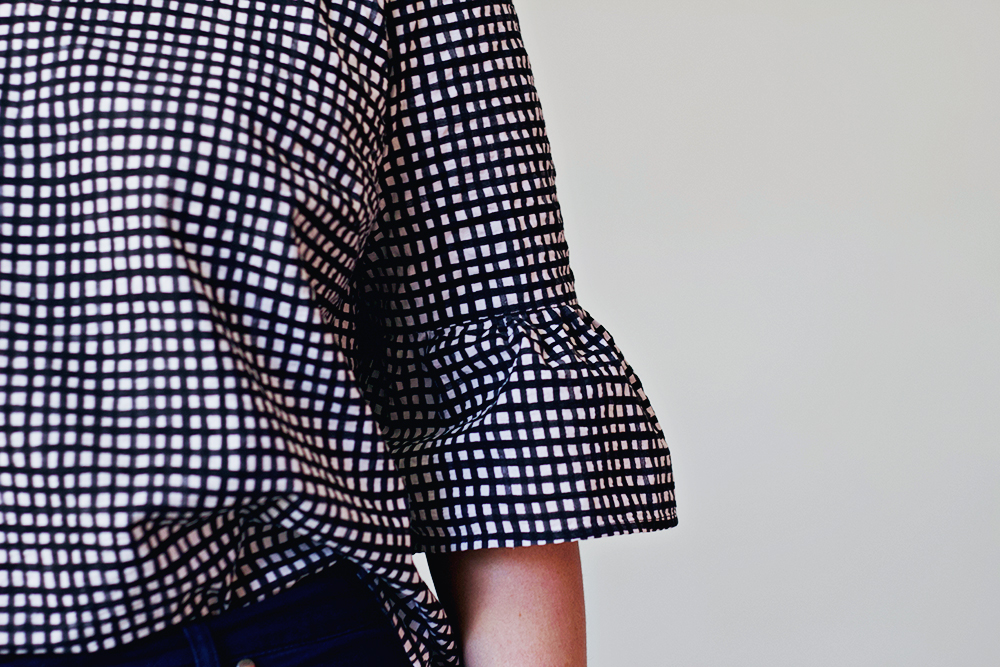 Construction wise, this was super easy and super fun! Due to my scant fabric purchase I couldn't be too picky about the gingham matching so was very chilled on the cutting front. As with all In the Folds patterns, the instructions were super clear and easy to follow. The only thing I changed was avoiding French seaming the inside and going my overlocker instead. Huzzah! I seriously dig my overlocker – thank you for your fine service, Marigold!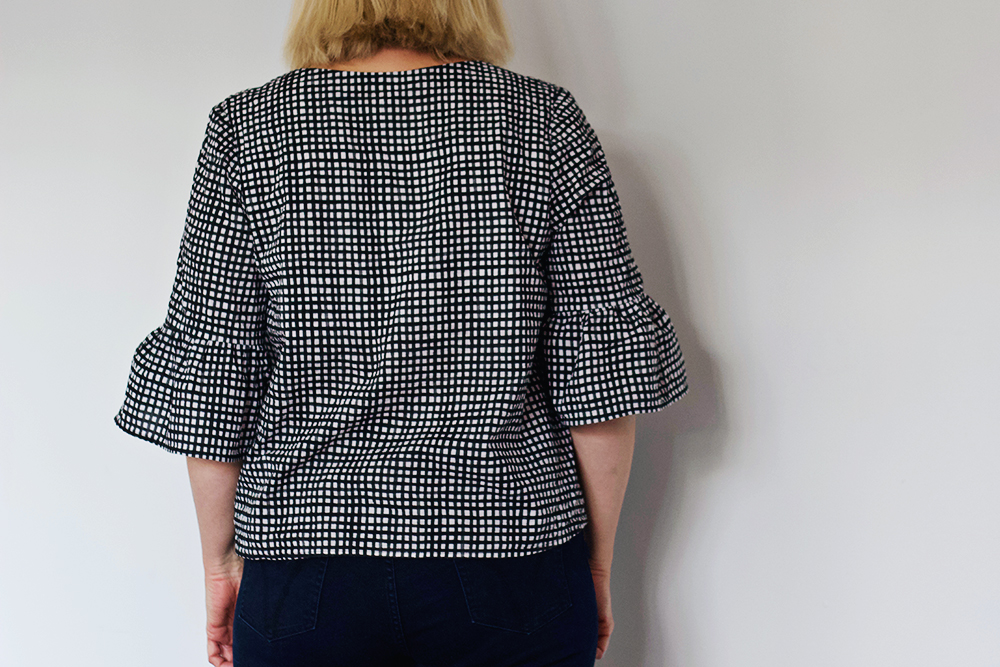 As this was a pretty boxy fit I wasn't too worried about an FBA. After measuring the pattern pieces against myself I did lower the bust dart slightly and shortened the darts by 2cm. Viva la minimal changes!
What I liked about this pattern:
The ruffle sleeves. They are super fun and add a sense of drama to the top!
The simple design lines. The V neck and boxy fit allow the ruffles to go nuts.
What I would change for next time:
Lengthen by 2-3cm. I like to tuck this in and depending on the rise of my jeans this is not always possible.
Nothing else. It's a fun, quick and fabulous project!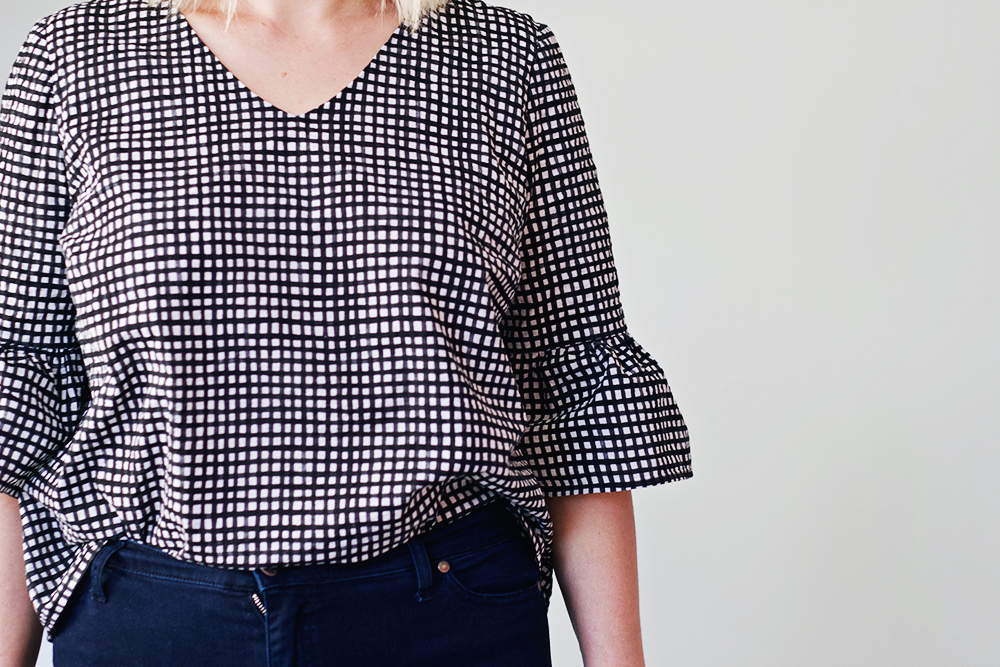 The Deets
Pattern: Ruffle Sleeve Top by In the Folds for the Peppermint Magazine Sewing School
Fabric: 1.5m of Black Jin Grid cotton from Tessuti Fabrics, white voile scraps from the stash
Notions: thread
Size: F
Alterations:  lowered the bust darts by 2 cm, shortened darts by 2cm
See also: Sew Manju, Kettle + Cloth, The Fabric Store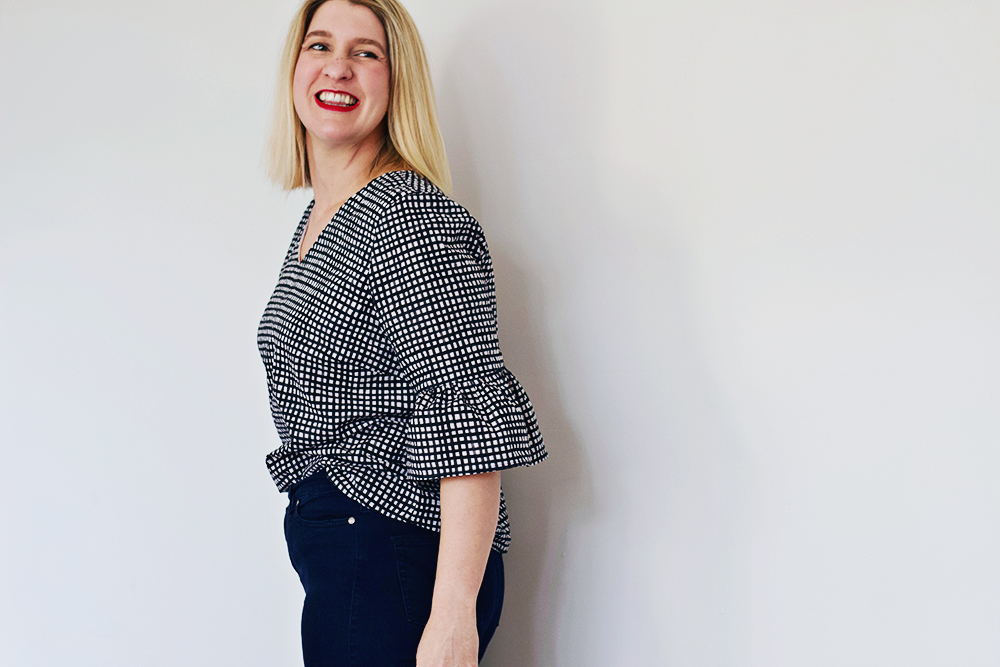 Real talk – this is my MVP top for autumn and winter! It is super fun to wear with skinny jeans and Converse during the day and with heels and red lipstick in the evening. Best top ever! Though it is at a stage where my husband has asked do I ever wear any other winter tops out… I should get onto making another version ASAP methinks…