As a lady who grew up on the Sunshine Coast it is always a struggle for me when things start to cool down anytime before June (yes, I am totally a whinger!). Rather than fight the Canberra change of seasons again, this year I decided to compromise with a transitional wardrobe featuring some autumnal colours to ease the pain. Please say hello to my farewell to summer top!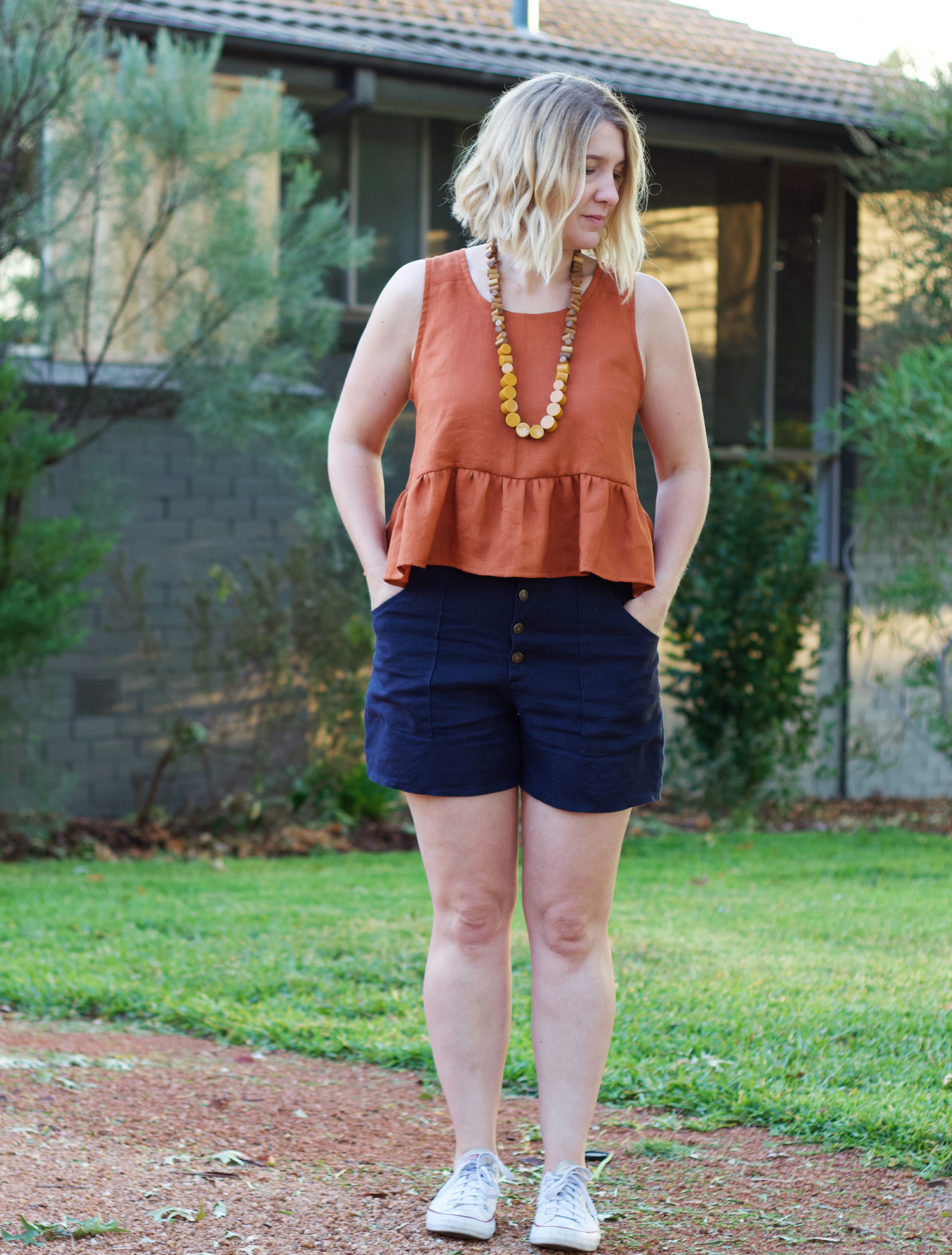 This sassy summer autumnal number is the Peplum Top by In The Folds for Peppermint Magazine. The Peplum Top is a relaxed fit tank with shoulder panels and a gathered peplum. The front neckline is a scoop neck while the back decline is a V-neck. Which makes me feel like this could be fun worn backwards – or is that getting to much Kriss Kross? Hmmm…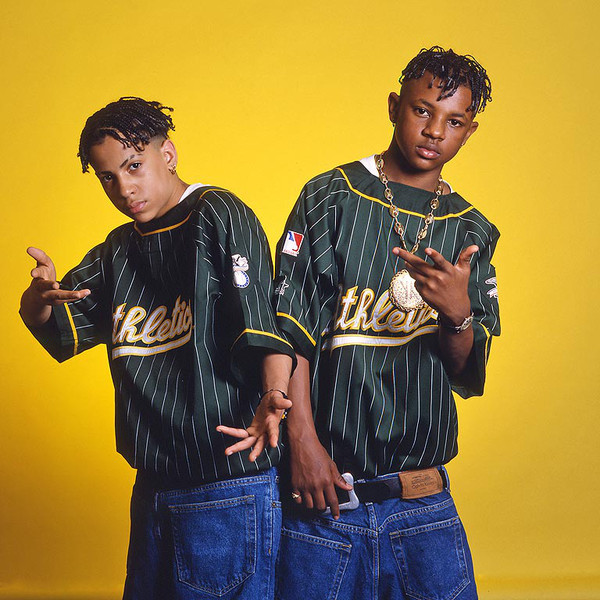 Now, the best bit about this pattern is it is FREE.  As this is a Peppermint Magazine Sewing School patterns you can enjoy its flouncey goodness free of charge. One thing to note it is a PDF pattern with no copy shop option – nooo! On the plus side I can confirm that this took less than two episodes of Parks and Rec to print, cut and tape. And yes, TV shows are how I mark the passage of sewing time now…
The fabric for this ruffled goodness is a lightweight milled linen in Paprika gifted to me by The Fabric Store. Yes, it seems I have a linen problem at this point but I am just leaning into it now as when the weather cools it's going to be merino for days round here! The weight and hand of this fabric meant that my peplum should have some serious body and it did not disappoint. I mean, look at this fabulous volume!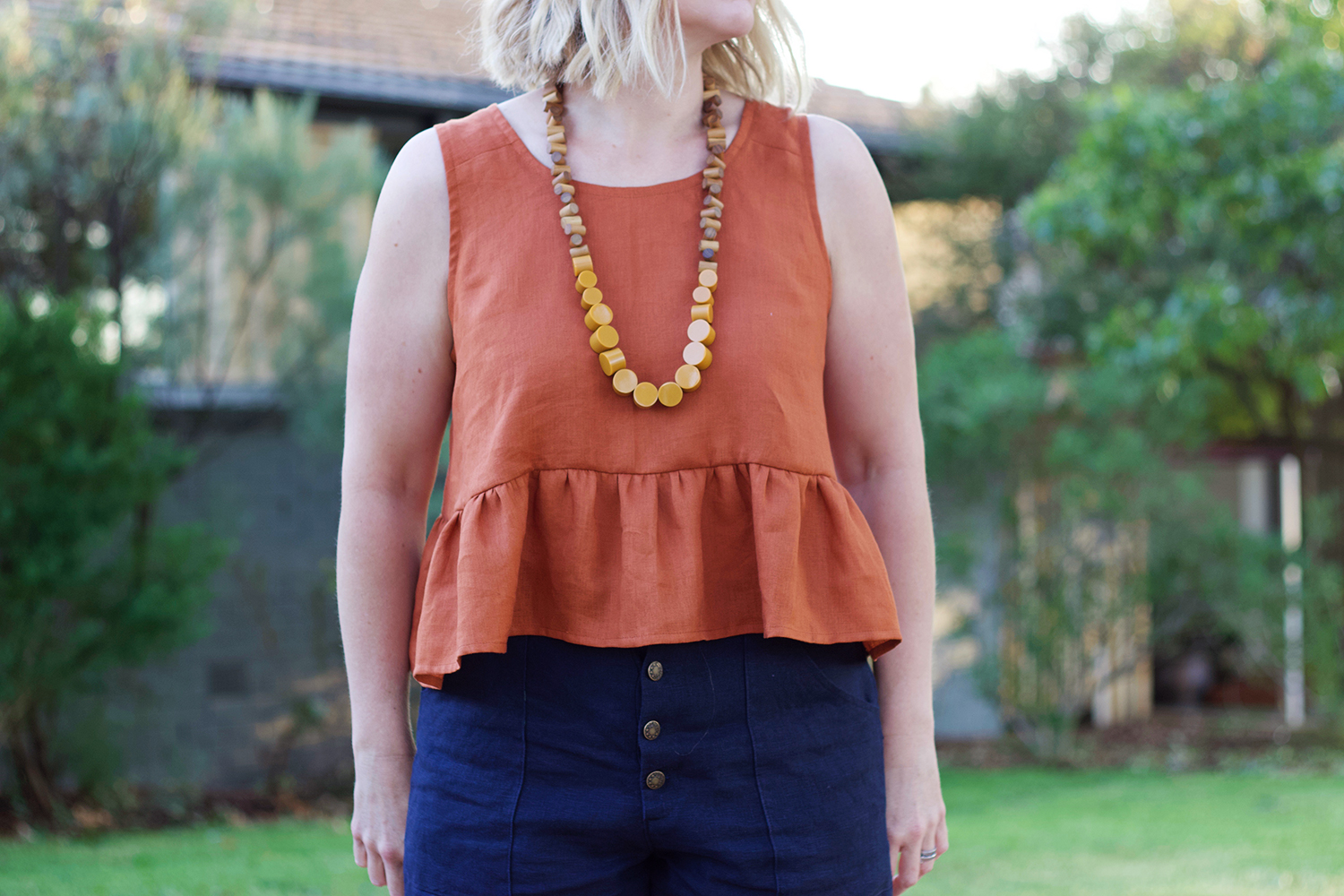 Construction wise, this was a straightforward project and I really enjoyed the little touches that gave it a nice finish. The bias binding is well applied and I really like that the neck pieces were measured and shaped to sit flush with the V-neck. As with my pink Collins Top, the instructions were really well illustrated and clear. In fact, I may have two of these tops in my wardrobe now. When you finish one project and immediately start on another version of the same pattern you know you're on a winner!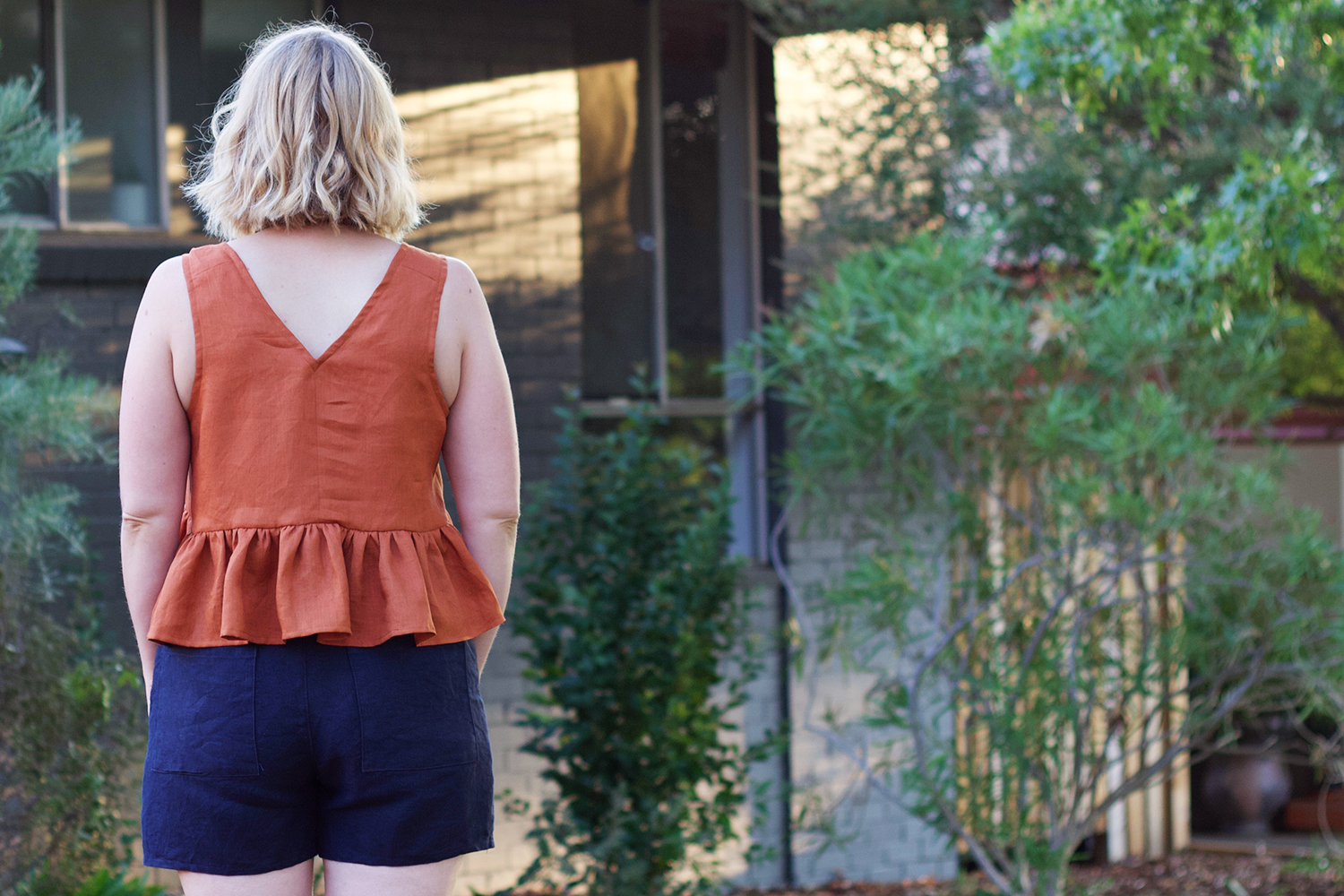 What I loved about this pattern:
The ruffled peplum. This is so not my normal jam but after the Collins Top I wanted to try something else from In The Folds and wasn't disappointed. #teampeplum
The design features. There are so many lovely touches to the pattern including the shoulder panels and bindings and they made this a joy to sew.
How delightfully straightforward it was. Things have been a bit hectic around here lately and this was a perfect ninja project.
What I would change for next time:
Add a little length to the body. I'd love this to work with more of my jeans and I need just 2cm more to cover all my bases.
I've got nothing else.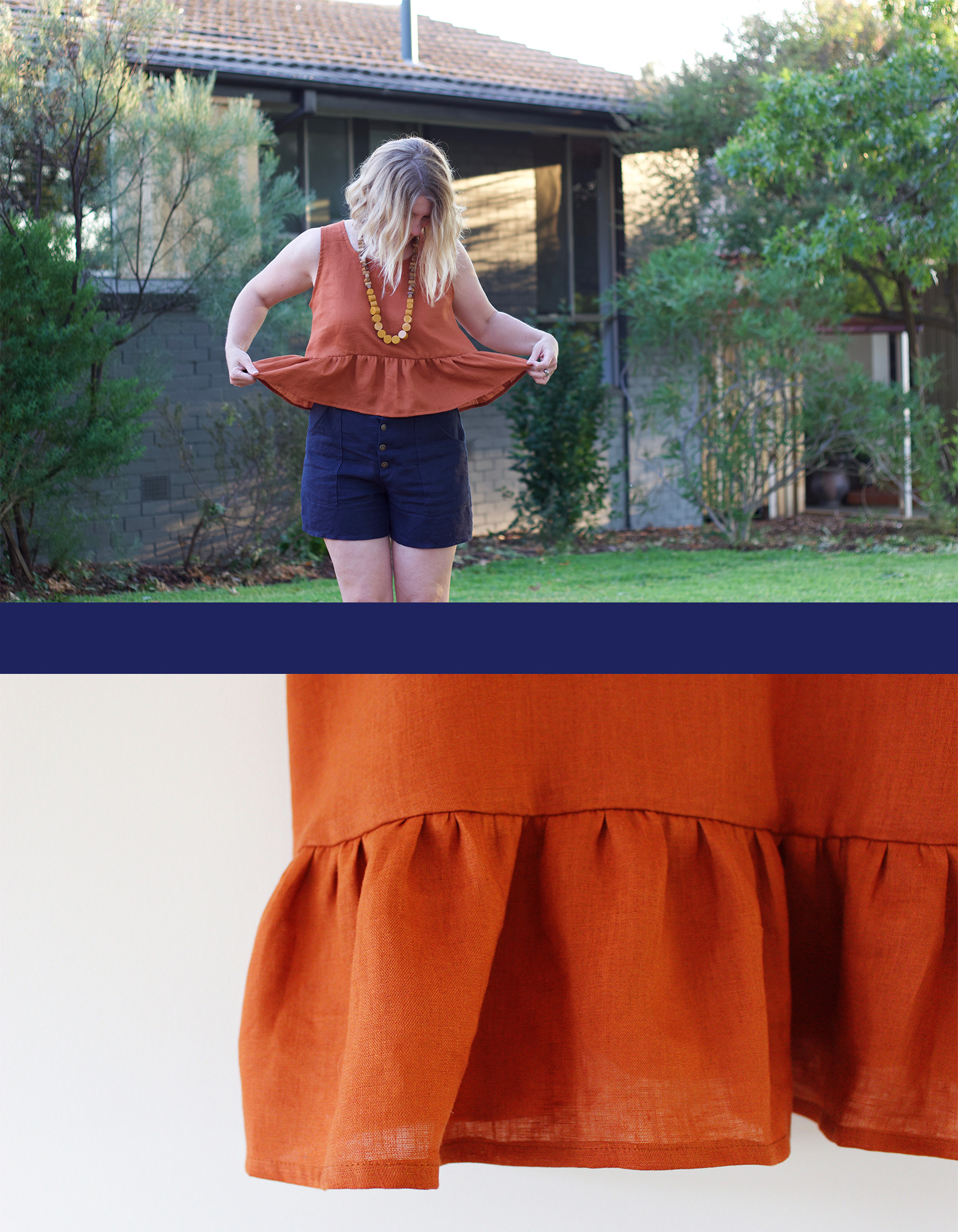 The Deets
Pattern: Peplum Top by In The Folds and Peppermint Magazine Sewing School
Fabric: lightweight milled linen in Paprika from The Fabric Store
Notions: thread
Size: E
Adjustments: none
See also:  Thread Infusion, Clever Tinker, Design by Lindsay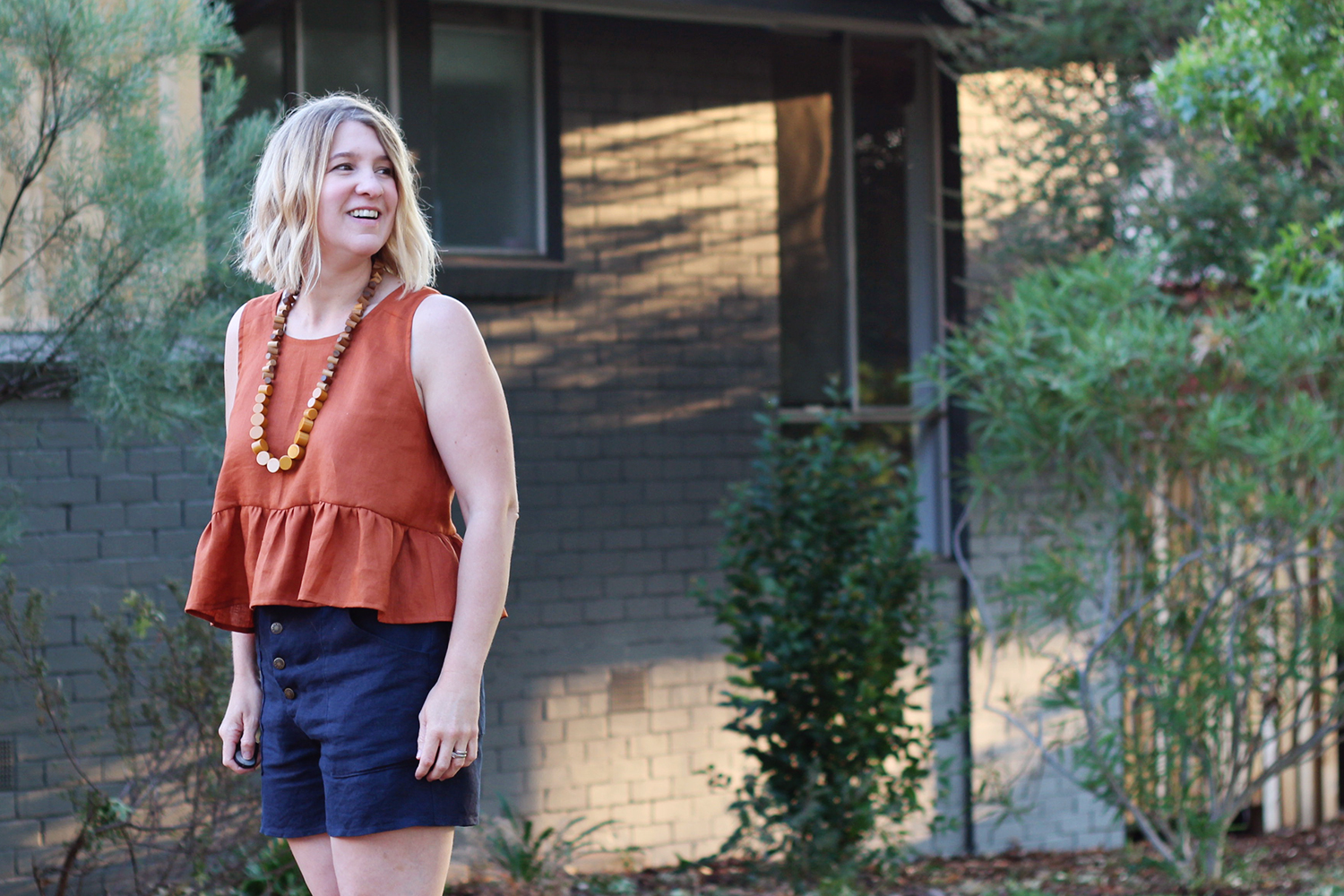 Overall, I super love this top. The ruffle add some snazz to a simple tank pattern and I may have finished sewing this yesterday and am wearing it out today. All hail the power of the autumnal sew!
SaveSaveSaveSave
SaveSaveSaveSaveSaveSaveSaveSaveSaveSaveSaveSaveSaveSave
SaveSave
SaveSave