If there is a medal for crazy outfit photos I think the fact I took these in 9 degree weather should get me some kind of cake hat hat made of cake. But, gentle blog readers of which there may be a few still around but more realistically just Future Amanda, it was totally worth it because you spent the rest of Sunday looking super sassy in your fancy red lipstick. Woot!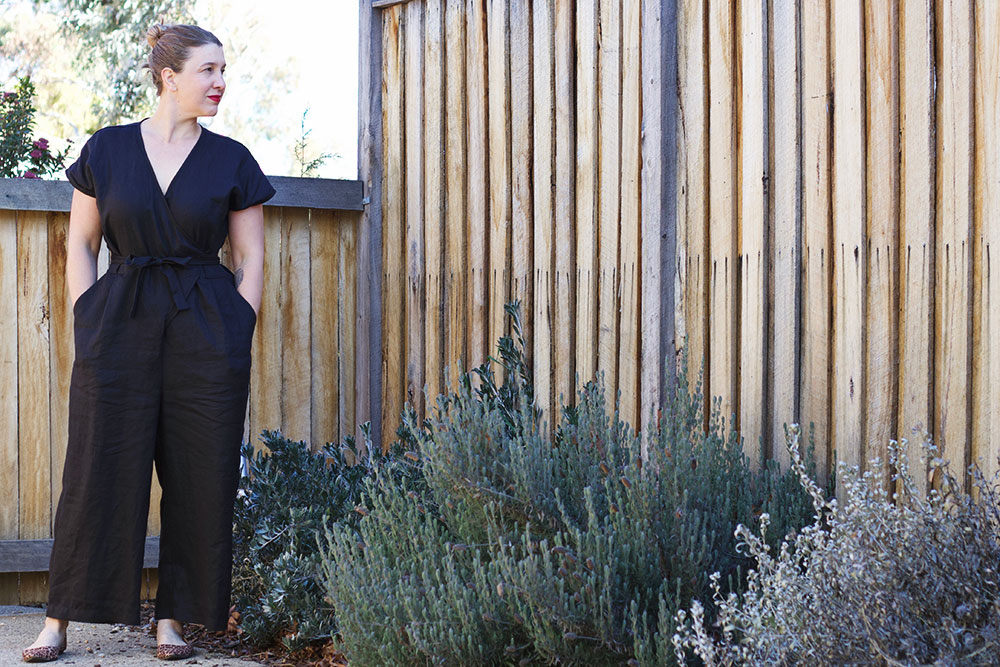 This pattern is the rather ubiquitous Zadie Jumpsuit by Paper Theory. The Zadie is a relaxed one piece that comes with either wide 3/4 length sleeves or sleeveless with a dropped shoulder. And the best bit? No zips or buttons. Just a waist tie. Woot! This is truly a pattern for the lazy time poor sewists out there!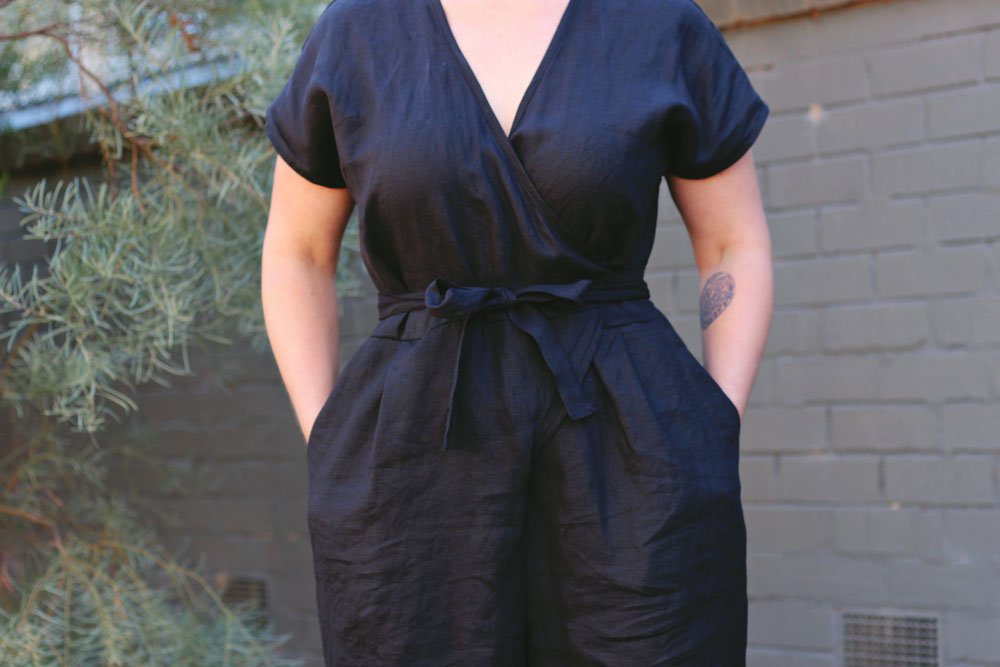 I need to be completely transparent here–I hadn't really glommed on to this pattern until I saw this amazing Marsala version from the ever stylish Mel. Deciding imitation is the sincerest form of flattery, I badgered her for the fabric she used and then went and grabbed some for myself. This is some mid-weight black linen from The Fabric Store which has just the right amount of structure for the Zadie. One very important thing to note regarding fabric for the Zadie–this pattern is bang on the money with the fabric allowance and the pattern layout is really well done so there is limited waste. There really isn't any wiggle room for a shorter length of fabric! Also, you will be cutting everything on the flat so be prepared for lots of tracing. Especially if you are like me and have grown accustomed to the rotary cutting on the fold life. I've grown slack in my old age! 😀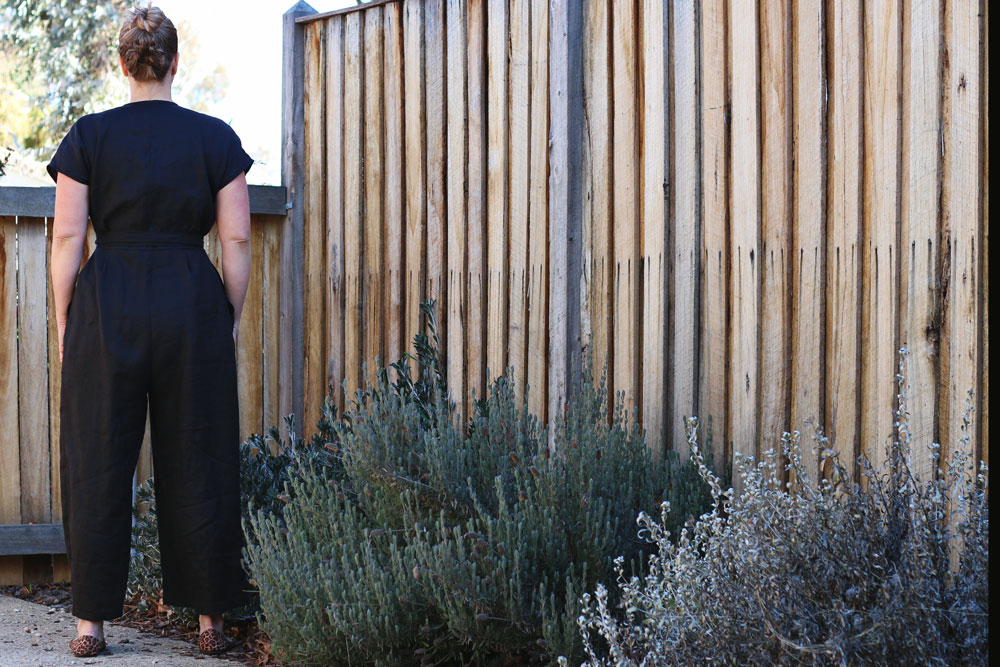 Construction wise, this was straightforward and lots of fun. The instructions are clear and I found the binding neckline finish rather snazzy. The amount of ease and lack of closures make me think this would be a great pattern for someone newish to sewing who is looking for something a step up from the ole introductory skirt/tote intro!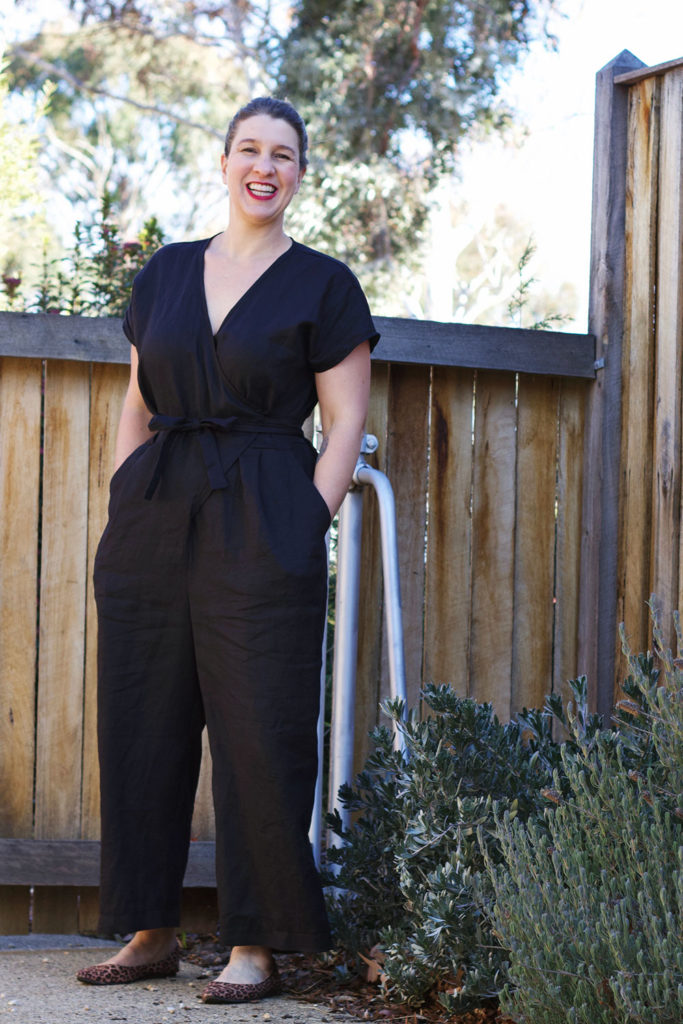 What I liked about this pattern:
The fact that there is very little left over scraps. Kudos to the most excellent pattern layout ever!
The lack of buttons and zips yet still feeling secure. I have had so many bad wrap top experiences but this one was most excellent!
What I would change for next time:
Lengthen the wrap ties. I love some extra drama from a drapey tie!
Take a bit of length out of the rise. I think this could sit a little better.
The Deets
Pattern: Zadie Jumpsuit by Paper Theory
Fabric: Black linen from The Fabric Store
Notions: thread
Size: 16 (was between sizes and went down due to the amount of ease)
Alterations: added 5cm to leg length
See also: Broad in the Seams, Tip Stitched, Fifty Two Fancies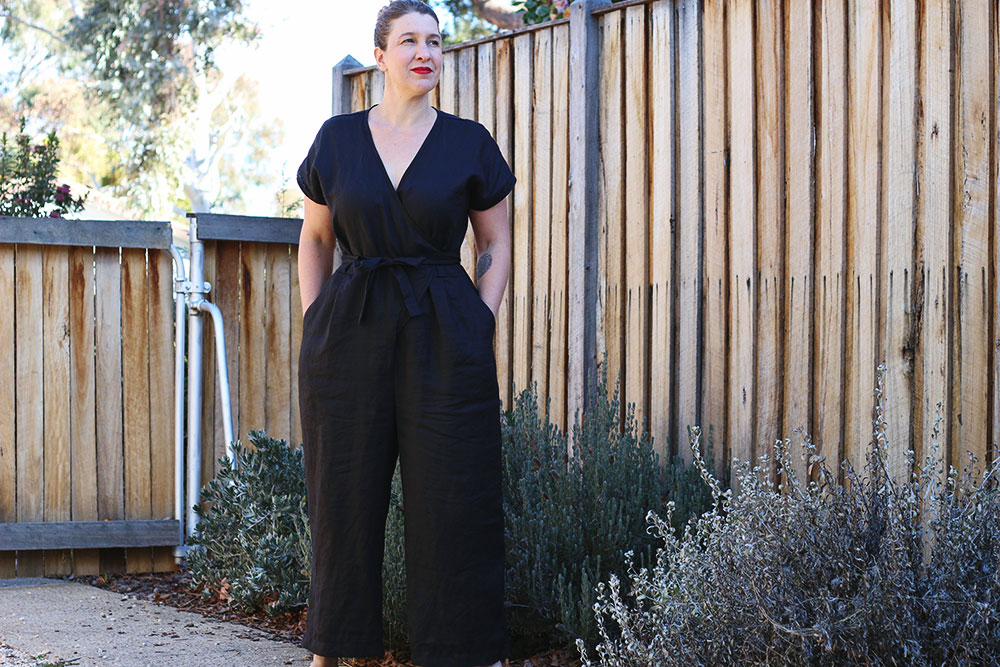 Overall, I dig my Zadie and I can't wait for it to warm up so I can live my best linen jumpsuit life! Until then, this lady has a pile of merino nd stretch velvet to sew up. Viva la winter! And viva la return of the raptor hands. It has been far too long. Rawr!