I am a total creature of habit come summer. To me summer means gin from the freezer, fresh made Mexican, Iris shorts and Verve Remixed albums. But every now and then you need to get crazy and mix it up. For summer 2014/15 it's mojito season, we're noshing on fresh Vietnamese food and listening to Boy & Bear. Let's be honest, though – the biggest challenge to my summer routine I'm facing is moving away from shorts- they're my old faithfuls! But sometimes a lady needs to be living life sans crotch seam and a skirt is in order. Thankfully, the designers of my penultimate shorts pattern have a great summer skirt staple- the Zinnia.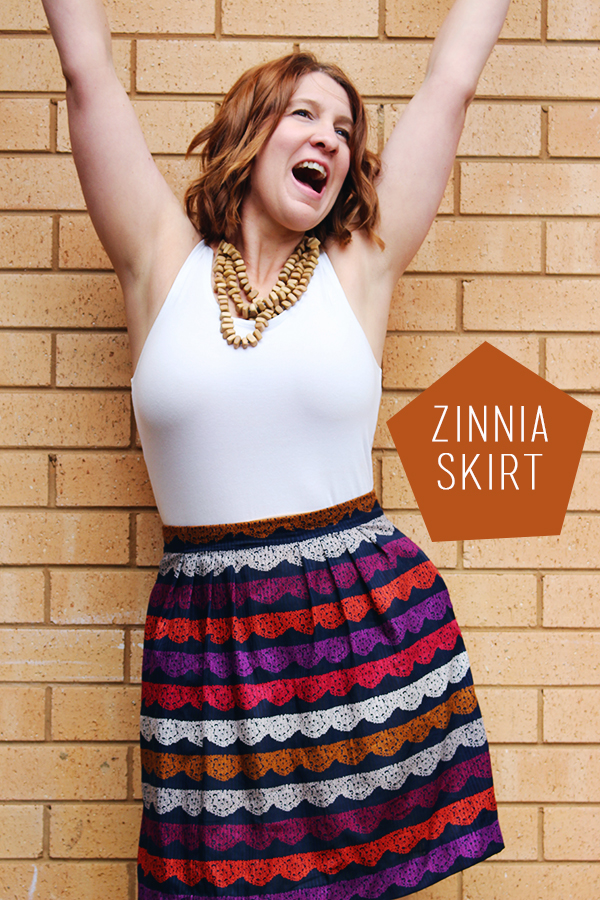 This is the Zinnia Skirt by Colette Patterns. I went Version Two which is a pleated, knee length number. Let's be clear up front- as I used a gorgeous striped fabric I did a bit of a redraft and turned the curved skirt waist and hem into a straight rectangle. Even with these changes it was still such a quick and easy pattern and totally beginner friendly!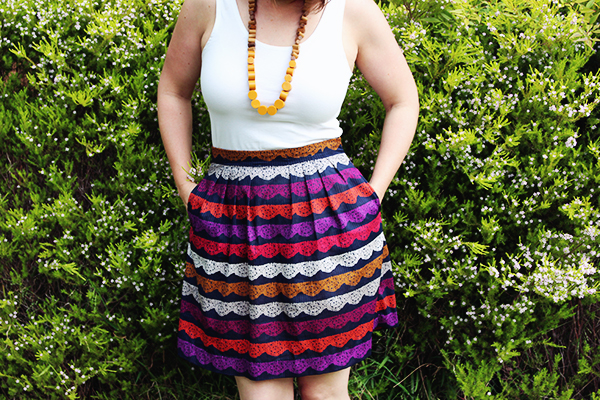 The fabric used is an amazing, gauzy seersucker from The Fabric Store in Sydney. This was picked up the morning after Frocktails when the Canberra crew made a ninja stop before getting the bus back home. And the best bit was this ended up being the remnant at the end of the roll so it was cheaper. And then I spent the money saved on merino. Whatevs. In the words of Steve Tyler, wordsmith for the 80s/90s band Aerosmith, I was living on the edge!
The one downside of this fabric is it is a little sheer and can be a bit peekaboo at times. As such, I went crazy finicky when cutting and made sure the pockets matched the stripes on the shell. Not sure it makes much of a difference but it keeps my inner neat freak happy.
Whilst the pockets were an absolute win I may or may not have not been paying attention when lining up the panels and cut out the back pieces on the fold and the front as separate pieces. Ugh. I ended up using the back piece for the front and the front pieces for the back. This made my front panel way too voluminous and the back a little scant. I fiddled around with the pleats a bit and fixed them up but those pockets are crazy far back. Whoops!
One consistent comment that came up in the reviews I read about the Zinnia was the waistband seemed too short for the pattern. I decided to go renegade and added three inches to the length of mine (and used two inches of this extra by the end). The instructions for the waistband insertion are a bit peculiar so instead it was freestyle construction over here. There may have been some stitching in the ditch too. I know, I know. Things got crazy. Try not to get too flustered from reading about it!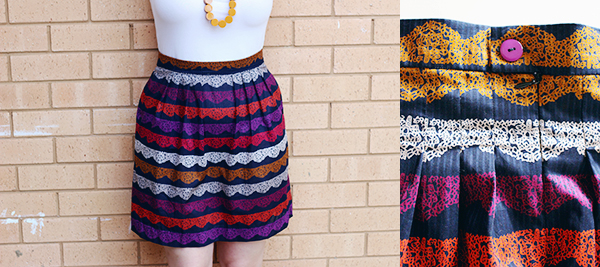 What I liked about this pattern:
How crazy fast it went together! Who can say no to a one afternoon project? Not this ninja!
The pleats. I love them with fabric with some body. They'd look super sweet in a drapey fabric but I am #teamstructured for sure!
Pockets. There is nothing better in this world for holding things than pockets in a skirt. Though if I could train an spider monkey to follow me round and hold my things that would be better than pockets. Note to self- get spider monkey and ditch pockets.
What I would change next time:
Grosgain ribbon for a waist facing (if I go structured fabric again). Truth be told these pictures are taken with the waistband folded down. Not having this on the curve means that the pleats nip right in and makes the band superfluous (on me).
Try the curved waist and hem version. I think this would have a really nice drape to it.
I don't know. Maybe cut the pieces the right way so the front is one piece. I am such a sewing renegade.
The Details
Pattern: Zinnia Skirt by Colette Patterns
Fabric: 1.1m cotton seersucker from The Fabric Store
Notions: 9" zip, random button, thread
See also: Idle Fancy, Sew Caroline, Jolies Bobines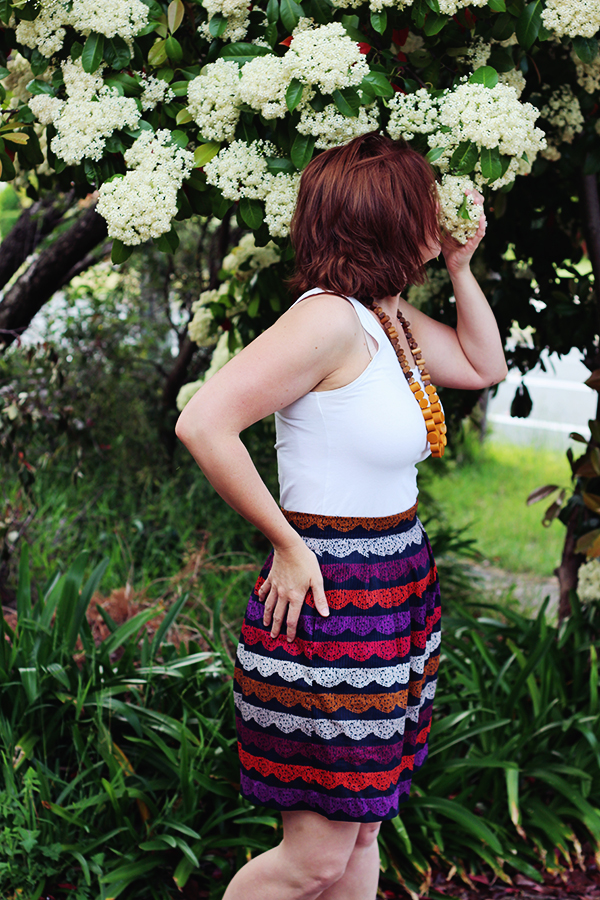 So there you have it. The ZInnia. I've already knocked a second together using some insane mustard, pink and navy batik fabric from Langkawi. I have a feeling this summer is going to be the one of tank tops, pleated cotton skirts and flip flops. I'll just need to add some beach time… Oh, and mojitos!
And as a side note, a big thank you to everyone who has shown an interest in being part of the Sewvember sewing photo a day challenge beginning November 1st. It's going to be lots of fun and a great way to have a virtual sewing party for a month! I can't wait to have a sticky beak into everyone's lives… I mean share some fun times. Yes, that's it… O_o