Real talk: sewing is good for my mental health. When things are going crazy in other parts of my life sewing provides an awesome escape where I have to focus on the task at hand and my thoughts finally quiet down. It's a powerful tool in my wellness arsenal and the best part is I get something (generally) super gorgeous to wear at the end! Double win! And when things are super crazy my favourite thing to do is to get an old faithful pattern out, select some super fun fabric and get to work. And what better way to enjoy some sewing therapy than with one of my fave patterns of all time!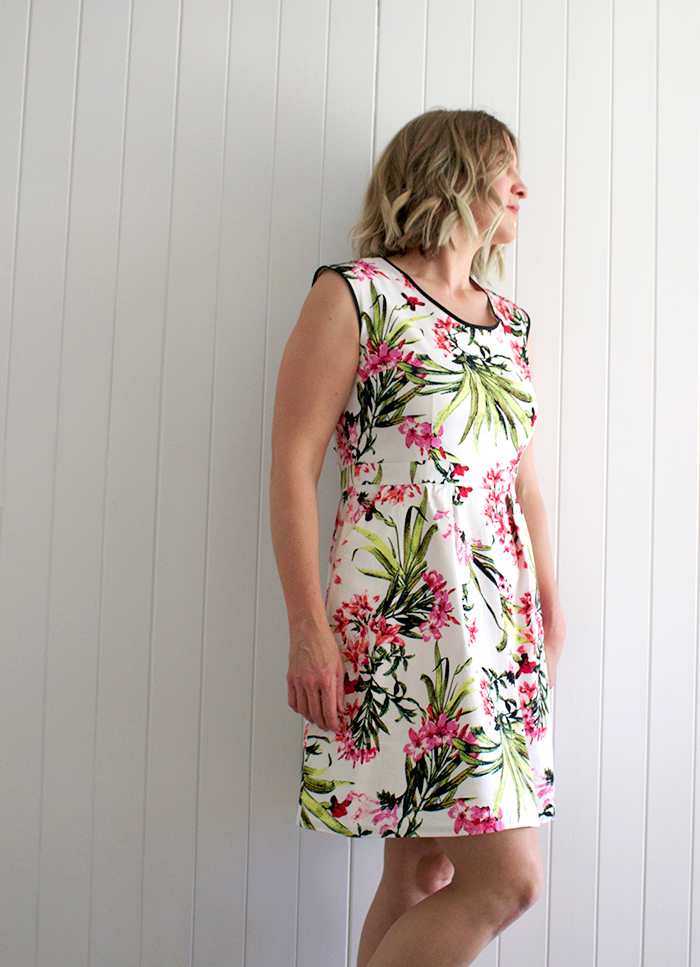 This rather familiar frock is an oldie but a goodie – the Belladone Dress by Deer and Doe. This sassy sleeveless number is cinched at the waist, with an A-line skirt and diagonal pockets. I have the original version of this pattern which features a cutout back. The new version (also in PDF) has the cutout back as Version A and a closed back as Version B. I really dig the fit of this bodice and need to get my act together and draw up a closed back bodice piece which would not be that hard… Though I could use that time to binge watch The Good Place and knit socks. Hmmmm… A lady has to have priorities!
The fabric is a rather fun tropical-print cotton sateen from good ole Spotlight. I have such a soft spot for a sateen – it is super forgiving when you need to unpick (and let's be real this lady does that A LOT), has a little bit of give which is great for when you eat extra pie and it presses like a dream. I went with a sateen for this dress because I like the A-line skirt nice and full but wanted to avoid the hem facing. This is mainly because I always forget to cut them out 😉
To be honest I didn't even look at the instructions for this because I'm totes rogue. Or just couldn't be bothered trying to decode the French. But if I recall correctly, the illustrations were super informative last time. It's a pretty straight forward construction and the cut out back is easy to construct as long as you mark notches. I had fun with the bias binding and feel like it draws lots of attention to the back detail.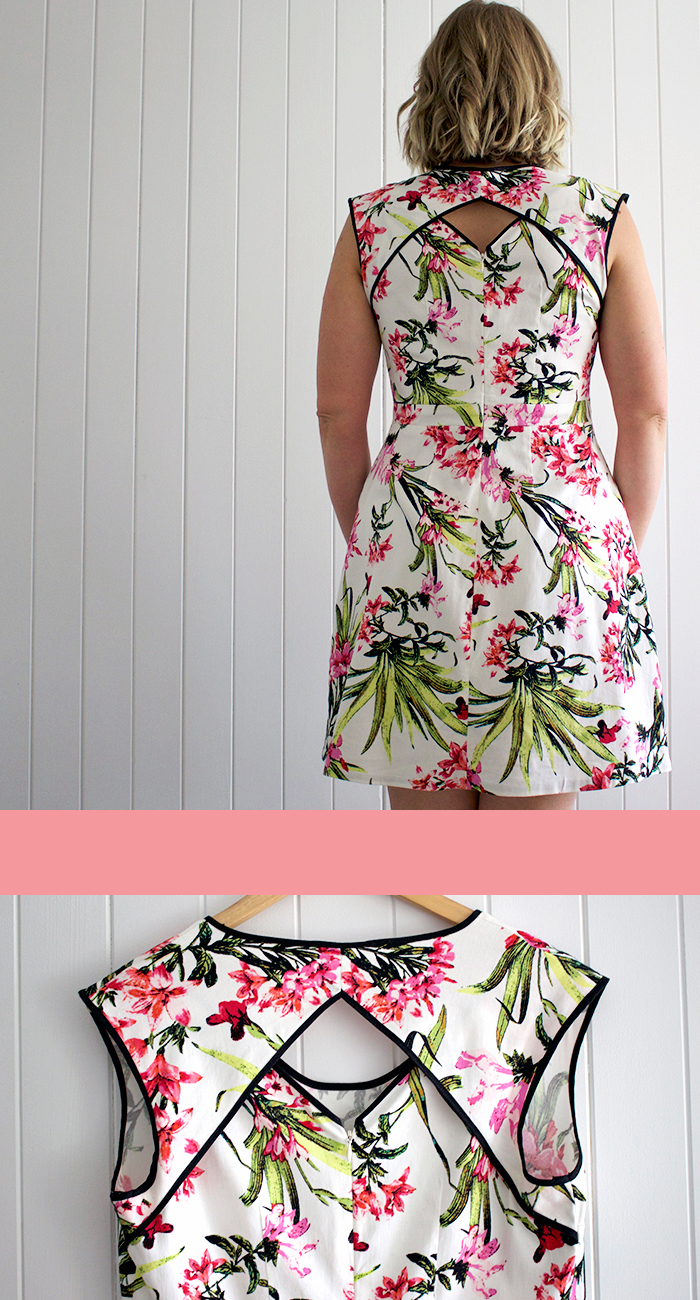 As Deer and Doe draft for a D cup, I tend to risk things a little and not toile when making a pattern for the first time (or a long time in ages). This bad boy is a straight size and fits pretty well. I find the neckline doesn't sit quite flush on me and next time will rotate this excess out. Otherwise, huzzah for companies that have a block pretty close to my shape!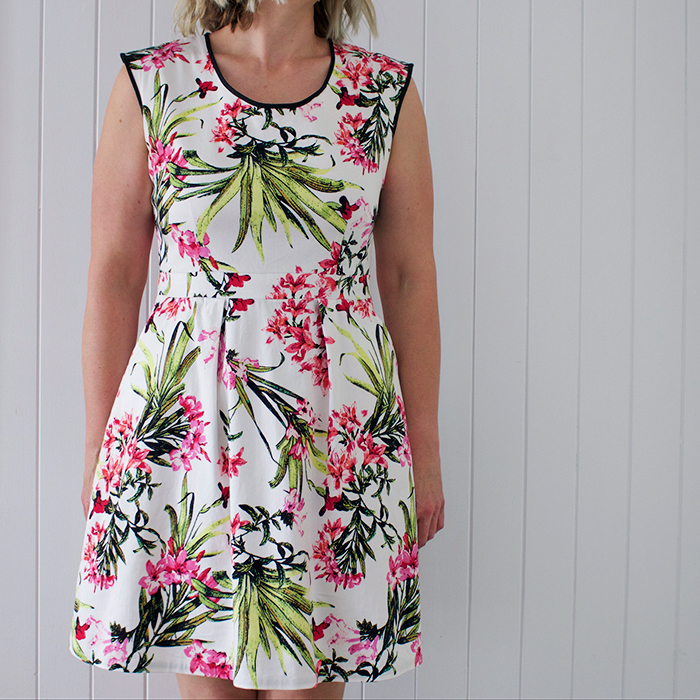 What I liked about this pattern:
The back cutout. It's still super fun several years later. Gah, that makes me sound like Old Lady Sewing – "I used to treadle my machine five minutes to warm it up and five minutes to cool it down…"
How quick it was. I think the combo of the sweet and easy design and the sateen made for a ninja project. Boom!
The bust fit. No FBA makes my heart sing!
What I would change for next time:
Fix the neckline. Let's get fancy and google how to rotate excess out! (or I could look into my TAFE workbooks but google is faster – lazy win!)
Draft up a closed back. I have a feeling once I have this bodice properly fit I could start getting into all kinds of design mischief…
Make a gingham one. Ladulsatina has totally inspired me!
The Deets
Pattern: Belladone Dress by Deer and Doe
Fabric: 1.5m of cotton sateen from Spotlight
Notions: thread, invisible zip and bias binding all from stash
Size: 44
Alterations: left off hem facings which doesn't count but this line looked weird blank
See also: past me, Peneloping, Ladulsatina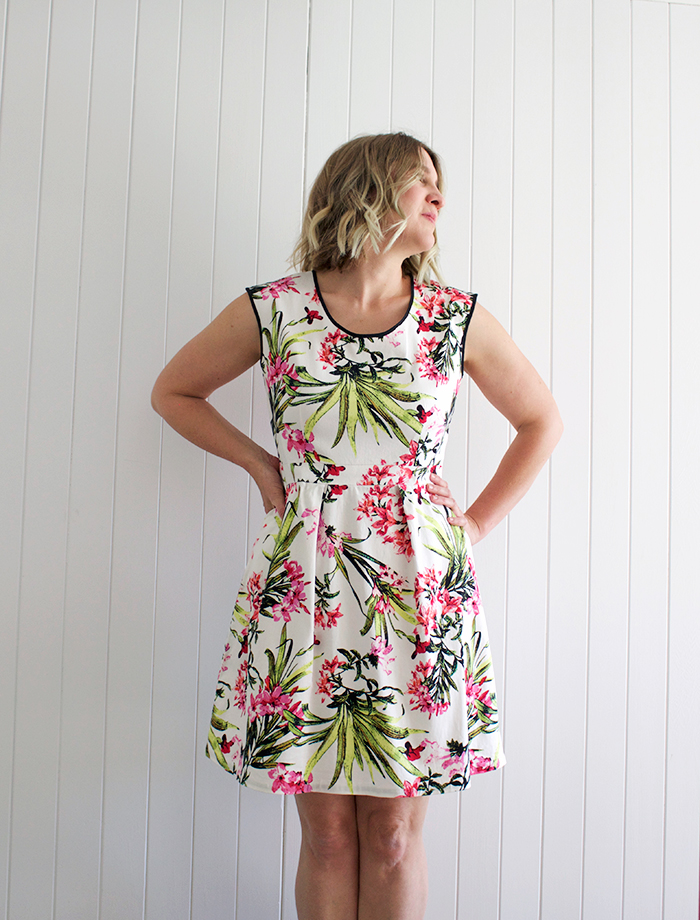 Overall, I seriously love this little summer frock and the relaxation it brought me during it's construction. It is super cute and I have been wearing it a bunch in this warm weather with my personal fave combo of a denim jacket and white Chuck Taylors. Who doesn't love a sundress that works with your sneakers?! In fact, I love this bad boy so much it's going to accompany me out of the hospital this week with my fancy new reconstructed ankle. Because sometimes we all need a little bit of extra sass in our step. Sass in our step? Get it?! Bad ankle puns are going to get me through this recovery – mwah ha ha! Now I better hop to it… Oh, someone stop me!
SaveSave
SaveSave