When I found out I was heading in for my third round of surgery in 12 months I made the decision that it was important to have some sassy sleepwear ready for my recovery. I hunted around for some delightful fabrics that conveyed "recuperation with style AND sophistication" to really hit home that this was a gown up lady type who was serious about her recovery. And then I found the most majestic and therapeutic fabric of all time which has resulted in some banks crazy PJ pants. Maturity: 0, Amanda: 25,652.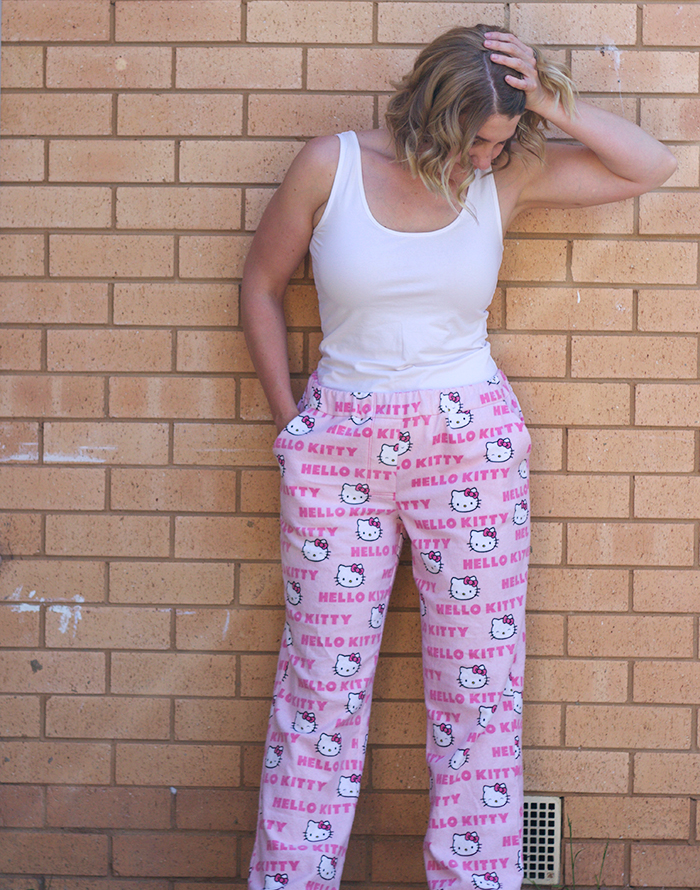 These are the pants from the  Carolyn Pajamas/Pyjamas from Closet Case Patterns. The Carolyn PJ pants are straight legged, rock an elasticised waist (because a lady needs to be hella comfy when in her jimjams), slash pockets and a faux fly. I went with Version B which also includes a sassy piping contrast to create a hem cuff but the craziness of my majestic and mature fabric choice means you can't really see it. But pretend you can and and gasp in awe – I'll even give you five seconds….. Such fierce piping, hey?
The fabric is an amazing out of control Hello Kitty flannelette from my old friend Spotlight. Now real talk: I made a pair of jimjam pants using the Simplicity 2116 out of this exact flannel about three years ago and finally wore through them this winter. The flannel has worn pretty well and when a friend of mine discovered the remains of a bolt on the clearance rack for $4 a metre of course I snaffled some more. Flannel is pretty forgiving to sew with and the biggest challenge I had with this pink monstrosity majesty was trying to pattern match so I didn't have an awkwardly places cat face on my butt. Sorry Hello Kitty – this is super awkward for both of us…
Construction wise, these were very straightforward. As I made these at the last minute to be ready for my recovery I was well behaved and followed the instructions from the booklet for a change. These were clear and easy to follow. PJ pants are a fabulous quick and easy project and I knocked these over in two evenings from go to whoa. I followed the instructions as written except to add line of stretch stitch through the middle of the casing and elastic to really secure the elastic down. This was unnecessary but it made my feel like I was the boss of the pattern and isn't that what it's all about? Instructions 1 : Amanda : 1.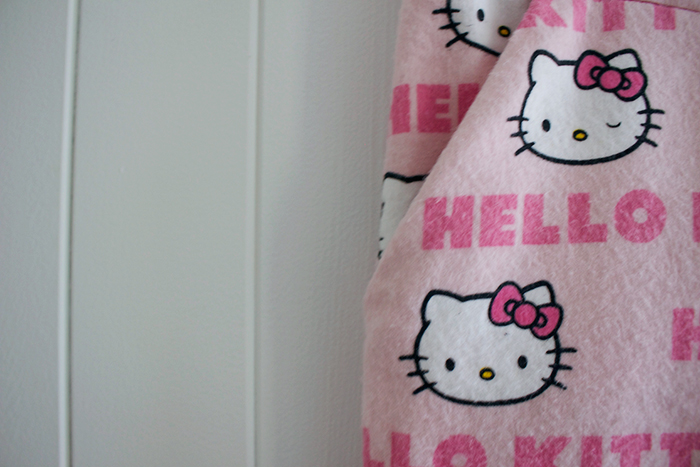 What I loved about this pattern:
The straight legged vibe. These are super comfy to wear and have a nice fit. I feel a little snazzier than I did in my poor old S2116 (sidenote: I wish I had actually blogged those so I could sear everyone's eyes with double pink Hello Kitty fabric. Oh well, you live and learn!)
The pockets. I can't believe how rad it is to have jimjams with pockets. Seriously. How have I managed without this.
The piping detail. It's super cute and I love the added fun. This definitely adds more sass to the pattern – especially if you can see it. /facepalm
What I would change for next time:
Make the shorts and a short sleeves top. Of course the weather has finally gotten too warm for flannel and these are not getting worn as much as they could.
Go a plain or subtler print to show off the piping. Actually, scratch that HELLO KITTY FTW!
Nothing else. These are tops and I only added this point so my lists would be balanced.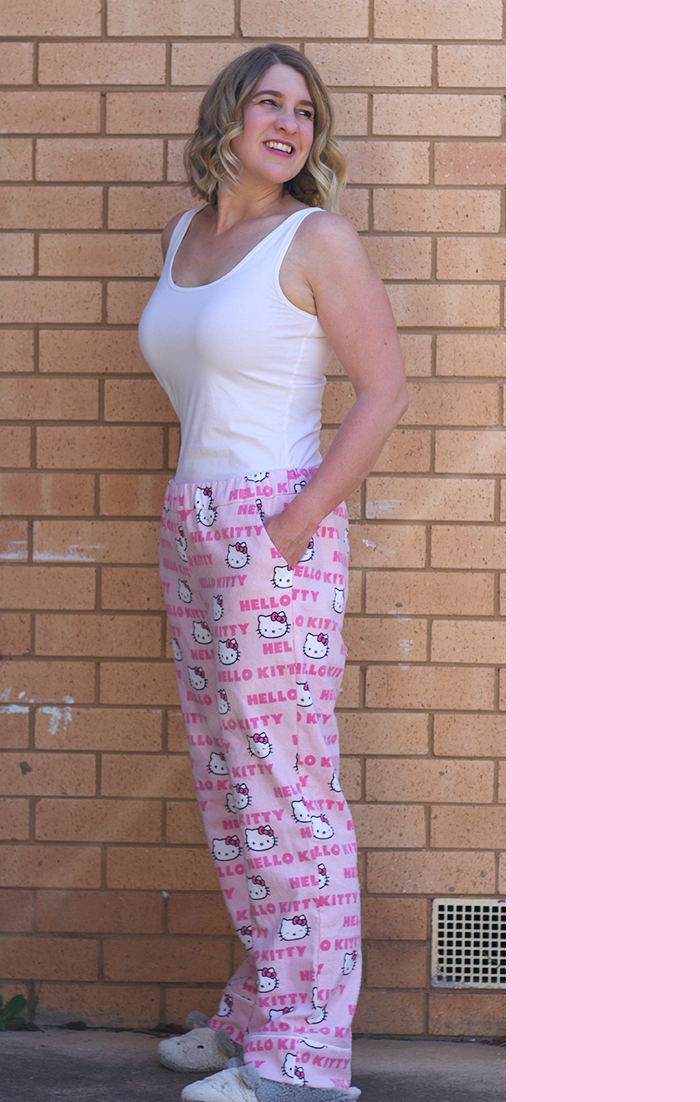 The Deets
Pattern: Carolyn Pajamas by Closet Case Patterns
Fabric: 1.5m of Hello Kitty flannelette from Spotlight
Notions: 1m of elastic, 1m of piping and crazy pink thread all from stash
Size: 14
Alterations: None
See also: Cookin' and Craftin', The Crafty Pinup, Oliver's Fancy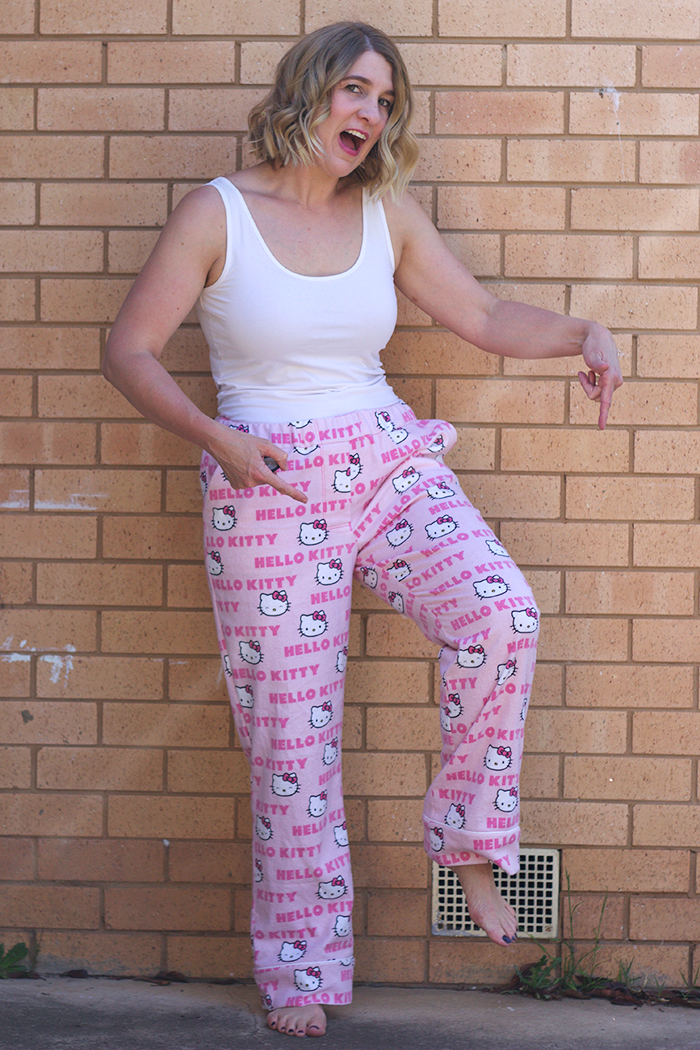 Overall, I am rather smitten with my ridiculously cute PJ pants. I mean, who doesn't want to be snug and cosy whilst remaining super sassy while they are forced to lie on the couch and watch Netflix for two weeks straight. Seriously, I love Netflix but this is bananas! Once I have my sewing paw ready to go, I'm looking to make a summer set of these in a lovely lightweight cotton. In a totally grown up and serious print of course… * google where to buy Hufflepuff fabric *
SaveSave
SaveSave