It happens to me every year – by the time I am fully prepped and ready to go with lots of sundress sewing the weather turns. So while the weather is starting to cool and the days are beginning to shorten let's squeeze in a few more sundresses…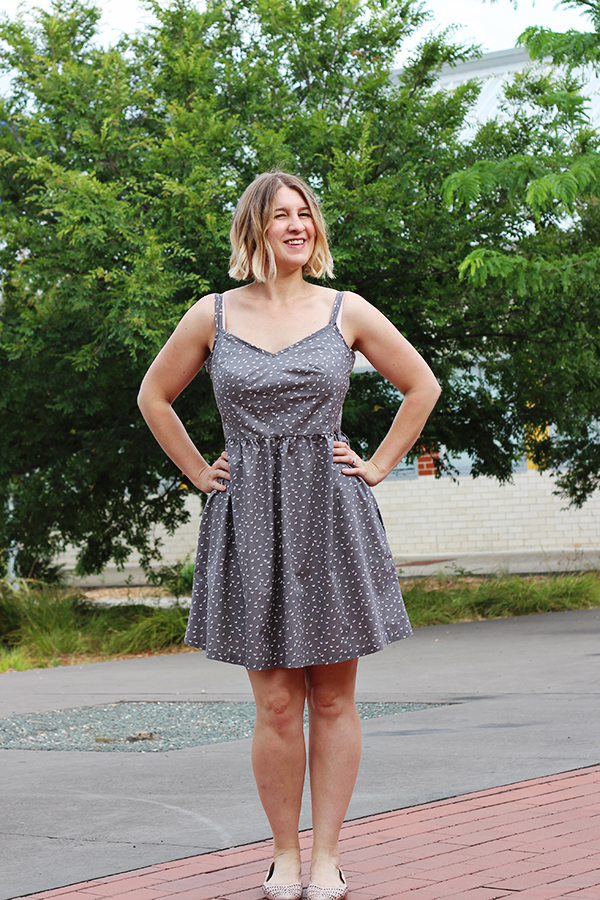 This fun frock is the Centaurée Dress from Deer and Doe. The Centaurée is a sundress with double spaghetti straps (made from bias binding) and a geometric pieced bodice. I made Version A that has a skirt that hits above the knees. If you want to make this a bit dressier (bwah ha ha – bad pun!) then Version B would be a winner – it features a high/low hem with some extra length.
The fabric is a Pima cotton I picked up at the Gamarra markets in Lima while on my Peru odyssey last year. It presses like a dream, feels amazing to wear and has a nice amount of body. If you look closely the little flecks are birds in flight and are actually a very pale pink. Perfection! Though every time I look at this fabric all I can think of is "put a bird on it" from Portlandia.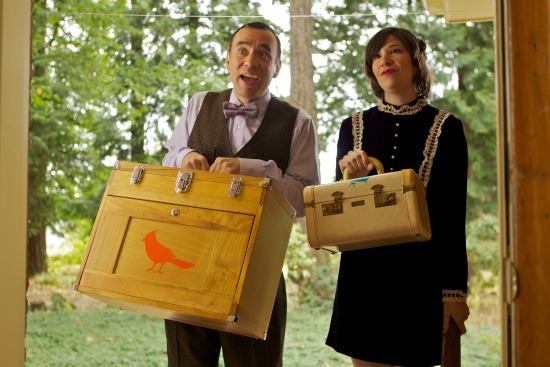 Constructing this frock was rather fun! The instruction booklet was clear and the illustrations were helpful – especially with piecing the bodice together. I found this part the most fiddly – getting everything to line up was like a jigsaw puzzle with fabric pieces. You sew together the three pieces on each side of the bodice and then take things super slow to match everything up on the centre line. I won't lie – I totally did a little happy dance when things matched up. And by little happy dance I mean dance party complete with robot moves to Will Smith's "Getting Jiggy With It". There's no shame in my 90s game 😉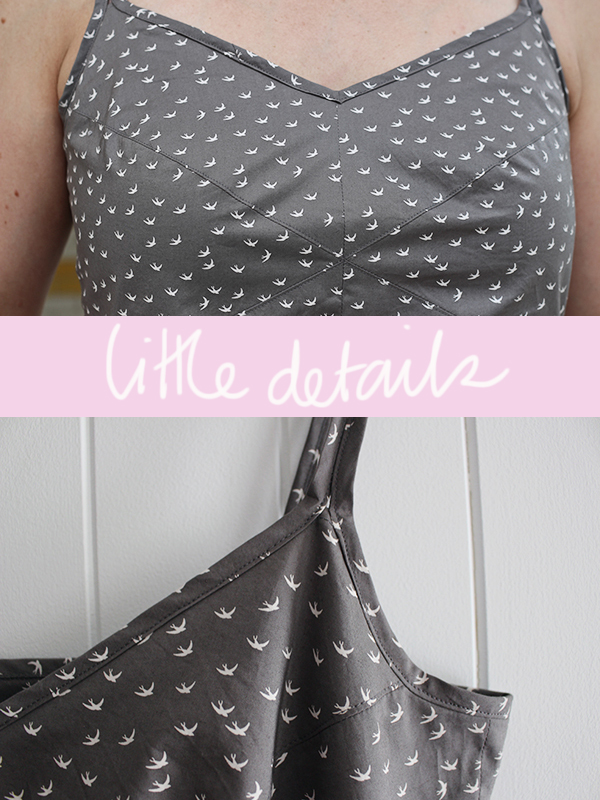 I did end up making a couple of adjustments to the pattern – I lined the bodice, shaped the waist by 5cm on each side and added pockets. Because every lady needs pockets in her frocks – where else would she hide emergency chocolate bars? Oh, wait – is that just me?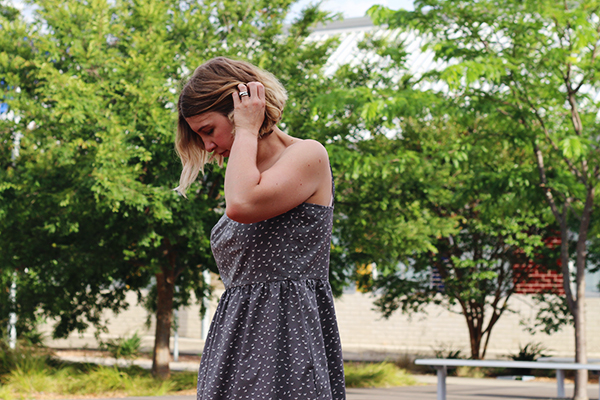 What I loved about this pattern:
The bodice details. I haven't seen any other dress bodice like this and it is a fab change from the normal princess seam or four dart details.
The bias binding straps. This is pretty much the epitome of sundress features!
What I would change for next time:
Bodice fit. Even though I did a toile of this bodice the fit is off on this finished piece.
Shorten or lengthen the hem. There is something not quite right about where it hits. It's the Goldilocks hem paradox – what length is just right? 😀
The Deets
Pattern:            Centaurée Dress by Deer and Doe
Fabric:              2m of pima cotton from deepest darkest Peru
Notions:           zip, thread
Size:                   46
Adjustments: Lined bodice, 5cm off waist on each side, added pockets
See also:           Paunnet, Bolt and Spool, What Katie Sews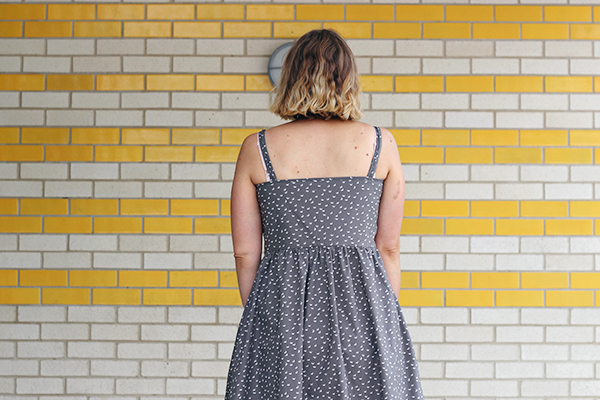 Okay, so let's real talk. While I had a blast making this dress I am not feeling it. There are a number of issues with this bad boy: the fit in the bodice is off, the bodice seam is in a weird place and the bodice shaping is just too boxy for me. On top of that, I loathe strapless bras and the cute spaghetti straps of the Centaurée deserve one.
So what does that mean? This frock is going in for a refashion. I am going to remove the skirt and see if there is enough fabric to piece together this cute peplum top. I think for someone with more patience to get the bodice fit right the Centaurée is a winner – and there are some gorgeous versions out there. But my sewing time is too precious and this pattern doesn't light a fire in my belly so for the first time I'm breaking up with a Deer and Doe pattern. Eep! But before I go through the break up let's dance party again!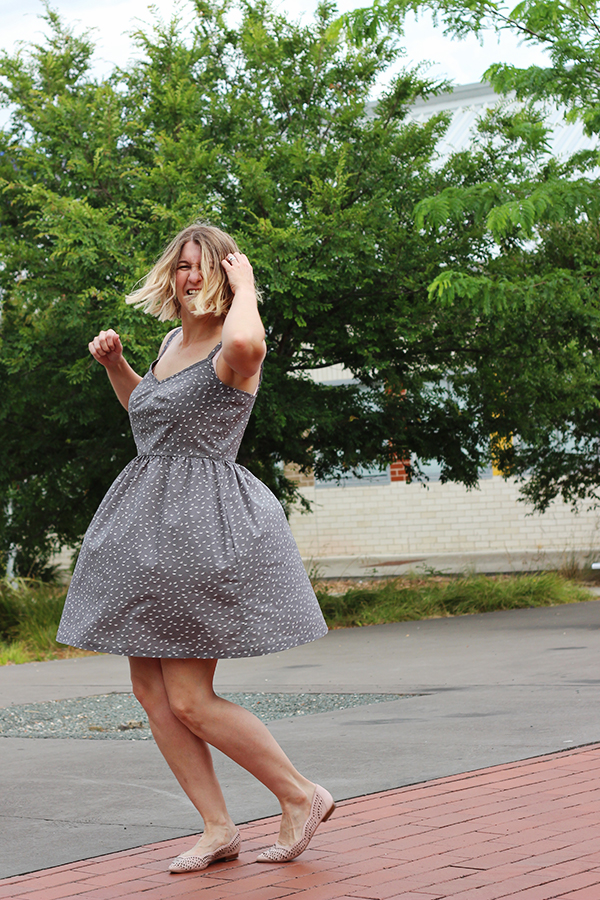 SaveSave