One of the single most terrifying experiences in my life was when I first stepped into an adult beginners ballet class at the age of 28. Bendy, stretchy people with an obvious sense of rhythm stood around the room at the barre with their lovely dance ensembles. I slunk on over to the back corner in my gym pants and Voltron tee and proceeded to cringe and prance for the next hour. Week after week I persisted but let's be honest- this lady has oodles of sass but no groove. Defeated I left the ballet class to take up roller derby but the image of those well dressed dancers stayed with me. So, lovely ladies and gents of the Monday evening class, I pay homage to you with the Papercut Patterns Coppelia Cardigan.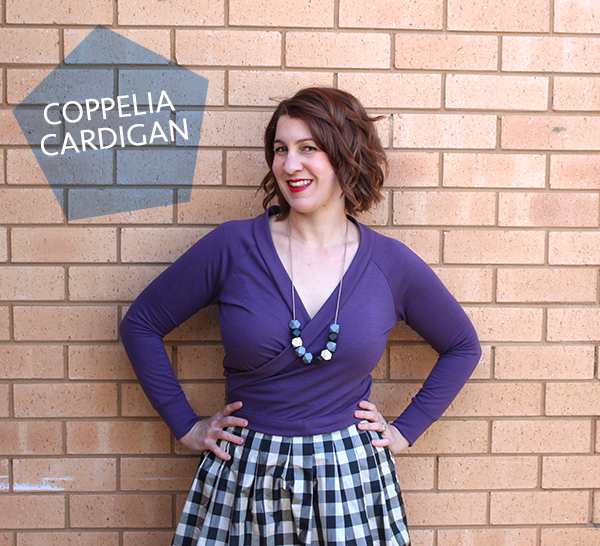 The Coppelia Cardigan is a raglan sleeve wrap cardi with two variations- I went the cropped version with the full on wrap ties. I mean, ff you're going to go all Swan Lake with a piece of clothing you gotta go the whole hog, right? I was lucky enough to have two metres of delicious thistle coloured wool knit in my stash languishing there from my 2012 trip to Mood Fabrics. A match made in sartorial heaven, non? I also went a bit renegade and decided not to muslin it up figuring knits should be  pretty forgiving…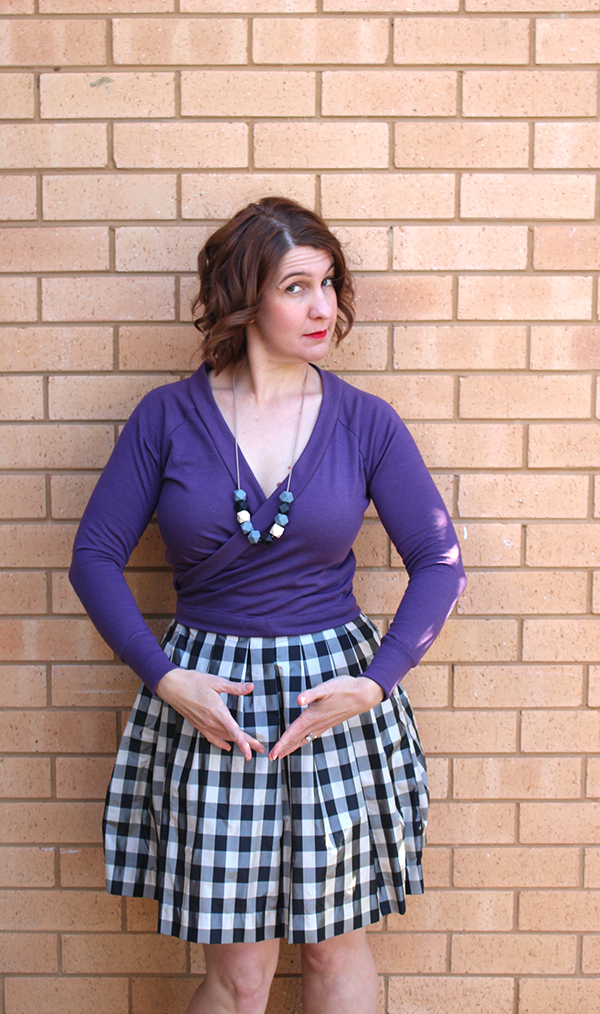 I went with the small for this pattern based on a few reviews noting the sizing was a bit big but in hindsight I probably could have gone the medium. The sleeves are pretty dang snug on my arms (tickets to the gun show are here, ladies) and the batwing effect everyone seems to get isn't noticeable on mine. Though if I am completely frank I'm fine with that- I don't need my sleeves to give me the illusion of wing meat…
The overall fit is great – I really like being able to cinch the waist right in. You can play around with how modest you want the neckline which is great as well. My initial try on was a bit "hello, boys" but some retying of the wrap ties had that sorted quickly. The sleeves and cuffs are a great length and end at just the right point. The only thing I would change is to hack a good 1" out of the back hem and taper this up to nothing at the back neckline. I'm finding that even with pulling the wrap panels snug around my waist there is a fair chunk of excess fabric hanging back there.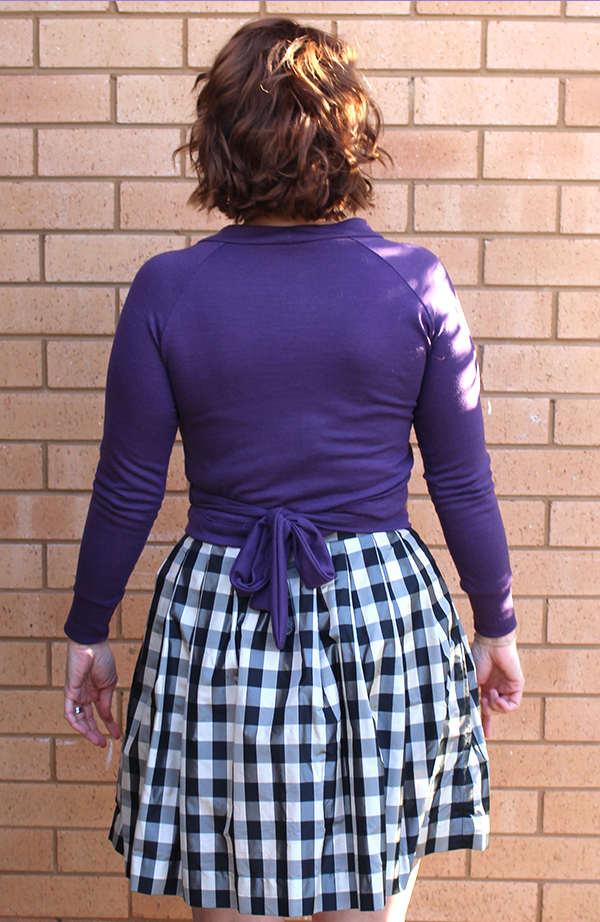 And since we're all friends here and one of the main reasons I blog is to try and improve upon my makes, I have a couple of quick questions for the sewing hive mind:
How would you suggest fixing the bit of gape happening around the neck near the shoulder? All I can think of at this time is less ease when connecting the top to the wrap ties?
Also, any pro tips on topstitching knits? Because mine is a RED HOT MESS. Seriously. I unpicked and retried three times and it just got worse. Any advice welcome!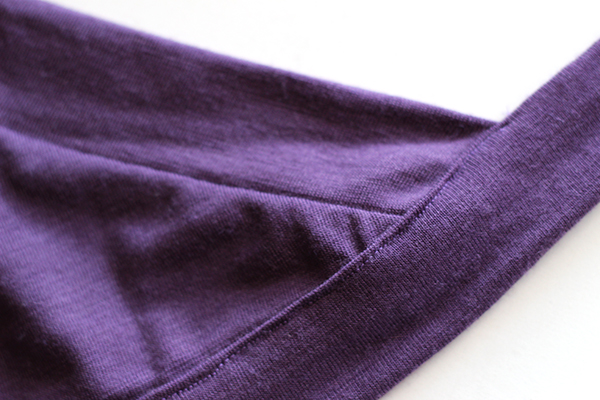 What I loved about this:
The wrap around goodness. I feel like this works for my body shape. Sassy!
The crazy big cuffs. I don't know why but I heart this hard.
How dang quick this was- seriously one evening!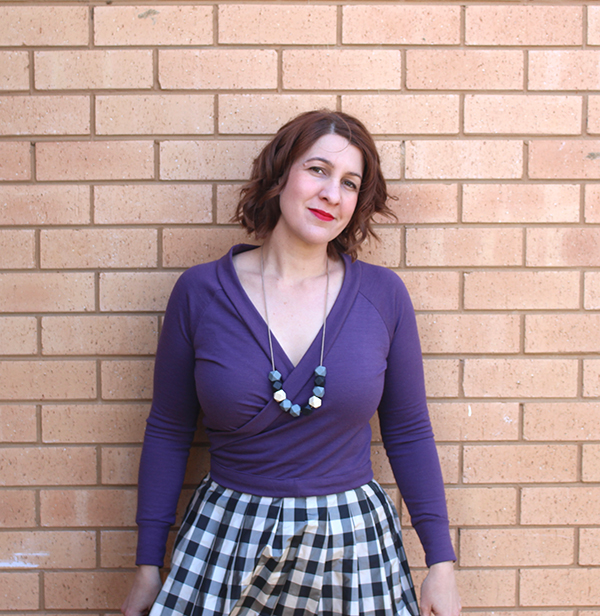 That I would change next time:
Go up a size in the sleeves. I repeat – no one deserves a lady's buff guns exploding out of their top.
Topstitch properly. OMG I was almost too ashamed to share a photo of this.
Take that inch out of the back hem. Because I can.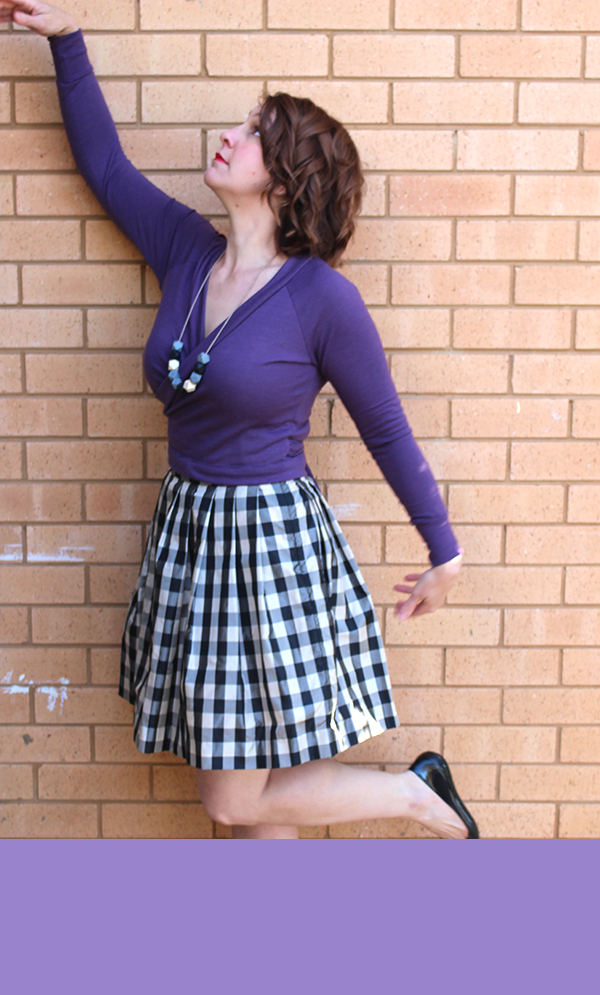 Coppelia Cardigan
Pattern: Papercut Patterns Coppelia Pattern
Fabric: 2 metres of wool knit
Notions: Thread
See also: Sewn Brooklyn, The Nerdy Seamstress, Busy Lizzy in Brissie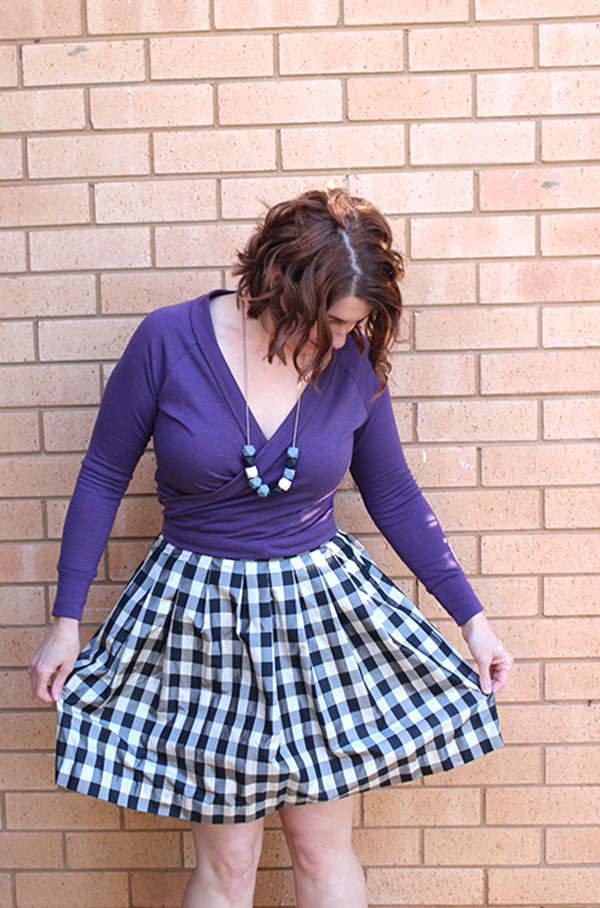 Overall, I am pleasantly surprised with how much I love this wrap top. It's been absolutely freezing in Canberra lately and this was snuggly enough to keep me warm paired with a cocktail dress from my car to work the other morning in -5 temperatures. Brr! I think I may be a convert to the world of wool knits. Or just move to a tropical island… Surely they have museums to work at in Bora Bora, right?!
SaveSaveSaveSave