Hello from the 2020s! For some reason the start of this decade feels far more exciting that the 2010s did–maybe that is because I am imagining a world of bootlegged gin and cool bob haircuts? But, I digress! I am excited to kick my blog off again because it serves as a great journal of patterns I have made so when I remake things or recommend patterns I have something easy to refer to. So welcome to my first make of the 20s. This is a simple pink and cheerful dress to wear around the house and to schlep to the shops in. Because nothing says grabbing a loaf of bread like crane print rayon!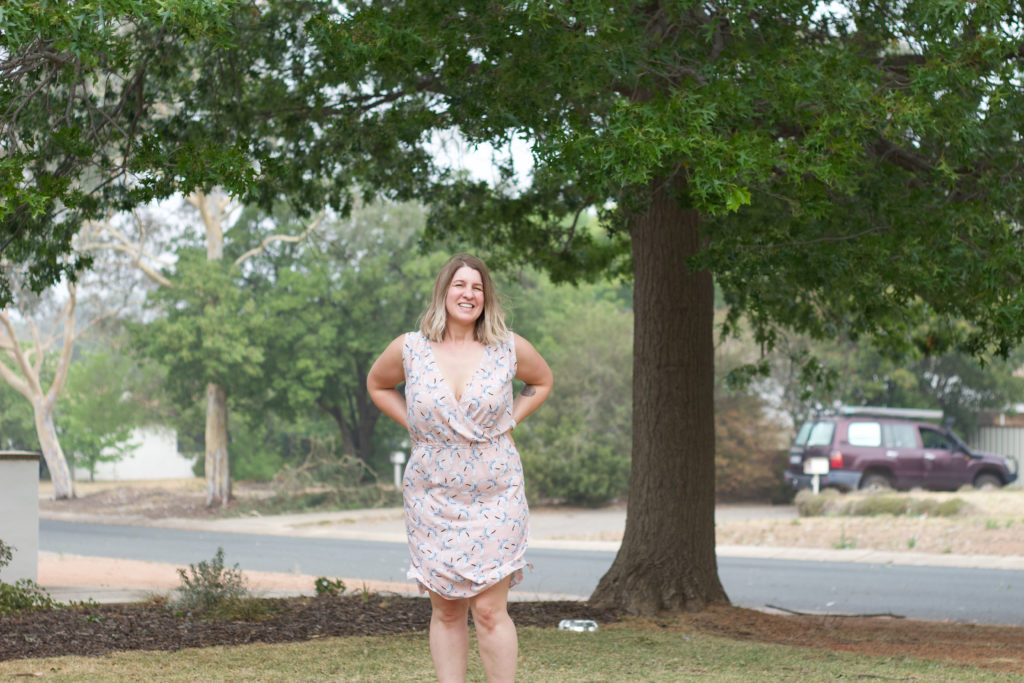 This is the Simplicity 8178 which I have made before. This is a simple gathered waist dress with a cross over bodice. It also features some super cute gathers at the front of the shoulder.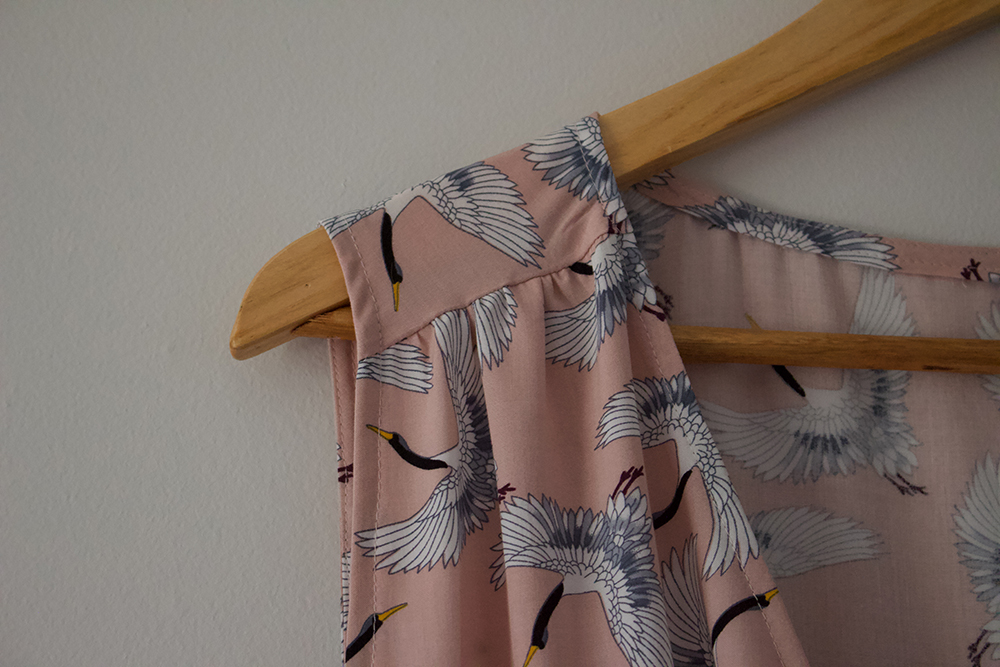 The fabric is a very soft rayon from Spotlight. Spotlight has really picked up its fabric game in the last two years and this is a great example. It has a super lovely drape and was really nice to sew with. I'll report back on the wash and wear of this for sure!
Construction wise, this was a quick and easy sew. This is my third version of the dress with the second one destroyed through my attempts to unpick an unsuccessful elastic channel. For reference, the elastic channel is formed by joining the bodice to the skirt with a 7/8″ seam allowance, grading the bodice seam back and then flipping the skirt seam up into the bodice and stitching it down. With my second attempt I didn't read the instructions clearly so when I sewed the channel in place it was at 3/8″ and that's where it all went pear shaped. This time I actually read the instructions properly and took my time and surprising no-one it actually turned out well. Huzzah!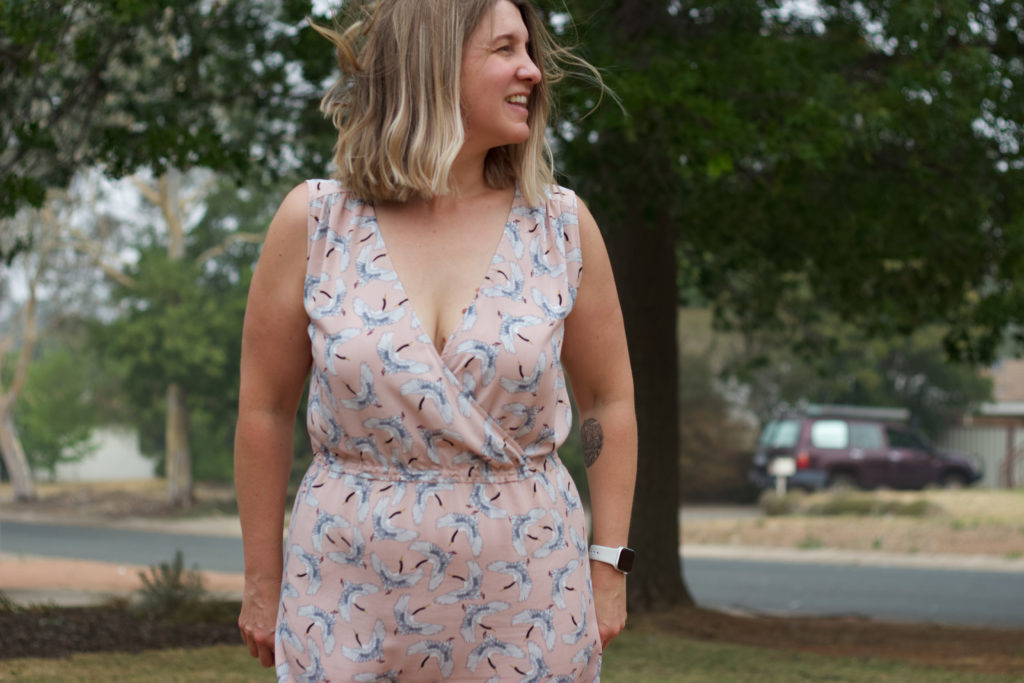 The Deets
Pattern: Simplicity 8178
Fabric: 2m of crane print rayon from Spotlight. I have a fair chunk left over which may end up as a camisole.
Notions: pink thread, 1m elastic
Size: 16
Alterations: removed pockets, added slits to the side to make running after Bean easier.
See also: Past Amanda because I'm cheeky like that!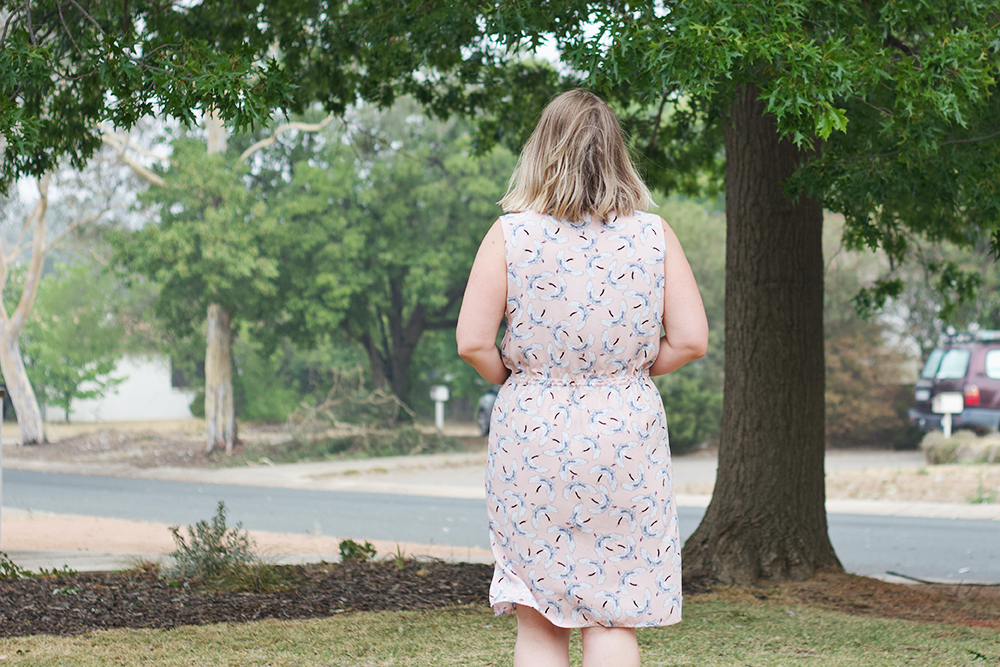 What I like about this pattern:
It's a lovely and quick sew.
The gathers at the shoulders. So cute!
The wrap top. It makes this simple frock feel a bit more sassy!
What I would change for next time:
Add pockets again. I felt this fabric was too delicate but now I have regrets.
Make the jumpsuit! I said that last time too and I hadn't delved into the jumpsuit world so maybe it is time…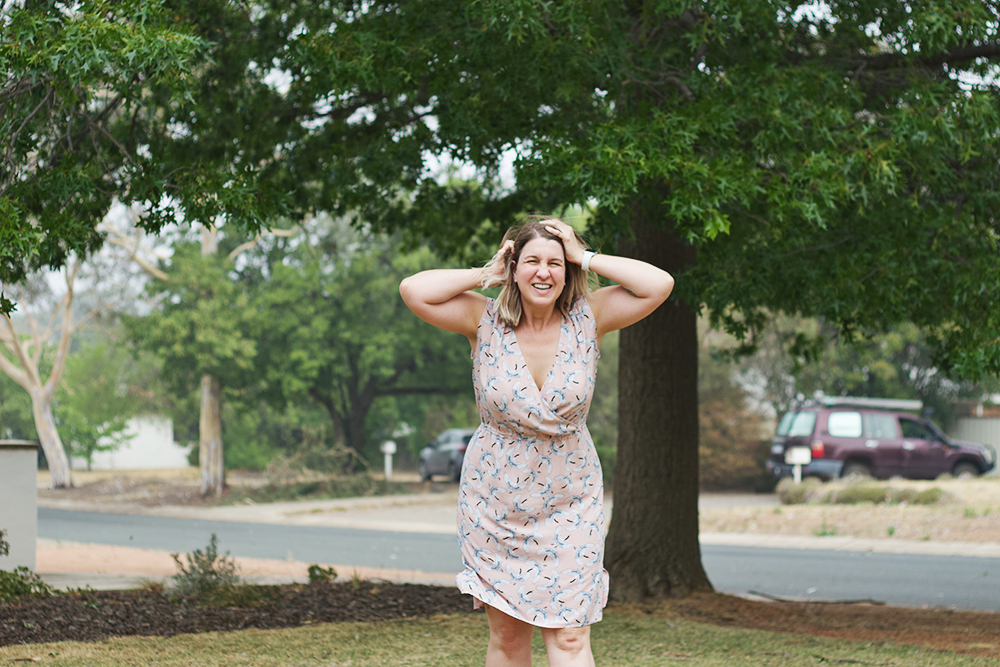 Overall, this may not be my fanciest frock but it is definitely one I am going to wear a bunch. This year I'm upping my comfy clothes around the house game so prepare yourself for some other sassy simple pieces. And in the spirit of full disclosure–I made only one resolution this year and that is to sew Beanie a matching bandana out of scraps from each of my outfits. So please enjoy Jellybean-a vision in pink cranes.