Growing up I wanted to be many things: a politician, a teacher, a palaeontologist, an astronaut and a pirate. I crossed politician off my belt with president of the student council and have been rocking teaching for over a decade now. I thought the pirate aspirations where done and dusted when I was drafted to the Red Bellied Black Hearts for derby but that was obviously not enough. Because, dang it, I am now the finest pirate around in my crazy ass big bow blouse. YARRRRRRR!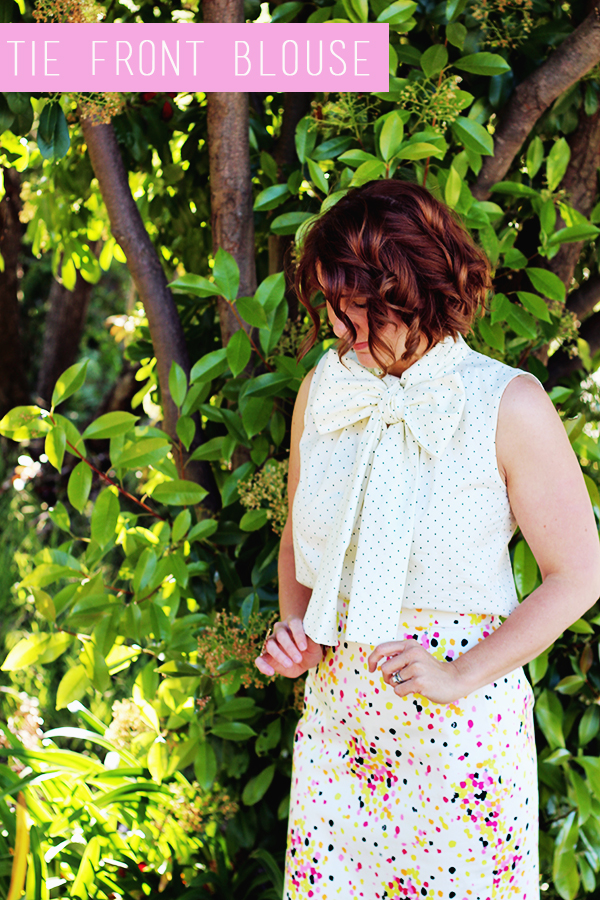 This pattern is the tie front blouse from BurdaStyle. It's a short sleeved (bah!), dart free blouse featuring a front slit and a giant freaking bow. This make has taken me five months from cutting to completion. Which is not to say it is a difficult pattern- more it has been sitting cut and forgotten on top of a stack of comics under a table in my sewing room for four odd months. You can't rush a crazy ass bow, peeps!
This was truly intended to be a fitting muslin as the fabric is a polka dot cotton poplin from Spotlight. But once I had basted things together and tried it on for fit I was digging it too much to not finish it up. Mamma needed a crazy top STAT!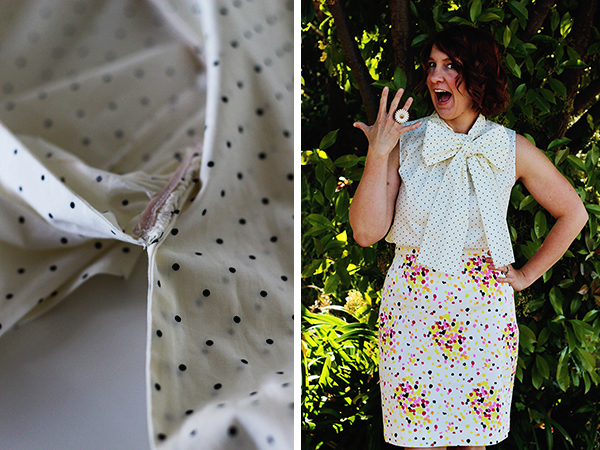 The construction on this sucker is pretty straight forward except for the front slit. I'd never done one of these before and it took a little fiddling to make it work. The main thing I found was to interface, mark the facing and shell fabric accurately and clip and press like a boss. As I said this was initially a muslin for fit so you can see here when I haven't finished the facing properly… What can I say? I sew on the edge!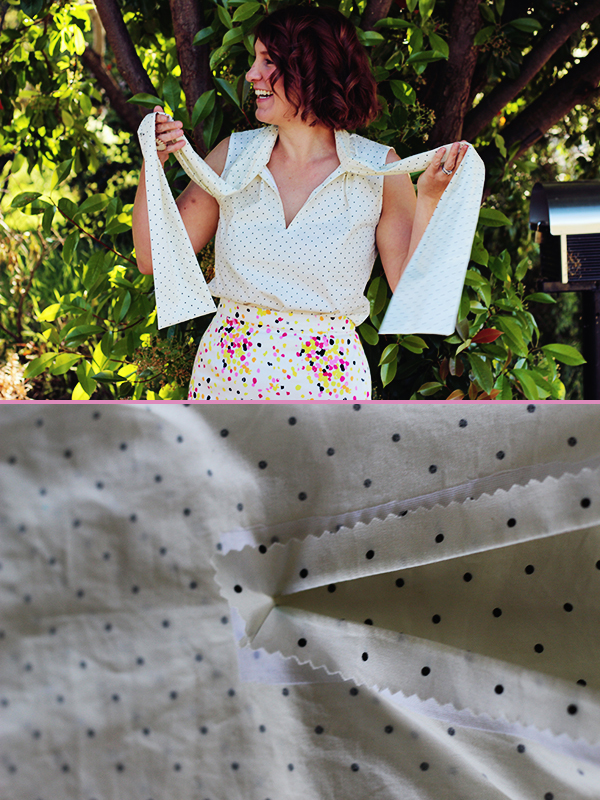 Real talk: while this bow is freaking huge it is nothing on what the pattern actually recommends! My bow is shorter at each end by 4" and I took off 4" in width as well! I'm sure in a lovely drapey fabric this extra length and breadth would not have you looking like a human burrito around the neck but for this fabric it had to go. Sayonara, neck burrito!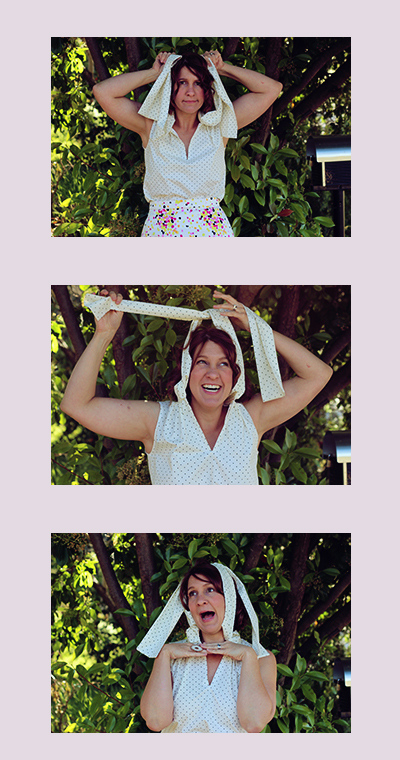 The impetus for this rad top being dug out was actually a gorgeous cotton sateen purchased recently from Addicted to Fabric. I've found I've been moving away from my signature pink/grey/yellow lately but this fabric grabbed me with its tentacles of awesome and hauled me in. I decided to dig out my tried and true Simplicity 2451 pattern, tweaked the fit and knocked together a fantastic summer work skirt. But alas, dear Yoric, I had no awesome top to wear with it. So what is a lady to do? Go scavenging in her sewing stash of course which lead to the discover of big ass bow blouse and the rest is history.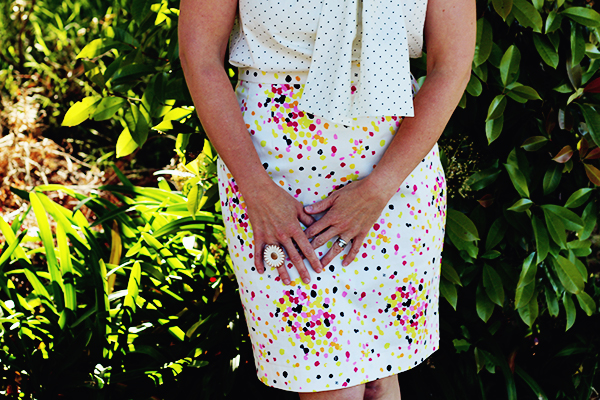 What I liked about this pattern:
Shaping without darts. It's the business.
Limited pattern pieces. I'm a busy (lazy) lady.
The freaking bow. OMG. It is out of control.
What I would change next time:
Try a small FBA (although that seems counter intuitive). My lady cargo likes some breathing room. Literally.
Go the full length bow. Like a boss.
Pinch out the excess at the top back of the armscye. It gapes a bit and my shoulders do not require ventilation. Or maybe they are that dang hot they do? 😉
The Deets
Pattern: Tie Front Blouse by BurdaStyle
Fabric: My trusty polka dot cotton poplin lining from Spotlight
Notions: Thread
See also: Sewing In No Man's Land, I Heart Fabric, Made by Meg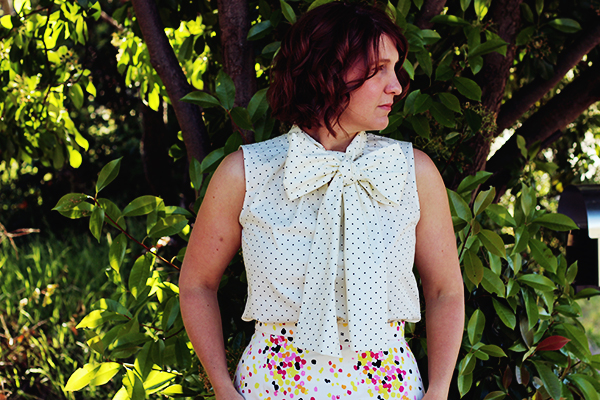 Can I just say I freaking love this blouse so hard? I have two more of these lined up to sew in the next couple of weeks (one more to perfect the fit and then a fancy version in pirate ship Liberty lawn). I'm giving a huge thumbs up to the tie front blouse- it is a wonderful mix of work appropriate but with enough craziness mixed in that it makes me feel like a sassy pirate. Because, if we're honest, isn't that how every lady wants to feel when she heads out the door?
I also wanted to mention the crazy awesome that is happening on Instagram at the moment with the Sewvember photo a day challenge. It has been absolutely epic to be able to peek into peeps' sewing rooms all over the world. If you want to get involved, there's more info here or check out #bpSewvember or @bimbleandpimble on Instagram. Yarrr! (which is sassy pirate shirt for stay awesome!)
SaveSaveSaveSaveSaveSave