I am a total sticky beak when it comes to other people's sewing spaces. If there is any opportunity to have a look at where other rad sewists perform fabric magic you can totally believe I am there for it. And given that El Husbando and I are on the hunt for a new house I thought I would take the opportunity to record my current sewing space.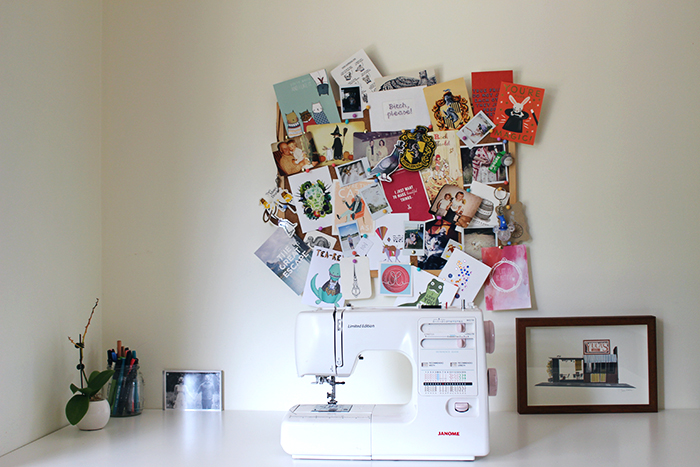 I am super lucky to have my very own sewing room and it was a couple of years in the making. Prior to this space I was using the good ole' dining table for my sewing wizardry but the constant set up and pack down was becoming a pain. After a big clean out of of stuff and reorganise of our house I totally stuck a flag in this room. It overlooks our backyard and gets lovely morning light.
When I first moved in the walls were purple and grey thanks to the previous homeowners. The walls were repainted a warm white (6 coats of paint!) and the ceiling was also freshened up as well. With a deep clean of the carpet it was like a new room.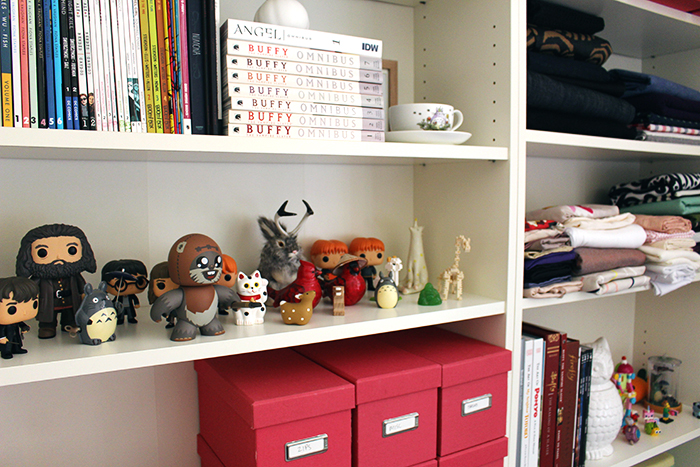 The furniture is all from IKEA and I spent ages planning (and saving) for what I wanted. There are two tables for cutting down one side, one larger table with a filing cabinet for sewing on and two Billy bookcases for pattern, fabric and book storage.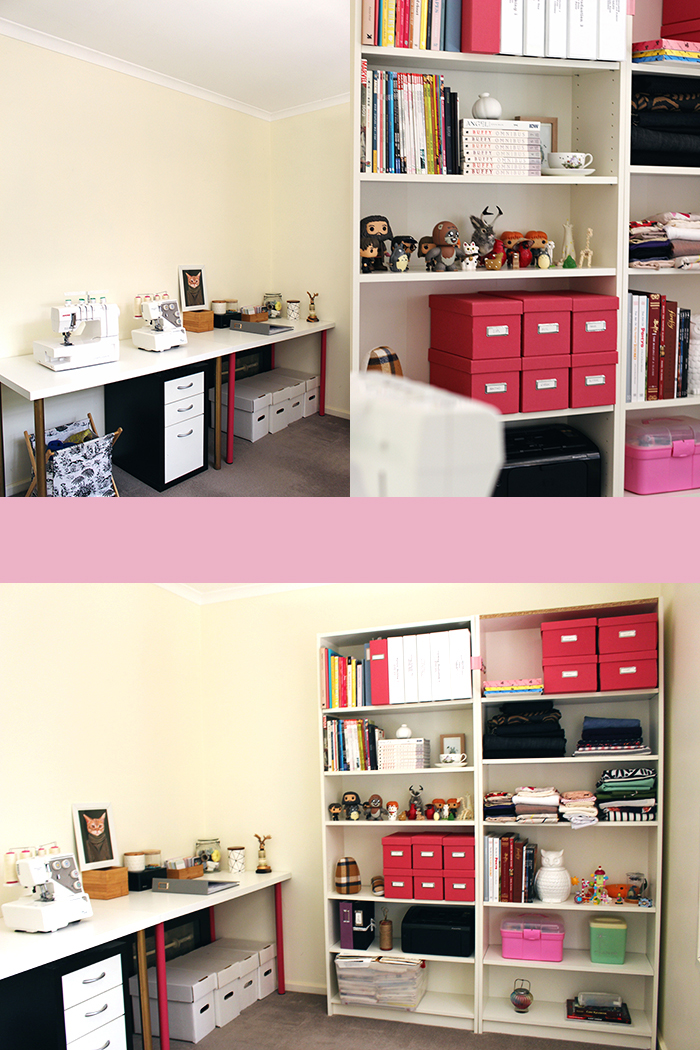 Patterns are organised into A4 sized boxes (Dresses, Separates, Random Goodness, Tracings) which keeps a lid on my collection size and things neat and tidy. Notions and miscellaneous goodness as stored in CD boxes and my small sewing book collection is kept together.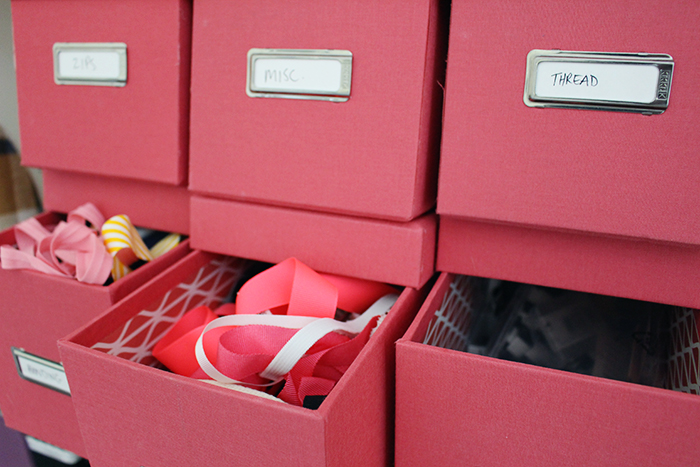 My fabric stash is finally well under control and is even smaller than when this photo was taken. This is simply because too many pieces of fabric gave me sewing paralysis and I would also feel guilt about adding to my stash when I had other goodness I hadn't sewn up. 20 pieces of fabric (not including lining) feels manageable and is working for me currently. And yes, I know I am a weirdo!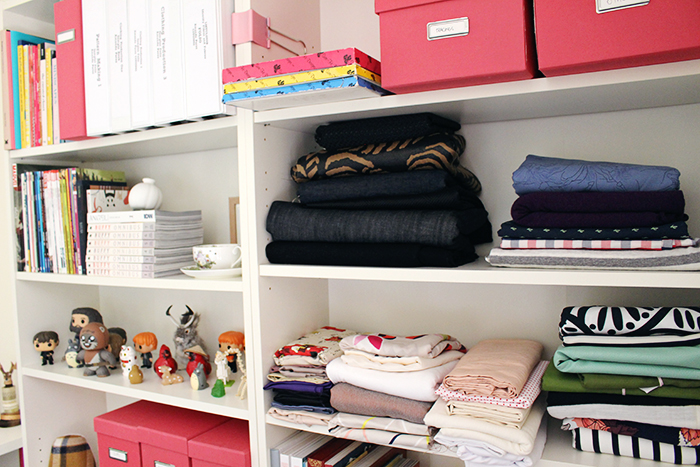 My sewing crew at home is all Janome. My starter machine, Violet, is an ancient Janome and is currently off for repair.  My current machine, Daisy, is a Janome MS5072LE and she is a mechanical workhorse. Marigold, my 90s Janome 543D overlocker, was a gift from my aunt and she works like a champ. My most recent purchase is a Janome 2000CPX is still in need of a name and finishes knits like a dream! Name suggestions are well and truly welcome!!!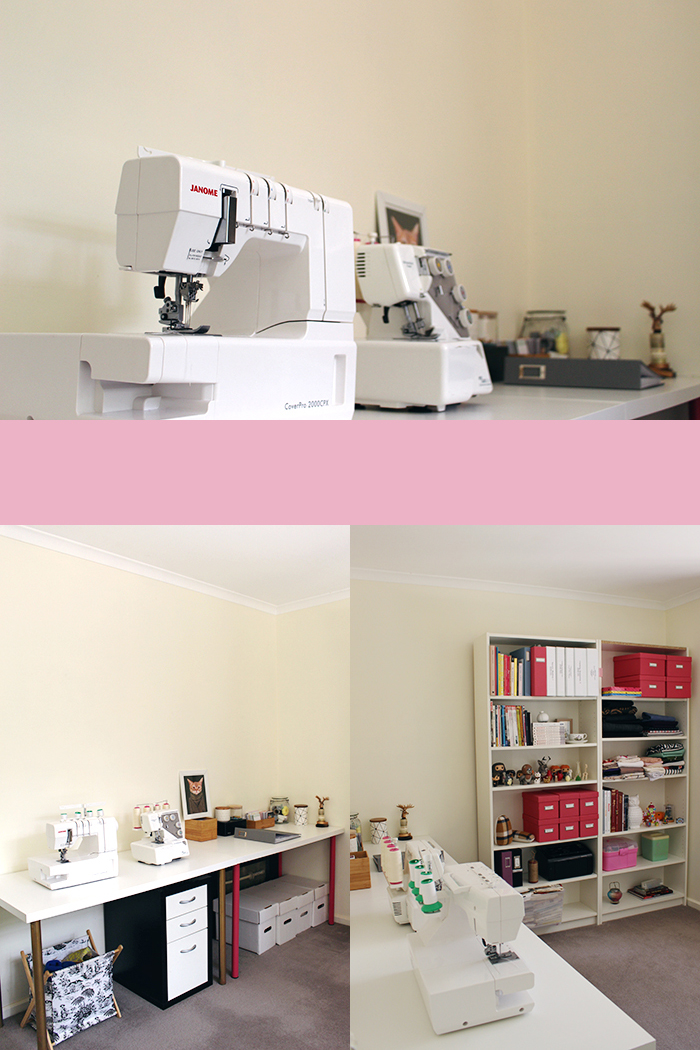 Finally, to make my lady lair complete I have my knitting and boxes of comics stashed under the cutting tables. My journalling supplies are spread over one table and can easily be packed up when extra room is needed. The one thing missing from these photos are my awesome project baskets. These are simply mesh baskets I use to manage my projects and place everything needed in them – fabric, pattern, notions, M&Ms. For this uber-neat freak they have been awesome at getting my sewjo kicking.
So, there you go. My sewing room. It's a total decadence to have and I totally love it. As we're looking for a new house one of the criterion is a fab sewing space. I can't wait to see where I end up next!
SaveSave
SaveSave