Guys – I need someone to talk me down. After the epic win of my Simplicity 1609 sheath dress I felt the need to further step up my work wardrobe game. So off to Spotlight I headed and on my adventures looking for the perfect white linen I stumbled over some bizarre printed cotton. And of course I brought it home instead. Oops. So I spy with my little eye something that begins with A W E S O M E!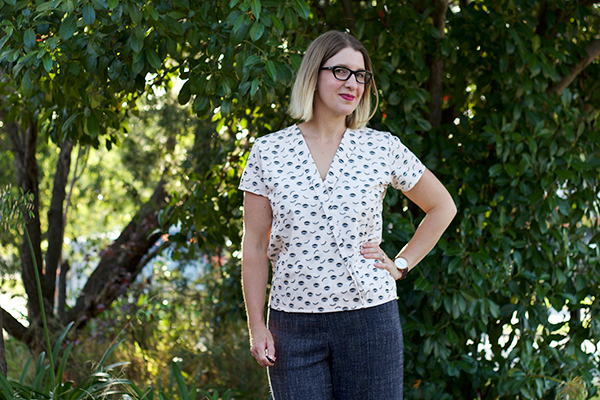 This is the Hoya Blouse by Deer and Doe. The Hoya is a mock-wrap blouse with lapels and lined front. It has two versions: Version A has short sleeves and Version B has ¾ sleeves and sleeve tabs. I went with Version A mainly because I like to have my buff guns on show and not at all because I accidentally purchased 2m rather than 2.4m of fabric… >.> Now, before we get too far in I want to let y'all know that the folks at Deer and Doe provided this PDF Hoya Blouse pattern to me for review. As always, I'll keep the talk real and discuss the things I dug and the things I changed and/or am not keen on. Now back to it…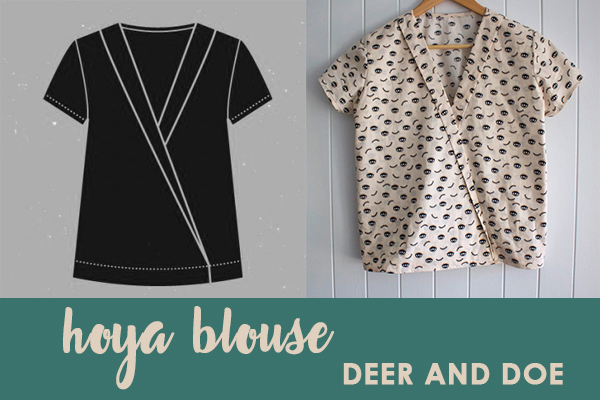 So let's talk about the fabric – this printed poplin is was a surprise find at Spotlight. The cool part about it is that it features gold glitter on the eyelashes. Sassy! They say that hindsight is 20:20 (bwah ha ha eye puns!) and in this case I have to agree – the poplin is a heavier weight then what is recommended and as a result it has made the Hoya very boxy. The mock wrap front panel ends up with quite a few layers and in my opinion this would hang much better with a softer weave. In saying that, the structured look is growing on me so maybe it was a happy accident?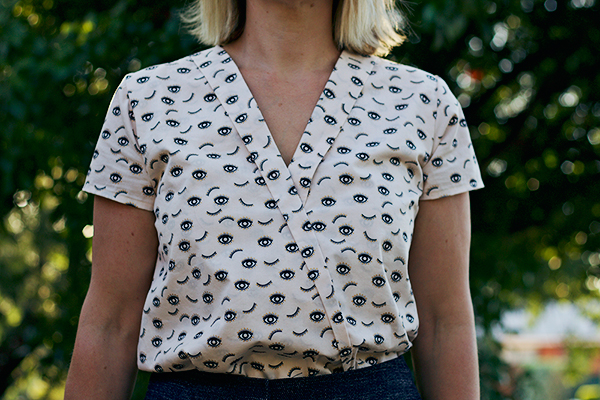 Construction wise, the instructions were clearly illustrated and in English – huzzah! No need for Google-translate this time! Constructing the mock wrap was fun – I've never pieced one of these together before. I like that the edges of the lapels are understitched, the same as constructing a jacket, to encourage the turn of cloth. The other interesting detail for me was the binding of the back neckline – this created a lovely polished finish. One thing to note – you will need to ease the sleevehead in. Whilst this is pretty standard it wasn't mentioned in the instructions and I just forged ahead. Cue the seam ripper getting a good work out 🙁 Otherwise, this was a pretty chilled make and I think a confident beginner (with a stable fabric) could handle the Hoya.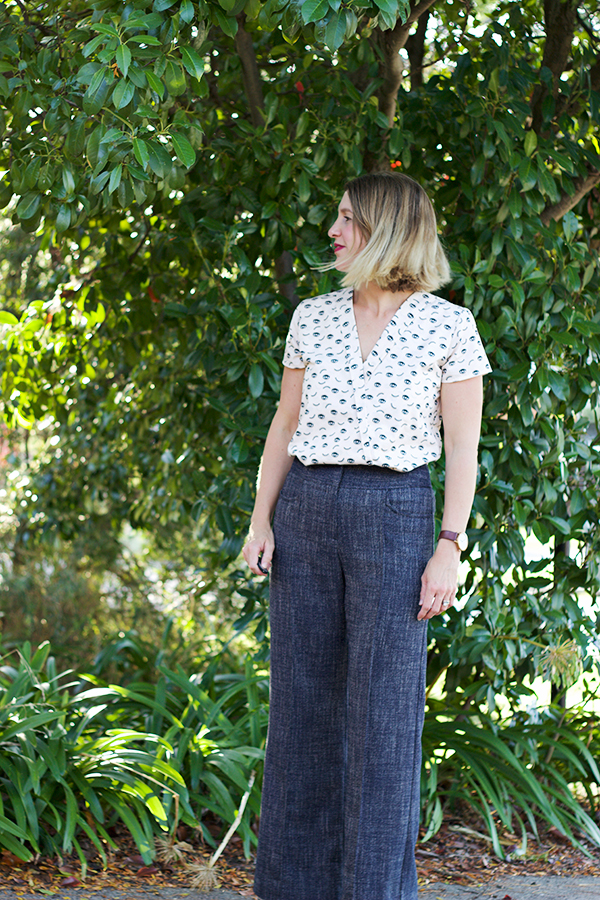 For the adjustments, I sewed this up pretty much straight out of the packet to see how it would perform. Due to not having enough fabric (and my nearest Spotlight being 30 minutes away to buy more) I opted to cut my hem facings out of white voile. In the end I simply overlocked the hem, folded it over and stitched up with the poor old facings relegated to the bin… Cheeky! As the poplin made this top crazy structured I decided to shape the sides a little taking 4cm off the sides at the hem and grading to nothing at the underarm seam. I also tacked the top of the wrap together as I was worried about the ole lady cargo accidentally flashing but I think it would be fine without this – I'm just a paranoid lady!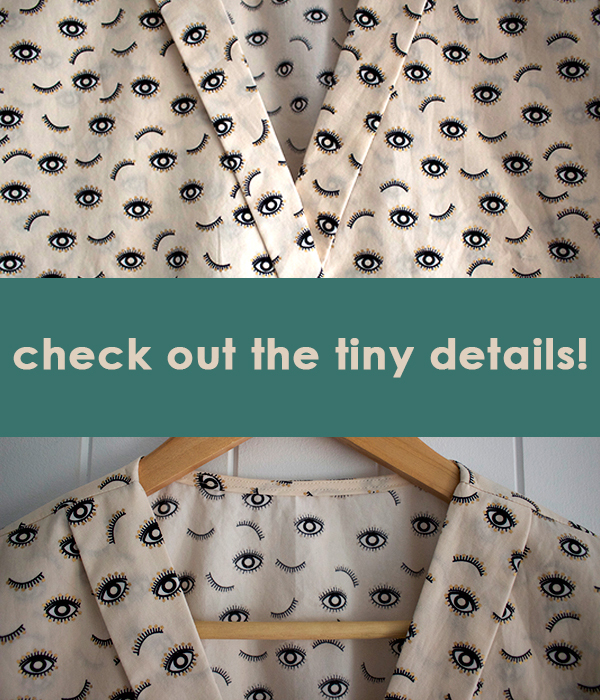 What I liked about this pattern:
The mock wrap feature. This looks super profesh!
The fact Deer and Doe are doing PDF patterns. SQUEE! I utilised the copy shop print option for this top and it was instant gratification. Though what is with the price for an A0 print climbing to $4.10, Officeworks?!
How quick it was. I sewed this up three episodes of Iron First (thought: this show was a giant letdown though Coleen Wing was pretty dang rad!)
What I would change for next time:
Use a fabric with a softer drape. Oops. Sometimes a lady gets distracted by creepy eyes and glitter. It happens…
Broad upper back adjustment. It is nothing serious but I feel like a smidge more room would be beneficial.
Nothing else. I'm rather stoked with the Hoya!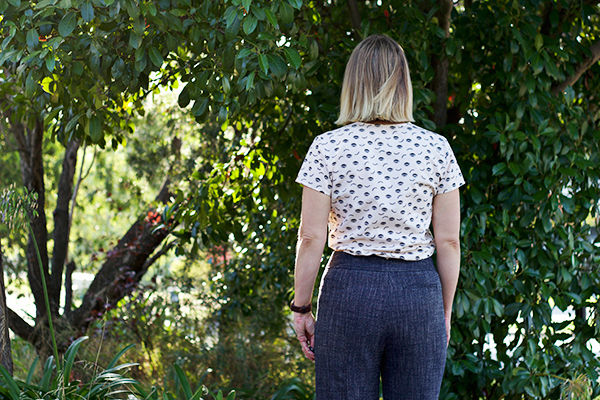 The Deets
Pattern:                 Hoya Blouse by Deer and Doe
Fabric:                     2m of cotton poplin from Spotlight (make sure you buy the recommended amount!)
Notions:                 Thread, mad pattern Tetris skills
Size:                          44
Alterations:         4cm on each side seam at hem graded to nothing at underarms, tacked top of mock wrap closed, skipped hem facings
See also:                There aren't any others that I have seen blogged about yet so here is a link to an overdramatic hamster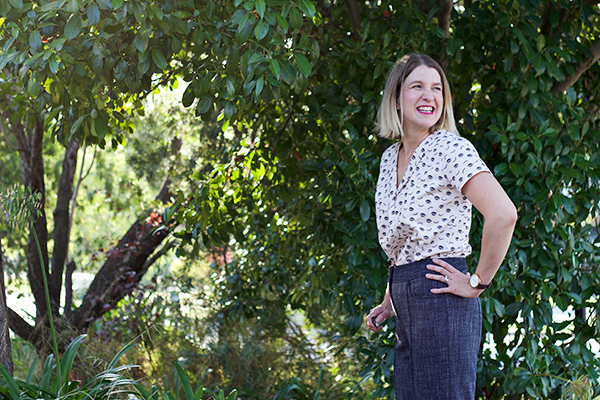 Overall, I'm rather impressed with this top! This lady loves a V-neckline and the Hoya is a cute addition to my wardrobe staples. I'm super keen to try this up in a fabric with a softer hand – mayhaps a little rayon? Until then I'll be the most styling lady at work – and keeping an eye on everyone… Bwah ha ha! I got a last minute eye pun in and it's too late for you to look away now…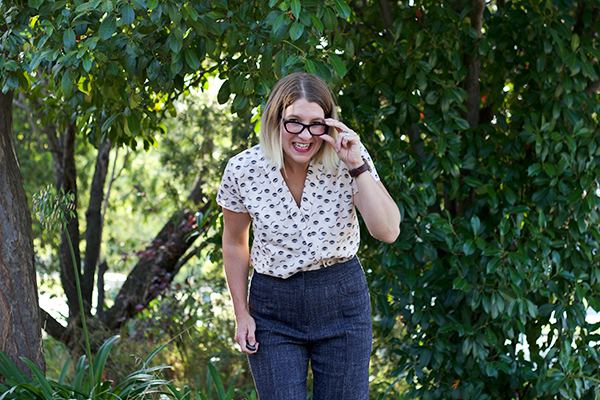 SaveSave
SaveSave