Last September I managed to injure my foot and ankle pretty badly while hiking through New Zealand. What I thought was a simple sprain turned into six months of intense work with my physiotherapist and having to hang up my running shoes while things healed. A couple of weeks ago I got the all clear to start some short rehab run/walk intervals and decided to celebrate by sewing myself a cute running top for the cooler months. Heck yes to being outside again!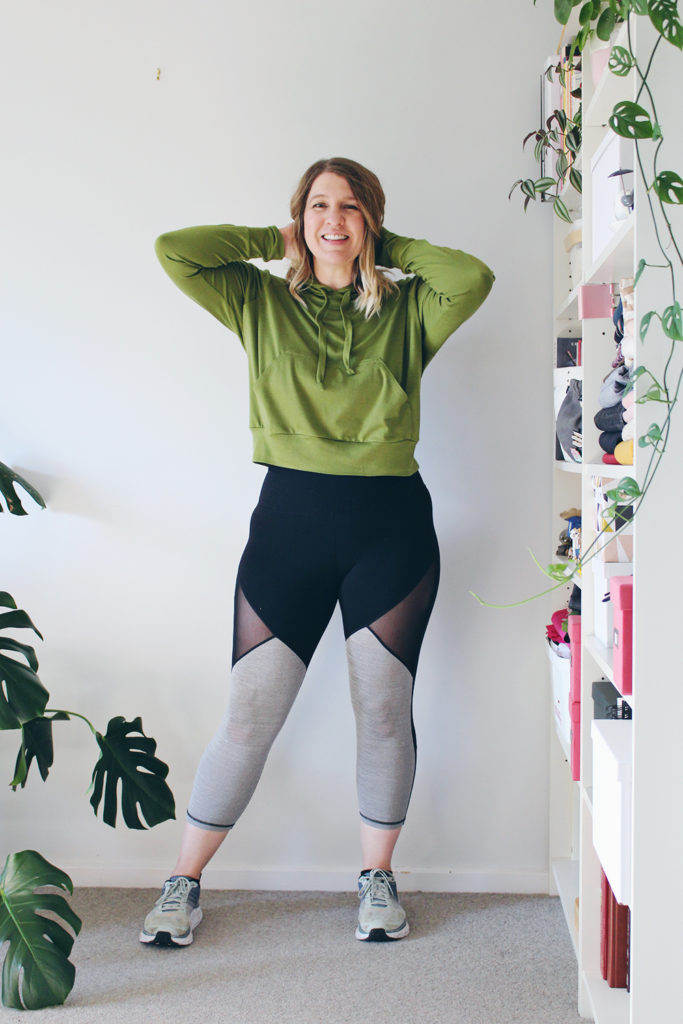 This is the Undercover Hoodie by Papercut Patterns. This pattern is an older offer from Papercut and one I've had sitting in my PDF stash for years. Better late than never! The Undercover Hoodie is a slouchy fit, raglan sleeved sweater with the option of full or cropped length. It has a kangaroo pocket with either a ribbed neckline or hoodie finish. After cutting out and sewing up the full length version, I unpicked the pocket and ribbing and recut to make the cropped version which works perfectly with my high waisted running leggings. Viva la crop!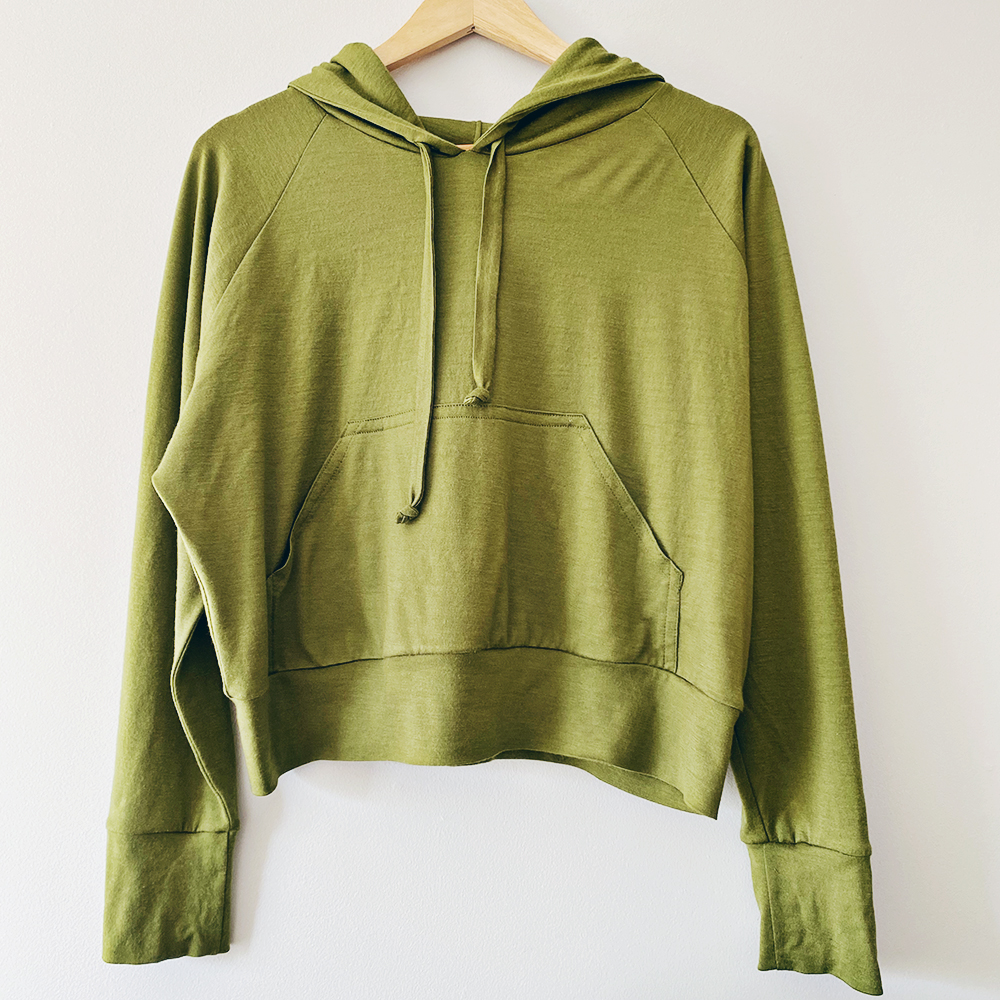 The fabric is 195gsm avocado merino from The Fabric Store. Last year I splurged on the swatch books of The Fabric Store's linen and merino from their online store. It felt like a bit of a lame delivery when it arrived but it has turned out to be so helpful with picking fabrics for new projects. Regular Amanda is no way would ever have purchased green merino for a running top, but Cool Swatch Amanda was flicking through the little book and became instantly smitten. I find the 195gsm has a really nice weight to it and makes ace cardigans but it's also great for a project like this. The folded over merino makes a sturdy cuff and it has enough breathability to keep me snug as I warm up and cool enough that I don't need to rip it off mid run. Merino is seriously the best!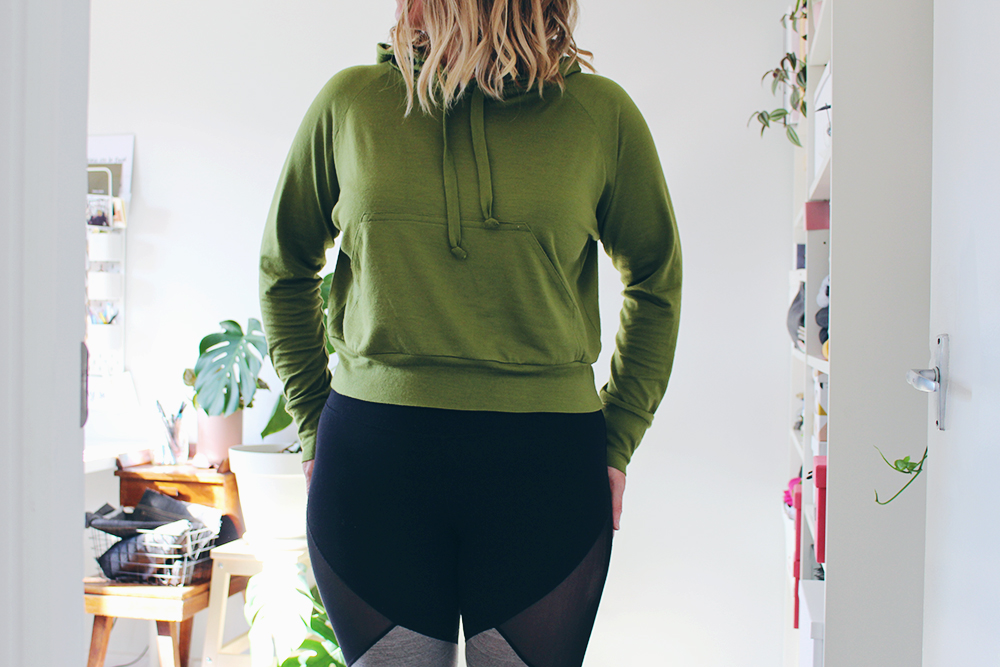 Construction wise, this was very straightforward. There are no tricky steps and all the notches matched up which was a relief after the Pinnacle Top I recently made. The instructions are clearly illustrated and easy to follow. I constructed most of it on my overlocker which made this pretty speedy. I chose to make my own drawstring for the hood using the piece I cut off when I adjusted it to the cropped length which has worked really well. I also added a cute label to under the hood from Fabric Drop's collaboration with Kylie and the Machine. I like to add some sass to my makes!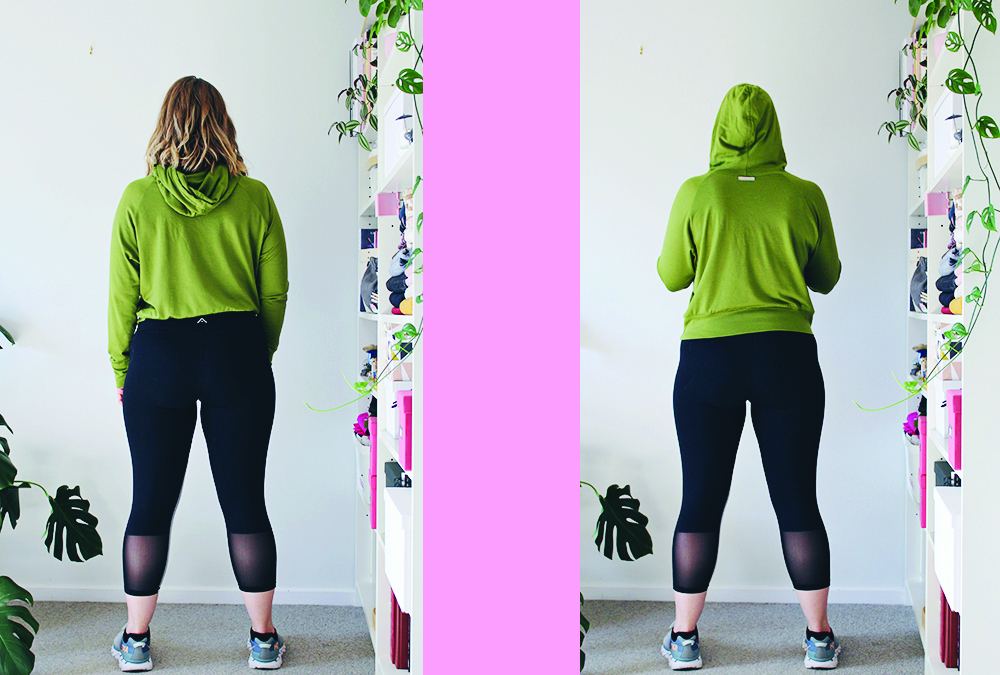 What I liked about this pattern:
The hood. Yes, it's a hoodie pattern but I find this one is a good size to fit over my ponytail and hat when I need it. Thought I look like a little green duckling!
The easy construction. It's a knit and I have an overlocker. Yay!
What I would change for next time:
Potentially attach the pocket in a sturdier fashion. It is currently only topstitched on and while it is holding up I'm quite curious how this will last with the combo of my keys/puffer/phone as I slowly add more distance.
Add thumbholes to the cuffs. I have one other running top and this is one of my fave features that I only thought to add after I have overlocked the cuff on. Doh! Next time there will be thumbholes!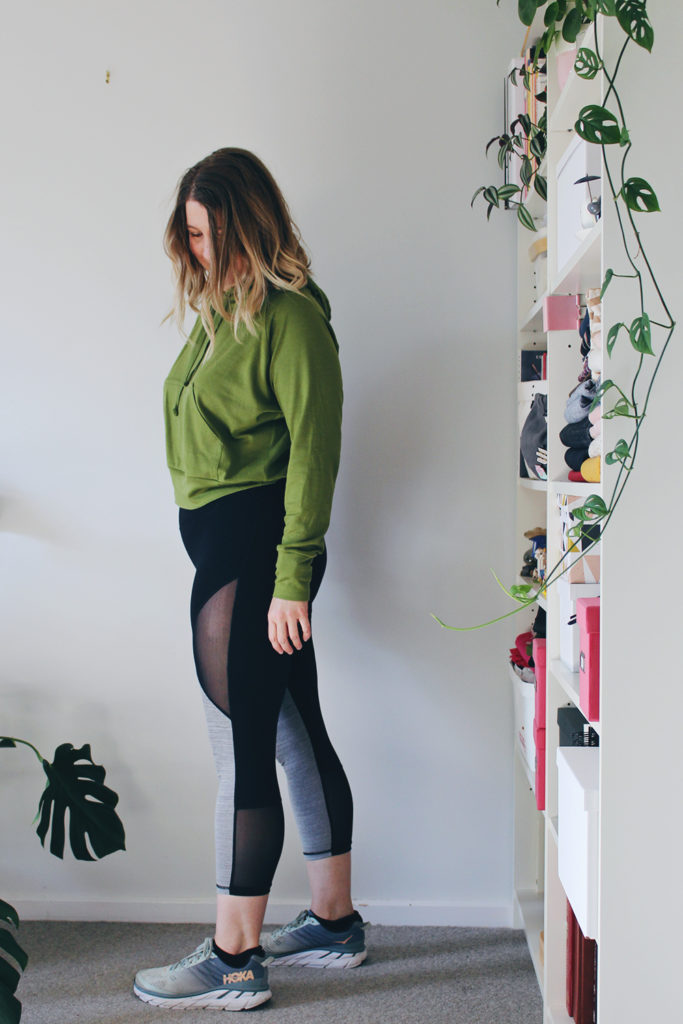 The Deets
Pattern: Undercover Hoodie by Papercut Patterns
Fabric: 1.9m of avocado merino 195gsm from The Fabric Store
Notions: thread, scrap of interfacing
Size: Large
Alterations: cut and sewed the long length but recut to cropped, stitched the hood layers together.
See also: Ladulstina | Poppykettle | Lladybird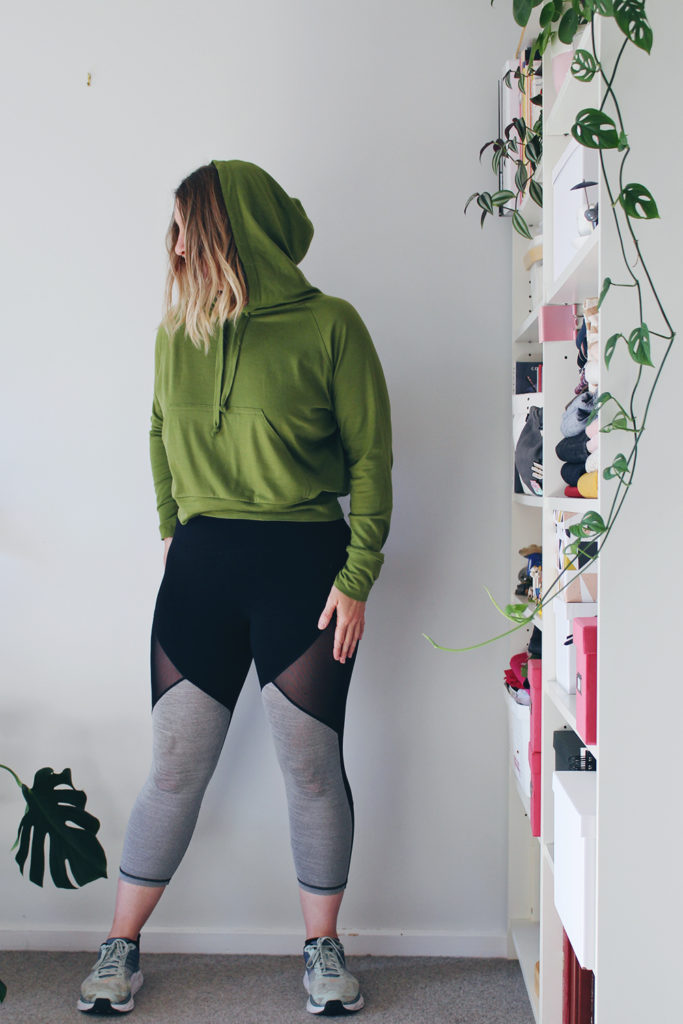 Overall, I freaking love this top so much! I have started wearing it around the house as well as it's just the right level of snug for autumn. I will definitely be making more of these and am going to have a dig through my swatch book for some more colour options. Though I haven't sewn with Paprika in a while so it may be time to make a truly autumnal running top. Viva la autumn!