My creativity has been hibernating over the last couple of months and when that happens my desire to sew drops drastically. Sometimes I get in my own head with perfectionist silliness that prevents me from starting a project without committing to oodles of toiles and fit diagnosis work and I end up not starting to avoid the self-inflicted stress. Gah! Amanda's brain can be such a jerk some times! So when I saw this fabric pop up on my instagram feed and felt the teeniest bit inspired I went with it, made the purchase and chose a pattern that looked like it could work with minimal fitting required. And it worked! This was such a fun project to sew and now my new top is the happiest thing in my wardrobe!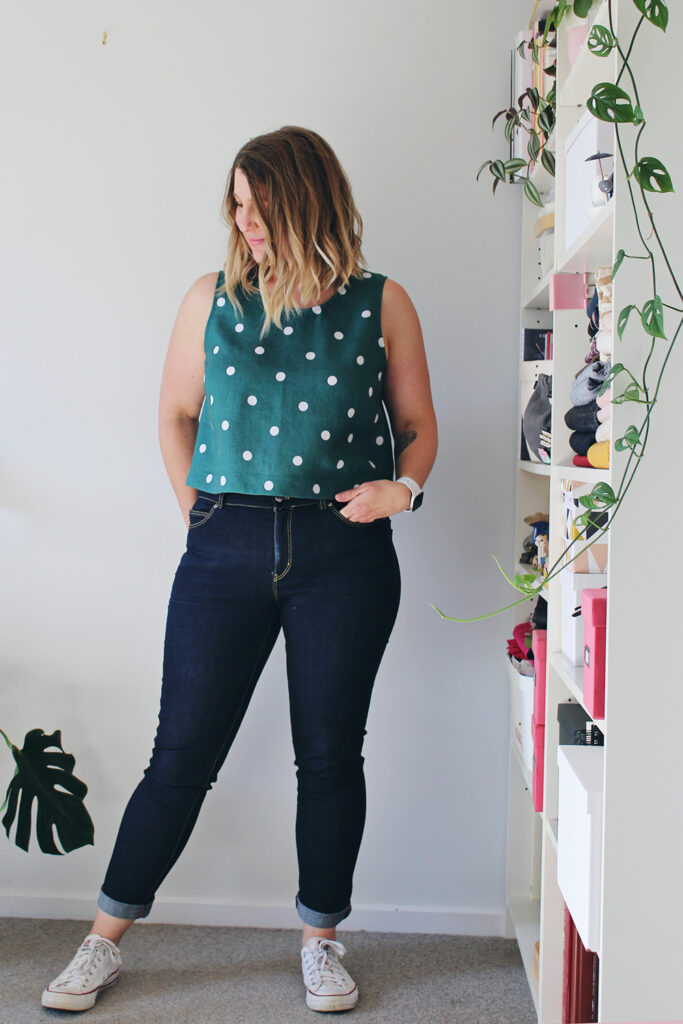 This is the Ashton Top by Helen's Closet. The Ashton is a simple tank with bust darts and an A-line shape. View A is a hip-length top and view B is a crop top with options to finish the neck with binding or a facing. And my fave part? The hems have a lovely deep facing which gives it great structure and a cute top stitching line. I went with the cropped version because why not give it a bash and chose to make my own bias binding as I really don't love a facing. The pattern comes with options for a B cup and D cup. I was just shy of the D cup so went that option because I was feeling lazy about an FBA and in the end there is a little too much extra room so I will go a B cup next time. Lesson learned!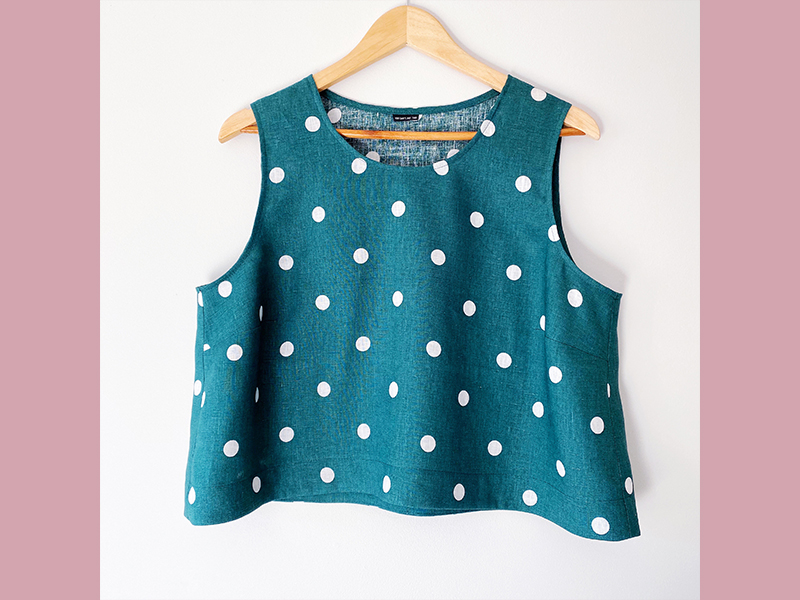 The fabric is what came first with this project because it was heart eyes at first sight! This is Big Spot Linen in Teal from Tessuti Fabrics. It has a super lovely feel and the weave is not too loose meaning it stays opaque. It is a lovely medium weight and presses like a dream. As I haven't really dipped my toe in the teal pool before I also used Tessuti's thread matching service which was super helpful! And if you aren't a huge fan of teal there is also a gorgeous blush, terracotta and navy to chose from. Must. Resist. Urge. To. Buy. More. Pink. Fabric.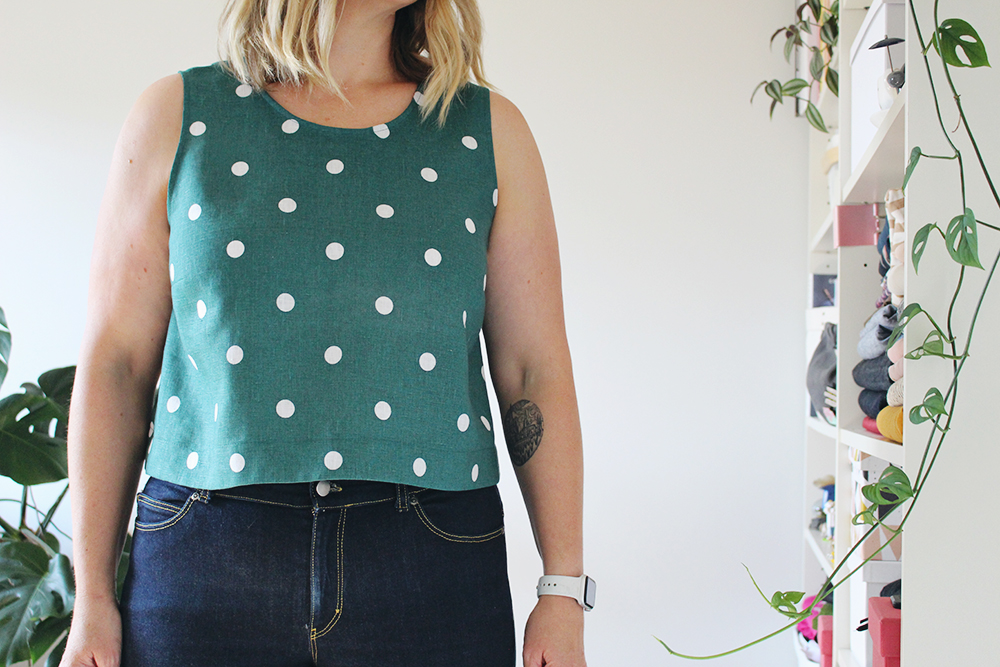 Construction wise, this was just what the doctor ordered. Clear, well illustrated and easy. As it was such a simple pattern and I got myself into the groove I decided to do French seams for a lovely finish (and also I didn't want to pull out my overlocker!) and added a Kylie and the Machine label for a touch of fun. If you need a cute and easy project to gently nature your sewing mojo back I can strongly recommend this!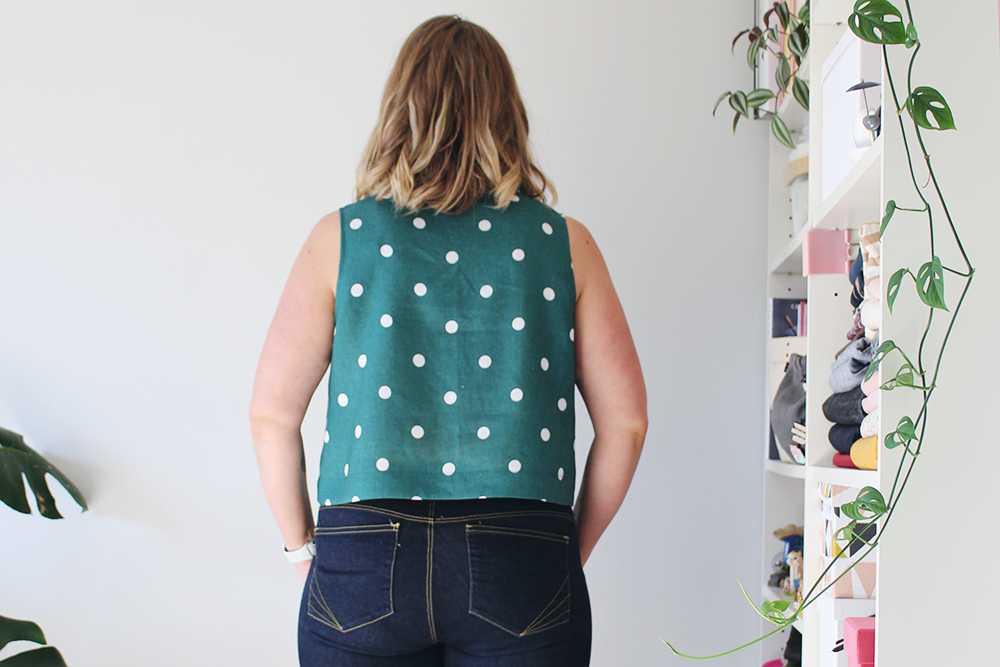 What I loved about this pattern:
The deep hem. I am such a sucker.
The fact it was such a simple and easy pattern that was easy to follow, required little fabric and results in such a cute a-line tank.
What I would change for next time:
Go with the B cup option. It is just a bit too roomy in there.
Add 2cm to the hem. The top ends just a smidge above my jeans and I am one of those people who use their hands waaaaaay too much in convos and this has resulted in a chilly tum a few times when I have gotten into the story about taking on vegetable stealing possums.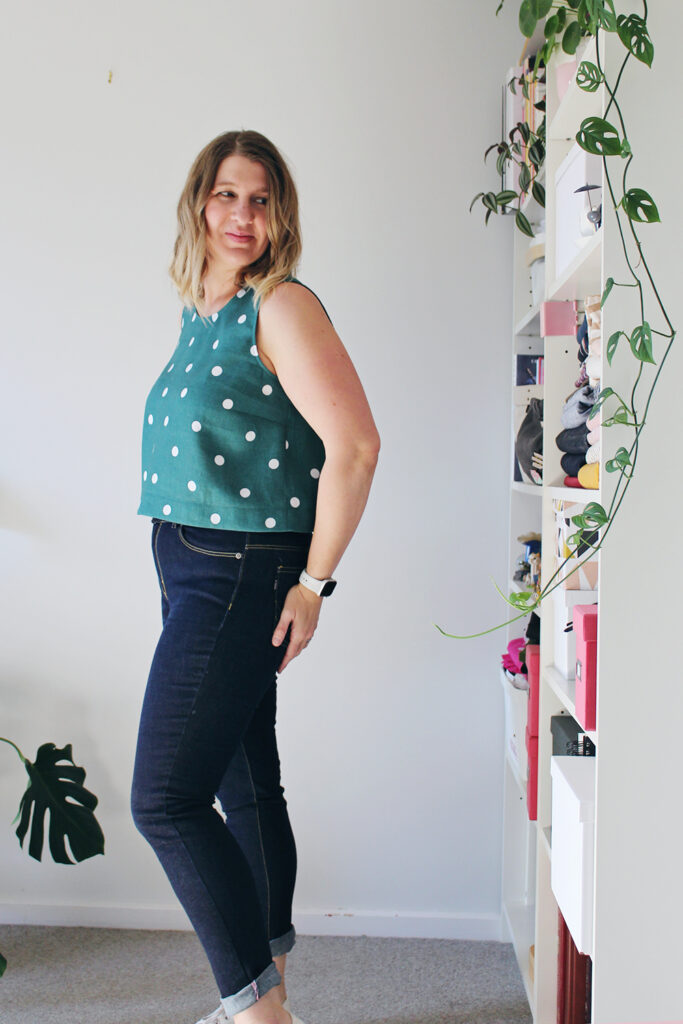 The Deets
Pattern: Ashton Top by Helen's Closet
Fabric: 1.5m of Big Spot Linen in Teal from Tessuti Fabrics
Notions: thread, Beanie hugs
Size: 16 in D cup
Alterations: none
See also: Broad in the Seams, Handmade Frenzy, Megan Makes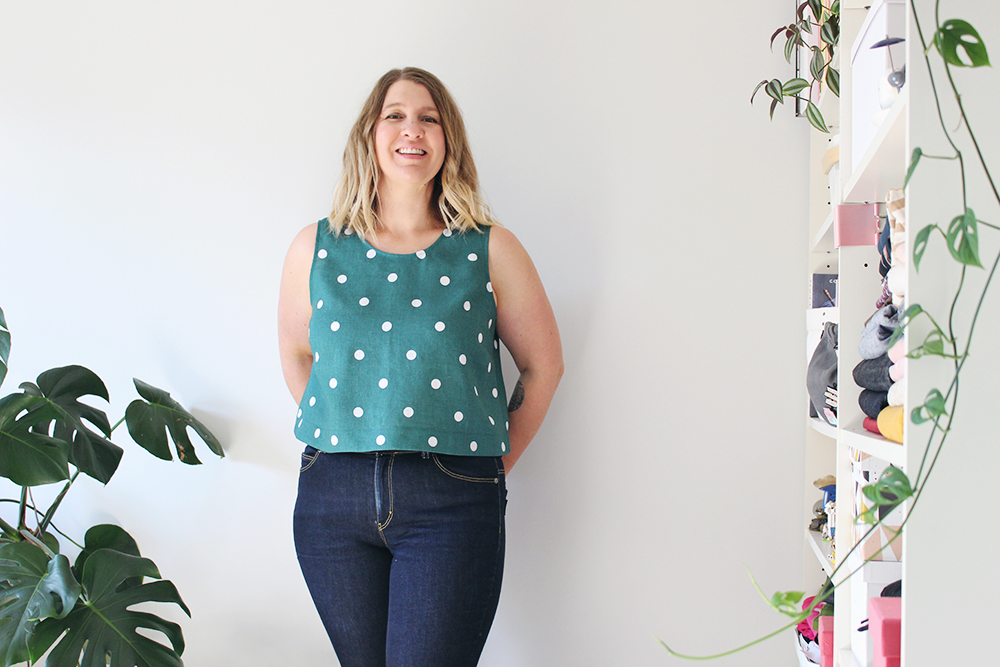 Overall, I love my happy, spotty top so much! It is a fun layering piece for the Canberra winter (brrr!) and I can't wait to take it for a spin come summer. And between this and my Undercover Hood my wardrobe is slowly starting to include some green. Hurrah! (but pink is still the best!)