This lady has been hibernating hard this winter and is finally crawling out of my doona (duvet) fort and back to my machine. And what better way to celebrate this by creating my happiest pants ever! And I don't mean M.C. Hammer-esque pants but super cheerful, mustard trousers. Check them out!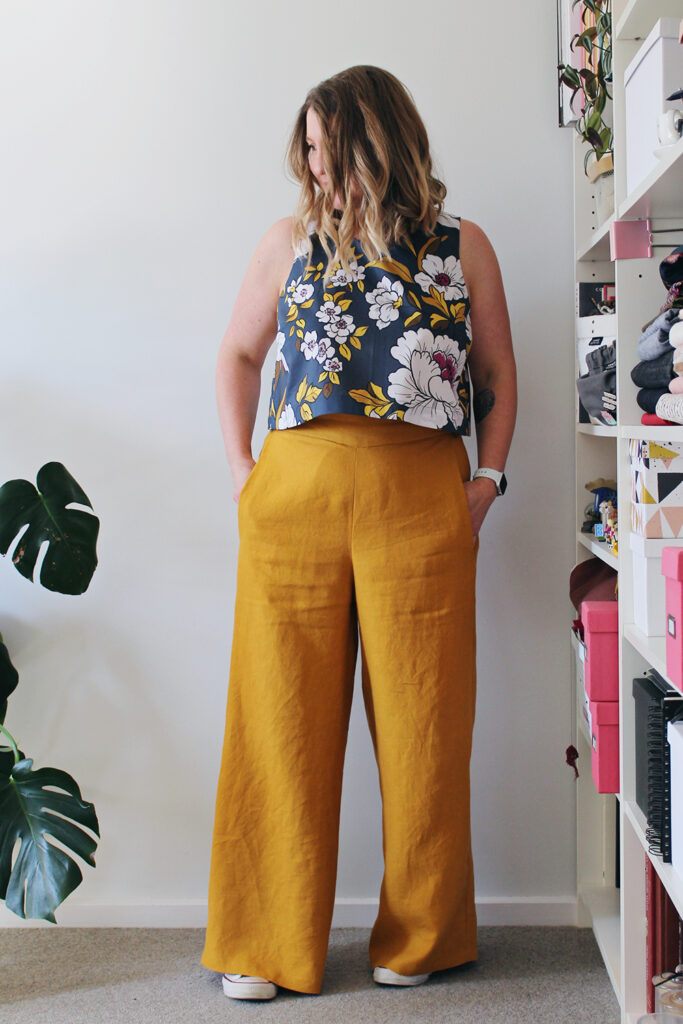 These are the Calder Pants & Shorts by Cashmerette. The Calders are wide-legged woven trousers feature a flat front, elasticated back waistband, faced in-seam pockets, and three length options: mid-calf, full, and shorts. The pattern has two options: an apple fit (no darts on the butt) and pear fit (butt darts). I have been eyeballing this pattern since seeing Shannon's pair a few months ago and after spending this winter living in my single pair of Claryville Jeans decided it was time to give myself a second pair of pants. What can I say? This lady is extravagant!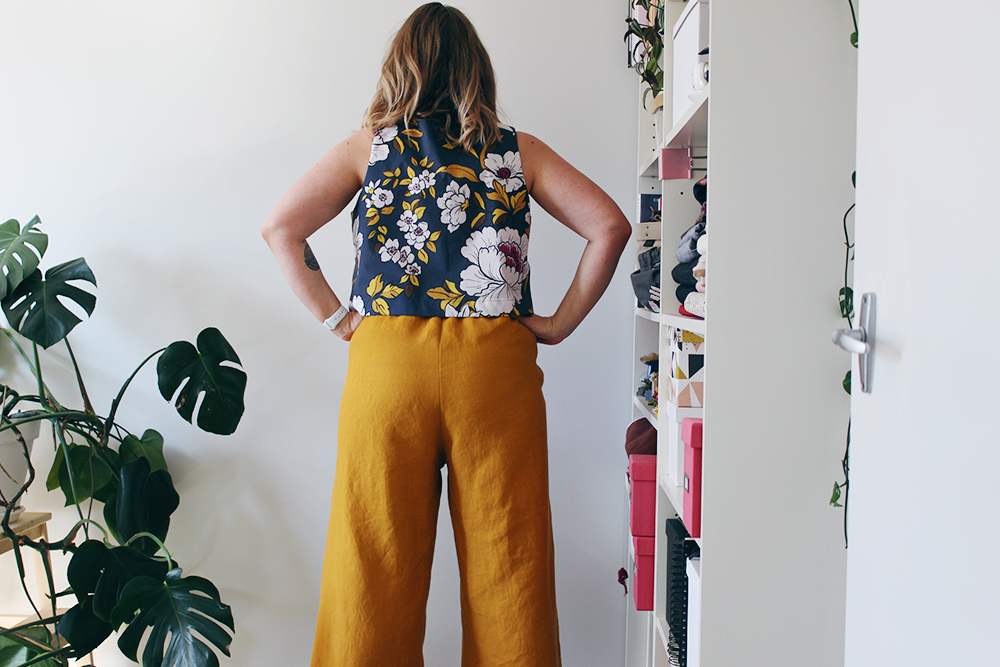 The fabric is heavyweight linen in mustard from The Fabric Store. I've had this sitting in the stash for quite a while and had originally bought it for a pair of overalls. I've not sewn with heavyweight linen before and I have to say it was lovely to work with. It presses like a dream and has a nice weight which means I should be able to wear these as we see out the end of winter and into spring.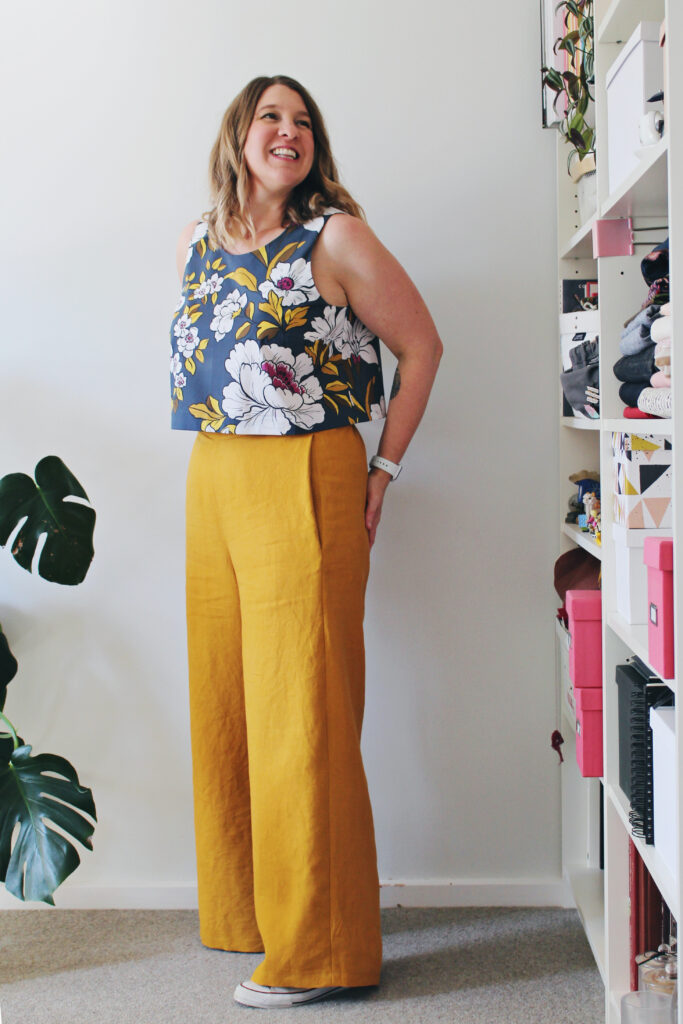 Construction wise, I'll be real. These were a trial. I got super excited and sewed them all up at a Canberra sewing crew catch up and then when I easily pulled them on over my jeans it was pretty obvious they were too big. So I went home, unpicked and redid the waistband and found they were still all over too large. This resulted in two nights of unpicking an entire pair of pants and recutting down a size. The good news: the size down (with a slightly larger seam allowance) fit like a dream. The bad news: I attached the pockets to the back waistband. GAH! So it was back to the unpicker to fix them up. But it was totally worth it! Except for the fact when I put them on for these photos I realised I forgot to sew the bottom of the right pocket bag closed. I fear these pockets are cursed and need to rethread the machine and get them sorted. One day! But I mean, look at this fit! I'm rather delighted!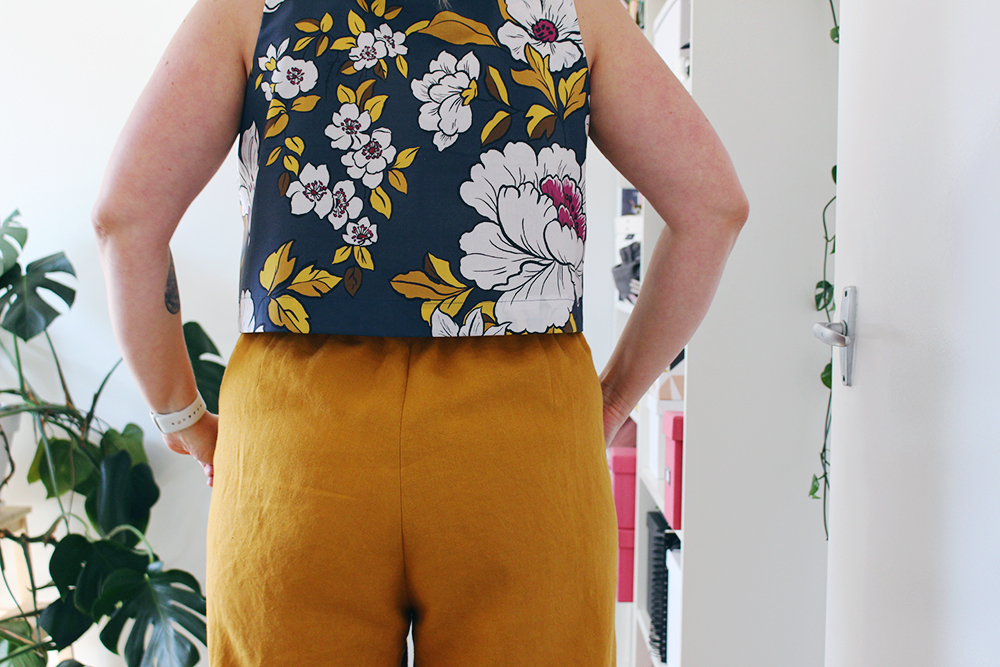 What I liked about this pattern:
The mullet situation happening here. As in, business flat panel waistband at the front, elastic party waistband at the back. It's genius! And comfy! And cute! Consider my mind blown.
Where the waistband hits me. It's much higher than I normally wear but I dig it. And I can wear cropped tops (like the Ashton Top I'm wearing in these photos which I made to match these pants) like a boss.
How easy this pattern is. It is a great one for folks new to sewing pants to dip their toes into.
What I would change for next time:
Use a mid or light weight linen or fabric with a softer drape. I find the gathers around my butt are sticking out a little due to the stiffness of the fabric.
Sew the dang pockets correctly. Heehee.
Try the shorts!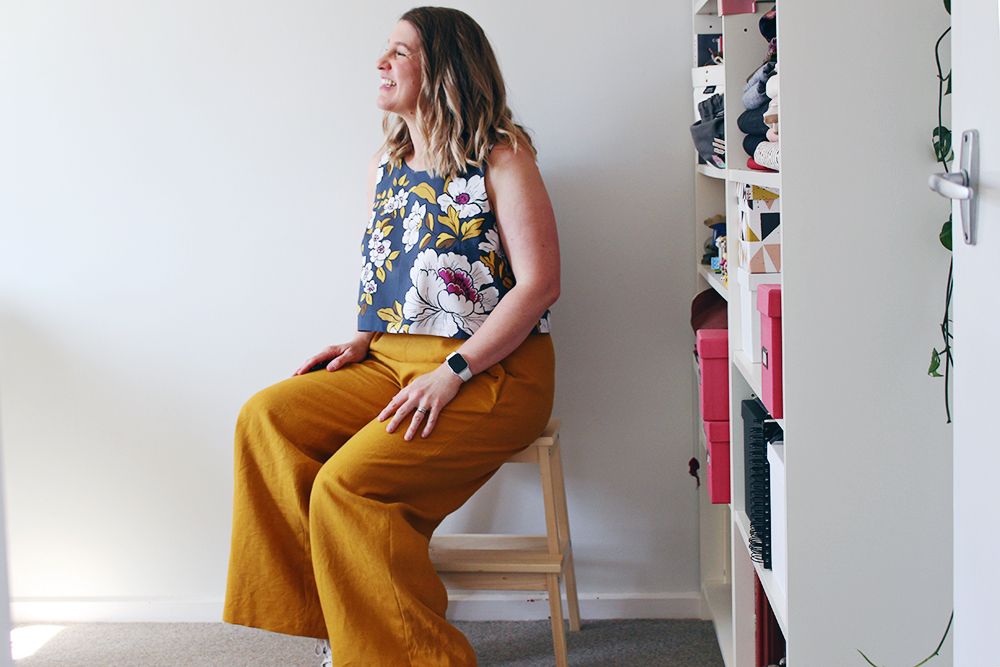 The Deets
Pattern: Calder Pants and Shorts by Cashmerette
Fabric: 2.7m of mustard heavyweight linen from The Fabric Store
Notions: 1m of 50cm wide elastic, thread
Size: 12 (in the end but 14 originally) in the pear fit
Alterations: recut to a size 12, used a 5/8″ seams allowance
See also: Crafting a Rainbow, Rare.Device, Cookin' and Craftin'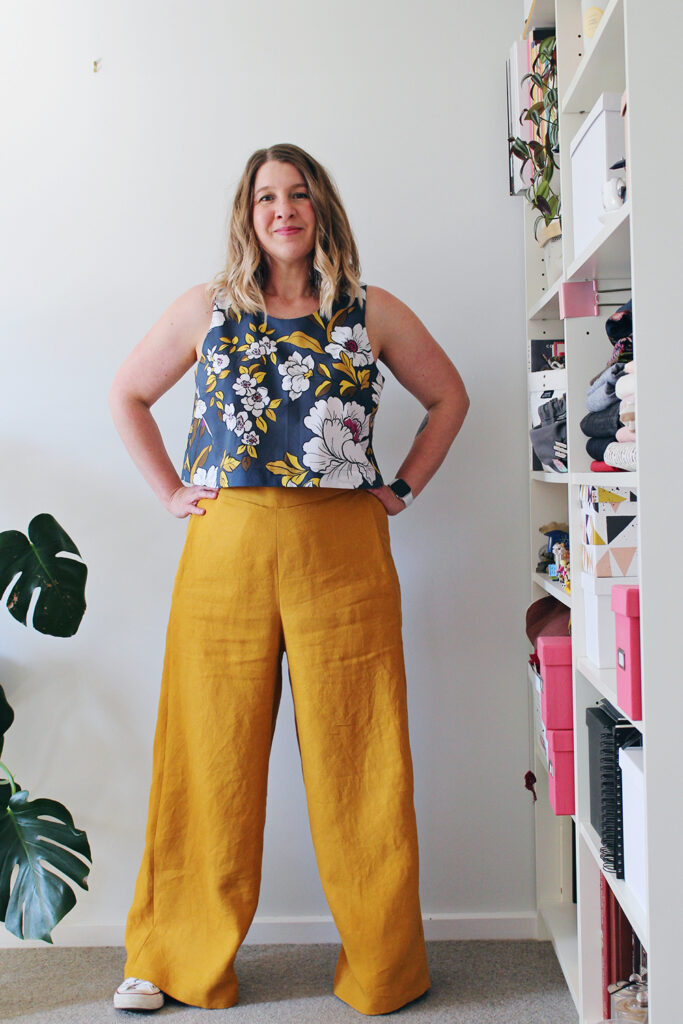 Overall, I love these pants so much! They seriously go with so much of wardrobe (thanks Past Amanda for sewing lots of autumn colours for the last few years!) and I have been wearing them non-stop since they came off my machine. I have plans for some shorts versions (pink!) and another couple of pairs of long pants to see me into summer. Here is to comfy pants in colourful colours to take us through the rest of 2020!