Real talk: is there a time a time in your life when you pull on a striped shirt and don't feel like a a very stereotypical 80s cartoon mime? Just asking for a friend… 🙂 Regardless of my mime status (in training) I do love a striped shirt and with the weather getting decidedly colder it was time to whip up a long sleeve version in a snug knit. And being that it is me driving the sewing machine, you better believe it was time to revisit my old friend – the Plantain Tee.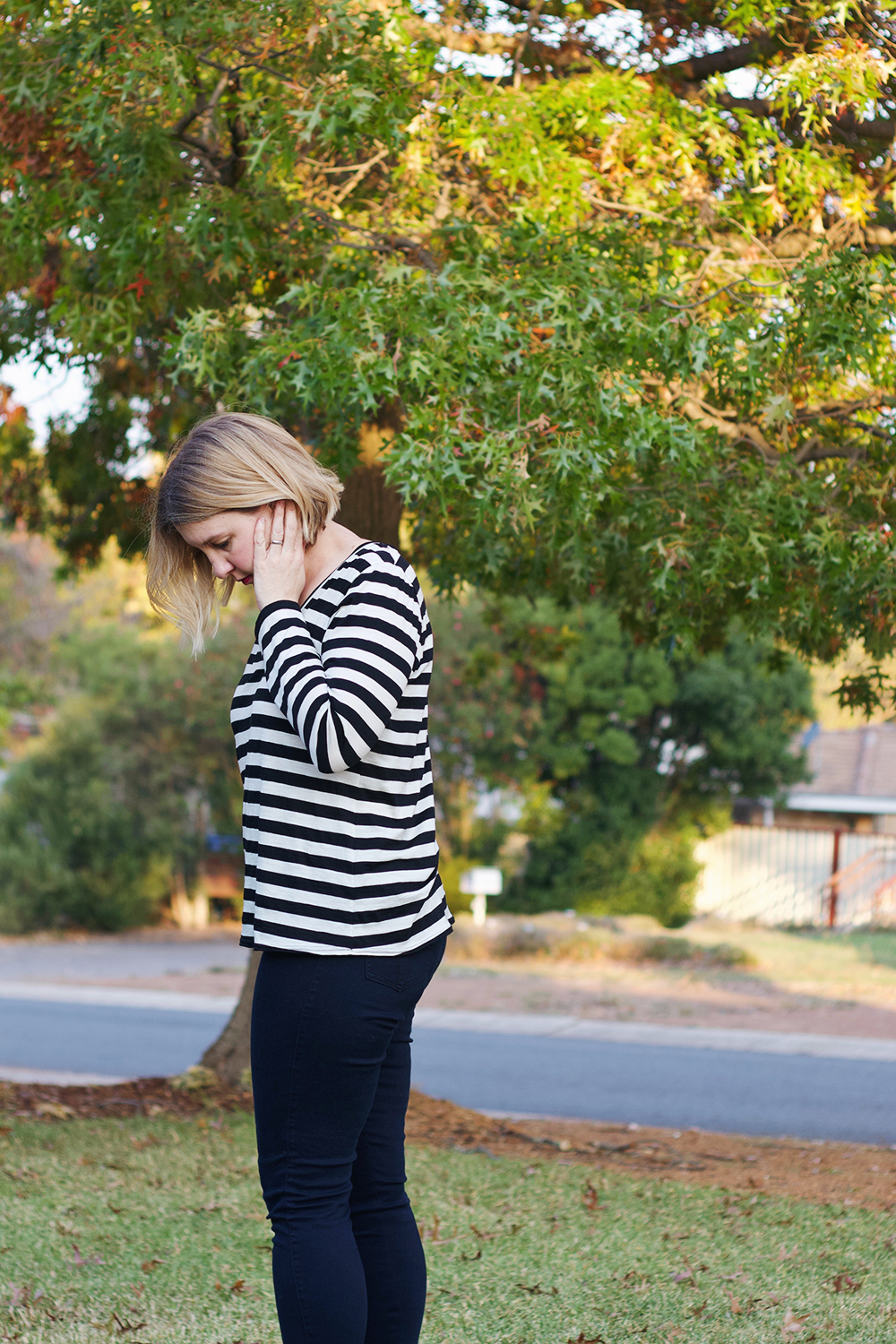 I'll keep this super quick as I've talked about it a million times before – this is the Plantain Tee from Deer and Doe. It has a scoop neck, gentle a-line flare and three possible sleeve lengths. The size range runs from a 34 to a 52 and this lovely number is free from Deer and Doe if you create an account.
The main reason I made this tee up was during my last visit to The Fabric Store in Sydney I unearthed the perfect width black and white strip merino jersey. It's no secret I love their merino hardcore and finding a nicely balanced stripe was such an epic win. However, I got overwhelmed with too many fabric choices and limited time so grabbed a bunch of swatches to take home. Thankfully there was still some in stock the following week so yay for phone ordering! One thing to note with this particular merino is that it isn't heavy weight so it is perfect for tees, is super comfy to wear but if you a have coloured bra on it will show a little in the white part of the stripes. Things you learn…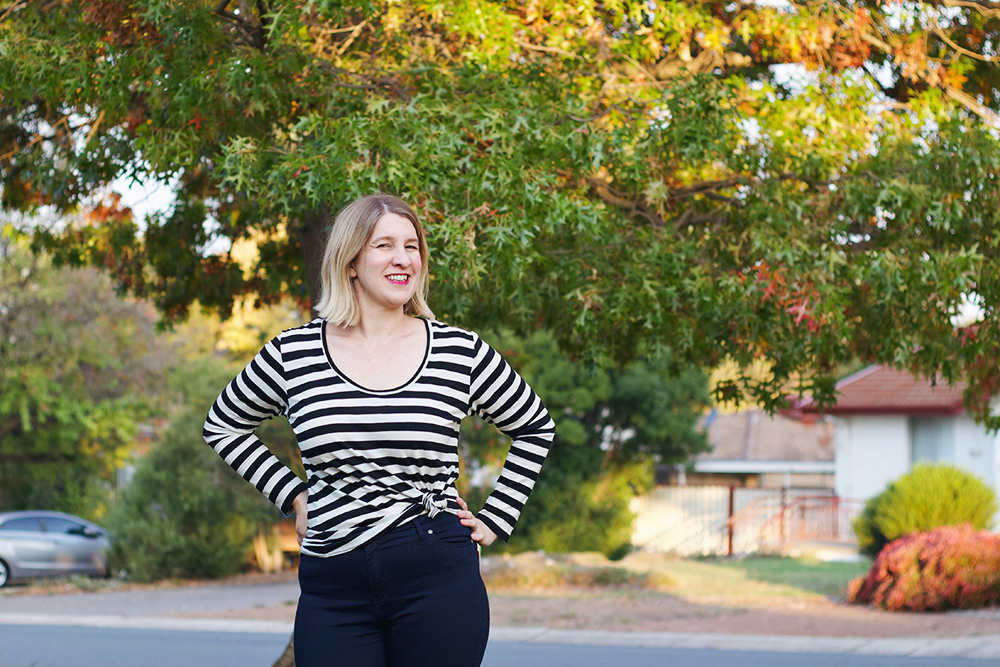 So let's chat construction. After making my last Plantain, a few lovely folk pointed out that the pattern had been re-released. This made me curious so I downloaded a copy of the re-release and gave it a whirl. What I can confirm is that the upper bust has a bit more room to breathe (teehee bad pun!) and the side a-line has come in a bit. It also has an A0 copy shop version which is great if you are doing the long sleeved version and remember to go to the copy shop on the way home from work. Or you can forget and have to print 5,000,0000,000 pages at home in a sulk and tape them together while eating ice cream and watching Slow TV. Or so I have heard from a friend…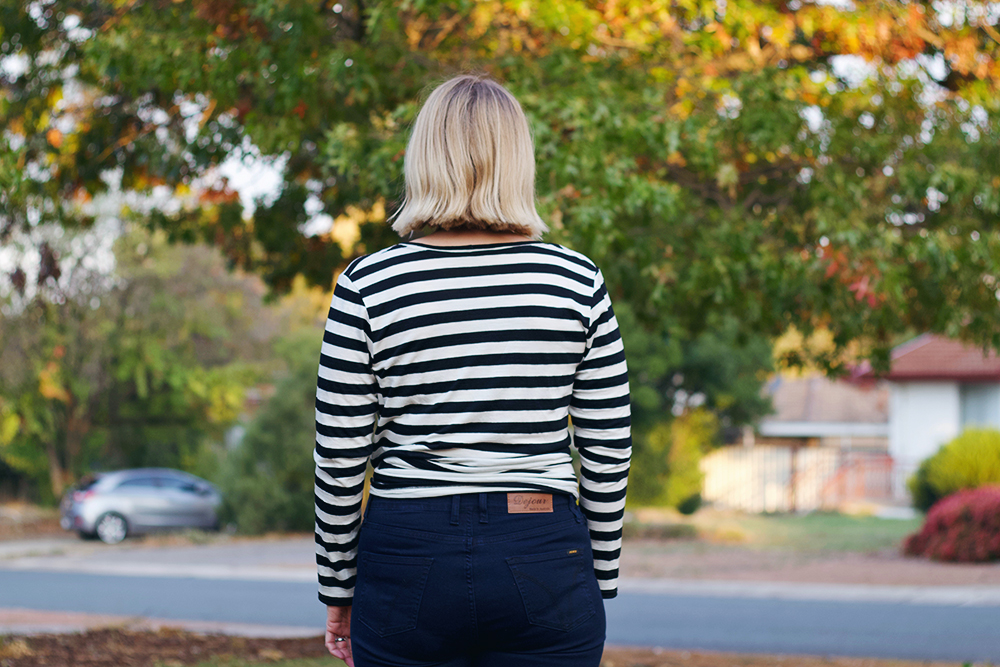 Alterations wise, I need to a little work here. As my body has changed a fair bit during my surgical recovery (finally got cleared to try a 200m jog yesterday – it was AMAZING and also hard!) I decided to go up a size to give me a bit extra room. In hindsight, this probably wasn't needed in a relaxed fit tee as the top of the sleeves now feels too wide, the sleeves themselves are very loose and the fit feels quite baggy. Next time I'll go with my regular size and FBA/broad upper back and see how it goes. I also shortened the sleeves a little because I'm sassy like that!
The Deets
Pattern: Plantain Tee from Deer and Doe
Fabric: 1.5m of striped merino jersey from The Fabric Store
Notions: thread
Size: 46
Adjustments: shortened sleeves to bracelet length
See also: Past Amanda short sleeved version, Past Amanda 3/4 sleeve version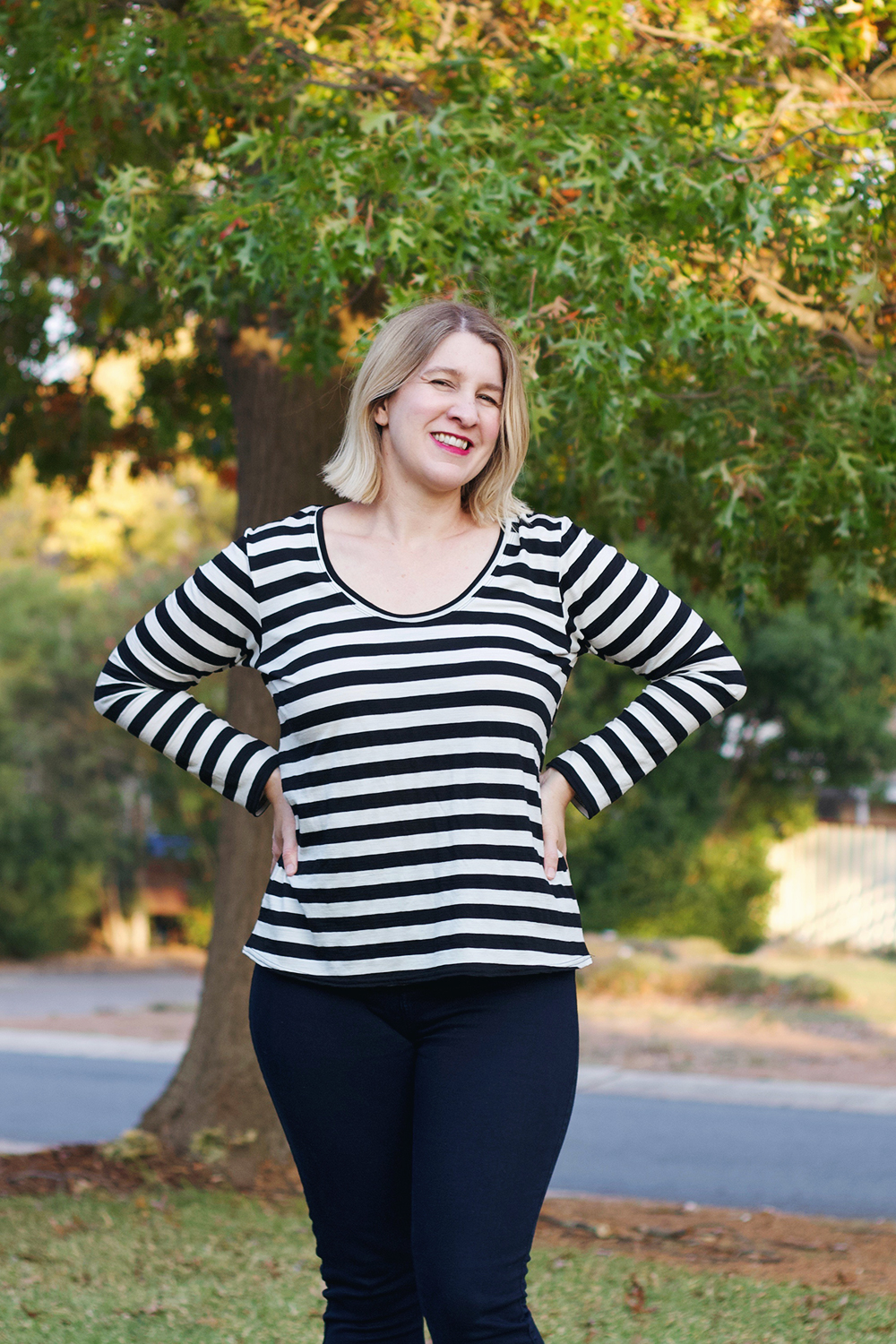 Overall, this is a super comfy top in a super comfy fabric. The looser fit has made it super snuggly which is great as there is a bite to the air now. I'm looking forward to making another version in merino (surprise!) but with the fit alterations above and shall report back soon.
Now on to the other stuff – there are two pieces of big news around Chez Bimble & Pimble. Firstly, we finished work on our old house and it finally went on the market for sale this past week. It's been a tough couple of months doing reno work after work and on weekends and I for one am looking forward to having some more free time. Hullo sewing sessions longer than 20 minutes! And more importantly, the one and only Button T. Wuzzle, Esq. had her 14th birthday yesterday. There was lots of ham, hugs and squeaky balls for my girl. Happy birthday, Bimble!