For this rad lady, winter is all about the comfort options. We're talking comfort podcast (The Adventure Zone), comfort beverage (cocoa with at least 5 marshmallows) and comfort clothes (flannel PJs with elastic waist). Using the theorem that comfort = winter win I have been gently coaxing my sewing mojo out of hibernation with a comfy pattern and fabric combo. Sadly, no elastic waists included…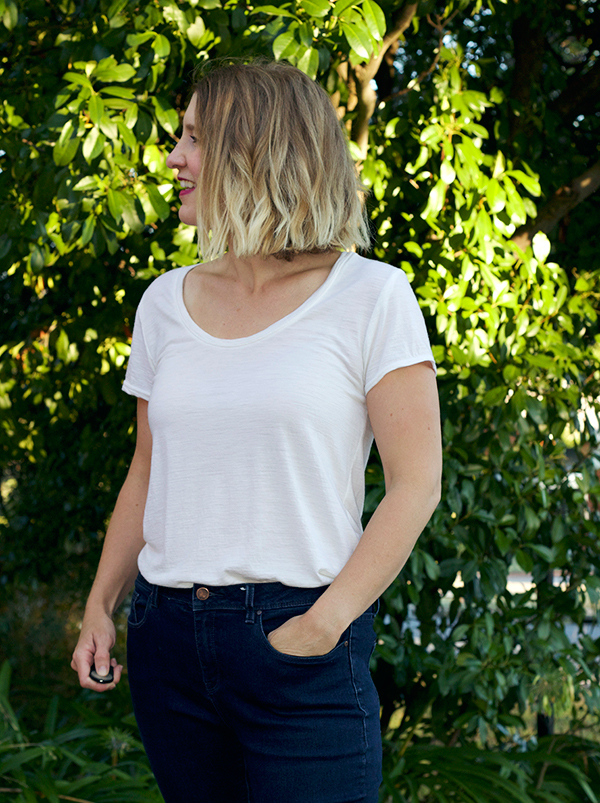 This pattern is an oldie but a goodie – the Deer and Doe Plaintain T-Shirt. The Plantain is a scoop necked tee with a flared hem and as with all D+D patterns seems to treat my FBA-needing lady cargo pretty well. The size range of the Plantain has increased and now runs from a 34 to a 52. And did I mention this sucker is a freebie? That is my kind of price tag!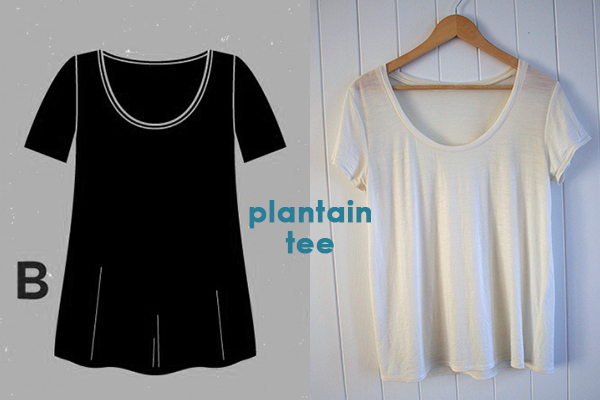 The fabric is a lightweight merino jersey in the ivory colourway from The Fabric Store. I snaffled this in Melbourne but you can find it in any of their stores and online. I've used this before for making a tee and it lasted really well. I was always hesitant to wear a merino t-shirt because for some reason I thought I'd overheat but the rad Rachel changed my mind on this a few years back and I'm glad I listened. I wore this top repeatedly on holiday in Vanuatu and it lasted well in the warmth and humidity. This lady stayed as fresh as a sassy daisy!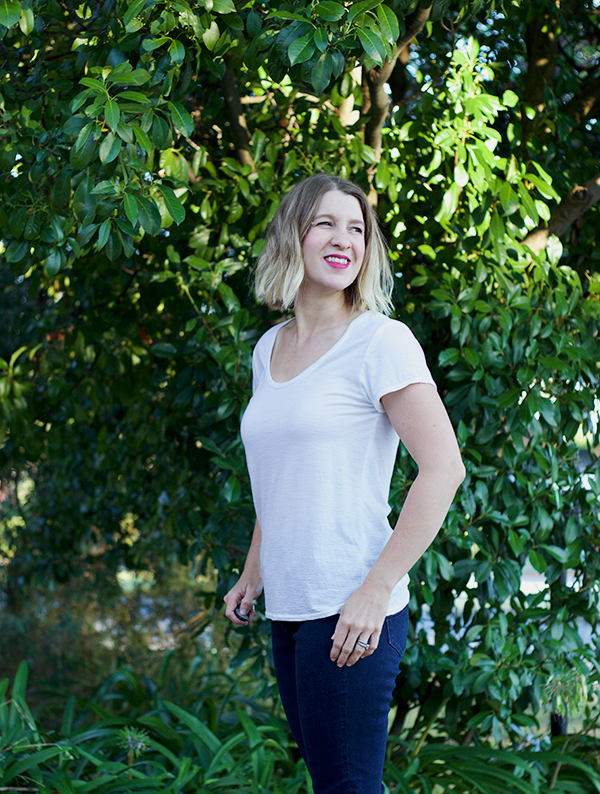 The construction of this sucker was super easy. There is only a few pieces and the instructions are clear and easy to follow. The exciting news is that I played around on my coverstitch with this one and had fun with a fancy hem. Do I need that extra line of stitching? Heck no! But it makes me feel fancy and isn't that what creating your own clothes is all about?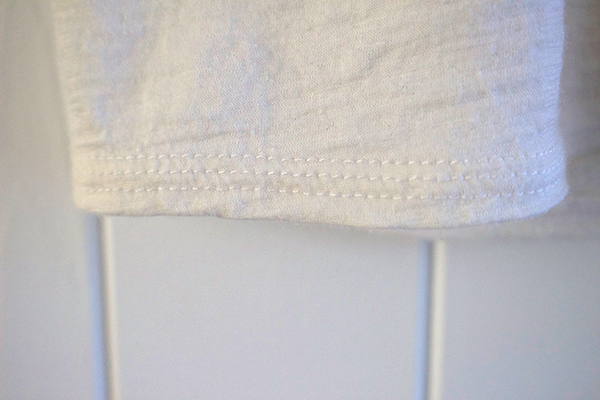 Alterations wise, I slimmed down the sides of the tee. The flared shape is great for wearing a tee out but I wanted something for tucking into my chambray shorts and my jeans. No fancy technique here but thought it was worth mentioning as there are draglines round the back over my hips when the shirt is out. Here is a picture I prepared earlier to illustrate this (gosh I'm good like that!) 😉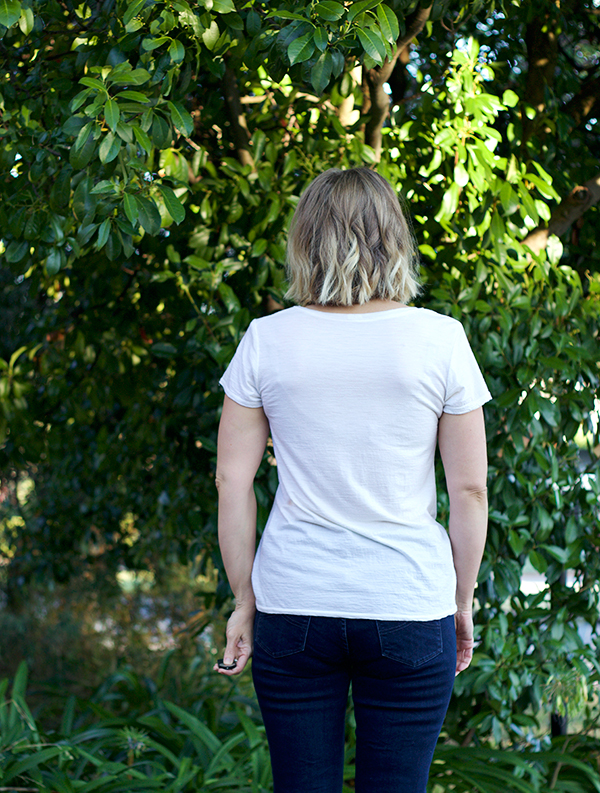 What I liked about this pattern:
That sweet scoop neck. This is the main reason I keep making this tee – the scoop is just perfect.
It is a quick win. With my sewing mojo completely shot something like that practical and quick to make is a good confidence booster.
What I would change for next time:
Find out what the go is with those drag lines near the armholes. It's time to don my deerstalker hat!
Potentially shorten the hem by a couple of centimetres if I want to wear it untucked. I like my shirts to hit my hip bones and no longer. Geez I'm fussy!
The Deets
Pattern: Plantain Tee from Dee & Doe
Fabric: 1m of ivory merino jersey from The Fabric Store in Melbourne.
Notions: thread
Size: 44
Adjustments: straightened side seam from below bust to hem
See also: shameless plug for Past-Amanda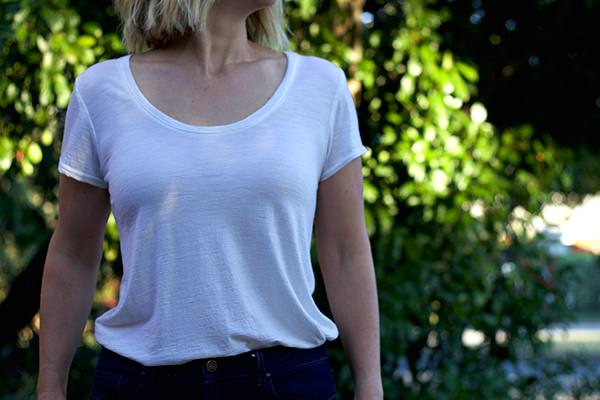 Overall, I love the Plantain t-shirt and I have been wearing the heck out of this one. I even made another one up in a tissue weight jersey I got from Mood a ways back. While I love that top it is waaaaay too transparent to wear out of the house so just imagine a super rad and floaty eggplant coloured version of the above… Nice work! You imagined it perfectly! Now to see if I can coax my sewing mojo to make something else that is not a t-shirt… I believe there is some Liberty silk calling my name!
SaveSave
SaveSaveSaveSave
SaveSaveSaveSave