Happy new year, y'all!
I'm not sure how you guys spent your festive break but mine was chock full of hanging at home with my peeps, jigsawing like a boss and watching all the Harry Potter movies back to back. Pretty much the best time ever. But after a few days my sewing hands got twitchy and it was time to knock up a festive gift for a friend. But what pattern do you chose when you are 1300kms apart and can't do fittings, have diametrically opposed clothing styles and want to make something a bit fancy? Three words people: super. rad. kimono.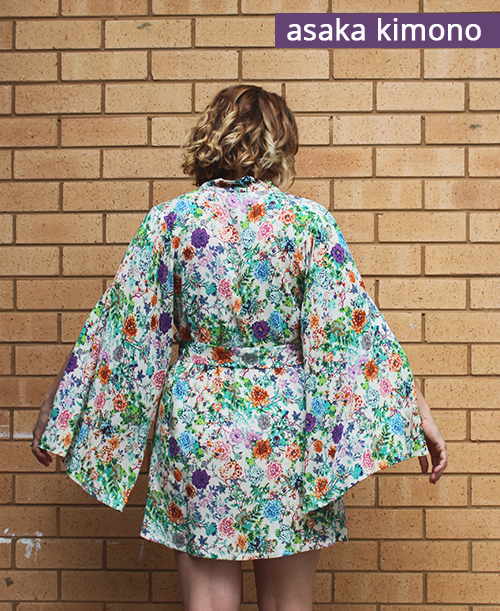 This is the Asaka Kimono by Named. This pattern is an open front, relaxed fit kimono with the most epic sleeves in existence. Think wide cut, two pieces and a bananas crazy long vent. Seriously awesome. And also seriously fabric hungry, but no bigs! I am also going to flag at this point that my friend's version being worn here is four sizes smaller than the size Named would have me make for my measurements. After wearing this size for the photos and getting a feel for the relaxed fit I think the one for me will be a size down from the recommendation. But I digress – due to my impatience to get this made up I went with the PDF pattern version and ended up having to print all the pieces out twice due to the universe hating me over the festive season and running out of tracing paper. Ugh. As a result printing, taping and cutting a couple of hours. Learn from my mistake, peeps. Be patient and order a printed copy to trace OR have a sewing helper monkey trained to assemble and cut your PDFs for you… Actually, that is a tops idea! I would call my helper monkey Hugo and pay him in bananas and hugs… But I digress…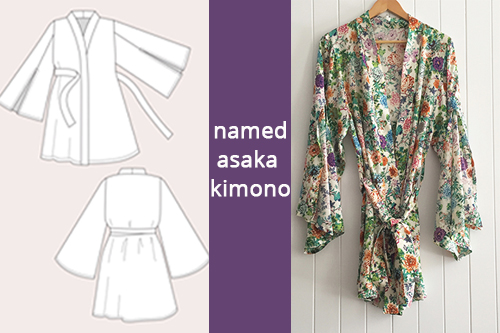 The fabric is a super drapey and slippery rayon from Joy's Fabric Warehouse and unfortunately it is all sold out now. Boo! The floral pattern is perfect for a kimono and it feels absolutely luxurious on your skin. Real talk – this was my first time sewing with rayon and there were lots of rookie mistakes made. We're talking cutting on the fold not on the flat so sides were seriously uneven, draping bias cut pieces over the back of the couch overnight so one sleeve head went all mutant shaped and not putting in a fresh needle to start resulting in the machine eating my first seam attempt. Ugh! Just because you have been sewing for a couple of years does not mean you don't make epic fails anymore… On the plus side, as it was holidays I could go sulk and rewatch Jessica Jones with a gin!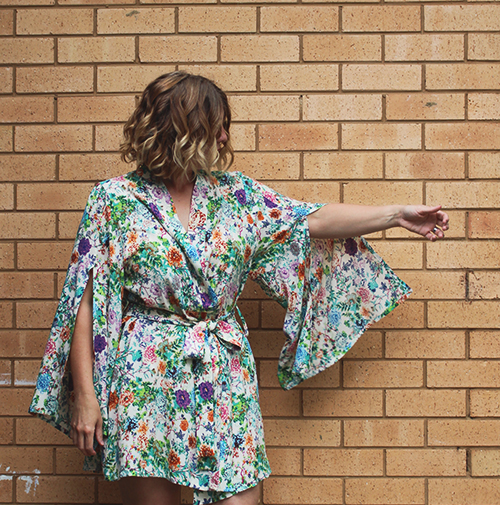 So let's talk construction. Whilst the Asaka is rated Intermediate I believe a confident beginner (armed with cotton rather than silk/rayon/slippery fabrics of cheekiness) could whip this up and have a tops garment. One thing to note is the pattern doesn't specify French seams as the standard, which is odd given that the recommended fabrics are all slippery suckers. The seam allowances for Named are 3/8" and made for the smallest French seams I have ever done. I ended up using my walking foot to help feed the fabric evenly, took it slowly and it was so worth it in the end. The insides look absolutely smashing! The instructions were easy to follow which hypothetically lends itself to straightforward construction. Unless you cut fabric on the fold and let it stretch out and then have to ease extra sleeve head in even after you try and trim it down but then you sew that irksome sleeve inside out because you are tired and grumpy and now the misshapen sleeve head is fraying from your unpicking efforts. UGH! Needless to say we got there in the end  with our good friend the seam ripper. The moral of this story, folks? Spend Boxing Day rubbing your belly after eating your Christmas feast and jigsaw-ing like it is hot and don't try to sew up slippery fabriced numbers!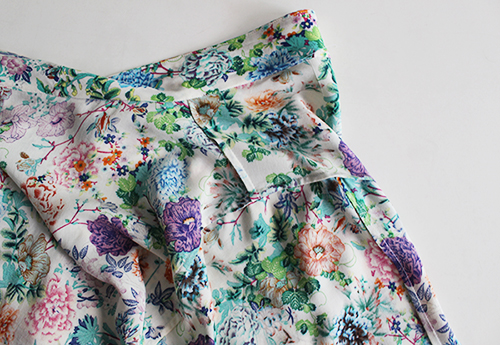 What I liked about this pattern:
The sleeves. They make me want to swoon with their fabulousness!
The lack of fitting required. When you are gifting for someone 1300kms away it is tops to have something that you don't have to toile.
Pretty much the whole dang thing, really. Maybe it is all the festive champagne talking but this whole pattern rocks out hard.
What I would change for next time:
How about we start with the obvious one and make one for myself? Because from where I am sitting that would be a seriously boss move!
Cut the pieces on the flat. Gah! Such a rookie mistake. Is there some form of sewing world hazing? Because if there is I feel like it is my time to undertake it…
Lengthen the belt. I know this is four sizes down from what I would wear but I want a super long belt!
The Deets
Pattern: Asaka Kimono by Named
Fabric: 3m of floral rayon from Joy's Fabric Warehouse, interfacing from the stash
Notions: thread (lots of. especially if you are going to French seam this puppy)
See also: Closet Case Files, Lindsay Woodward, What Would Maude Wear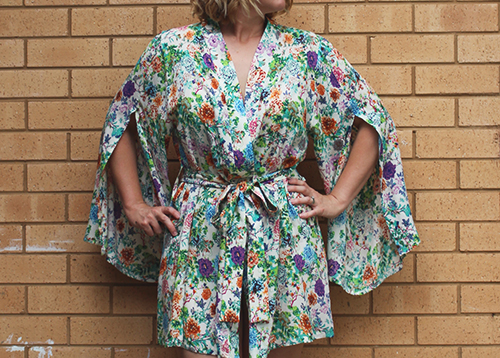 Overall, I am super happy with how this turned out and crazy sad this kimono is being sent onwards and not residing at Chez Bimble + Pimble! The Asaka has achieved the highly coveted two thumbs up rating with a special mention as a pattern for when you want to make a luxe gift for a friend and don't have the means/energy/locale for fittings. I can't wait to make one for me – watch this space! But more importantly check out these bananas crazy awesome sleeves…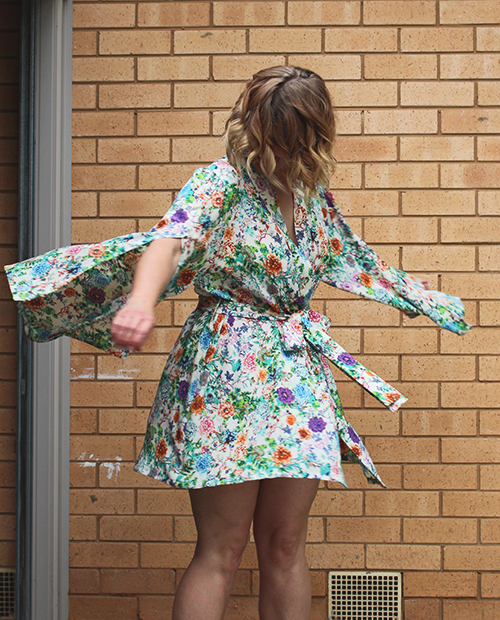 Total Kylo Ren level of awesome right there. And yes, I totally slipped a Star Wars reference in at the last minute. Were you expecting anything else? 😉