So apparently I have a knit addiction this winter. I mean, Ensis tee, Circle top and Coppelia cardigan… Where will the insanity end? Not here I am afraid with my latest make the ever so practical and ever so striped Brigitte Top from Tessuti Fabrics. It's like I'm a stylin' navy and white zebra!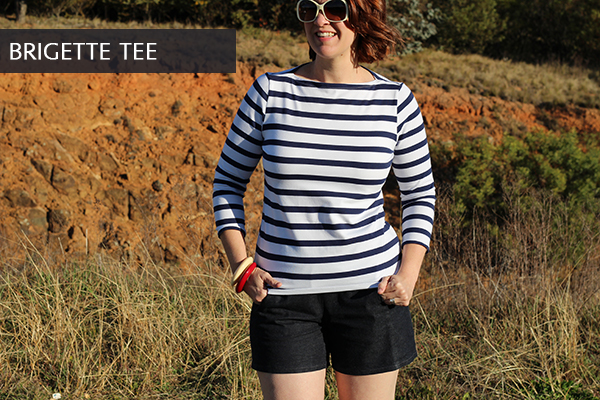 As soon as the Brigitte Top was released by Tessuti I knew it had to be made up in some rad stripes. Thankfully I had a few metres of just the right stuff in le stash thanks to the amazing Anna from Blogless Anna. The fabric is a poly blend with a four way stretch and has a seriously comfy drape. I was able to get the 3/4 sleeve version out of the recommended 1.25 metres with a bit of room to spare. Living large!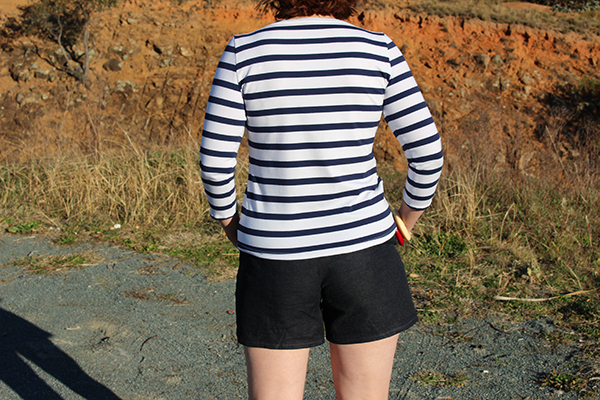 Construction wise there is not a whole lot to talk about. The instructions are very straightforward and illustrated with photos. The whole sewing took maybe 30 minutes from start to finish. I hadn't even finished listening to a podcast episode and I was already in a new top. Speed win!
Because this was a knit top I decided to be lazy and didn't make any alterations before sewing it up. This was a complete epic fail in the sense I have under arm angry eyebrows again. I've decided to start looking seriously into this issue (it's happened a few times now) and have ordered a fitting book (Fit for Real People). If anyone has any other suggestions for great fitting books please send them my way- I'd like to start building a small but rad library.
What I liked about this pattern:
Ease of construction. A fast game is a good game in my books.
The slim fit of this tee. It's like they traced off my favourite RTW number. OMG, could Tessuti be stalking my wardrobe… teehee!
What I would change for next time:
Fix the drag lines around the armholes. These things are turning me into a rage-o-saurus! RAWR!
Play around with my twin stitch needle a bit more to get a smoother hem finish.
Brigitte Tee Deets
Pattern: Brigitte Top by Tessuti Fabrics
Fabric: 1.25m of four way stretch gifted from Anna
Notions: Thread, twin needles
See also: Sew Brunswick, Baste + Gather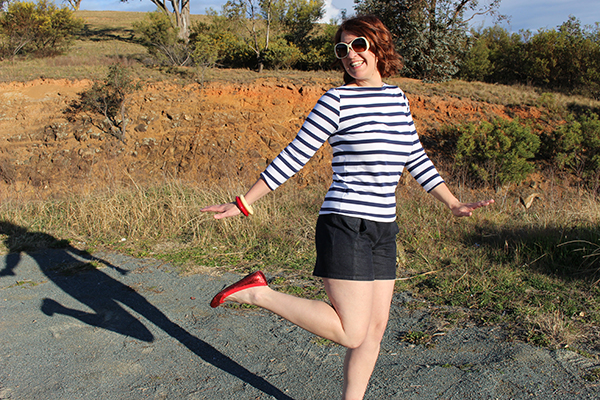 Overall, I'm super happy with how easy the Brigitte pattern is. If you are after a styling boat neck fitted tee than this is the way to go! I'm not 100% sold on how this works for me, however, as I feel like the next is too high for my style. I think I may be a boat neck lady in my noggin but in real life I am Baroness von Scoop Neckington. But what's life for if not living on the edge- neck meat covered up and all!