Between the ages of 11 to 13 I was queen of the overalls and hiking boots. Looking back, it was an immensely practical wardrobe and one that made me feel fierce. But all good things must come to an end as when I finally grew out of them they were no longer in style – and this lady was rather cranky. That is until I discovered grunge and it was all systems army surplus camouflage pants and flannel shirts. Oh, the 90s. What a time to be a teenager! So with a hat tip to my inner tween, I present you with the world's sunniest summer outfit…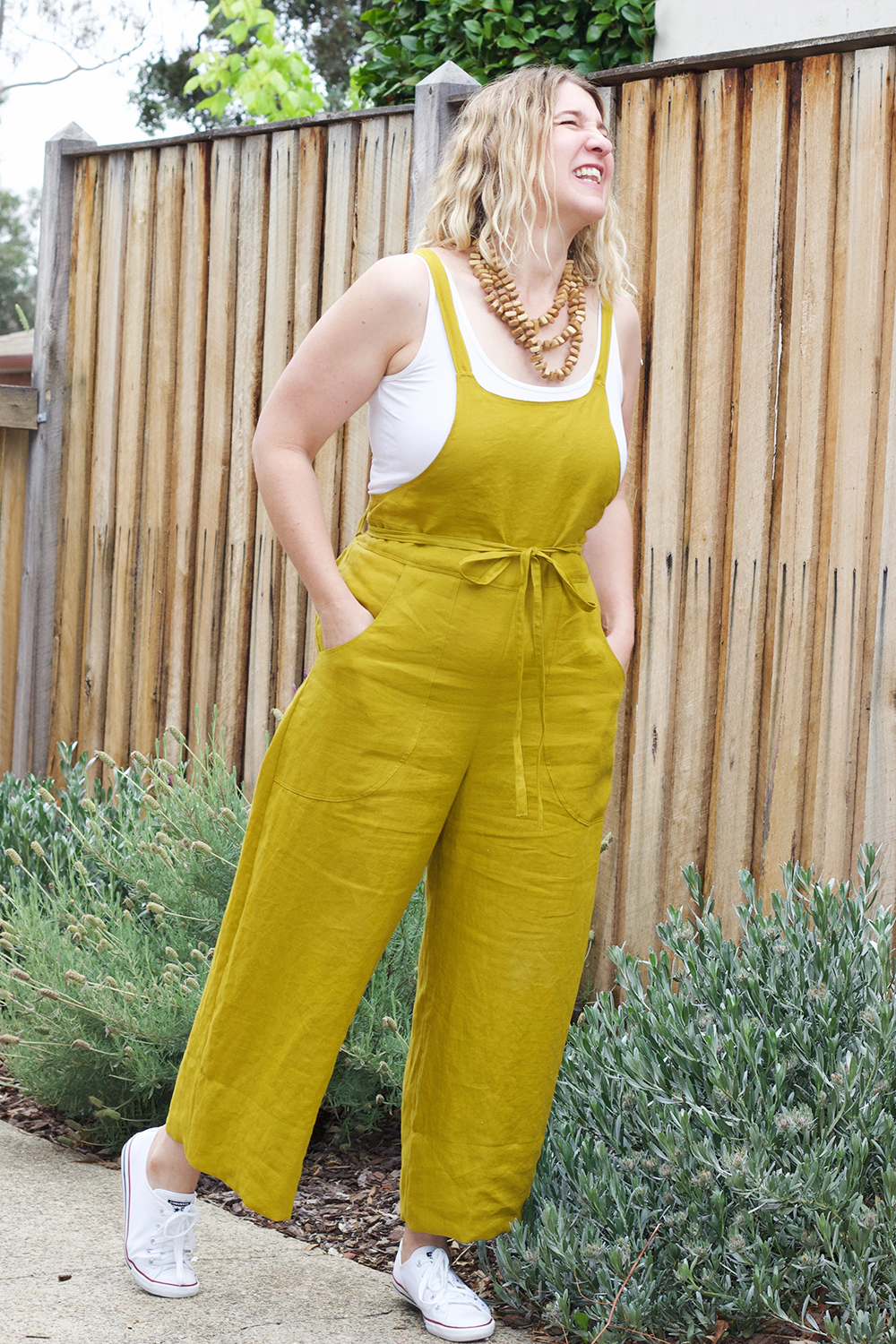 These cheerful dungarees are the Burnside Bibs by Sewhouse 7. The Burnside Bibs are a customisable version of traditional overalls – the bib section can be straight or scooped, the wide leg pants can be more fitted to flared and the waist can be lightly gathered or fuller. After stalking the Instagram tag heavily, I went with the straight neckline and the more fitted pants with a zip closure. In saying that there is enough room that I can pull these on without using the zip – which is great because I bought an invisible zip from Spotlight that broke on the first use. Coises!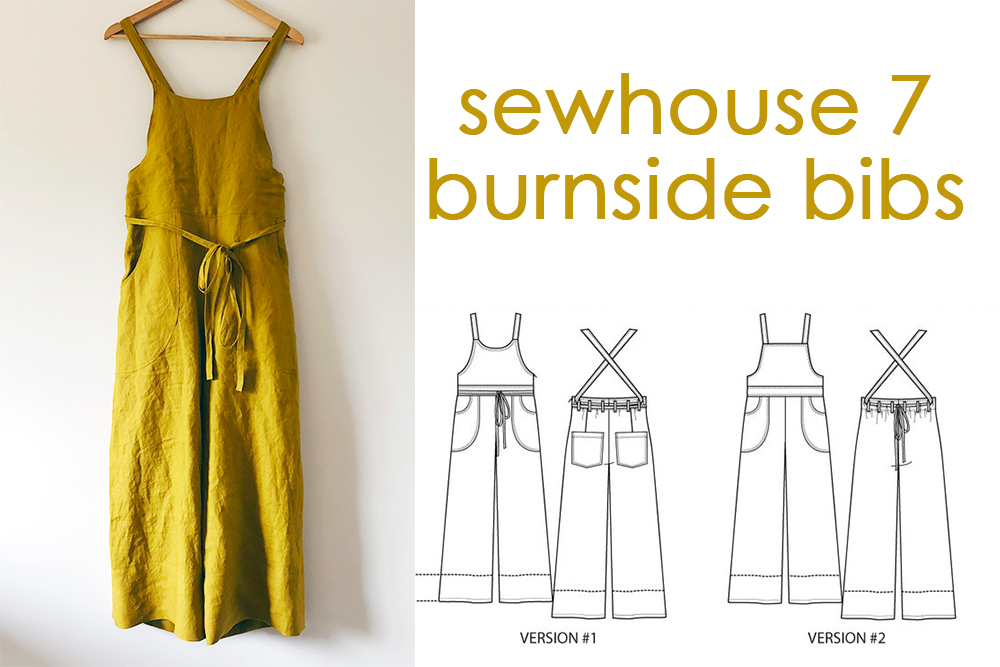 This fabric is a mix of familiar and new to me. I wanted to get make the Bibs up with a super summery feel but I've always shied away from yellows and greens. I ended up calling The Fabric Store in Sydney and getting a big card full of swatches sent out and then spent ages trying decide which colour to go with. In the end, I decided to go big or go home and went with the chartresue linen. As with all my other TFS linens, the colour is well saturated, opaque and soft on my skin. I also ponied up for the thread matching service again and it was crazy accurate. I mean, look at these stitches. Hold on – what stitches?!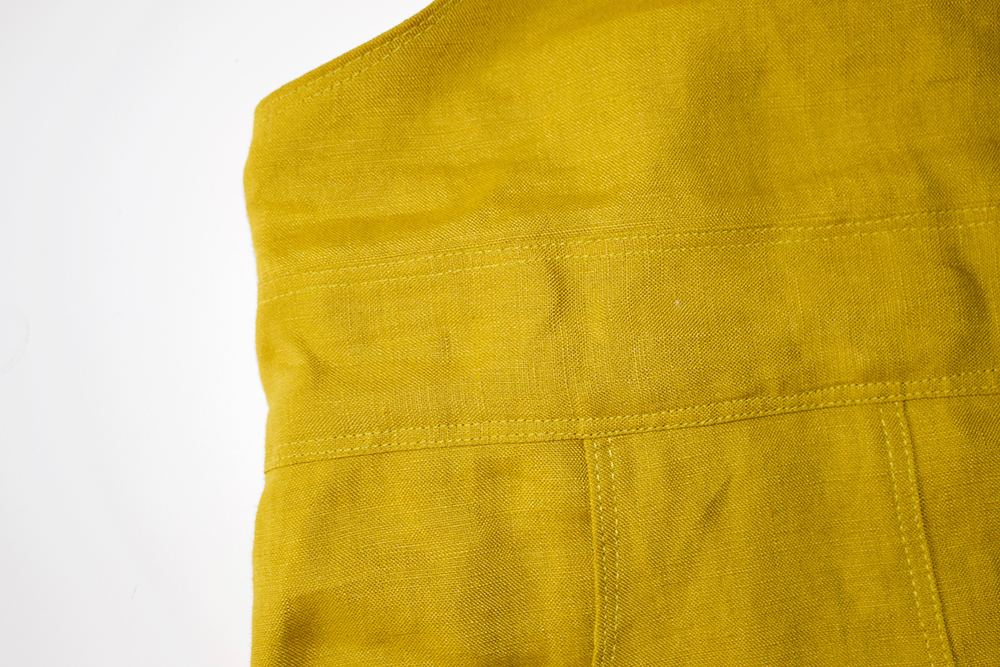 Construction wise I chipped away at this over a few weeks. The instructions are super clear and I'm glad I followed them because the construction method was different to what I would have used and it made for a very clean finish. Just a word to the wise – this project is pretty heavy on the thread requirements due to the top stitching. This lady found out the hard way and may have done a ninja LFS run to pick up extra part way through!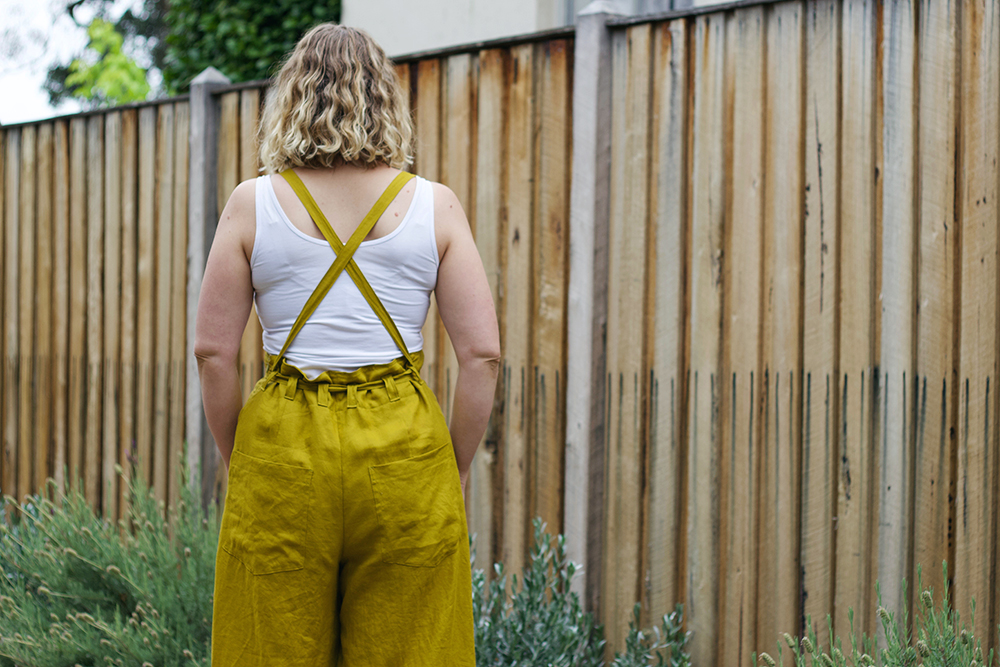 Fit wise, as this project isn't overly fitted (hello paper bag waist and adjustable ties) I didn't make any changes going in except to add an inch of length to the legs. I've found these super comfy to wear but I also wonder if it may be worth making the bib portion a little bigger for my next pair as it sometimes feels like my bust is popping out. I also had trouble deciding what length to make these. I really liked the long look but given we're heading into summer a shorter length felt smarter. In the end, I kept the length but made the world's deepest hem so I can adjust later. Huzzah!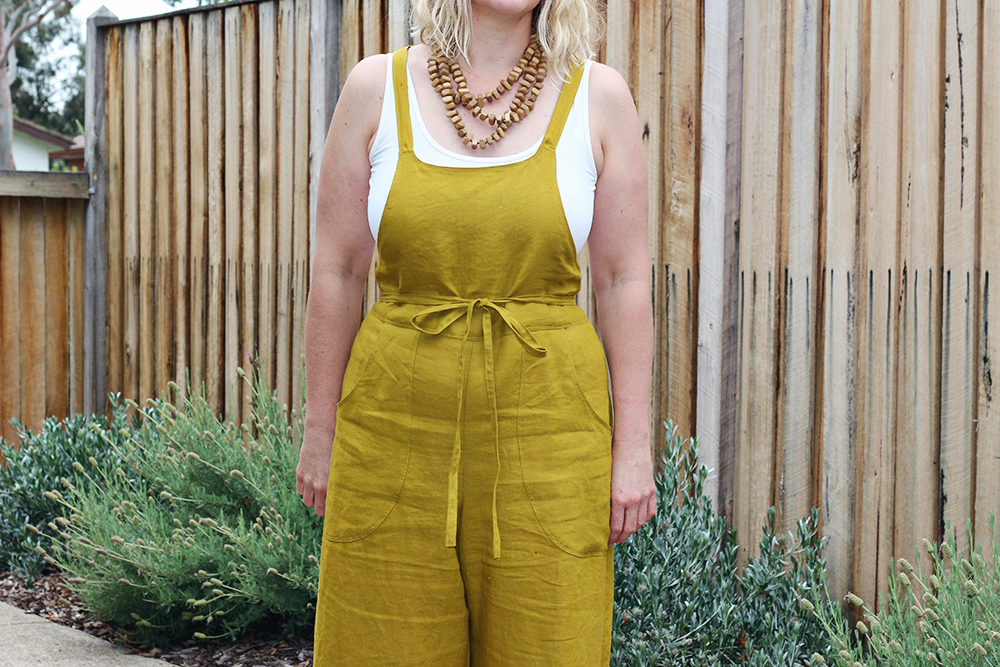 What I liked about this pattern:
The smart construction. Everything is just so neat and tidy and insides look lovely.
The paper bag waist and neck ties. This is so cool! I love how the ties also function as the belt which means fit is less of an issue.
What I would change for next time:
Possibly grade the bib portion a little larger. I'm just not sure…
Nothing else rally, I'm super happy with these.
The Deets
Pattern: Burnside Bibs by Sewhouse 7
Fabric: chartreuse linen from The Fabric Store
Notions: invisible zip from Spotlight, thread
Size: 14
Adjustments: added 1″ to the hems that I didn't need
See also: Cookin' & Craftin', Sewmanju, The Handmade Wardrobe
Overall, I have turned into a big fan of both chartreuse and dungaroos (aka dungarees). These are crazy comfy but real talk – you do have to loosen the ties and slide them off your shoulders when you need to go to the bathroom. Will I be making another pair? You betcha! I've got some sweet pink ones on my summer sewing list – though with the number of things on there at the moment this may be a little while.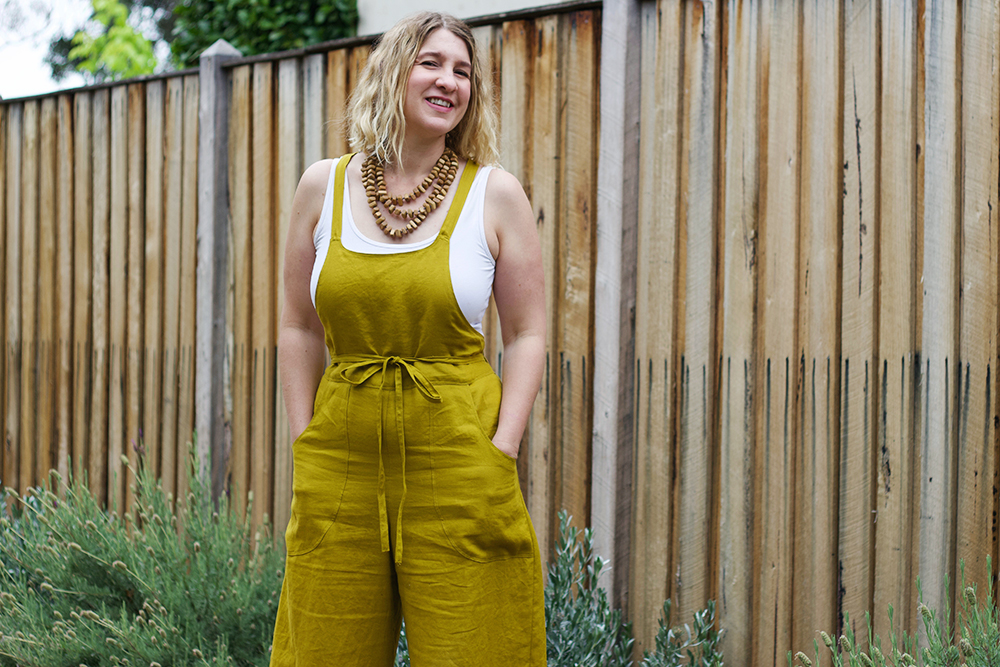 Finally, thank you for your lovely comments and messages on my last post. Things have been a bit crazy around here over the last two months as we have gotten used to not one but two puppies. To close this post out. I would like to introduce you to Professor Waffles von Woofington (purveyor of the world's finest schanuzer eyebrows) and Princess Jellybean of Pibbletonia (the world's tiniest ewok/Griffon Bruxellois). It is so tiring lovely to have two little doggos in the house again!