Pop quiz. There is a fancy sewing event coming up. Do you:
Pull out a frock you have already made that hangs in your closet?
Plan meticulously and craft something carefully with time to spare?
Vague around for a while, drink some wine and pull something together in the last week or so and belatedly realise your outfit has the potential of making you look like you belong in the 90s cult film The Craft?
I think we all know where this is heading: DIY tulle skirt and black lace top… Thank goodness for the power of a killer necklace and Manon for making me feel like I'm in the 90s again but this time killing it style wise!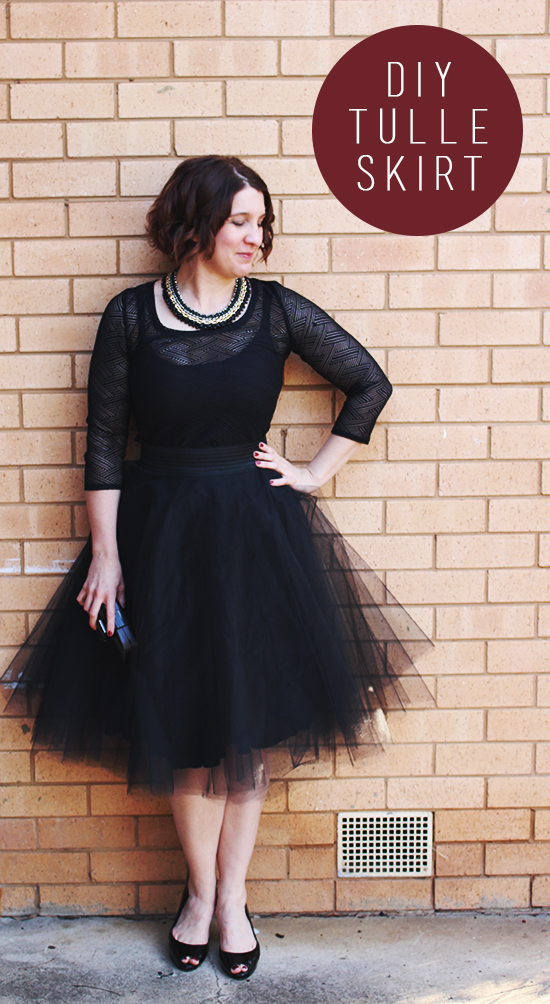 The top is the Nettie from Closet Case Files. This pattern is for a dress or body suit so in typical Amanda fashion I went rogue. I used the high back neckline, scoop front, three quarter sleeves and cut the bottom off the bodysuit pattern to make a top. The crazy awesome geometric lace is from Tessuti Fabrics in Melbourne and feels absolutely amazing. While the lace is rad it has no stretch and for some bizarre reason I didn't take this into account when cutting pattern pieces. Doh! As such it's a pretty close fit and there are some drag lines around the armholes. Oh, well. It does make me think of late 90s club wear which is pretty much a win in my book!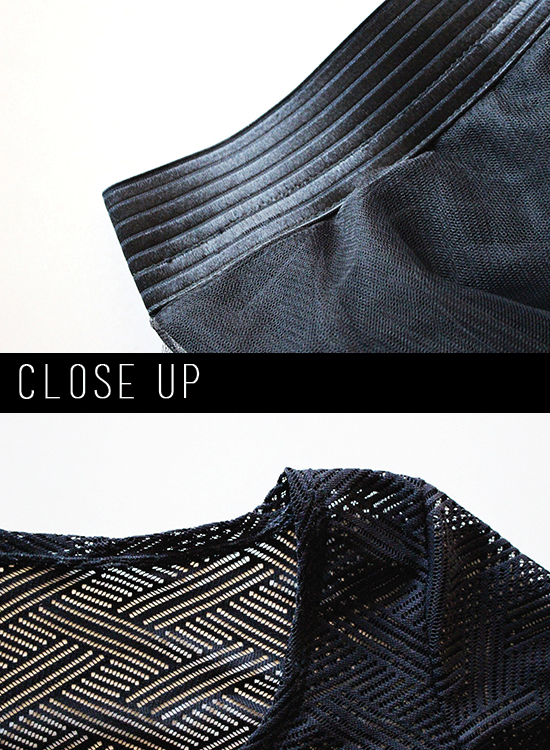 Now let's get to the tulle elephant in the room! This number is a five layer circle skirt with an elastic waistband which makes for snazzy outfits AND the ability to eat all the carbs and still feel comfy.  Double win! Like the Cotton and Curls tutorial, this skirt has two separate circle skirt pattern pieces. The bottom three layers are made to my regular measurements (I used my existing pattern from my last circle skirt) and the top two are made to my waist plus 10cm extra. This allowed for a slight gather and fullness on the top. In theory. Until I got my layers muddled up. Tulle is a slippery sucker!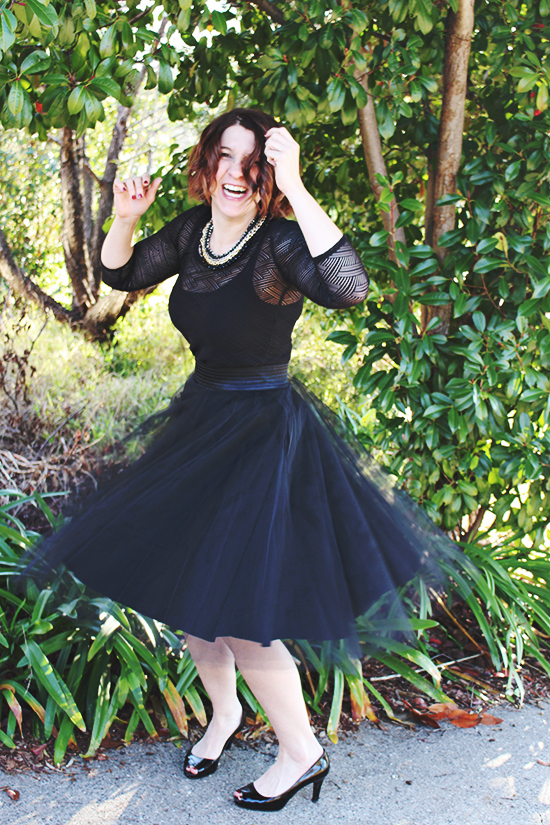 Fabric wise the lining is a dry knit with a gorgeous handle which kept me nice and snug and made the tulle layers opaque. The top four layers are a bridal tulle instead of the flexible netting that the tutorial recommends. This has a bit more structure so if you are going for a dramatic silhouette this is a definite winner. The waistband elastic is rather neat and is two inches wide with horizontal satin lines sewn in. I picked all of this up from Spotlight at a 40% off sale. Winning at life!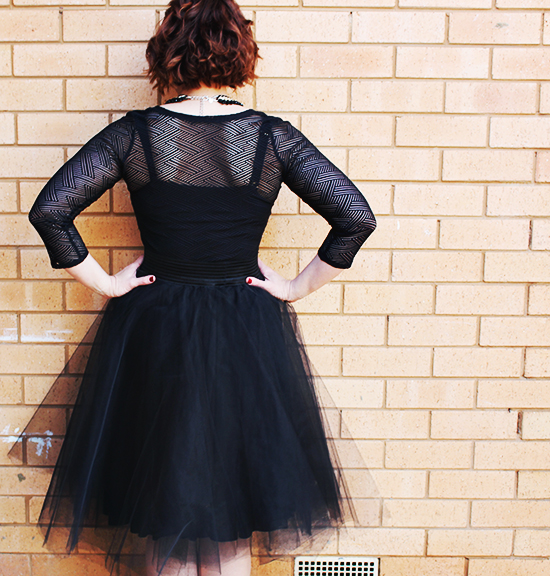 Construction should have been fairly straightforward. Cut waistband elastic to size, gather and distribute tulle, sew, dance. But apparently that is not the Amanda way. Having bridal tulle rather than netting became an issue when it was time to try on the skirt as I ripped a bunch trying to get it over my shoulders. Oops. Back to the drawing board where I cut the waistband a bit wider, lengthened the zig zag stitch and tried again. But the elastic was now too loose. So take three had tightened elastic and a skirt that finally fit. It was then time to add gin to face. Sewing is hard, yo.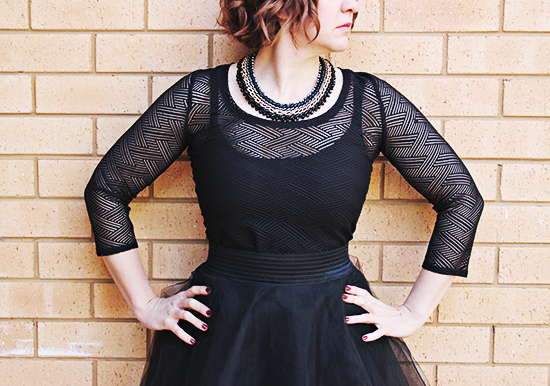 What I liked about this pattern:
How damn cool this skirt is. I have never received so many compliments about a piece of clothing. There is something smugly satisfying about having ridiculously cool hip young peeps coming over and asking where you got your skirt from and watching their mouths drop open when you say this was whipped up in an afternoon #sewingwin
The elastic waistband. I always thought these were kind of dorky. I was so very wrong.
How (hypothetically) easy this was. Lots of bang for little buck. Whoa- that sounds all kinds of wrong. Lots of awesome for little effort is probably much better… O_o
What I would change for next time:
I am not sure I need more than one tulle skirt in my life but if I did then the flexible tulle would be worth a try.
More tulle layers! ALL THE TULLE!
For the Nettie, using fabric with stretch. Since it is a stretch pattern /facepalm
The Deets
Pattern: Nettie by Closet Case Files and two self drafted circle skirt using the By Hand London app
Fabric: 1.3m geometric lace from Tessuti Fabrics for Nettie, 7m bridal tulle and 1.5m dry knit from Spotlight
Notions: 80cm of waistband elastic from Spotlight
See also: Cotton and Curls, a pair and a spare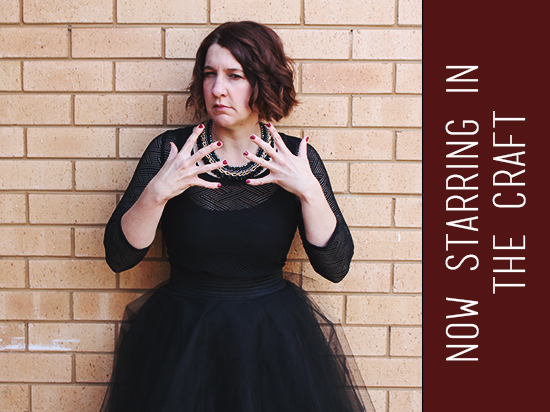 Overall, I am beyond happy with how this one turned out! I debuted this at Canberra Frocktails last night and it was so much fun to wear! There is something to be said for a night out with some of the raddest ladies you've met, drinking (too many!) glasses of bubbles and talking sewing and randomness. And a big shout out to the CBR Sewing Crew peeps who organised this: Myra, Michelle, Kirsty, Jen and Siobhan. Awesome work, ladies 😀 Looking forward now to the Melbourne Frocktails coming up in August- time to make another top to go with this skirt…
SaveSaveSaveSaveSaveSave