Leading up to my surgery in October I knew I was going to need something to keep me sane through my six weeks of mandated couch time. Don't get me wrong – Netflix and I had some significant time planned out but that wasn't enough. After some pondering I decided to level up my knit game and try a big project that I thought would take me a month or two. Oh, sweet naive Amanda. It only took you six months in the end but your project did keep you sane and is super snug! So please say hello to my sanity saving shawl!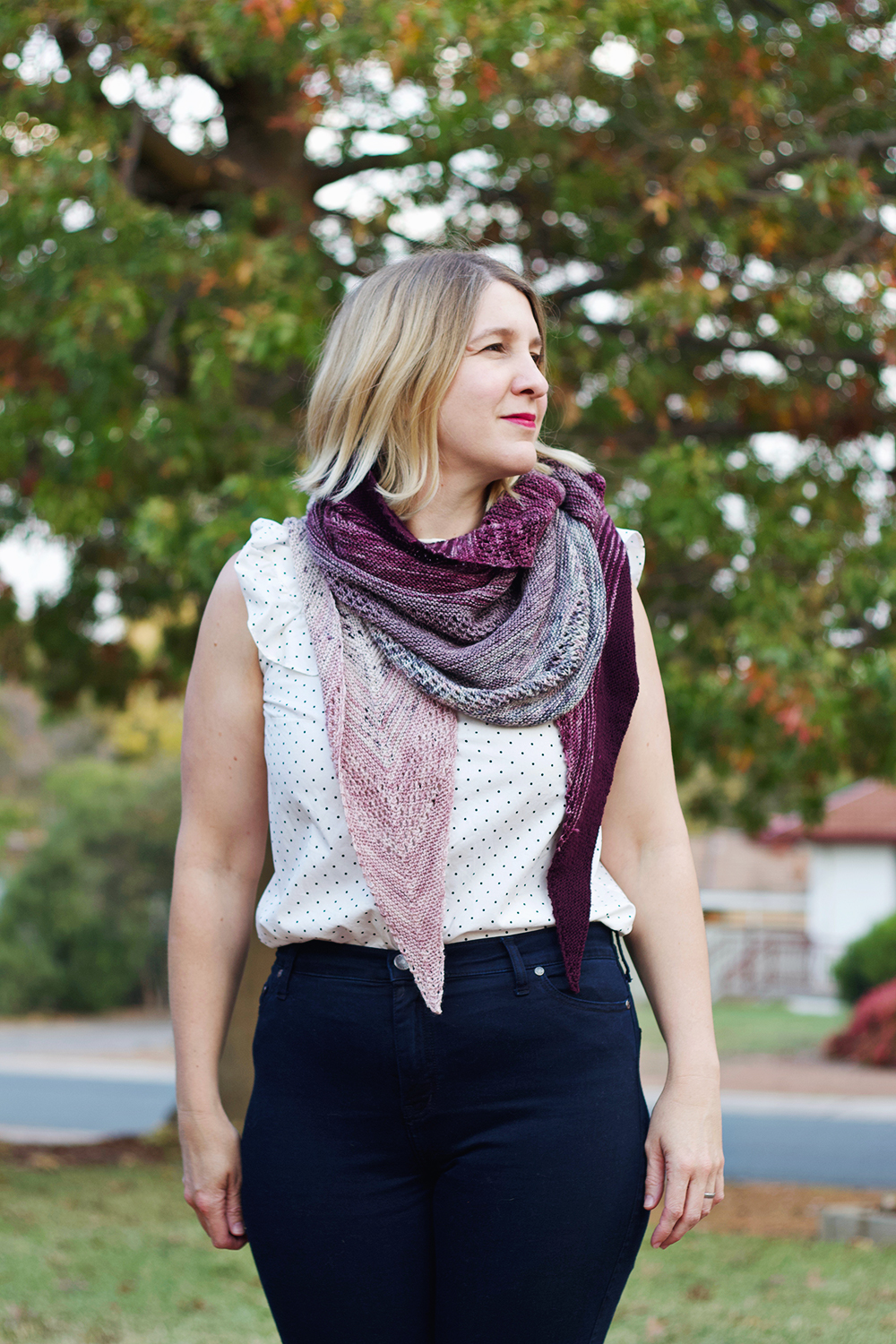 This sassy shawl pattern is  Find Your Fade by Drea Renee Knits. This asymmetrical triangle shawl uses increasing and decreasing, garter stitch and a simple lace pattern to create a finished piece coming in at over 2.5m in length. The shawl is designed to feature a wide palette of yarns fading in and out of each other which means you get to go crazy with colour. But let's be real – this lady is all about those pinks and purples.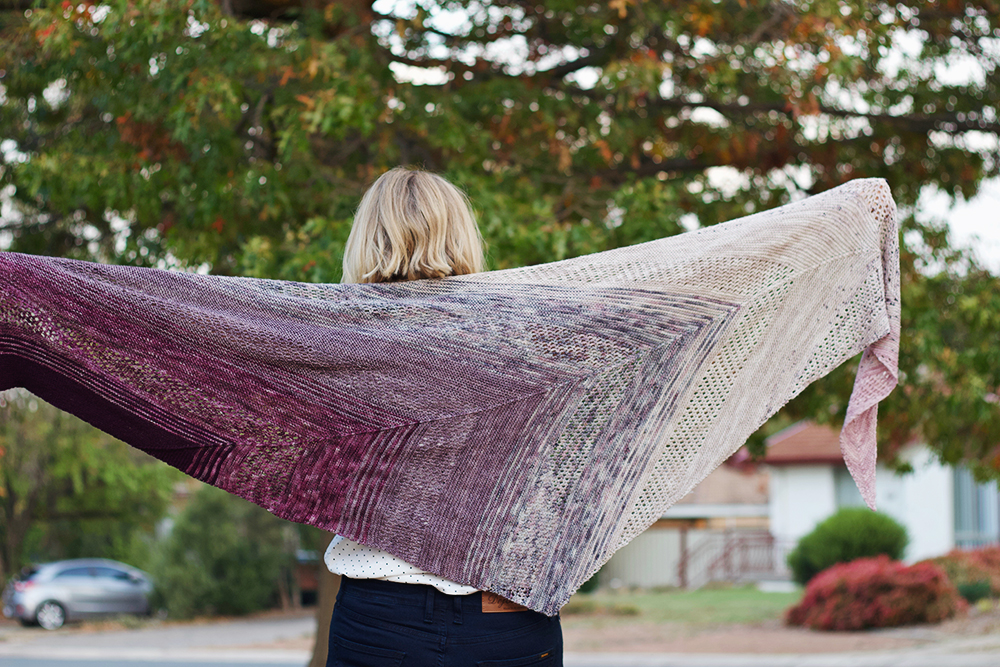 Speaking of which, six months from casting on I am still super in love with the gorgeous yarns used in this shawl. This delightful mix is mostly the Crushed Berries Find Your Fade kit by Woolfiend that I snaffled on Etsy. As this was a sanity saving shawl I decided to go all out with the yarn and got this batch dyed up. The colours are crazy lovely, the yarn was great to knit with and it feels amazing on. Due to the design of the shawl I have a nice stash of leftover kit yarn to play with for future projects. All hail getting more bang for your buck! Finally, the dark mulberry yarn at the end is Brooklyn Tweed Vale in the colour way Cobbler. This is a 2ply yarn so I knit two strands together and it came up lovely and vibrant – and also crazy squishy. Which means that this is my cat's favourite new bed. I can't really blame her though…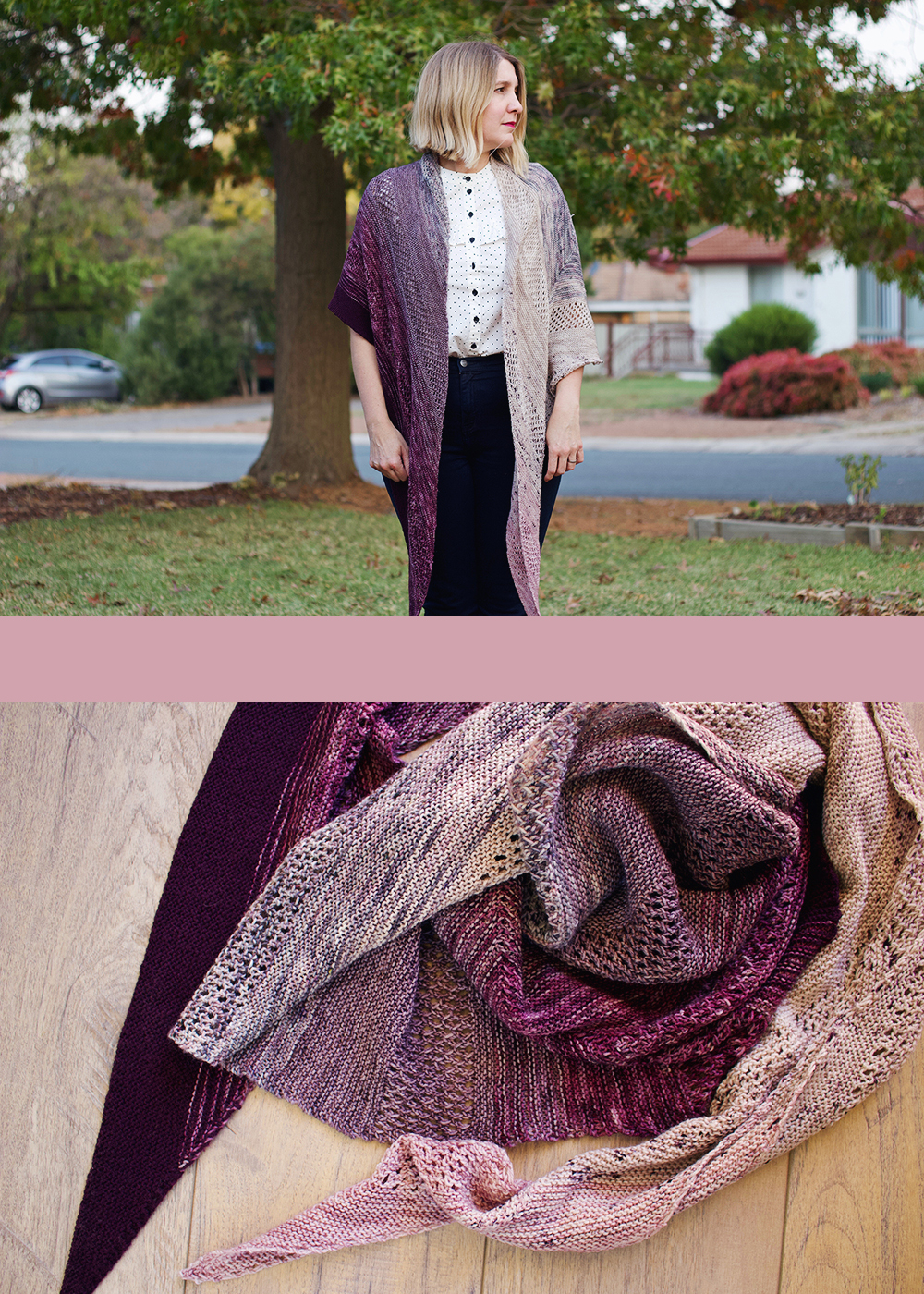 So let's talk process. This sucker literally took me 6 months to knit as in I cast this on five days after my surgery in October and slowly but surely knit this up until mid-April. I had some trouble at the start when the first lace pattern arrived and had to rip things out a few times (fun fact: post-surgery painkillers and lace knitting do not mix!) but persevered. The first few colours came together super quickly but then you get to the full width of the shawl and that sucker is 233 stitches per row. Gah! So. Much. Knitting. When it was finally finished I went the whole hog blocking it out to open up the lace. I borrowed my friend's blocking mats and used lace wires on the edges which made the lace look amazing. Consider me a total blocking convert now!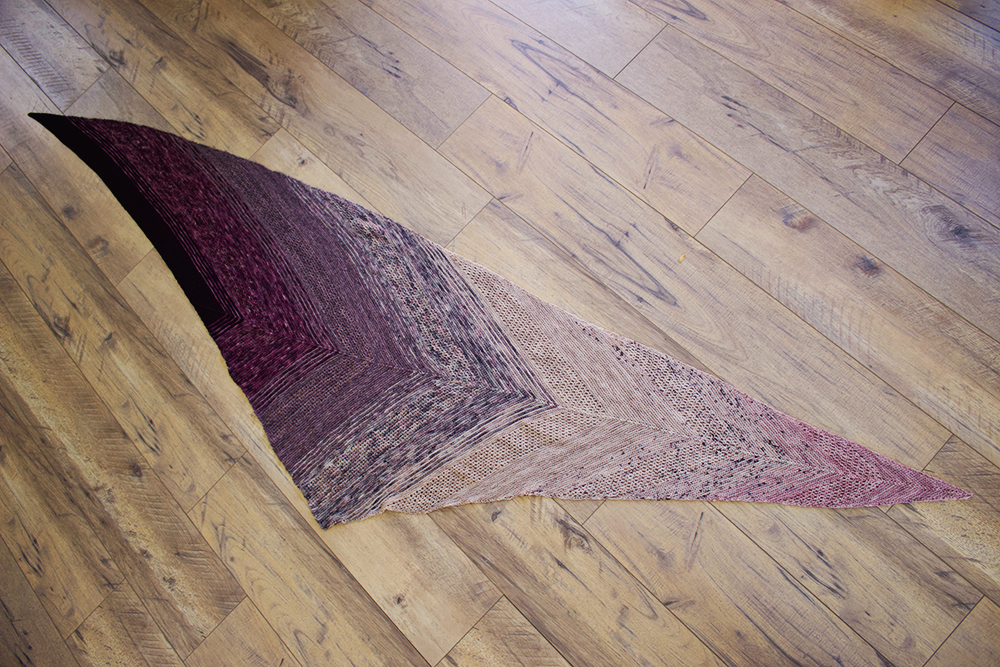 Regarding the pattern itself, the instructions are clearly laid out and I found the wording very conversational. I freaked out a little with the first row or two of the lace pattern but there is a short video you can watch showing you the process to create the lace which makes it easy. Also, as this pattern has had heaps of peeps knitting it up, there are lots of posts and comments on Ravelry that seemed to answer every question I came up with. Gotta love the internet for entertaining otter videos and knitting help!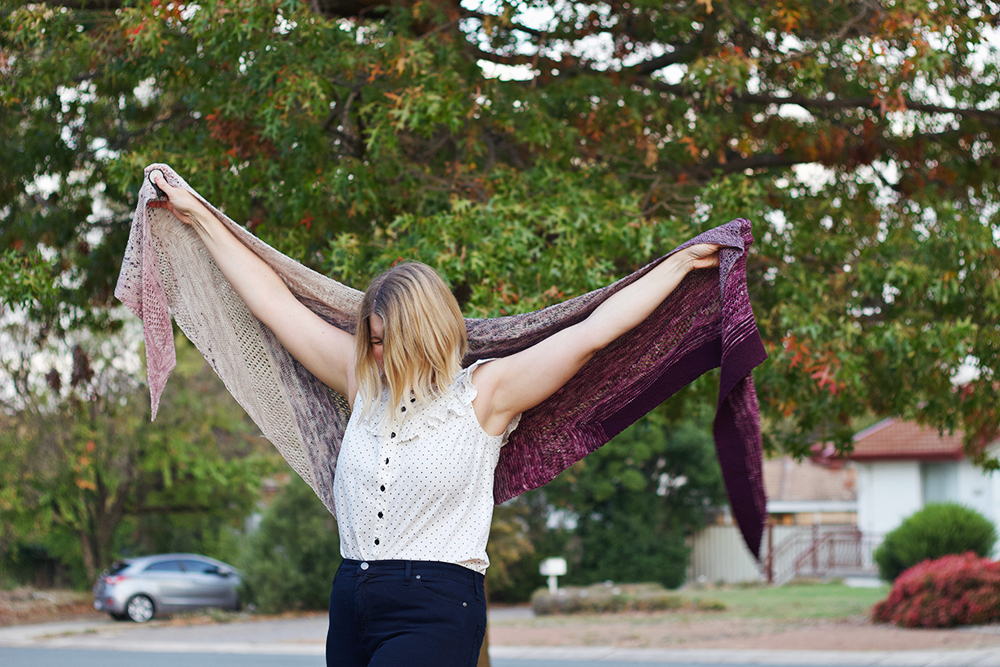 What I liked about this pattern:
The repetitive lace pattern. Once I got the hang of it the rhythm was relaxing and very manageable. Unless I was on a long bus trip and started getting motion sick. Know when to call it a day, Amanda!
The fading technique. I've never tried anything like this before with knitting and it was so much fun watching the colours slowly shift and change. I'm a knitting wizard!
What I would change for next time:
Let's be real. I love this so much but knitting takes me ages and I want to try new patterns. Would I recommend it for others though? Heck yes!
The Deets
Pattern: Find Your Fade by Drea Renee Knits aka Andrea Mowry
Yarn: Crushed Berries Find Your Fade kit by Woolfiend in 4 ply. One skein of Brooklyn Tweed Vale in the colour way Cobbler  knit with two strands together.
Needles: 3.5mm Lykke interchangeable needles on 100cm cable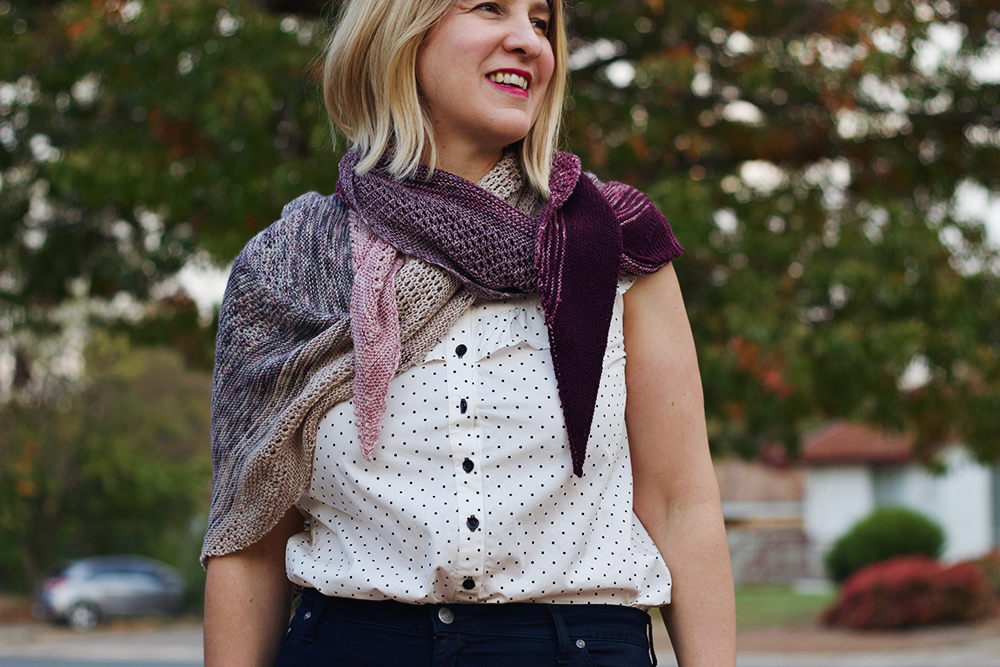 Overall, I seriously love this shawl. I wear it all the time now the weather has changed and have fun playing around with how the colours are shown. It is the largest and most complex piece I have ever knit and I couldn't be prouder! In saying that, I need a break from huge knitting projects for a little while. I have a stash of sock yarn and am itching to get into some snug winter socks. If you have any rad sock patterns throw them at me – this lady is armed (with knitting needles) and sassy!