Over the last six months ankle rehab sessions have been the cornerstone of my life. I've been working on flexibility, building strength and sustaining my sass levels all the while starting a new job and moving house. It's been challenging, awesome and a whole lot of fun! But the biggest challenge so far has been looking extra rad whilst doing my PT sessions due to my teeny tiny workout wardrobe of only two pairs of gym tights. Now, these leggings have gotten me far but after six months of seeing the same tights day in and day out it was time to level up my game. Enter the world's sassiest fabric and a super comfy pattern ato create the majestic floral tights of wonder!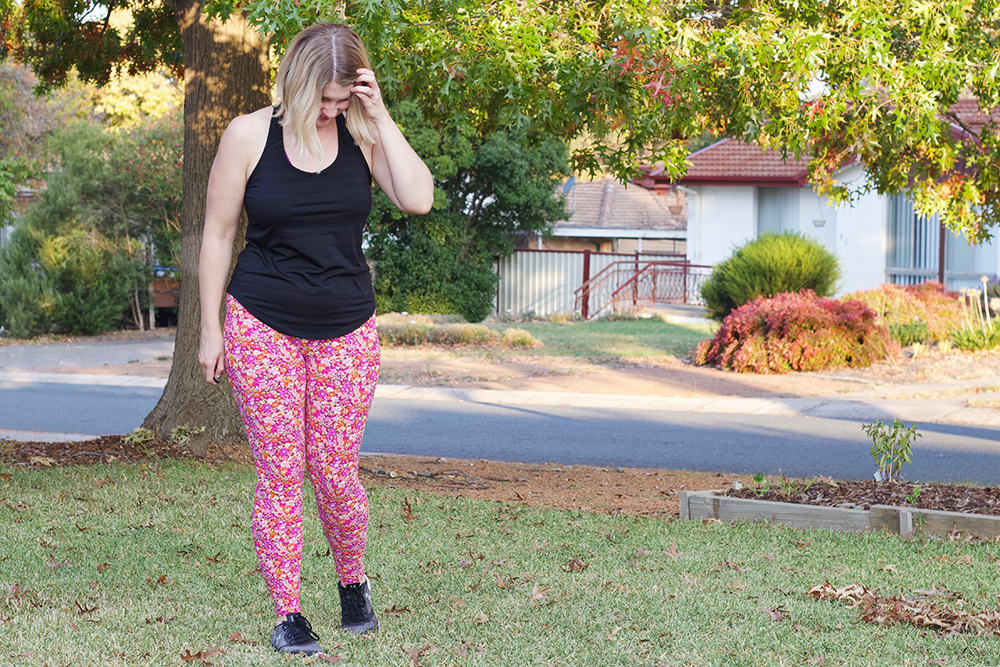 These high-waisted heroes are the Avery Leggings by Helen's Closet. The Averys are fitted leggings with no outer leg seam, a crotch gusset for extra range of movement and extra long leg lengths. View A features a classic waistband which ends just below the waist while View B goes hard core with a waistband that almost ends in the underboob area (aka high-waisted). As with the Blackwood Cardigan I made, this pattern is PDF only and the lovely folks at Officeworks printed it up for me on A0. Totes worth the $4!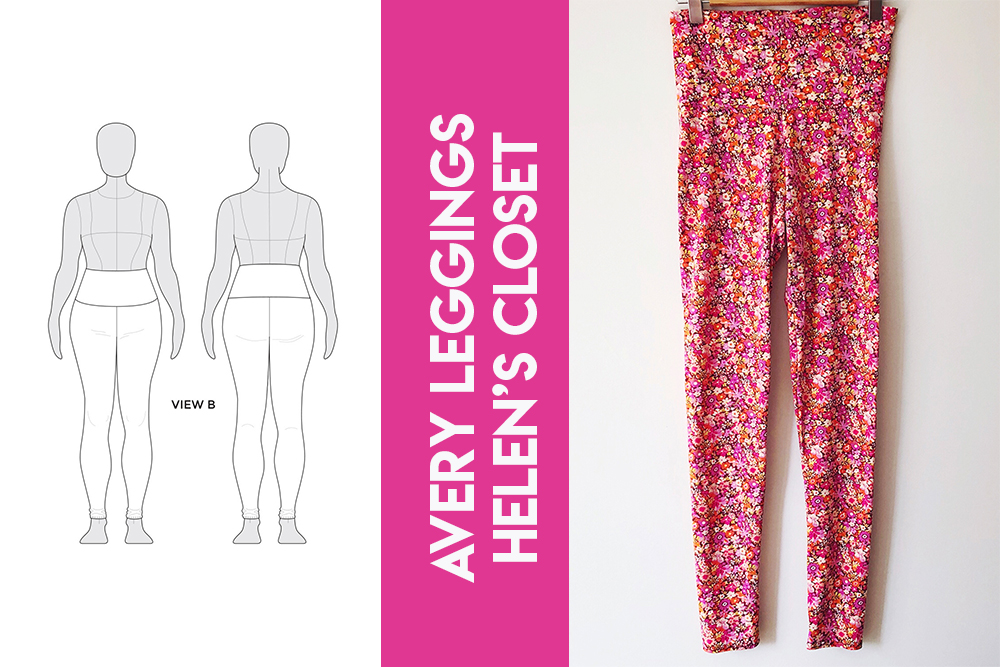 Now, let's talk about the freaking awesomeness that is this fabric. This floral goodness is a Liberty of London Argyll Swim in Manuela B from The Fabric Store. Now, this stuff is not cheap but it is totally worth the investment. I did a bunch of hardcore stretch tests with my swatch and not once did the print white out. In fact, the colours stayed vibrant the whole time and it bounced back into shape straight away. This made me super happy as the last thing I wanted was my underoos on show while I am fly-kicking* my way to health and happiness. *n.b. actual fly-kicking may only occur in my head as I imagine I am as crazy powerful as Jean-CVlaude van Damme in some cheesy 90s action movies.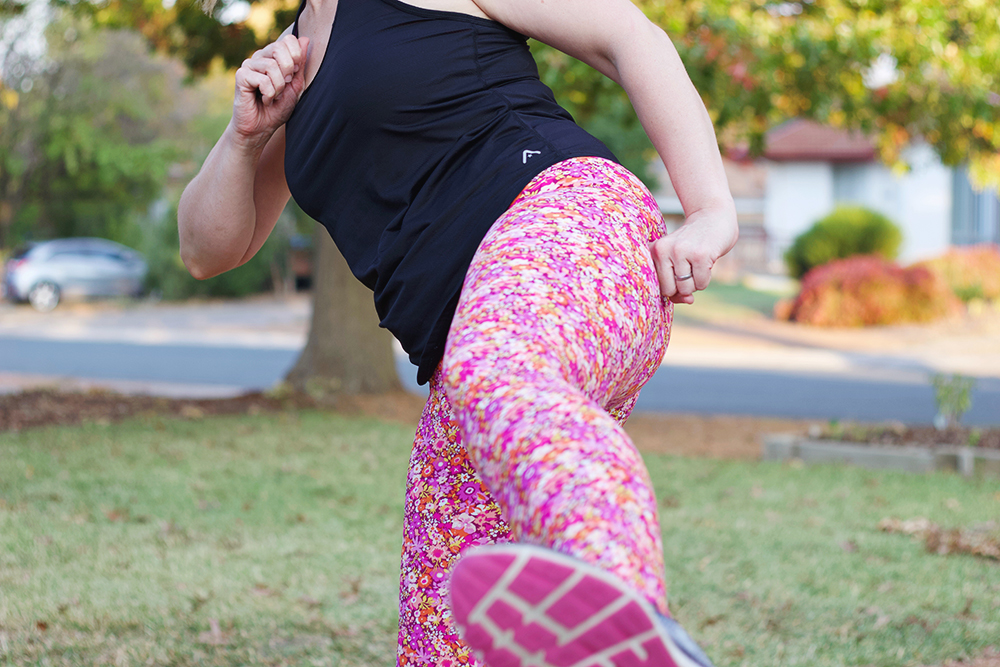 Construction wise these were pretty straightforward. The instructions are very clear, well illustrated and have options for stitching these up on both a regular machine or an overlocker (aka serger). I indulged in a set of matching thread (I figured I should treat the Liberty well) and stitched this all up on my overlocker and it was a super quick project. I had a small mix up while inserting the gusset but that was only because I rushed ahead and didn't check the instructions. Oops! You can't blame a lady about being enthusiastic about a project. I finished the hems using my coverstitch which created a super stretchy finish. I'm still learning the ins and outs of my coverstitch and it was awesome to get to use it on a new fabric.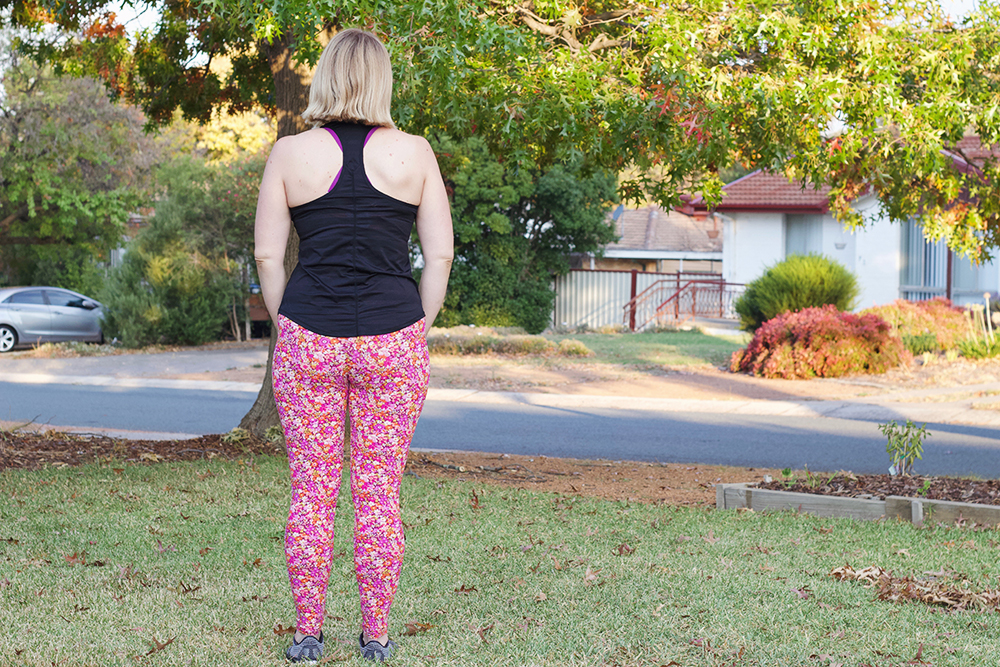 What I loved about this project:
The gusset. Yup, I went there. As a lady who is having to do a crazy amount of lunges and stretches having full leg mobility is crazy important in my tights. Now that I am living my best gusset life I am never going back to regular tights. Also, how weird is the word gusset. gussetgussetgusset. Now it has lost all meaning… ¯\_(ツ)_/¯
The waistband. I was super worried this sucker was going to roll over like ill-fitting Spanx but its stayed in place the whole time. There is some kind of design wizardry at work here!
The extra long legs. Normally I lengthen the legs 1 to 2 inches to account for my height but these turned out great. Just a little bit of gathering at the bottom which is how I love my leggings.
What I will change for next time:
Nothing. Seriously. These are ace!
The Deets
Pattern: Avery Leggings by Helen's Closet
Fabric: 1.1m of Liberty of London Argyll Swim in Manuela B from The Fabric Store
Notions: 1m of elastic, thread
Size: Large
Alterations: none
See also: La Mercerie, The Doing Things Blog, Girl and Machine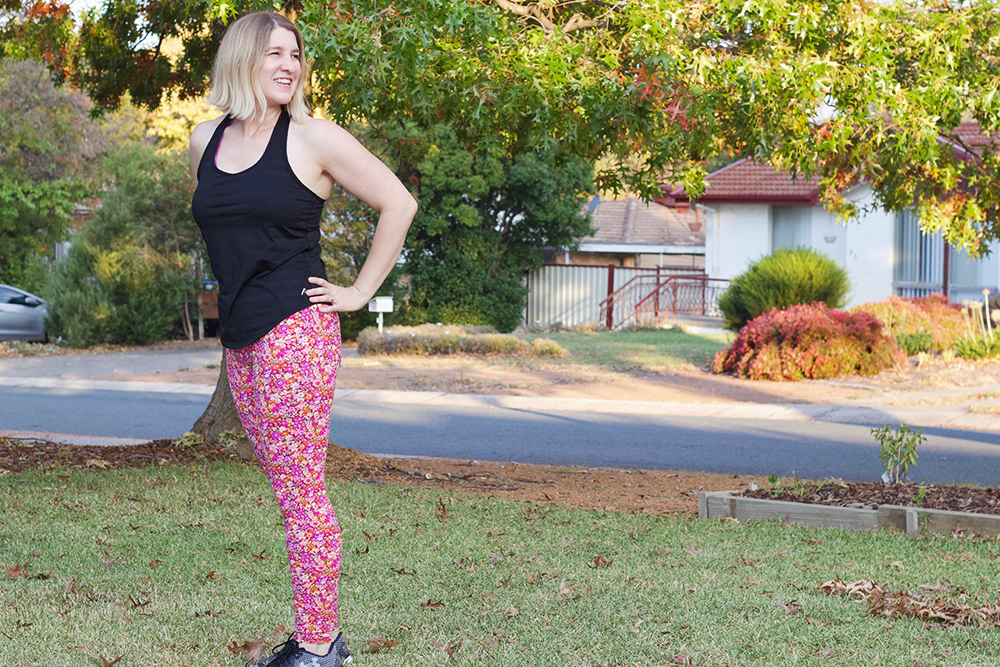 Overall, I freaking love these leggings! As soon as I got them off my machine I put them on for a final check and then didn't take them off for a whole day. The fit is awesome and the waistband does not budge at all no matter what I'm doing – walking, weights, stretch or high-intensity netflixing with my dogs. And the fabric is crazy awesome – the Liberty doesn't bag out at all and these have to be the single most complimented piece of clothing I have ever made. Peeps at the physiotherapist, the gym and the shops have stopped to ask me where I got them. And then I get to have that super smug smile that is a sewist's birthright as I say "totes made these!" Ahh, success. If only all my projects turned out this rad! And I may have bought a smidge extra fabric so there are going to be some matching swimmers soon. Too much? Not enough? Bah – it's be the perfect amount of floral, methinks!