Brace yourself for some seriously tragic news – last week the zip in my beloved unicorn shorts finally gave out. NOOOOOO! After a summer of use and abuse the poor old zip had nothing left to give and ripped up alongside the teeth. Curses! So while those lovelies hang out in my repair pile for a ways (translation: wait for some new YKK zips to arrive in the post) a new pair of shorts was crafted in my epic new sewing room. Huzzah! Please say hello to my fun in the sun summer shorts…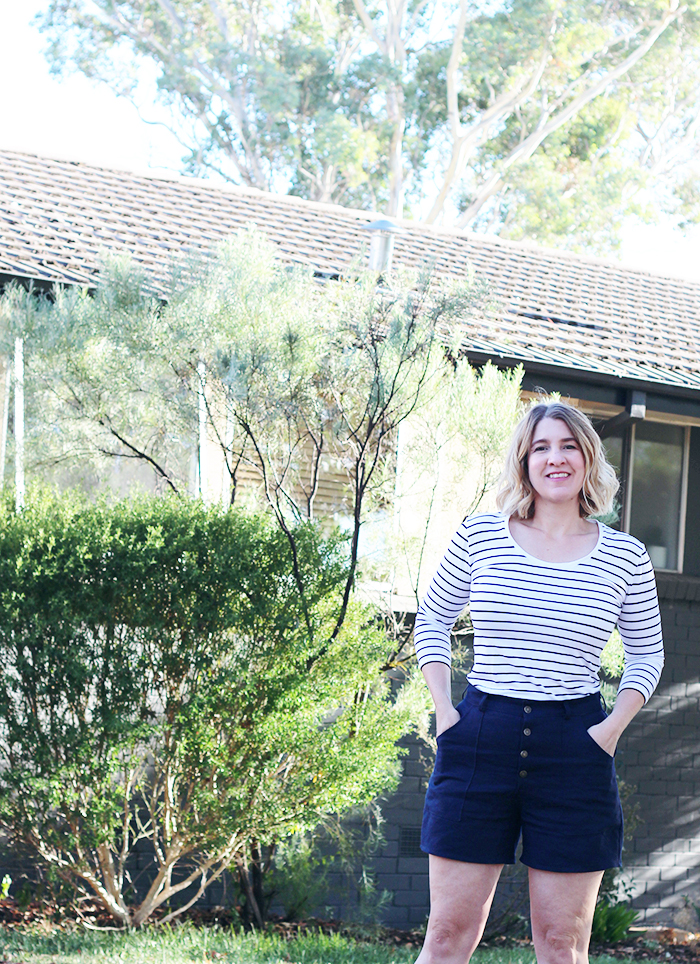 These snazzy summer shorts are the Lander Pants from True Bias. The Landers are straight legged pants featuring a button fly, front and back patch pockets.  There are three views available: View A makes up shorts, View B is an ankle length pant, and View C is a boot length pant. Given my recent shorts tragedy (RIP unicorn shorts zip) this lady went with View A to show off my rad recovering leg. Because when you have a newly reconstructed ankle you need to be showing it off!
I may have gone a little fabric rogue and made these up in a navy heavyweight milled linen from The Fabric Store. Now these bad boys have felt amazing on in the heat – the linen is super breathable with that awesome crinkle/wrinkle that I really dig. But let's real talk – the main thing peeps (ok, I) would want to know with linen shorts is can you see your undies through the fabric? And a drumroll please…. the answer is no! The opacity is great and so far there have been no grunderpants on display. Woo hoo! Pretty much living my best linen life right now!
Construction wise these were super fun and fairly quick to put together. I found the instructions very clearly illustrated and explained. For those who prefer instructional photos there are is a very in-depth step-by-step sew along available but I found the written instructions easier to navigate. If I have one tip for new Lander Pants players it is to make sure you trim the appropriate amount off your pocket lining pieces to take advantage of turn of cloth. I didn't do this well on one pocket and it ended with the sides of tiny cactuses being super obvious. Learn from my mistakes – trim it like its hot!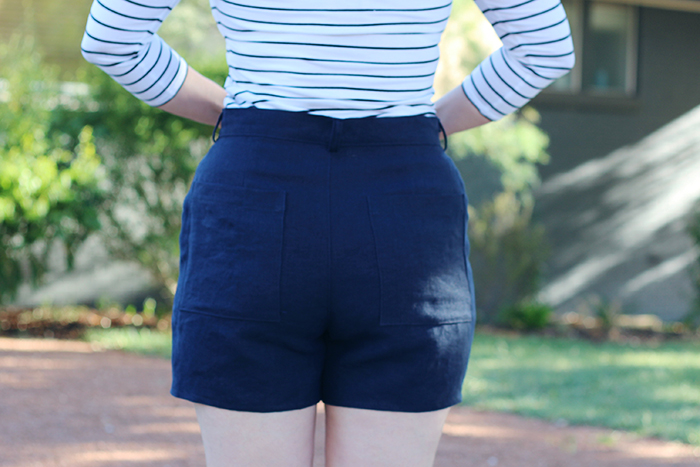 Fit wise, my measurements were pretty close to a straight size which made things heaps easier. When I basted ups the sides for the fit I ended up taking 6cm from the waistband and added 1cm to the top of each thigh for comfort. For next time I will redraft the waistband and make this curved to better fit my waist to hip ratio but it is totally fine as it currently stands and this is just a fit preference I have. Also, due to being distracted by Riverdale when cutting I totally forgot to add 1.5″ to the leg length so the hem line for these is not the fab deep hem but a dodgy micro hem. Oops! Note to self – save Riverdale for knitting time…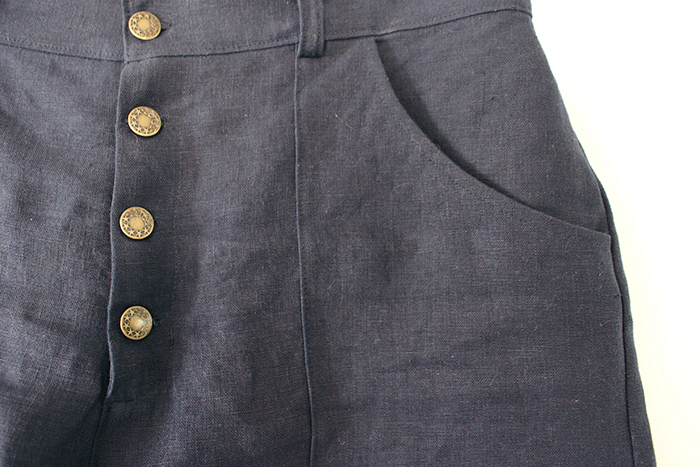 The Deets
Pattern: Lander Pants by True Bias
Fabric: 1.25m of navy heavyweight milled linen from The Fabric Store, cactus print cotton shirting from stash
Notions: thread, four jeans buttons
Size: 14
Adjustments: waist in 6cm, extra 1cm on the top of each thigh, hem overlocked and turned up by 1/4″
See also: Randomly Happy, Cookin' & Craftin', Merritts Makes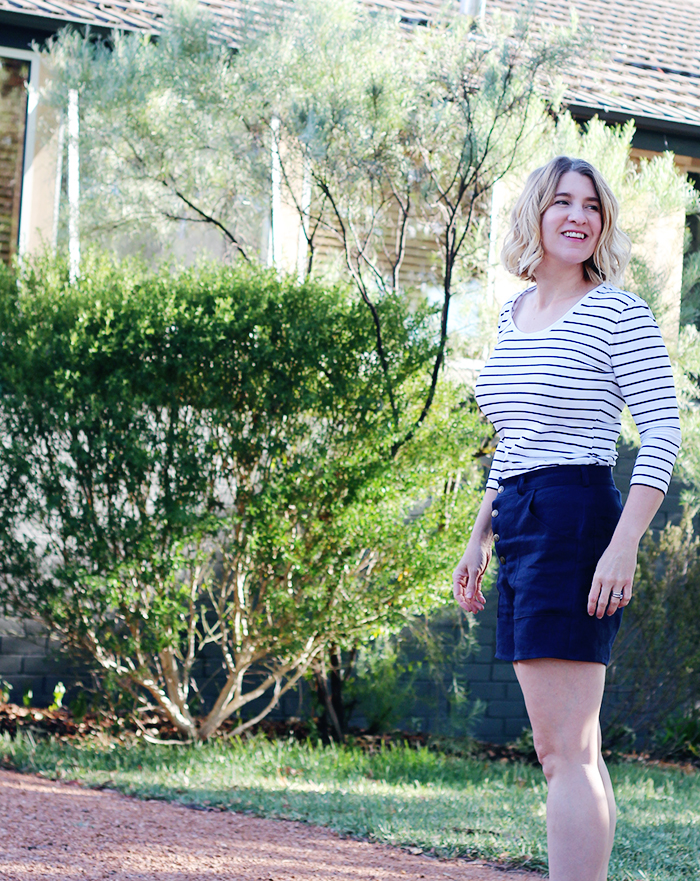 Overall, I seriously dig my new shorts. They are super comfy to wear and the pockets are all kinds of ace. Also, I feel like I am in Moonrise Kingdom with the fab button placket feature  – though I wish my life was totally more of a pastel dream a la Wes Anderson! Will I be making these again? Heck yes! Though enquiring minds want to know- would a part of mushroom pink linen shorts be too much? I'm asking for a friend… >.>
SaveSave