In September last year I spent a week travelling through parts of the South Island of New Zealand. If you have never been there it is super hard to describe just how beautiful it is. As in, it really is Middle Earth brought to life and I spent a lot of time yelling at the vistas "how can you be this beautiful". It totally did not make me look whacky at all 😀 In the lead up to the trip I pulled together a few travel friendly pieces (one I have shared already) and this one was my favourite out of them all. Say hello to the cutest and comfiest travel dress ever!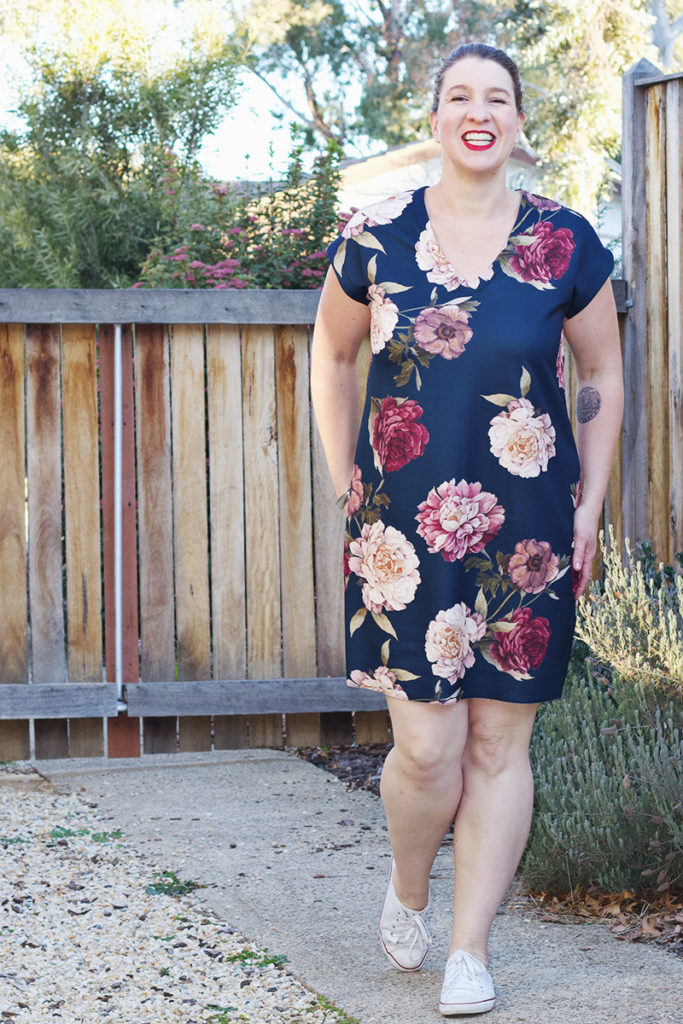 This is the Lodo Dress by True Bias. The Lodo is a t-shirt style dress that fits straight through the waist and hips and comes in a little for a slight cocoon shape. It also has a v-neck (Amanda catnip!) and a power shoulder vibe which makes me feel like a superhero. I need to flag here for anyone in the 5'6″ and over camp that this is drafted for a 5'5″ height. I was in such a rush to get this sewn I did not research properly and at 5'8″ this created some length issues for me. Learn from Past Amanda. She makes mistakes so y'all can learn!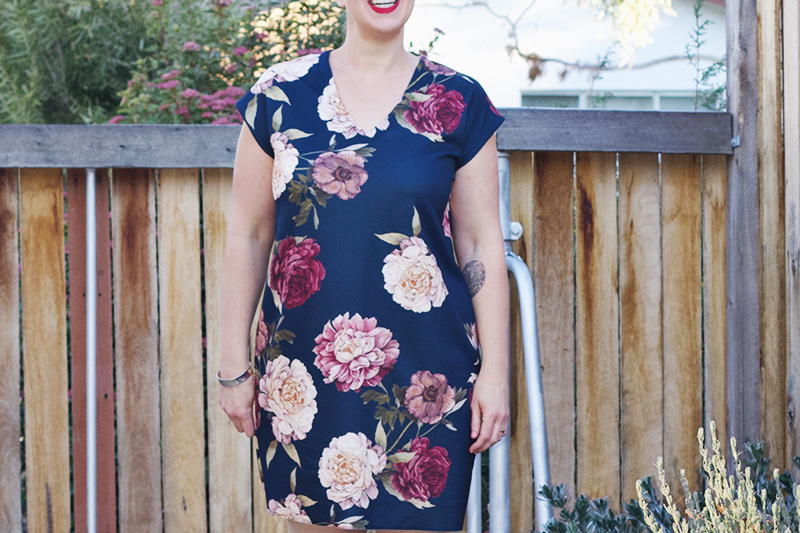 Now this fabric is super precious to me and also why I was heartbroken I got the length incorrect. This is the Midnight Rosette scuba which I bought myself for my birthday from La Mercerie a few years ago. I have hoarded this for just the right pattern and was so cross at myself when I realised my cutting mistake. I also saw in the La Mercerie newsletter yesterday that Jess will no longer be stocking fabric but will still be stocking amazing yarns so if textile craft is your thing seriously check her shop out! (not sponsored just love her eye for colour and quality). But back to the point. If you love this fabric google Lady McElroy Midnight Rosette scuba and there are a few places with this still kicking around. I do want to say that I haven't been super happy with how this has held up over time. The colours are still gorgeous but I have found the fabric pills/snags/wears very easily. I do wear my clothes pretty hard so it may be this is a bit more delicate that I'm used to but wanted to share my thoughts there.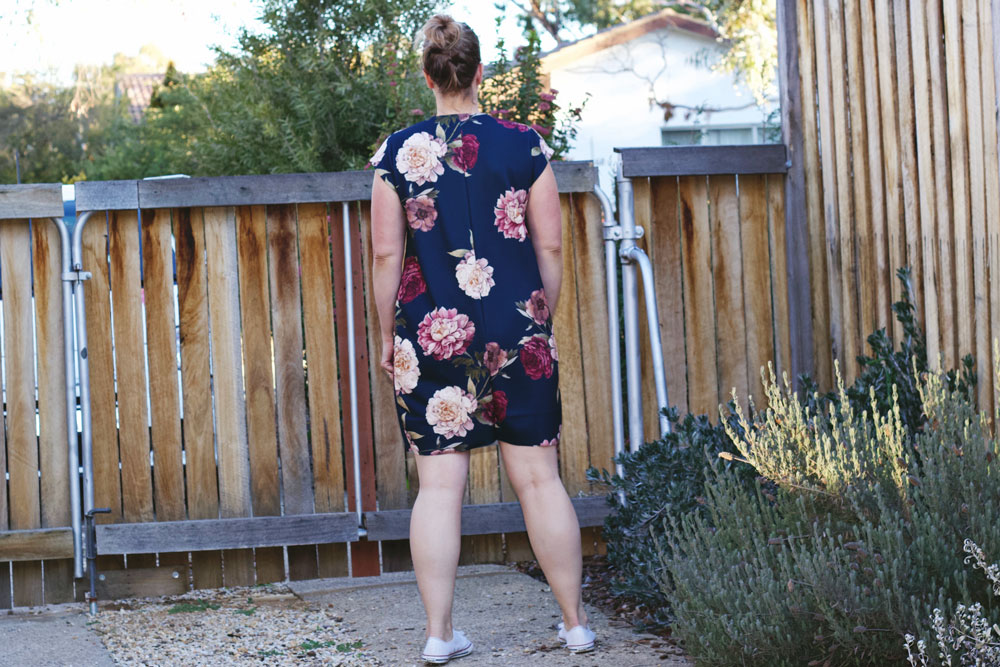 Okay, so let's talk construction. This is super straightforward–yay–but there are a couple of things to be aware of. The facings use a woven fabric to provide stability and you will be able to see these when the frock is hanging up. I really like things to match nicely and I wish I had flagged this before I cut fabrics because I would have used some of my cute quilting cottons. Oh well, you live you learn! The other thing is this dress was waaaaaay too short for me. In the end I did not hem (huzzah for scuba!) which gave me enough length to make this wearable. Depending on how much leg meat you like to put on show you may want to measure and adjust as required. Otherwise, this was a super quick and fun project!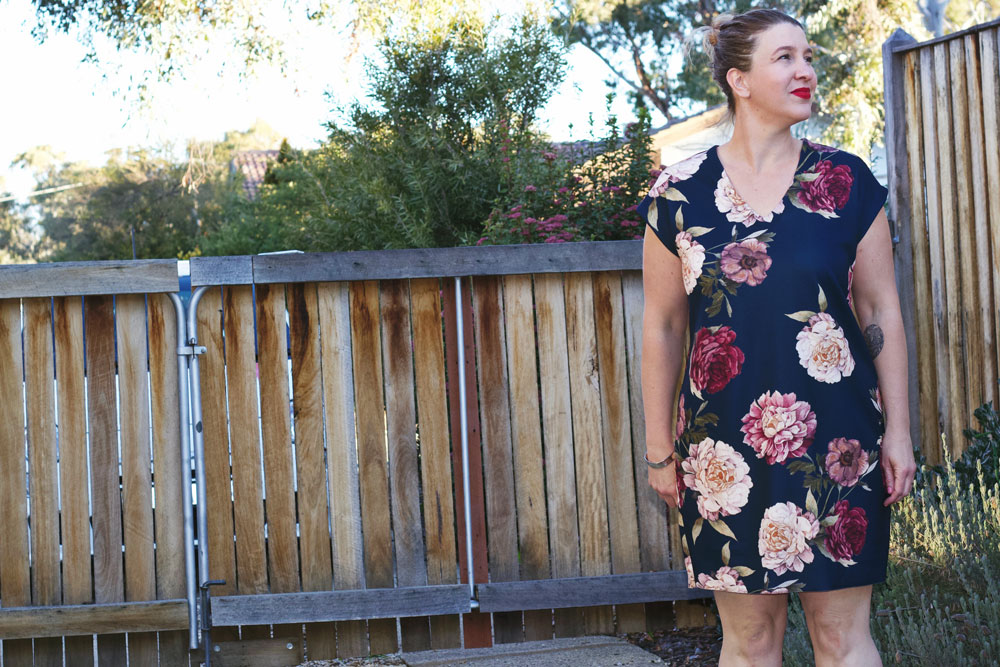 What I loved about this project:
A chance to sew with scuba. I've never used it before and it is so much fun!
The slight cocoon shape of this dress. I think this elevates it from a plain t-shirt shape and I really dig it.
What I would change for next time:
Better pick my woven fabric. There is a really opportunity for fun with quilting cottons here.
L E N G T H E N the dress. I want to make another of these this year so Future Amanda–make sure you add 3″ and also your hair looks cute today. Nice work!
The Deets
Pattern: Lodo Dress by True Bias
Fabric: Midnight Rosette scuba from La Mercerie (sob!), polka dot poplin scraps
Notions: thread
Size: 14
Adjustments: none (said with regret!)
See also: The Pug & Needle, Lara Handmade, Cookie' & Craftin'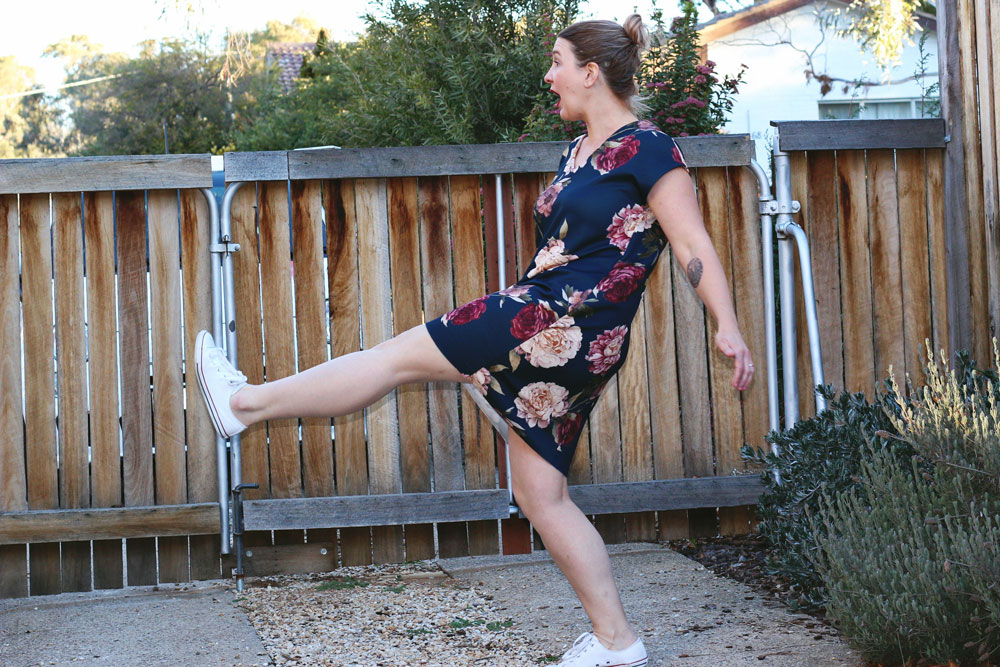 Overall, this dress was awesome for travelling. It handled being smooshed in my backpack and getting shaken out on the occasional evening when I did not want to wear my hiking tee and pants to dinner. Who knew floral dresses paired so well with hiking boots? Oh wait–1990s Amanda called and she says "no doi". But most importantly–it passes the kick ability test just incase I needed to take down a marauding orc over near Mount Doom. Hi-yah!