Post-Holiday Amanda is totally stepping up her sewing game. There has been sewing with pleather. Making a Chanel-esque jacket. And apparently talking about oneself in the third person O_o But in all seriousness, the sewjo fires have been lit and I'm having a blast developing my sewing skills – complete with a seam ripper and some gin to help! So welcome to the next installment of Amanda vs the Perfect Shirt – this one is a bit of a winner!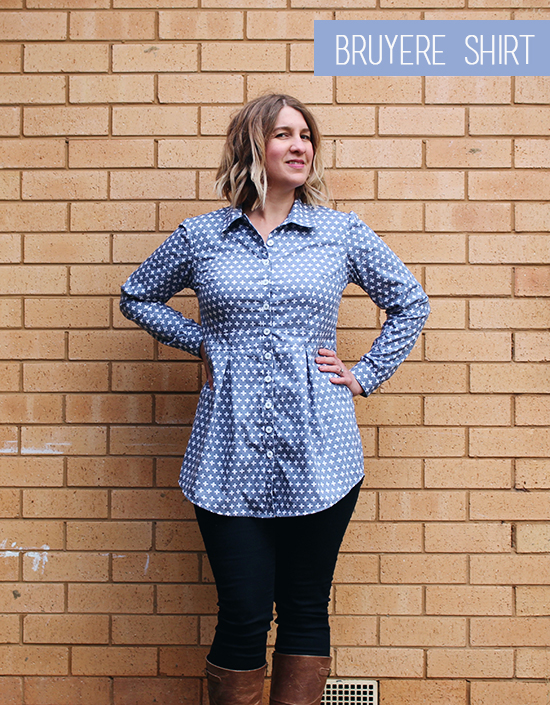 This is the Bruyere Shirt (aka Chemise Bruyere) by Deer and Doe. The Bruyere is a tunic length, button up shirt cinched in at the waist. It has a flat collar, gathered sleeve cuffs and all the darts a gal with a full bust could want for getting her lady cargo fitted. This is Version A (with sleeves) and despite my general loathing of all things sleeved I have to say it's pretty cool!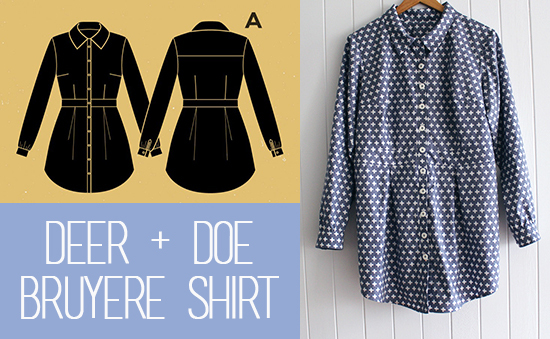 The fabric is a cheap and cheerful poplin from Spotlight. The plus sign design is super cute but, alas, it is not on grain. In a vain attempt to pattern match, all the pieces were cut on the flat but there are still parts that just don't match up. Grr! Maybe I can call it a Magic Eye shirt like those crazy pattern books from the 90s that make you see shapes? One other thing to note with the fabric is that I used all of the recommended length and actually pieced the under collar together. Don't scrimp with this one!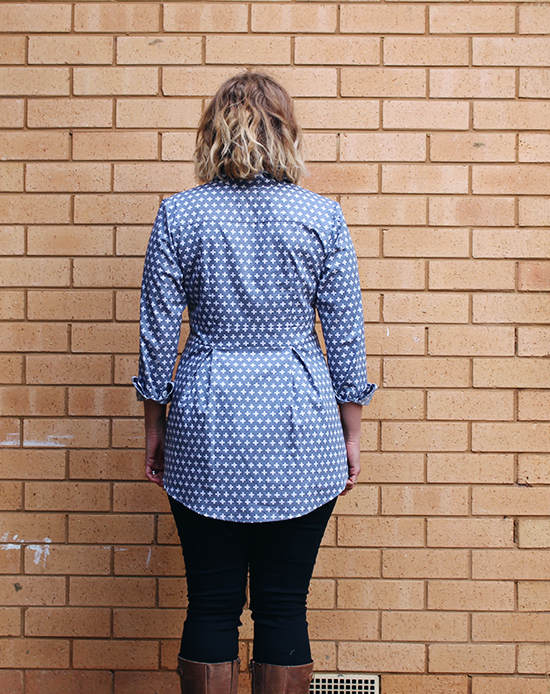 So let's talk construction. As my shirt making skills are still developing I used the instruction booklet to help put this together. The instructions are not as detailed as many indie patterns so having put together a few button ups before attempting this pattern was helpful. While it is rated advanced this is totally an intermediate friendly pattern – just arm yourself with a seam ripper and a glass of wine.
The construction of the collar is unlike anything I have ever seen before and it makes for a super neat and polished internal finish. There is no separately drafted under collar piece to account for turn of cloth as the collar is pressed flat and top stitched down. When I make my next version there will be a pattern piece hack to make a smaller under collar piece. Is this needed? Nope. But will it make my anal retentive heart happy? Heck yes!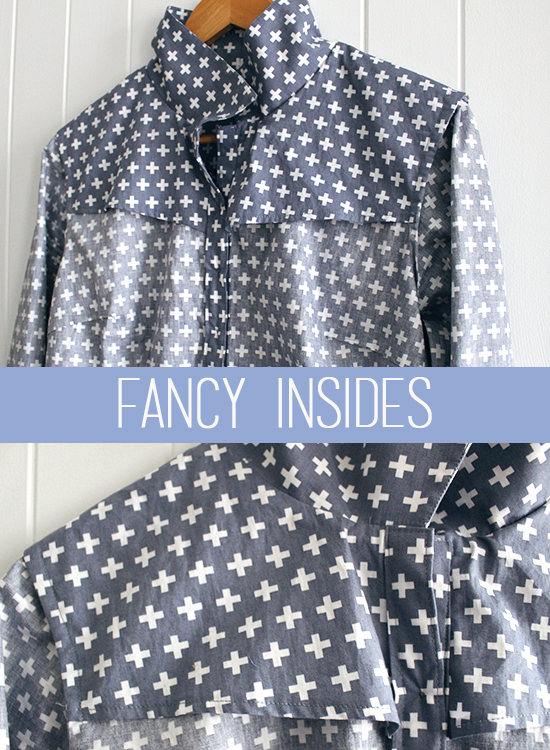 The sleeve features a tower placket and this is a skill I definitely need to develop. The top looks okay but the sides are a bit all over the shop. Due to the stitching being so close to the raw edge I didn't unpick the wonky areas and figure they look pretty good for a first go! Yay for not letting perfection get in the way of a rad wearable garment 😀
One thing that drew me to this pattern was the potential for fitting in the bodice. After giving this a good wear there are some fitting tweaks ahead – the waist darts will be lowered by an inch and the side darts lowered by a half inch. I may also bring the waist in a little for extra shaping and pop an action pleat into the back for some extra room when stretching forward. These all feel very achievable and I'm looking forward to working on the fit. Words I never thought I would say O_o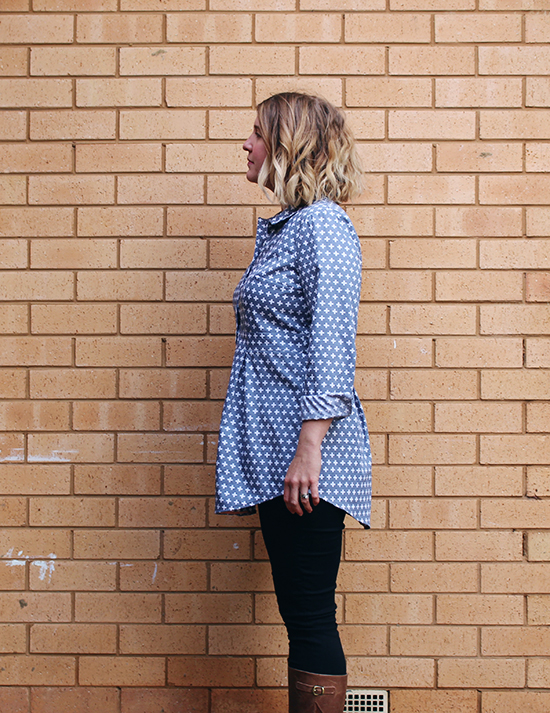 The Bruyere is full of opportunities for cute little details and let me tell you I went nuts with this! The pattern calls for a narrow hem but I really wanted to use this too cute peach bias binding. I also added one peach buttonhole just because I could. The inside featured French seams, which paired with the amazing collar insertion, make this just as lovely to look at from the inside!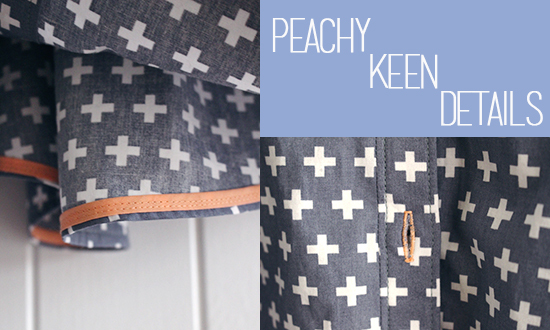 What I liked about this pattern:
The fit! I feel like this pattern works with my curves and doesn't swamp my frame.
The crazy collar insertion. My thoughts on facings are well documented but this time I loved how it worked. The inside looks super fancy!
The tunic length. Not quite a shirt, not quite a dress but perfect for over skinny jeans with boots. A total winter shirt win.
What I would change for next time:
Work on the fit more. The bust darts are pretty good but there is some refining to do.
Action pleat. This action star needs a little more room in the back panel for when I want to reach for things. Go Go Gadget arms!
Settle my interfacing game down. The pattern does not call for the button band to be interfaced and I accidentally ironed on interfacing across the whole band. Oops! Next time it will be half the band!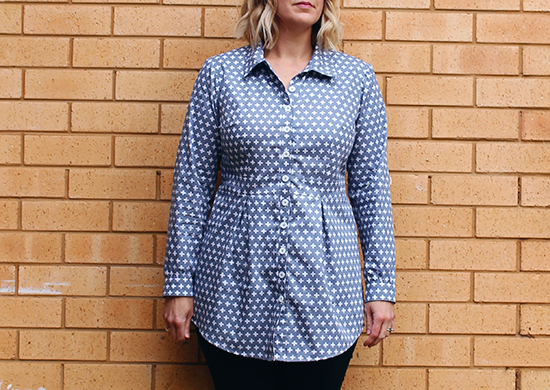 The Deets
Pattern: Bruyere Shirt by Deer and Doe
Fabric: cotton poplin from Spotlight
Notions: 12 buttons, thread, bias binding
See also: The Quirky Peach, Paunnet, Tilly and the Buttons
I am so damn happy with my Bruyere! Heck, I even like the sleeves which is a phrase that I never thought would make it on to this blog. I'm looking forward adjusting the fit and making it up in some crazy amazing fabric. Land of Dreams Liberty, perhaps? Because sometimes a lady needs a psychedelic print shirt. And that is A-OK!
SaveSaveSaveSaveSaveSave