Guess who's back? Back again? #bpSewvember's back. Tell a friend. Oh yeah, I totally put that delightful Eminem ear worm in your head – you're welcome 😛 So with no further ado, welcome back to the fourth edition of #bpSewvember!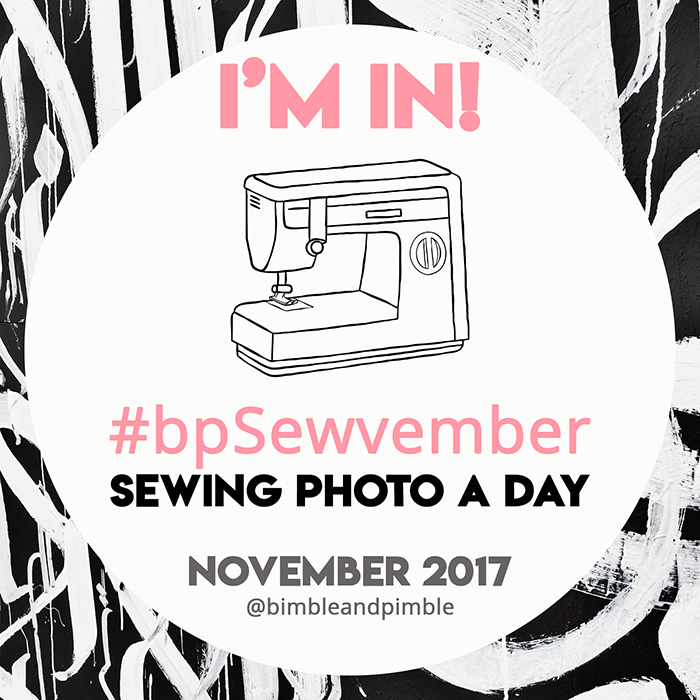 If you haven't heard of #bpSewvember before it is a month long photo a day challenge running throughout November. Sewing is often seen as a solitary pastime so this is a great way to make connections with other awesome sewing peeps from all round the world! You can participate as much or as little as you like – feel free to post 1 or 5 or all the photos – whatever is going to be most enjoyable for you! #bpSewvember is all about having fun, meeting new peeps and having a sticky beak into sewing rooms across the world.
Above is the prompt list for this year. There are some seriously cool prompts and a massive thanks must be said to all the fabulous peeps who sent through suggestions. I, for one, can't wait to talk about sewing refreshments – a cheeky gin anyone?
Please feel free to share this on Instagram, your blog or any other social media that floats your boat. The prompts will be posted on my Instagram account each day throughout November. I'll also have a little blurb fleshing out each of the ideas – especially the ones phrased in Amanda-talk. We'll be starting on November 1 and going all the way through to November 30.
So……are you in?
SaveSave