You know what makes total sense? Sewing up a cute summer top in a luxurious lawn when the thermometer reads a grand total of 15 degrees. Oops. Whilst I may not be smart when it comes to sewing for the weather but I do know how to pick my fabrics and patterns – check out the season defying awesomeness (and super chilly photos) right here!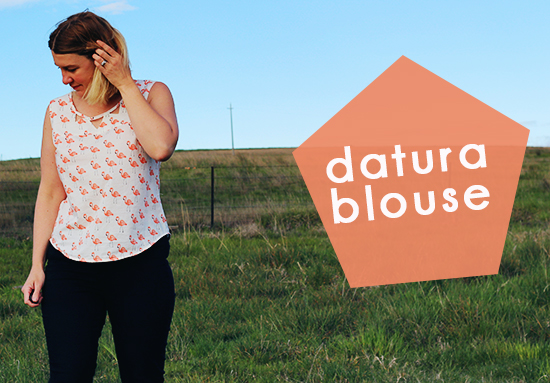 This is the Datura Blouse by Deer and Doe. This Datura is a semi-fitted sleeveless blouse with buttoned lower back. Version A rocks some sweet triangle cutouts at the neckline and Version B has a Peter Pan collar. I know I'm on a bit of a Deer and Doe rampage of late but real talk: it is so nice to have (re)found a company that has an aesthetic I consistently dig and also drafts from a block that matches my shape. Not having to do FBAs and grade between sizes for my waist is freaking rad! Lazy sewing for the win!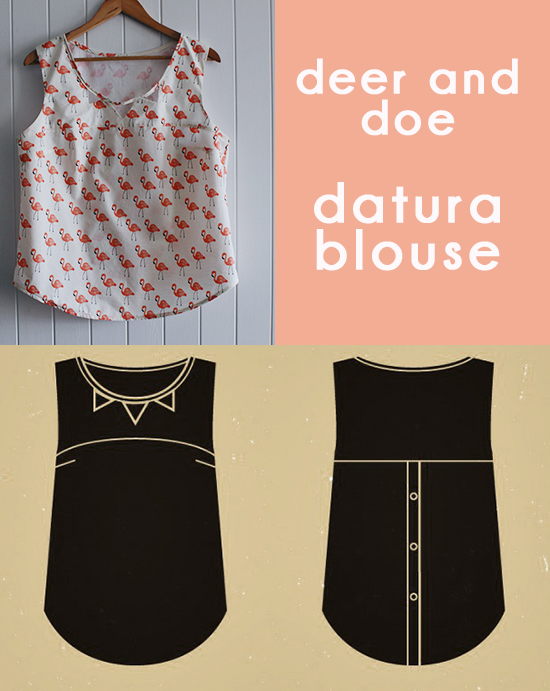 Can we talk fabric for a sec? This flamingo print goodness is the stuff dreams are made of! My new best fabric friend is from the Rifle Paper Co line put out by Cotton + Steel recently and may or may not have been an impulse purchase after a crazy 10 hour work day. I grabbed 2m from the awesome Miss Matabi for the Datura but found it is so sheer that the flamingos could be seen through when layering fabric. As a result I used white voile for the internal yoke and now have about 50cm left. What shall I do with it? Who knows! Actually, does anyone have a suggestion on on something cute to make out of 50cm of voile?
Construction wise, this wasn't too bad to put together. The fact I used the English instructions rather than the French (like I did with the Melilot) was also helpful. Teehee! The only alteration I made was to shorten the darts by 2cm but inside I could have gone another 1cm in the length department and dropped them by 3cm. Oh well, you live and learn!
The yoke insertion method for the Datura is brilliant and a totally new addition to my sewing skills. If, like me, you get a little muddled with the steps check out the rad tutorial from The Drapery – the pictures make it as easy as pie to complete. Yay! And the best bit about the fiddly yoke insertion? It makes the Datura a delight to look at inside and out. And only now do I realize I have no internal pictures. D'oh! Just close your eyes and pretend *pretend* Wasn't that amazing?! I'm so glad you could check it out! 😛
There is one step in the instructions that is a little finicky and that is getting your pointy parts (aka dinosaur scales) looking good. I marked out the stitch lines before constructing this and trimmed and snipped the points as close as possible. There is still a little pulling at some of the points but I'm not too worried as isn't noticeable at a distance. Yay for personal space bubbles hiding sewing mistakes! Also, don't forget to pull your bias binding a little tight around the neckline between the scales or it will flop open and you will be pulling your seam ripper out. Blergh!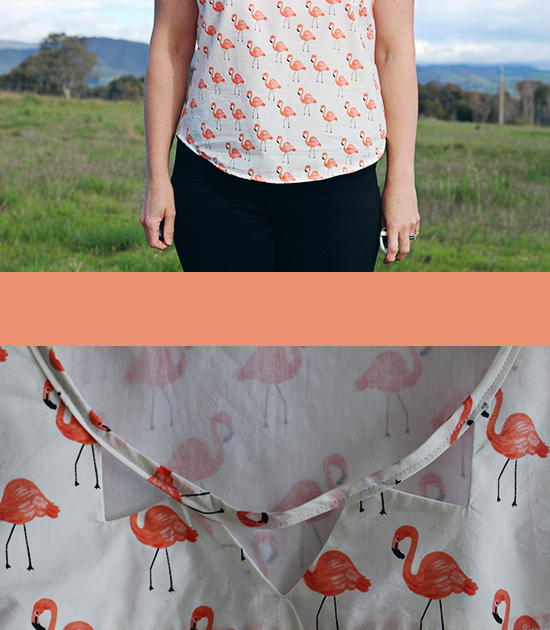 What I loved about this pattern:
The fun details. Pointy dinosaur scale win! Maybe I'm finally evolving into a Sewasaurus?
The armholes. This sounds so odd but they seem to sit really well. There is no bra peekage, no seams digging in and pretty much only happiness in my arm meat area.
The crazy neat yoke situation. You could almost wear this sucker inside out it is that stylin' inside!
What I would change for next time:
Lower the darts three centimetres. My lady cargo is a bit more relaxed than this pattern is drafted for. We keep things casual here in Canberra 😉
French seam this sucker. Because a lady deserves a nice finish. And also it is lazier to do then drag the overlocker out!
Contrast fabric. This is the perfect pattern match for some fun colour and print blocking. There are so many gorgeous variations out there!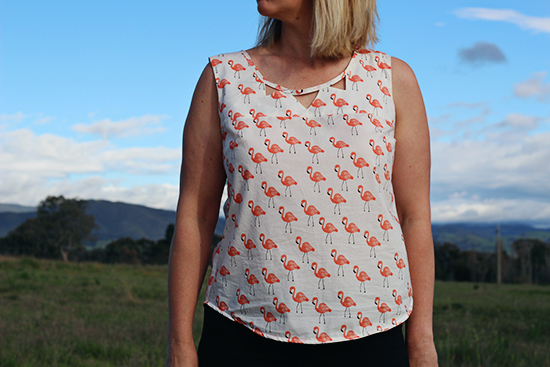 The Deets
Pattern: Datura Blouse by Deer and Doe
Fabric: 1.6m of Rifle Paper Co lawn from Miss Matabi, .4m white cotton voile from stash
Notions: thread, wood buttons, tears from burning myself making the bias binding
See also: Fancy Tiger Crafts, Gooba Designs, Scruffy Badger Time
Overall, I love this top! The sassy details are fun, the button back is cute, the armholes fit like a dream and it is blouse with a bit of fit and structure. I am already planning on making up a few more of these in some crazy fun prints for summer. Though, once you have gone flamingo can you ever go back? Ka-kaw!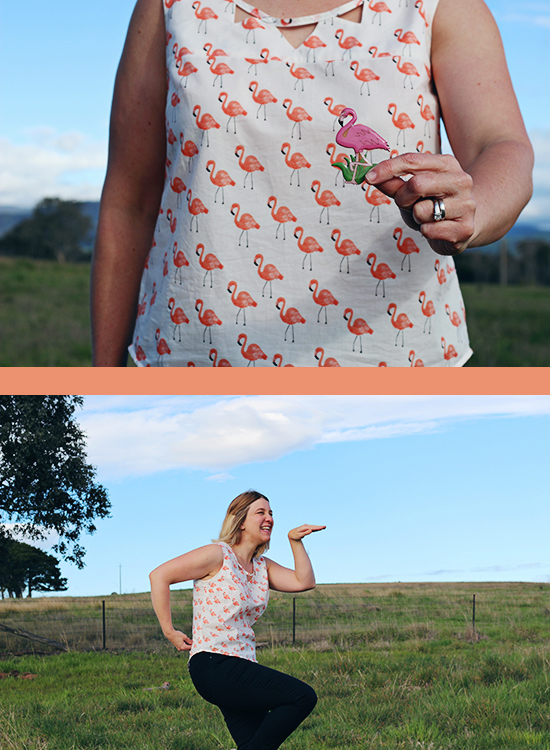 SaveSave
SaveSave