One of the best parts of uni was the ability to catch the occasional bit of daytime TV. I mean, sure, my degree and the ensuing career were all kinds of rad but we're talking seriously cheesy soap operas here – Days of Our Lives, Passions, The Bold and the Beautiful. These little midday gems were a total treat between study sessions and being totally honest I watched far too much over my course of study. Now it seems that over a decade later the Ghost of TV Past is haunting me as my latest project is totally daytime tv worthy… Ladies and gentleman, grab your long lost identical twin, gaze into the distance while speaking slowly and get ready for the plot twist – it's Amanda's 2017 kimono-palooza!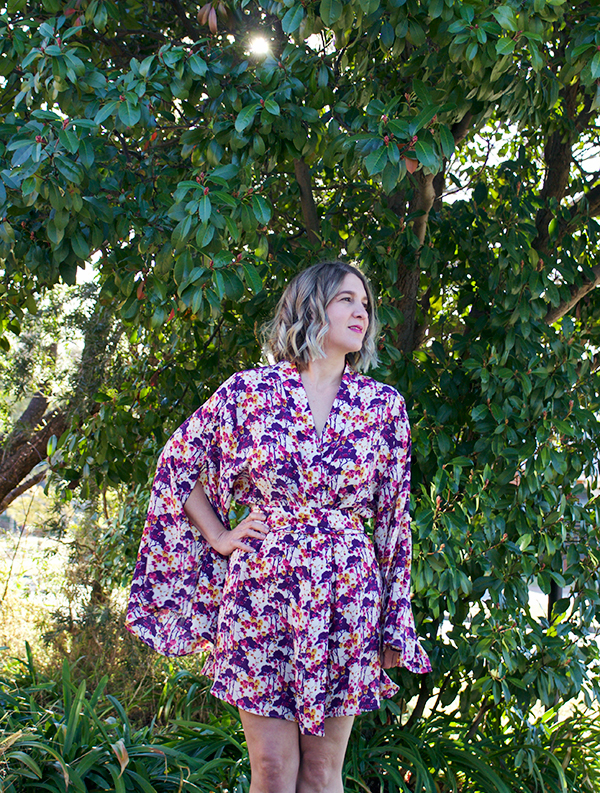 This swishy wonder is the Asaka Kimono by Named Clothing. The Asaka is an open front, relaxed fit kimono with super full split sleeves. These bad boys are perfect for swanning around the house in and dramatically turning to great effect when finding out that your partner/lover/houseplant has amnesia! I originally purchased this pattern back in 2015 to make a version as a gift and that sucker was a PDF home print job. UGH. Luckily, the rad peeps at Named Clothing now have a copy shop version so after getting in touch they sent through the new files. HUZZAH! And those suckers even had a seam allowance. Oh happy days!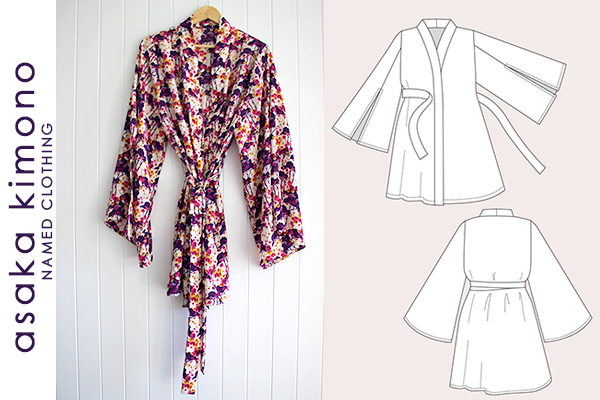 Now let's talk fabric. This is seriously the most luxe garment I have ever sewn and it feels amazing on! The fabric is a Liberty crepe de chine in the colour way Ombrellino A from The Fabric Store. As we know, Liberty is not really my jam but occasionally a piece comes up that speaks to me and something about this fabric screamed AMANDA MAKE A KIMONO OUT OF ME RIGHT NOW. Who was I to anger the fabric gods? I was super naughty and pre-washed this fabric by hand using a delicate detergent which worked well. After my last attempt at making this I cut every single piece on the flat, kept the pieces stored flat and found the sleeve heads still suffered from a relaxed weave and stretched out. Oh well, you can't win them all! And more importantly – my advanced pattern tetris skills allowed me to squeeze this sucker out of 3m of fabric with no more to spare. Phew!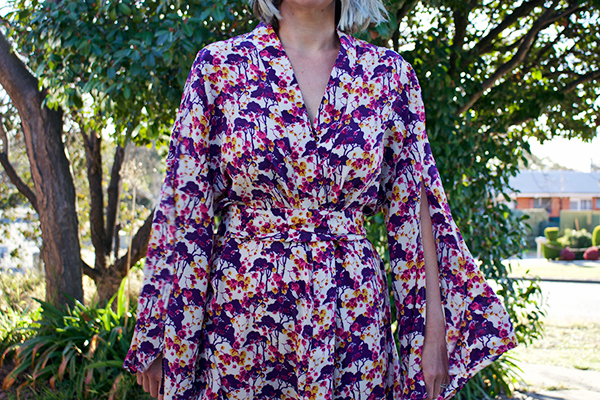 Construction wise, this was a pain in my butt. Things have been a bit bumpy at Chez Bimble and Pimble this year which has meant sewing is now done in 15 to 20 minute chunks so a project with super fiddly fabric which encourages slow sewing may not have been my best choice… I really took my time sewing this up and paid attention to the little details which was simultaneously super enjoyable but also frustrating due to the slow pace.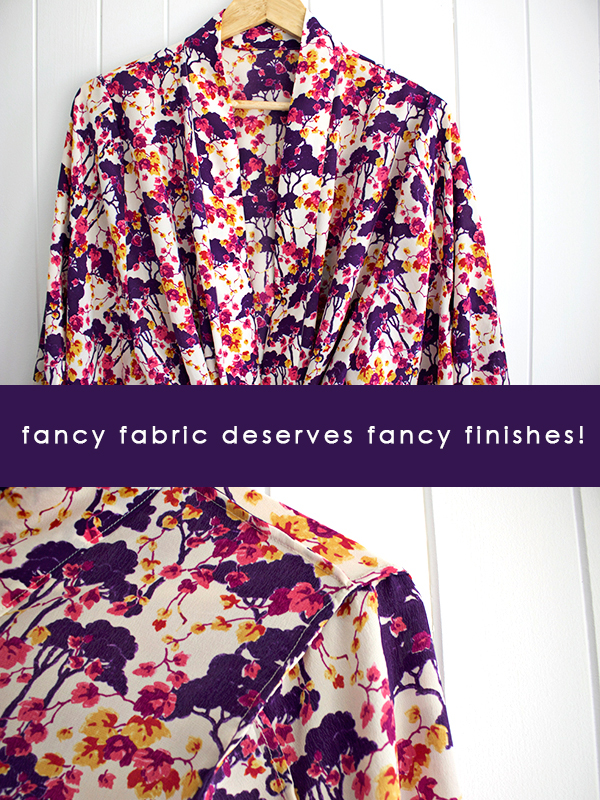 In saying that, I am beyond happy with how this bad boy turned out. The fiddly 3/8″ French seams tried my patience but was totally worth it. Even though I had to redo the left sleeve twice due to assembling things incorrectly. Whoops! To help me wrangle the Liberty I used my walking foot for the entire project and also a new Microtex needle – this meant that Daisy the Janome didn't get too hungry and try to draw the fabric into the bobbin case. Huzzah! The biggest challenge for me making the Asaka was totally the silk – this would be a much easier make in a cotton or something less slippery. Curse you lovely yet capricious silk!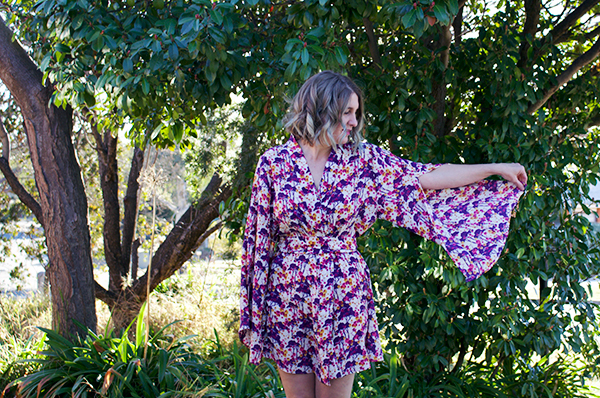 What I loved about this pattern:
How freaking glam I feel wearing this. It is such a soap opera garment but also the perfect antidote to a bad day. These sleeves are made for dancing to Wuthering Heights at full volume while serenading your dogs!
The sleeves. They are seriously cool. And also slightly impractical. But who cares when you look this dang rad?!? 😛
Pretty much everything!
What I would change for next time:
Lengthen the kimono by an inch or so. I'd love to make one for wearing out but this is a bit too short for me to feel comfortable in.
Make the belt longer. I'd like to double wrap and have a bigger bow but my need to keep the fabric to a minimum meant I couldn't make this any longer. Grr!
Make a lawn or voile version. I feel like a lightweight cotton version would be amazing in the summer.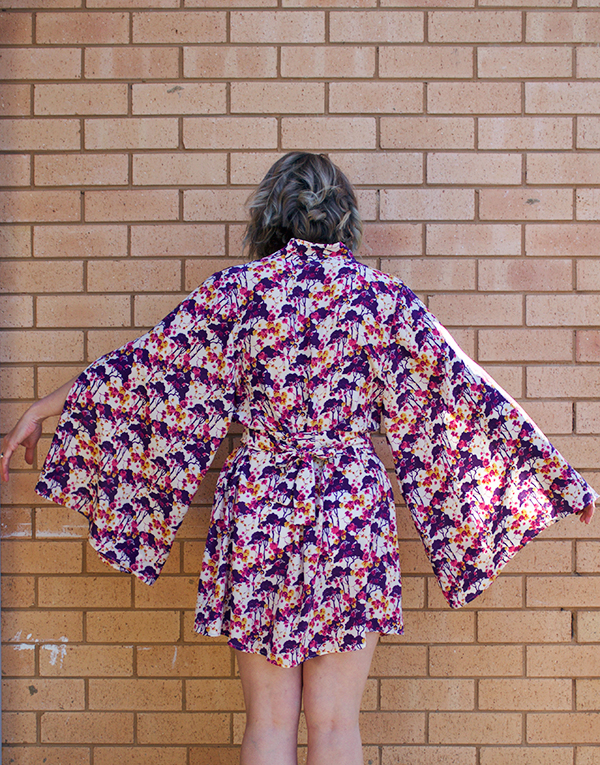 The Deets
Pattern: Asaka Kimono by Named Clothing
Fabric: Liberty Crepe de Chine Silk in Ombrellino A from The Fabric Store
Notions: blouse weight interfacing, thread, microtel needle
Size: 44 (and super happy with the shoulder and bust fit!)
Alterations: none – yay for wrap tops!
See also: my floral Asaka Kimono  because apparently I'm tooting my own horn here… :o)
Overall, I seriously love this kimono! My poor husband is a bit sick of me swanning around the house and calling him "Daaaaahling" but relationships are all about celebrating each others' quirks, right? In all seriousness, this is such a fun pattern and I'm glad I finally got round to sewing one for myself. Now in parting I would like to offer you one of the outakes of my photos of the kimono – it was a crazy windy day and the silk just wouldn't behave… Ka-kaw! I have silk wings!
Pure. Class.
SaveSave
SaveSave