I have avoided the blazer trend like a plague for a few years now. My wardrobe has more bomber jackets, pea coats and cardigans than you can poke a stick at. But blazers? Bah! They are for the cool kids or the peeps doing business- not for this museum nerd! But when you're facing a deadline for an assessment task and need a rad jacket pattern to make you find yourself taking a peek at some blazers. Nothing serious, just a glance. And as you narrow the list of potential patterns down to three you realise to your horror they are all blazers! What has happened? What have you become? But once the blazer is finished and on you realise, dang, I should have been blazing for a while now!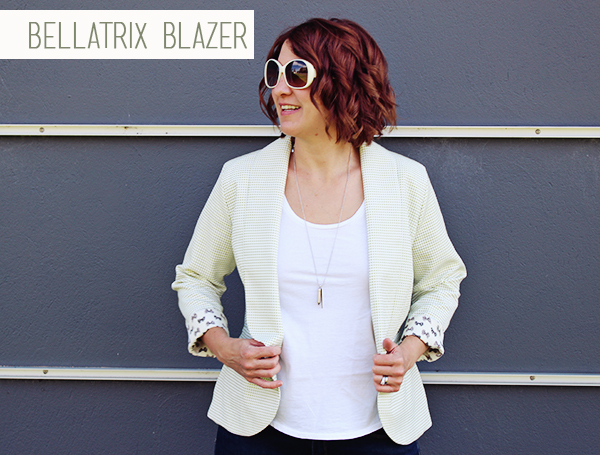 This lovely number is the Bellatrix Blazer from Papercut Patterns. It's a shawl collared, single button closure, fitted blazer which comes in both a cropped and longer length. For the final task of my industrial clothing construction course (which sounds far more glam that it is!) I went with the longer length. The Bellatrix ticked all the boxes the task asked of me (jacket, collar, pockets, button) and even better the pattern itself was free thanks to a sweet sweet gift voucher for The Fabric Store. I do believe that is called winning at assessment task preparation!
The shell fabric is a super light, almost waffle like, cotton/poly blend from Tessuti Fabrics. This fabric has the most amazing texture and the green is a weird combo of olive and lime that somehow works. Concerned about the stability of the fabric, the shell fabric was block fused which has given the jacket the perfect amount of structure.The lining is the first crepe de chine I have ever worked with and hot damn this stuff is LUSH! How have I never used this before? The adorable bow print came from The Fabric Store and was the perfect way to line the jacket as I saw this as a casual summer number worn with the sleeves rolled up. Oh, and I should probably warn you this post exceeds my six photo rule because I want to show off some details… O_o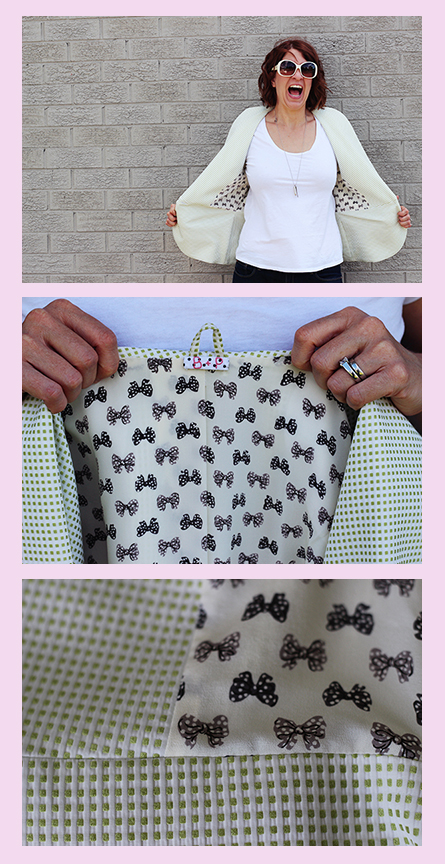 Construction wise the Bellatrix was pretty straight forward except for the whole working to a crazy tight assessment deadline after missing two classes (and quite frankly Malaysia and its cocktails was worth it!). I kept mostly to the pattern but did add a one inch action pleat to the lining (if I need to She Hulk out to stop a crime don't want my fierce blazer getting damaged), a centimetre to the sleeve and sleeve lining length, and a coat hook loop to keep things sassy. And because I am a total show pony and wanted to challenge myself I completely bagged out the lining and was beyond stoked that my exposed stitches in the sleeve only ended up being two inches. It's normal to turn your sleeves inside out constantly to show this kind of work off to colleagues, friendly shop owners and randoms on the street, right? Right?!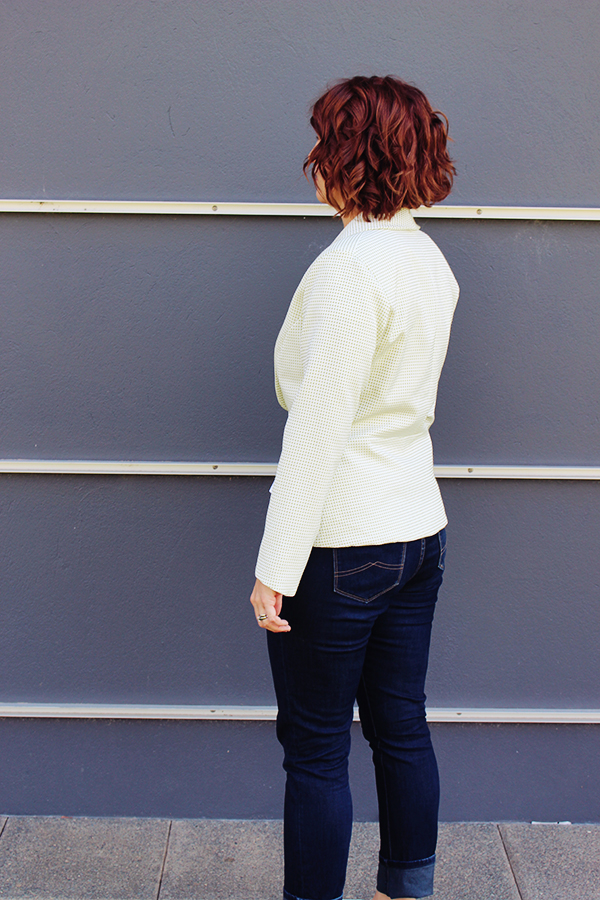 But let's talk fitting. As this was a construction course there was no time allocated for fitting. I did a super quick toile at home to get the general gist for things but didn't have time to get into a proper fit. After wearing this for a while I've found I'm not happy about the fitting across my back. It may be all my She Hulk muscles but it feels quite restrictive and the fabric is pulling. A bit more room in the bust for the lady cargo would be tops as well- though the shoulder fit feels pretty good… Perhaps a shawl collar FBA could be in order! Is that a thing? I bet it is totally a thing. To google!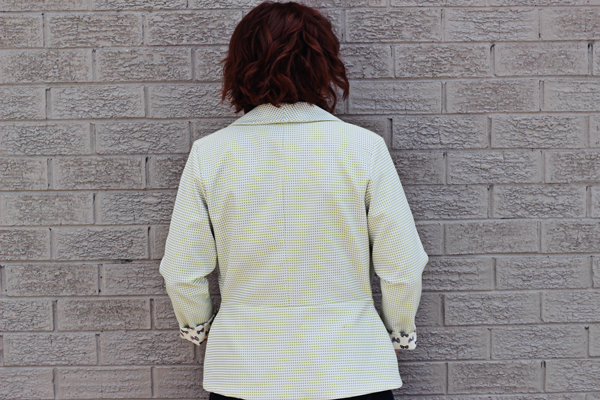 And because it's my post and I'll brag if I want to… I am so proud of the finish I have come up with on this blazer. The squares of the welt pocket fabric perfectly with the jacket shell, the scalloped sleeve ends are edge stitched then pressed to perfection and there is even a stealth stitch in the ditch to secure the sleeve hem to the sleeve. For a finishing touch there is a little handmade label done at the last minute (as required by the task) which managed to work my all time favourite polka dot lining into this piece. For some peeps these little details may be old hat but for me this is a sombrero hat of new skills and wonder. Huzzah!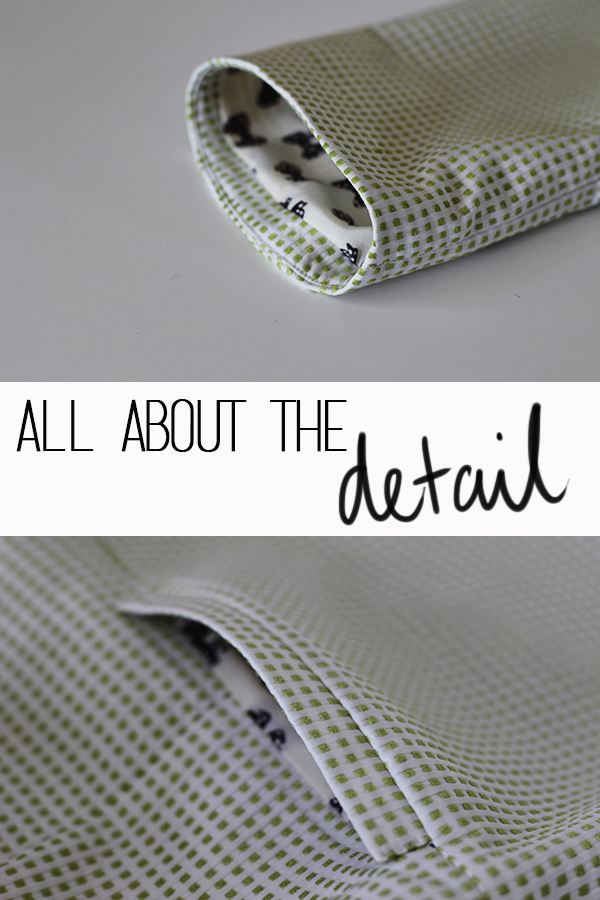 What I liked about this pattern:
The whole tuxedo jacket vibe. I seriously love me a shawl collar and feel like they should be worn with martini in hand.
The fitted waist and peplum panel. You gotta love a jacket that emphasises your curves.
My sassy changes. I know that's technically not "this pattern" but I am proud of being able to add these on.
What I would change for next time:
Address the myriad of fitting issues going on here mainly the back and FBA sitch.
Try the cropped version. It would be stellar over a LBD. Note to self: also make stellar LBD.
Go the contrast collar and play up the tux vibe.
The Deets
Pattern: Bellatrix Blazer by Papercut Patterns
Fabric: Olive Squares poly/cotton from Tessuti Fabrics, Bow Crepe de Chine from The Fabric Store
Notions: Thread, button from stash, interfacing from Tessuti Fabrics, shoulder pads from Addicted to Fabric
See Also: Boo Dogg and Me, Sew Busy Lizzy, Alida Makes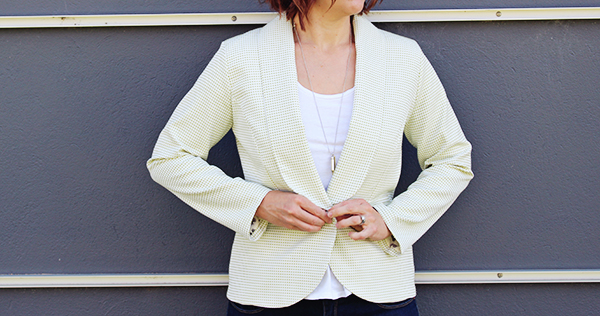 Overall, I am super chuffed with my Bellatrix! And not only because of the Harry Potter reference (come on- it had to happen once in this review!) This was a great way to finish my construction course and gave me an opportunity to put a bunch of new skills to the test. And even better I'm feeling pumped up about getting the fit sorted and making a cropped version to go with a sassy frock. Now, if you will excuse me it's time for me to test out the capabilities of this blazer- raptor style…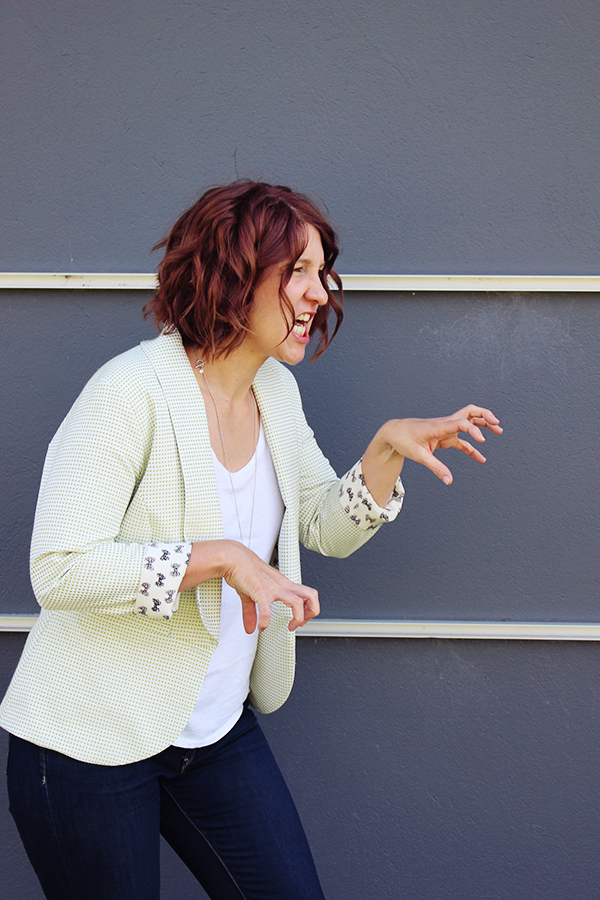 SaveSave